2019 Audi e-tron Review: Grading on a Curve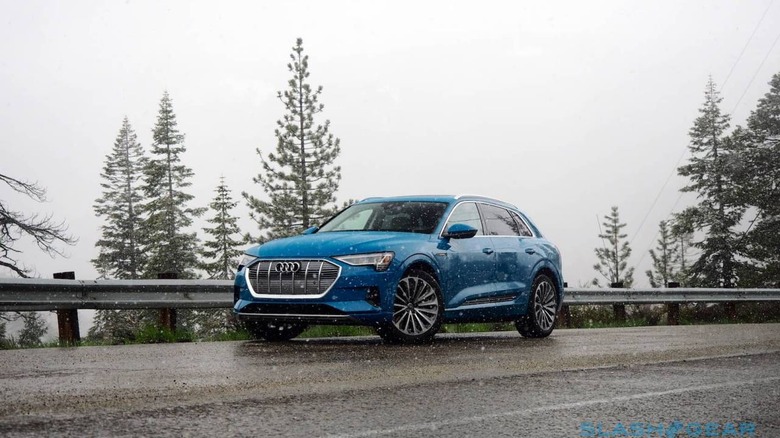 Sometimes it takes the unexpected to really get the true measure of a car, but you can't say the 2019 Audi e-tron shies from a challenge. First in what the automaker expects to be a whole series of "e-tron" branded electric vehicles, the new SUV isn't just attempting to demonstrate that established car companies can keep up with new tech, but to change the conversation on what's important when it comes to EVs. An impromptu weather A/B test was just a bonus.
New drivetrain, familiar Audi
It's a deceptively compact SUV, at least from the outside. The fact that the standard air suspension can drop the e-tron by up to an inch – or raise it by up to 2-inches – only accentuates that. The crisp lines and bold "Singleframe" grille leave it looking handsome and elegant, but don't stray so far from the rest of Audi's range as to be off-putting for those perhaps considering their first EV.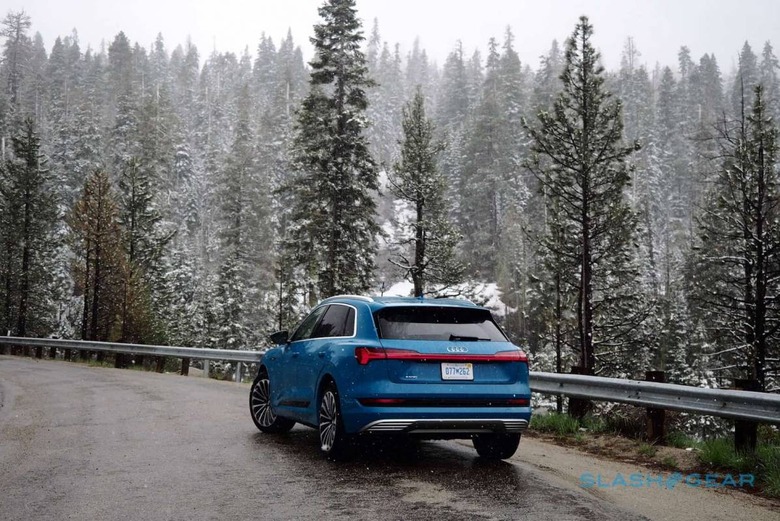 Inside, though, the benefits of electric drivetrain packaging – which puts a motor on each axle, with no mechanical link between the two – means the cabin is more spacious than the footprint would suggest. Not only is there room for five, but those in the back won't feel too cramped; cut-outs in the footwell mean their knees won't be up by their ears, either. There's space for their luggage, too, courtesy of 28.5 cubic feet of cargo volume. That rises to 57 cu-ft with the rear seats folded.
It's a decidedly pleasant cabin to be in, too. Audi has eschewed its usual Premium entry-level trim, in favor of only offering Premium Plus and Prestige trims. That means you get power leather seats with heating and ventilation as standard, along with a Bang & Olufsen 3D audio system, navigation on the twin-touchscreen infotainment system, a power tailgate, Virtual Cockpit instrumentation, 360-degree camera, four-zone climate control, wireless CarPlay with wireless phone charging, and a panoramic sunroof.
That's on the $74,800 2019 e-tron Premium Plus (before any federal and state incentives or tax breaks). The $81,800 2019 e-tron Prestige adds the Driver Assistance Package with adaptive cruise control, together with a head-up display, fancier leather and seat massage, and power door closers.
Audi Connect is included, too, which means things like Alexa and live parking information integrated into the dashboard, along with support for the automaker's smartphone app. From there, you can remotely monitor and schedule charging, set the HVAC, and – at select stations – begin and end vehicle charging.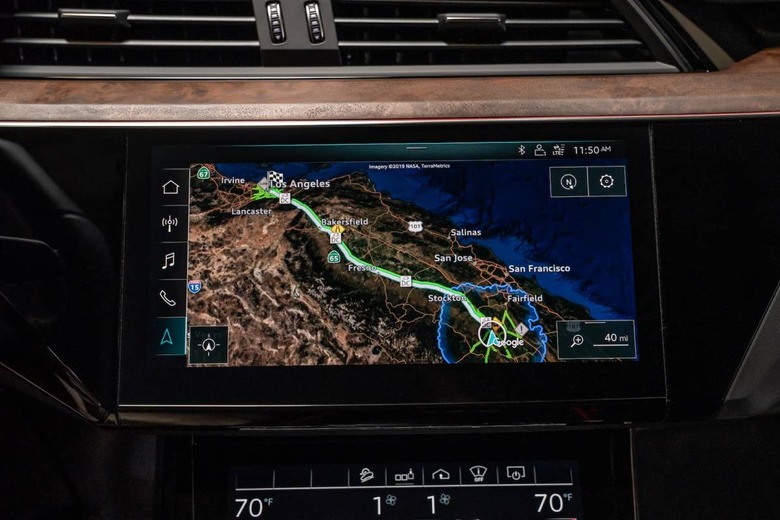 It's also possible to set up a navigation route on your phone and then wirelessly transfer that to the car's system, complete with suggested stop-off points for charging. You can set what level of charge you want to end the trip with, and opt to only see the fastest charging stations. Electrify America (EA) chargers show live occupancy information, too, so you know if they're in use, though they don't give any indication of how long a car has been there or when it might be leaving. New e-tron buyers get 1,000 kWh of EA charging, about 2,000 miles worth, to use in the first four years of ownership.
There's more to EVs than range
EV range is a huge source of anxiety for some drivers, not to mention a key factor by which each new model tends to be judged. After all, how far you can drive between charges can be the difference between an electric car being practical or out of the question. Audi, though, wants to reframe that discussion.
First things first: no, the 2019 e-tron doesn't have class-leading range. Its 95 kWh battery is rated for 204 miles – per the EPA's test cycle – or 74 MPGe, in no small part because Audi reserves about 12-percent of the total capacity for future longevity. On paper, that puts it behind luxury EVs like the Tesla Model X and Jaguar I-PACE.
Audi's argument is that, while range may be important, rate of charging is equally so. As soon as you have to factor in at least one stopover point in your trip, because your electric car doesn't have the juice to make it uninterrupted, the speed at which you can replenish the battery becomes just as vital. Take that into consideration, and those rankings start to look quite different.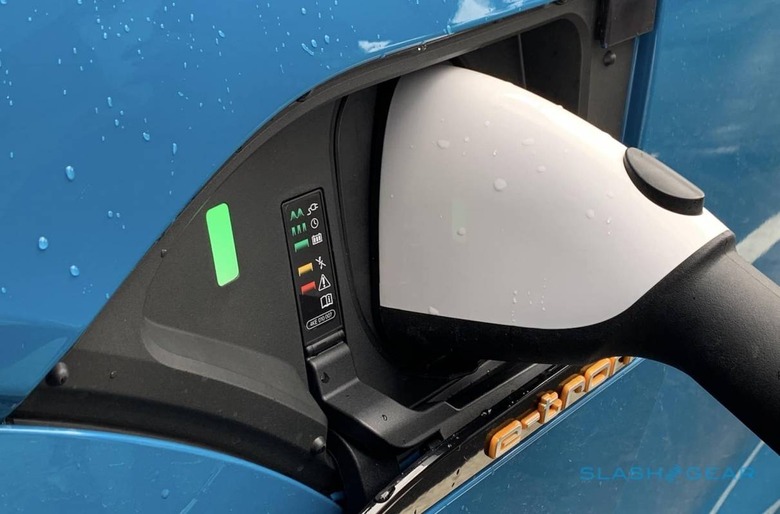 Batteries don't necessarily charge at a steady rate. In fact, there are lots of factors which affect recharging speed: what level you're starting out from, the temperature of the battery, and the power of the charger itself, among other things. Shifting an EV from 20-percent to 40-percent charge could take a fraction of the time that going from 60-percent to 80-percent would.
To understand that, you need to look at the charging profile: effectively a curved graph that shows what power an electric vehicle can take in, at each stage of the battery's charge. In traditional gasoline vehicle terms imagine if, as your fuel tank filled up at the gas station, the opening you had to pump fuel through got narrower and narrower. You'd have to slow down, in order to successfully get any more gas inside.
This all means that, with a 150 kW charger – the most powerful that the e-tron supports – you'll be able to continue taking in pretty much maximum power until around 80-percent total charge. Rival electric vehicles, in contrast, can start to taper off from their peak charger input from 40- to 50-percent total charge.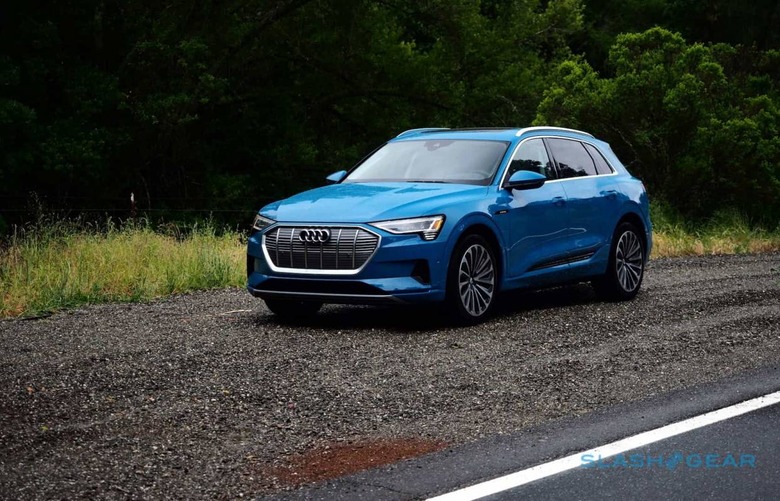 Audi's boast is that, with a 10 minute charge on a 150 kW DC fast charger – such as those being installed across the US by VW Group-backed Electrify America – you can add 54 miles of range. You'll need to find such a charger first, mind. EA says that it should have 400 offering "up to 350 kW" by the end of July 2019, though you should probably consult the map to see if one is actually near you.
Of course, the irony is that charging while on the road actually accounts for only a small portion of the time an EV spends plugged in. The vast bulk of charging takes place at home or at a place of work. On a 240V Level 2 charger – which Audi includes – the e-tron will take about nine hours until it's full.
An EV for the seasons
When Audi invited us out to take the e-tron on a road trip from Yountville, CA, to Lake Tahoe, it probably expected sunshine. What it actually got was two very different days of weather. While a prior wave of media saw temperatures ranging from 46 degrees Fahrenheit at worst, climbing to 83 degrees at best, by the time I took the wheel two days later the Audi was facing snow, sleet, rainstorms, and lows of 31 degrees.
Combined with a challenging route that included 7,000 feet of elevation change, it proved to be a fairly ideal test to see just how the e-tron would handle unpredictable real-world conditions. This wasn't a time for hypermiling to get the maximum range from the battery, or indeed an opportunity to coddle the electric SUV.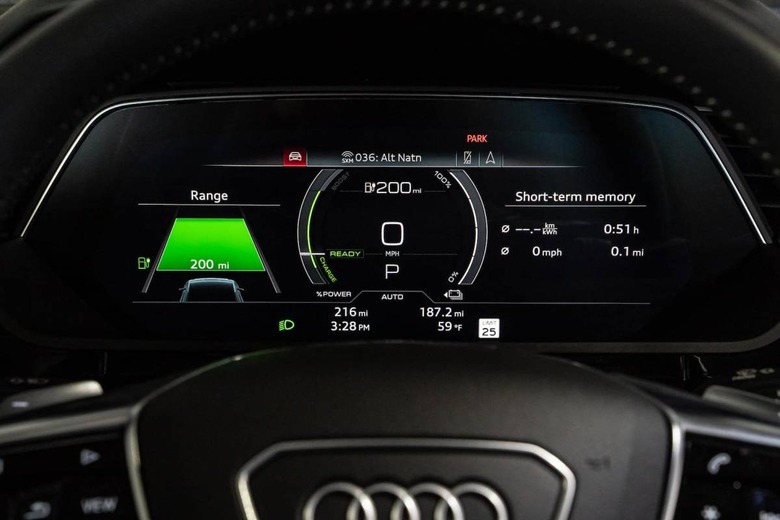 Audi had specially outfitted its e-tron fleet with custom data-loggers, tracking power consumption, battery level, and driving conditions against location. That's not something regular e-tron models will get: indeed, there's not even the usual power flow graphic that most EVs offer. Instead, there are simple gages on the Virtual Cockpit to show when you're using power and when you're recuperating it through braking.
The total drive worked out to 229 miles, and so Audi had baked in a stop at a recently-opened Electrify America charging station. There, courtesy of a 150 kW charger, we topped the battery up enough over lunch to finish the route. According to the graph produced by Audi and EA, the e-tron reached its peak 154.13 kW at 79-percent total charge before the rate started to reduce, though even at 91-percent it was still pulling almost 80 kW.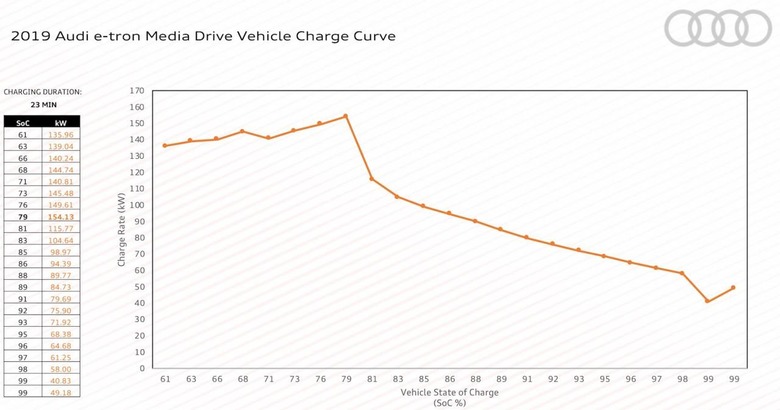 Overall, the e-tron saw an average consumption of 2.13 miles per kWh. That seems pretty consistent, too. When compared with the other eight cars doing the same route on the same day, the overall average was 2.12 mi/kWh.
Contrasted with the far warmer, dryer drive a couple of days earlier, the e-tron saw around 10-percent less range when in low temperatures and rougher weather. For example, in one of the more challenging sections, the EV's consumption was 1.7 mi/kWh on average when faced with 31 degree lows and 64 degree highs. With the warmer temperatures (58 degree lows and 83 degree highs) it improved to 2.0 mi/kWh.
Based on those figures, then, the total range estimate for the whole trip turned out to be 178 miles. Yes, that's 26 miles less than the EPA's number, but it's worth remembering that our route was undoubtedly tougher – and its conditions harsher – than those the Environmental Protection Agency uses.
More Audi than EV
The e-tron does not feel like an electric rocket ship. 0-60 mph arrives in 5.5 seconds, assuming you've put it in Sport mode. That's the way to access the 402 hp "boost" feature, which for eight seconds gives you a heathy bump from the standard 355 hp. Torque comes in at 414 lb-ft normally, and 490 lb-ft in boost. Top speed is an electronically-limited 124 mph.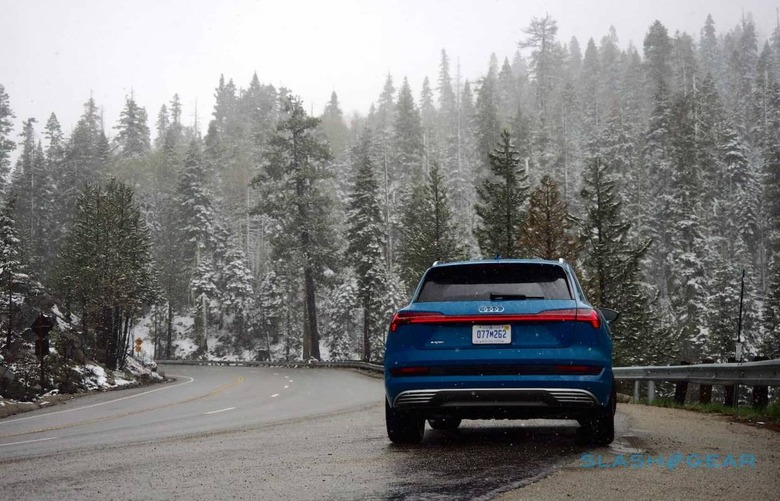 It drives... like an Audi SUV. Stable and poised, eminently familiar if you've been behind the wheel of a recent Q3 or Q5. It'll tow 4,000 pounds too, a little shy of the Q5's 4,400 pound maximum rating. The electric Quattro system had no trouble with the wet conditions. Not as eager or firm as an I-PACE, but the fit and finish puts both Jaguar and Tesla to shame.
Audi is explicitly not chasing the first wave of electric car buyers. Instead, its target is those who might walk into a dealership looking for an internal combustion SUV, but then be tempted by something electric instead. That has led to a couple of decisions that might seem strange to those familiar with EVs, mind.
One-pedal driving, for instance – where you can modulate the speed only by using the accelerator – is absent. Instead, Audi offers three levels of regenerative braking, thought by default the e-tron handles that all itself. If you want to get involved, you can use the steering wheel paddles to toggle through everything from coasting, where the motors are disconnected and the SUV just glides, through to higher levels that feel more like engine braking in a manual transmission ICE car.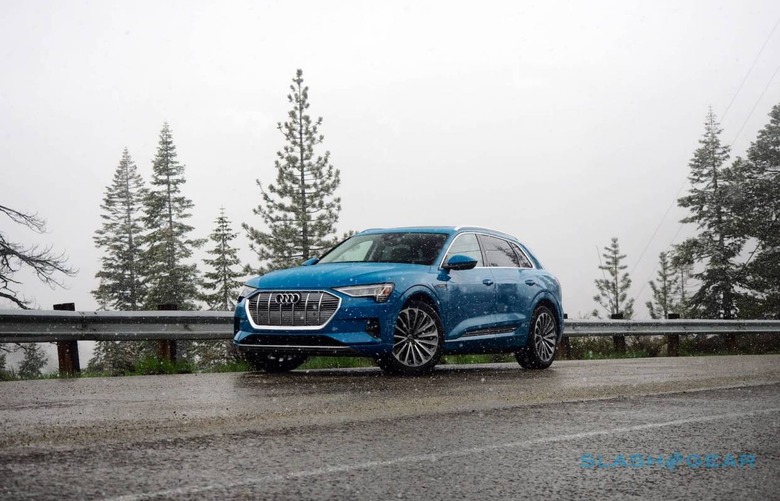 That's an interesting decision, because Audi's regen system is particularly special. Once you're above 10 mph, over 90-percent of all braking is actually done by regen: pumping energy back into the battery pack, rather than squandering it on the traditional brake pads. Audi's brake-by-wire system will seamlessly blend in the regular brakes if more slowing force is needed.
It's good enough that I found it a real shame that Audi hasn't at the very least buried a one-pedal option in the settings somewhere. The automaker argues that it makes transitioning from ICE to EV more familiar, though I'd counter that discovering how convenient it is to drive most of the time with a single pedal – particularly in urban settings – is a joy of electric vehicles that e-tron owners will now miss out on.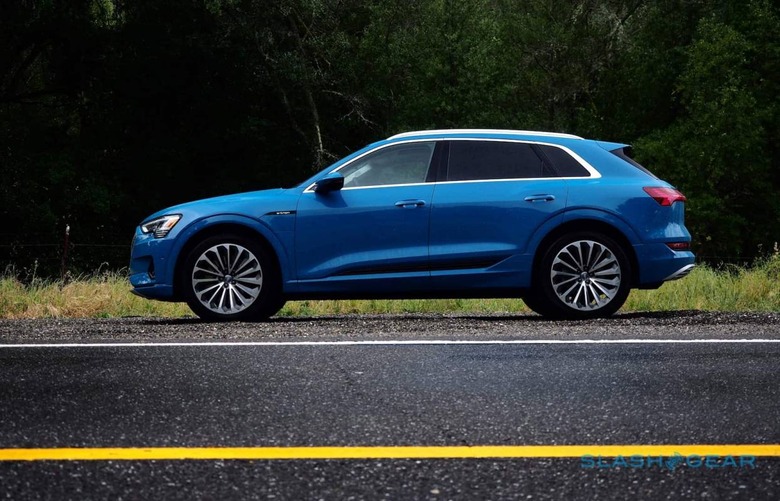 Still, Audi knows its audience well, probably better than I do. The 2019 e-tron comes with an 8 year, 100,000 mile warranty on the battery, to assuage concerns that it might fail completely. The battery pack has been designed to be modular: 36 screws hold it in place, and once dropped out from the underside of the car, each of the 36 modules that make it up can be individually replaced. Dealerships, the automaker is promising, will all be up to speed when it comes to maintenance. This is a 50 state car, not some compliance-chasing, limited availability release.
2019 Audi e-tron Verdict
More options in the electric vehicle space can only be a good thing. Similarly, more options from established automakers transitioning from ICE cars will only improve the segment. Does the e-tron have the longest range, the best performance, or the most high-tech features? No, but it does offer realistic range, a comfortable driving experience, and the reassurance of Audi's four rings on the front.
That's going to be essential for selling EVs to more than just early-adopters, and moving electrification further into the mainstream. In the process, there needs to be more discussion around the full extent of factors which shape electric car ownership. Not just range, but how we charge and where we charge.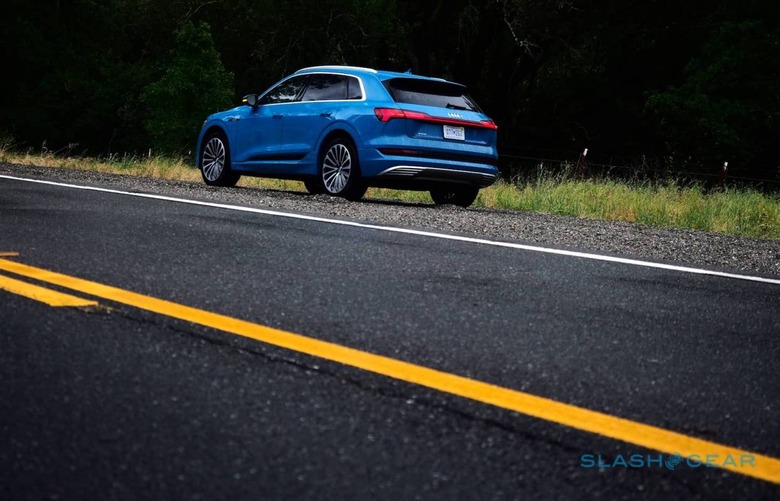 If you're a Tesla fan, that might sound like old news, much in the same way that the Audi's range might seem underwhelming. It's easy to sit at the bleeding edge and forget that the majority of people aren't quite where you are – or willing to take the risk on a relatively new automaker, with all the potential servicing and other headaches that can come with that. For many, it'll take a familiar brand to get them past that final hurdle where considering battery-electric is realistic.
That doesn't make the 2019 e-tron perfect, but it does mean it fits just right into the automaker's line-up. Audi has made the Audi of EVs, and for its owners that's everything they've been waiting for.