2019 Audi e-tron first drive review: Drifting an EV SUV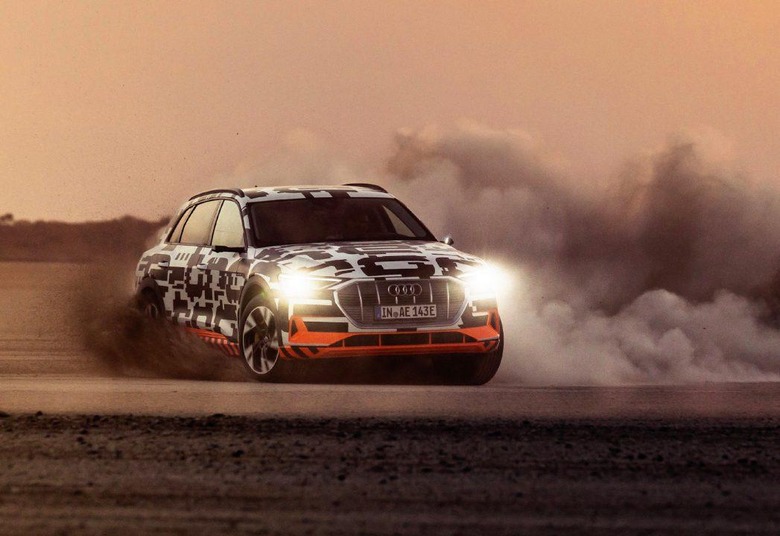 Technically speaking, my first drive of the all-new, fully electric 2019 Audi e-tron never saw its cutting-edge electronically controlled all-wheel drive system touch a public road in Namibia, South Africa. The all-electric SUV isn't due to reach US roads until next year, but when Audi asked us if we wanted to put its new EV quattro system through its paces well in advance, we didn't turn the automaker down. Turns out, while the new e-tron may not quite be ready for release, that doesn't mean it's not up for some seriously silly drifting.
With public asphalt off the menu, I instead headed to the middle of the desert via a small bush plane, then from there to the salt beds where a makeshift "ice track" had been carved out. While we've experienced the e-tron's unique recuperation technology before, that was only from the passenger seat. This would be the first time Audi allowed us to take the wheel ourselves.
It shows a level of confidence you might not expect for what will be Audi's first all-electric SUV: this was to be no tip-toeing around a placid course with anxious engineers pleading for me to be more cautious. Then again, the 2019 e-tron comes on the heels of the 2019 Q8, Audi's flagship SUV, which like just about everything arriving from Ingolstadt lately was bristling with technology. The EV only cranks that up further.
Almost the same size as the Tesla Model X, though a little wider and with a more aggressive stance, the e-tron is strictly a five-seater. That means, with a similar wheelbase to the Tesla, you're looking at a whole lot of cabin space for both people and their luggage. Inside the trunk you'll find room for 23.3 cubic feet of cargo. During our safari drive, which I would certainly rank as a light off-road driving experience, our two rear-seat passengers had no complaints.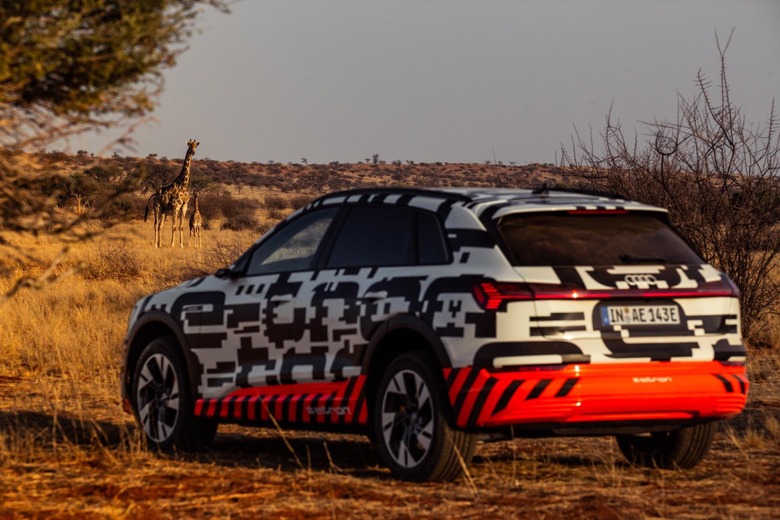 Audi powers the e-tron with a pair of asynchronous motors, a smaller one up-front and a larger version in the back, with an initial power split of 45-percent front to 55-percent rear. Don't expect that ratio to stay constant, though, even for a minute. In everyday driving conditions you can expect the bulk of the power to come from the rear: that, Audi says, should help maximize battery power. Switch to Sport mode and both motors work together to produce a boosted output of 355 horsepower and 490 lb-ft of torque. That's enough for 0 to 60 mph in 5.7 seconds.
I didn't expect Audi to encourage me to test that out, but I was wrong. The track setup consisted of a long straight for acceleration testing, a drift section, a slalom for performance, and then finally a handling test. If I'm being honest, I drifted the e-tron anywhere I could, on any turn where it was even remotely possible.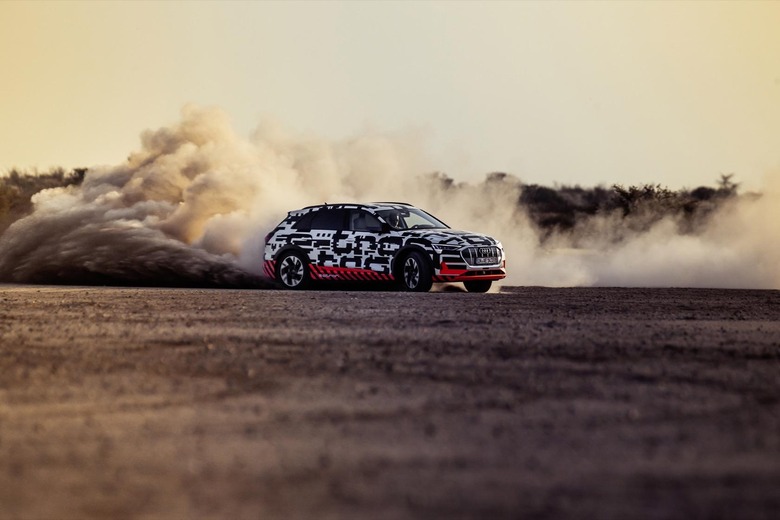 Hitting the long stretch, after drifting around a tight left-hander, I was able to smash the accelerator and kick boost mode into action, rapidly getting the car back up to 70 mph. It's eerily exhilarating, because the e-tron comes without the engine howl you'd typically expect from performance driving. When boost mode kicks in, firing indeed on zero cylinders, you just get the sense of urgency to rush towards the most exciting part of the track: a tight – but just-wide-enough – hairpin left hand turn. But before I get to that, let's quickly go under the sheet metal to see just what the two motors are doing at this moment in time.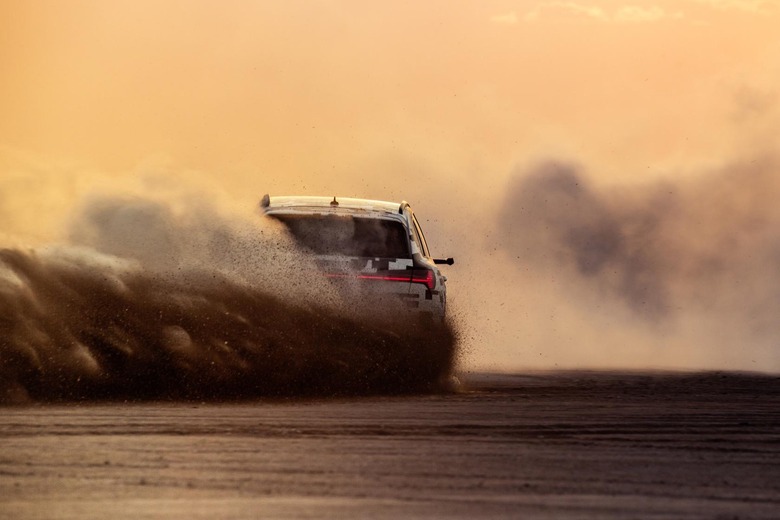 The front electric motor is mounted parallel to the front axle, and can achieve a peak output of 125 kW or 168 horsepower, and 182.2 lb-ft of torque. Its counterpart in the rear is rated at 140 kW or 188 horsepower, and 231 lb-ft of torque. Two-stage planetary gearboxes – with a single gear range – route the power to the driving axles.
Each motor is equipped with its own power electronics module, which works in conjunction with the drive control unit to process the sensor data coming from the accelerator pedal, the new brakes, and the electric all-wheel drive system. It's the latter which was giving me that sideways entertainment, and though Audi isn't exactly new to quattro cars, how this particular one works is very different.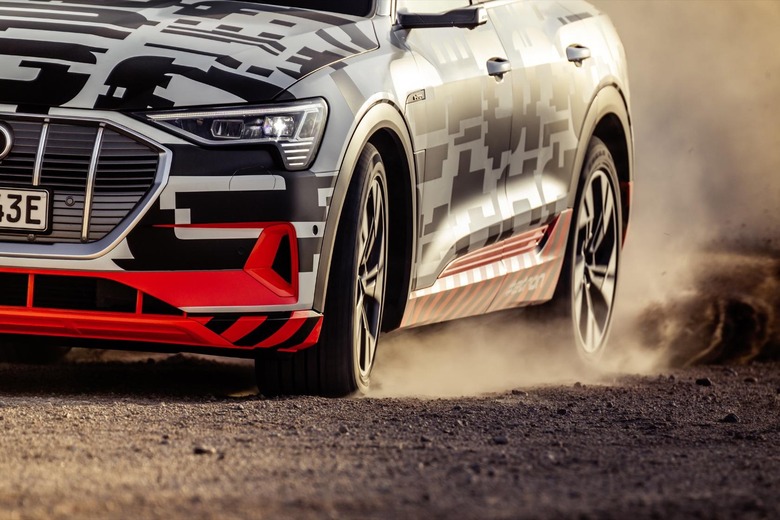 Like, say, the mechanical quattro system in the Q8, the idea is straightforward: monitor what's happening at the front and rear wheels, and feed power to whichever requires it, or has the most traction, as quickly as possible. Where the Q8's quattro relies on a mechanical connection between the front and rear axles, however, the e-tron does its balancing act electronically.
As I said before, the e-tron will mainly use the rear motor in normal or sedate driving. Torque is thus biased toward the rear axle, giving the SUV the sort of shove and overall driving dynamics of a rear-wheel drive car. Should more power be required, or if the driving conditions demand more grip up front, the system can bring in power to the front axle as well. But there's more to this system than just reacting to wheel slip.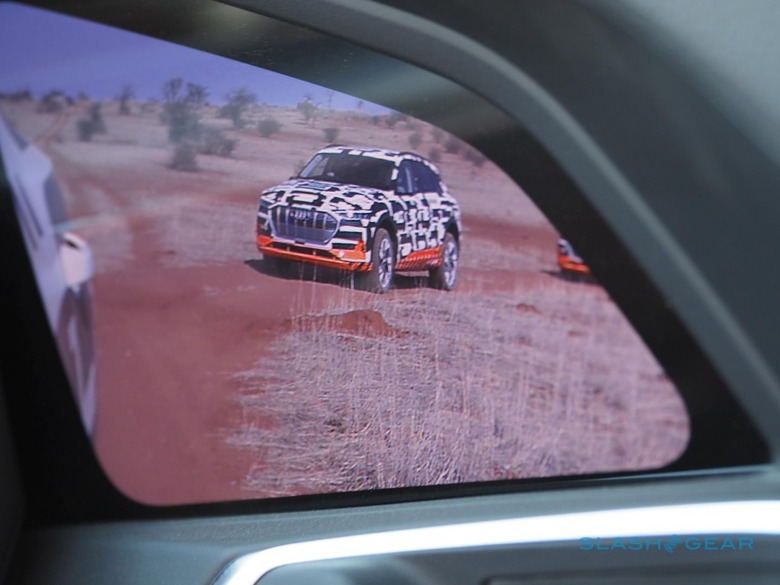 It can predict if the e-tron will slip as you attack a corner, for instance, or if you're likely to understeer or oversteer. When this happens, the quattro drivetrain will take only 30 milliseconds to react, many times faster than a mechanical drivetrain would require. It's particularly noticeable when each of the wheels are independently delivering torque control during entry and exit at higher speeds through the handling sections of the track. Think surgical knife-sharp reactions, as the central suspension control unit predicts wheel slip 50 times faster than a mechanical version would take, and then automatically brakes the inside wheels in corners so as to push torque to the outside and tighten up the turn.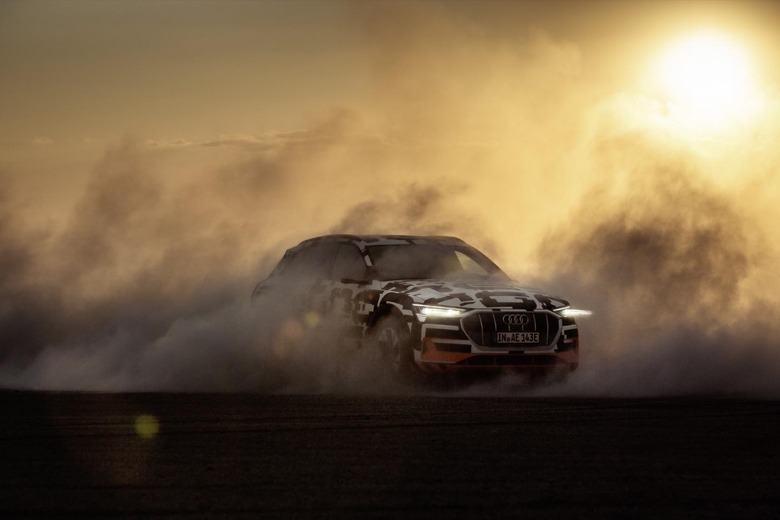 With expansive salt beds to play with, Audi encouraged me to not only put all the drive modes through their paces, but try the e-tron out for size with ESC on, ESC Sport, ESC Off with DriveSelect on auto, and then turning off ESC altogether. That means you're basically on your own.
It also means you can drive the e-tron like a lunatic, which I did, without thinking about what drivetrain configuration is required for a particular road. The system works seamlessly in the background, and honestly I couldn't feel it at work at all. It may be electronic, but there was none of the sense of computerized remoteness that you might expect.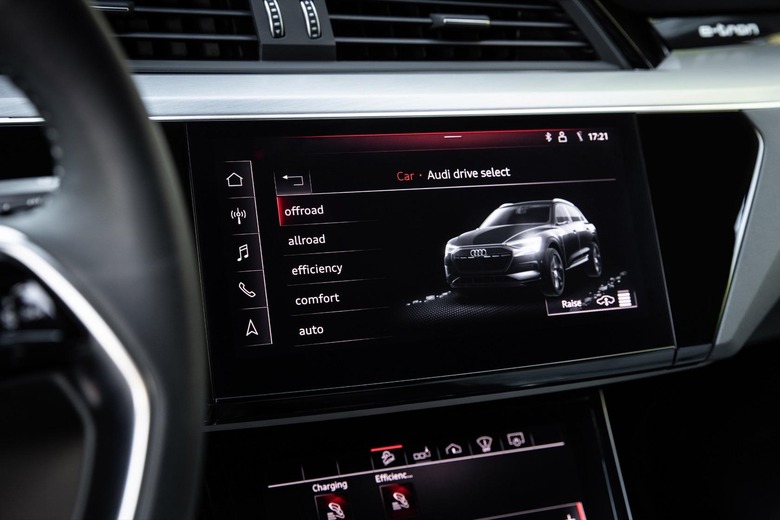 Had I been on regular roads, I think that would be my key takeaway: regardless of which drive mode you switch to, you're going to have a ton of fun driving the e-tron. Since I was often traveling sideways accompanied by huge plumes of dust, though, my attention was elsewhere. There, my big realization was just how much slip you get between the ESC being off and on at higher speeds, such as when I was pushing through the tight handling and performance section of the track. The hairpin drifting section could be tackled whether ESC was enabled or not, though you get more control with it switched off. That means a wider radius of drift and at a much higher speed.
SUVs aren't typically known for being sports cars, but the e-tron never felt less than centered. That combination of instantaneous torque and clever quattro pointing it in the most effective direction left me with an exact sense of what the front and rear ends were doing at all times, up until the moment the car straightened up.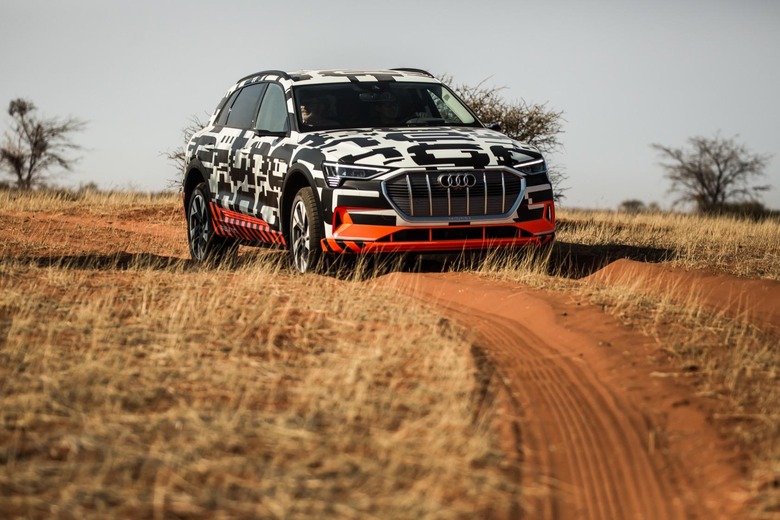 The tech doesn't stop there. Audi outfitted the 2019 e-tron with a five-link front and rear air suspension system as standard, and so not only does fiddling with the drive select system alter the drive and steering settings, but the behavior of the adaptive suspension too. Unusually, the e-tron gets pneumatic springs that adjust individually to suit the prevailing road conditions, tweaking the compression and rebound on all four wheels continuously as you drive.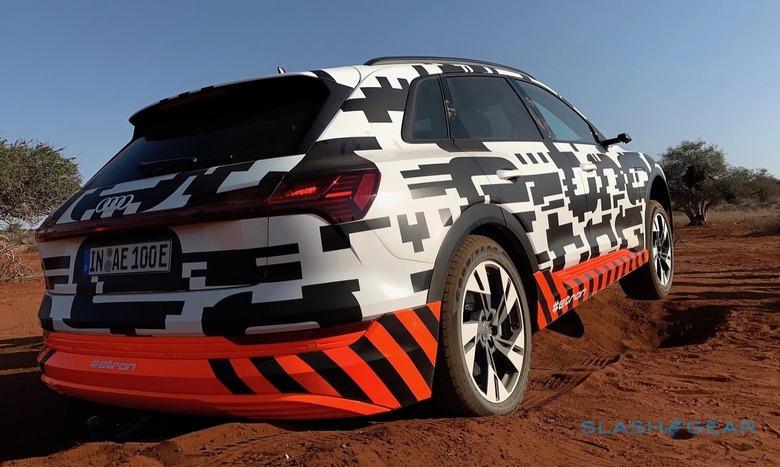 Air suspension also means the ability to adjust the ride height, something which comes in especially useful for off-road driving. In off-road mode, the suspension will lift the e-tron to increase the ground clearance by 35 millimeters or 1.4inches. Select "lift" mode and the suspension cranks up another 0.6 inches. Back on paved roads, the suspension will automatically lower the e-tron by as much as 26 millimeters or 1.0 inch from its standard height, to reduce wind resistance and improve aerodynamics.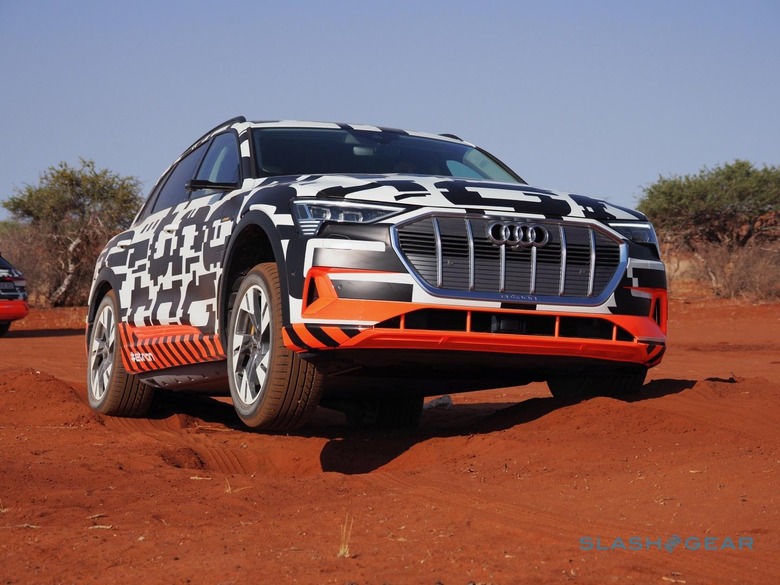 I had a chance to see the lift mode in action the following day, taking the e-tron off on a "safari" designed to somewhat mimic what folks might experience should they take it off-grid to a cabin in the woods. Whether you're on or off the road, with an axle load distribution of 50:50, and the additional 45-percent torsional rigidity compared to conventional SUV, I'm pretty confident that the e-tron is ready to take on anything an owner might reasonably be expected to throw at it.
Off-grid does suggest roaming beyond the e-tron's fuel of choice, though with a 95 kWh lithium-ion battery you should have enough to leave the highway behind. Mounted in the floor, between the axles for optimum weight distribution, the battery is good for around 248 miles on a full charge, on the European test cycle at least.
Helping hit that number is the fiendishly clever energy recuperation system. Lift off the accelerator and, like in all EVs, the e-tron uses its electric motors as generators to convert kinetic energy back into power for the batteries. What's more interesting is how Audi uses braking. Hit the brake pedal, and the e-tron uses an all-new electrohydraulic actuator to blend regenerative braking with a little input from the traditional disc brakes to maximize how much electricity you can recover.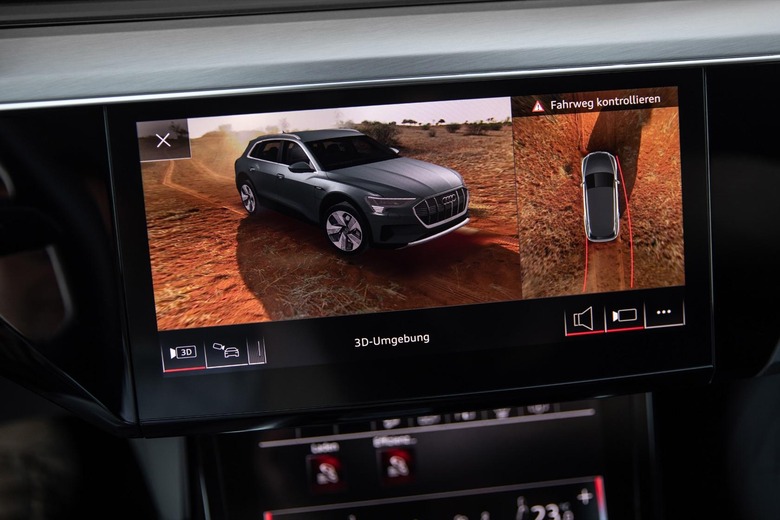 90-percent of the time, Audi tells me, the electric motors alone can brake the e-tron sufficiently without requiring the normal brakes. Indeed, slowing from 60 mph, the system can recuperate a maximum of 220 kW, which is frankly astonishing in the production EV segment. As you'd hope, it's all still invisible to the driver: there's no change in pedal feel. Where you see the difference, in fact, is in the range. Audi says its system is responsible for as much as 30-percent of the 248 miles the e-tron can deliver.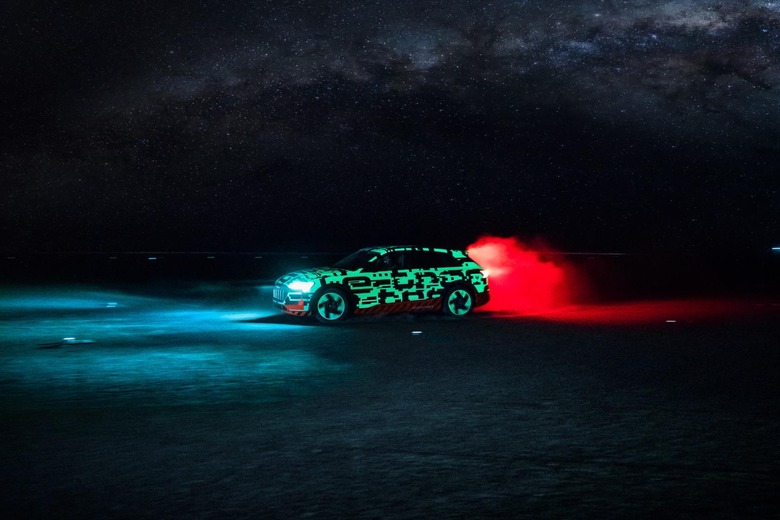 At the end of the day, Audi isn't billing the e-tron as a sports car by any means, but it probably could do. The "Sport" in SUV here isn't just marketing: the combination of quattro, electric drive, and effective brakes were more than sufficient for tackling the challenging course Audi had developed, and leave me with little doubt that the e-tron is up to handling what more conventional roads might throw at it.
When Audi offered a chance on the same track but at night, with nothing but the headlamps of the EV to guide me around, it's testament to the car's handling and electronic systems that even with the ESC switched off I had no problems getting around at close to my speeds during the day. I shot the above video above with a night-vision camera, incidentally – in reality, visibility was a whole lot worse!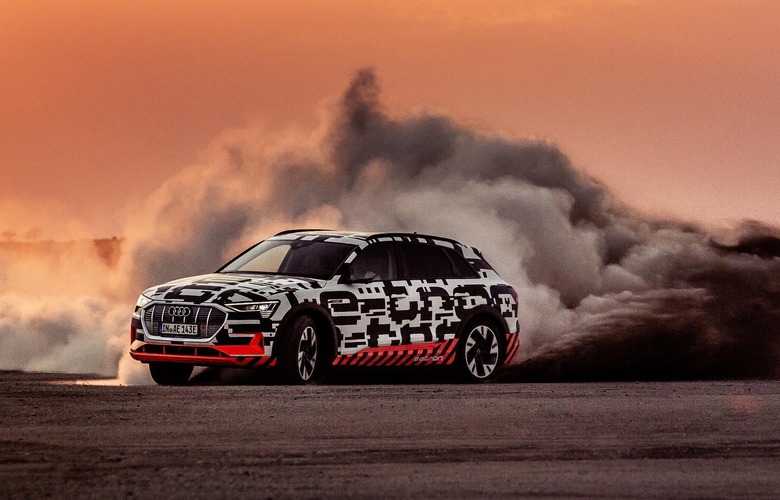 There's plenty more to talk about the 2019 e-tron. I walked away impressed by how quiet the cabin is, not to mention the interior design, technology, and fit & finish, and I'll go into more detail there in a later article. For now, though, if there's one thing you can be absolutely sure of, it's this: if electric cars had a reputation of being fast in a straight line but heavy in the corners, Audi has put that to rest, and decisively. Bravo, e-tron, bravo.