2019 Audi e-tron official: Luxury electric SUV gets priced for US release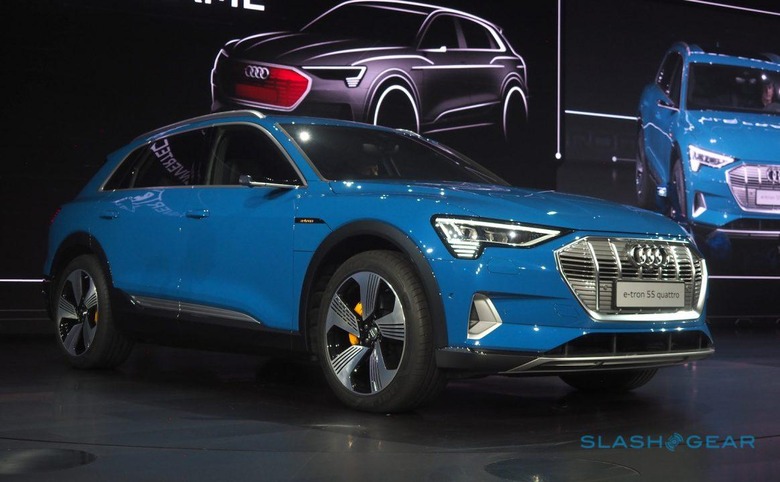 The electric SUV space is about to get crowded, with the 2019 Audi e-tron making its official debut in production form. Revealed in San Francisco, CA today, the all-electric five-seater promises the luxury and gadgetry you'd expect from an Audi, but with the green performance of an EV. Of course, there's one big question we have ahead of 2019 e-tron sales in mid-2019.
It's an Audi SUV - with a twist
At first glance the Audi DNA is obvious, though aerodynamics and a new electrified design language do mark the e-tron out from the crowd. At the front, the brand's Singleframe grille dominates the nose, though its frame is finished in platinum grey which Audi says will be its EV signifier. LED headlamps flank it, embellished with four horizontal DRL struts that the automaker says are intended to remind you of charging indicators.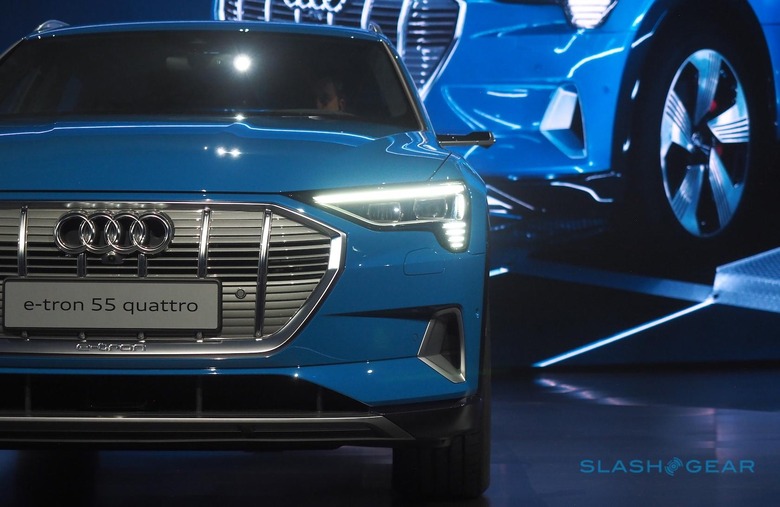 It's not the only nod to the unusual propulsion. The black inserts on the sides are meant to remind you where the battery is located, for example, while the LED tail lamps – connected with a light strip similar to that of the A7, A8, and Q8 – are meant to look like full battery icons. Even the diffuser design is meant to subtly underscore the fact that there are no tailpipes.
Audi's handiwork isn't all visual, though. Making an electric SUV slippery through the air is essential if you want to maximize range, and many of the details are designed with that in mind. The standard 20-inch wheels, for instance, have ultralow rolling resistance 255/50 tires, while the underbody's full aluminum plate not only protects the battery but lowers drag. Even the screw points in it are recessed, creating tiny vortices that Audi says will help guide the flow of air.
Adaptive, speed-dependent air suspension is fitted to the e-tron as standard, lowering the SUV at higher speeds or according to drive mode. With it – and the adjustable dampers – the EV can adjust its height by up to 3-inches.
Quattro comes as standard
Audi is known for its Quattro all-wheel drive, and the e-tron delivers that with two electric asynchronous motors (ASM). The automaker isn't giving final horsepower and torque figures yet – they'll come closer to the SUV's arrival in US dealerships – but together they're good for 0-60 mph in 5.5 seconds, and a top speed of 124 mph. Maximum torque arrives in just 250 milliseconds.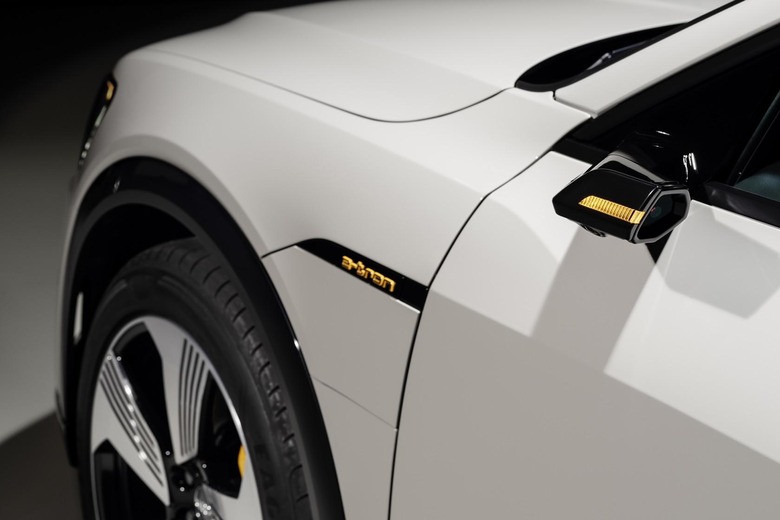 During regular driving, at moderate speeds, the e-tron favors the rear motor for efficiency. However, in the manner of its mechanical quattro with ultra technology system on gas SUVs, the second axle can be engaged predictively, as the car notices grip declining. Torque is distributed with a slight rear bias, but by selectively balancing power front and rear, and briefly applying the brakes left and right, the e-tron can control which wheel gets maximum force.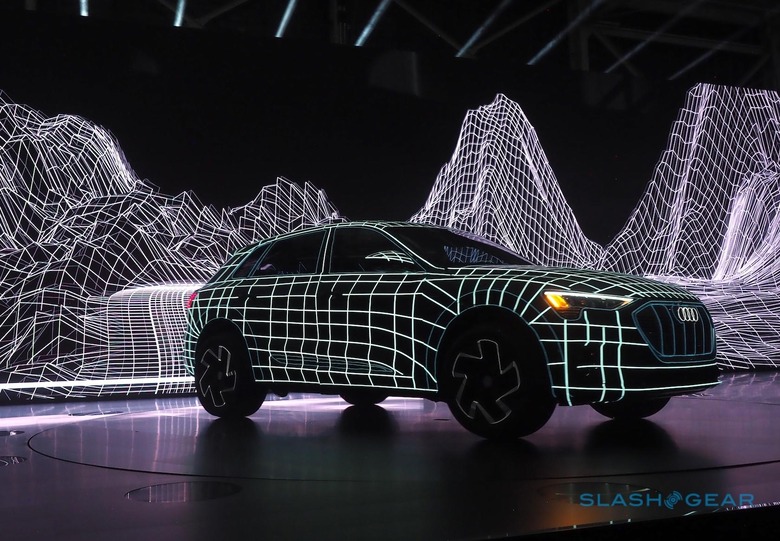 The Four-stage Electronic Stabilization Control – which includes "sport" and "offroad" modes – can be turned off altogether, and there are seven Audi drive select modes, spanning comfort through to dynamic. In "offroad" mode ground clearance is increased by 1.4-inches; a further 0.6-inches can be added by hitting the "Raise" option.
Progressive steering is fitted as standard, with a speed-dependent ratio that changes according to steering angle. Five-link suspension is fitted front and rear. A trailer tow hitch can be installed, with the e-tron having a maximum tow rating of 4,000 pounds.
Battery and range
Audi has opted for a 95 kWh battery, with a nominal 396 volts, and consisting of 36 cell modules each containing twelve pouch cells. Each module has its own aluminum housing, roughly the size of a shoebox, and the e-tron spreads them across two levels, mounted low down in the SUV to keep the center of gravity low.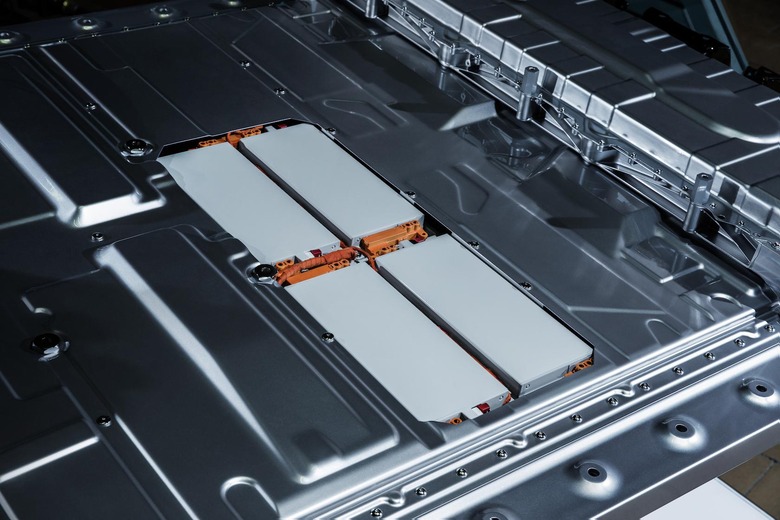 For cooling, Audi has implemented a series of flat aluminum extruded sections, divided into chambers. They're thermally connected to the battery cell modules with a thermally-conductive gel. Together with the "substantial" plate of underbody aluminum, the whole battery and cooling assembly contributes roughly 1,543 pounds to the e-tron's weight.
Audi is doubling the warranty for the e-tron's battery, extending it to 8 years or 100,000 miles. The rest of the car has a 4 year / 50,000 mile warranty.
The big question, of course, is just how far that 95 kWh battery will take you. Audi says that its official EPA estimated range won't be revealed until closer to the e-tron's US release next year. On the European test cycle – which operates differently to US testing, and is generally seen as less arduous – the battery is estimated at up to 400 kilometers, or around 249 miles. We'll have to wait until next year to see how that translates to US range.
Getting charged up
Audi may not have its own Supercharger network like Tesla, but the automaker isn't leaving the e-tron without options. For a start, it'll be including a 9.6 kW AC charger (Level 2, 240-volt/40 amps) in the SUV's trunk. That'll be capable of using either a regular 120-volt household outlet or a 240-volt NEMA 14-50 outlet for much faster charging.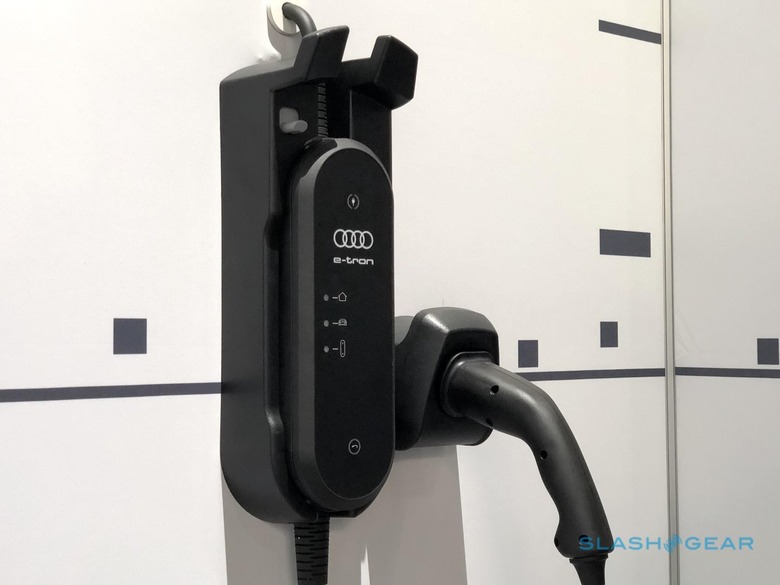 It's more than most EV-makers supply – typically, the travel charger is a 110-volt unit only, though Tesla does include a 240-volt-capable one in its cars – but there'll be a fixed charger installation service, too. Audi has partnered with Amazon for its "Audi Home Charging powered by Amazon Home services" option, which – for a single fixed cost – will cover both the purchase of a Level 2 home charger and its installation.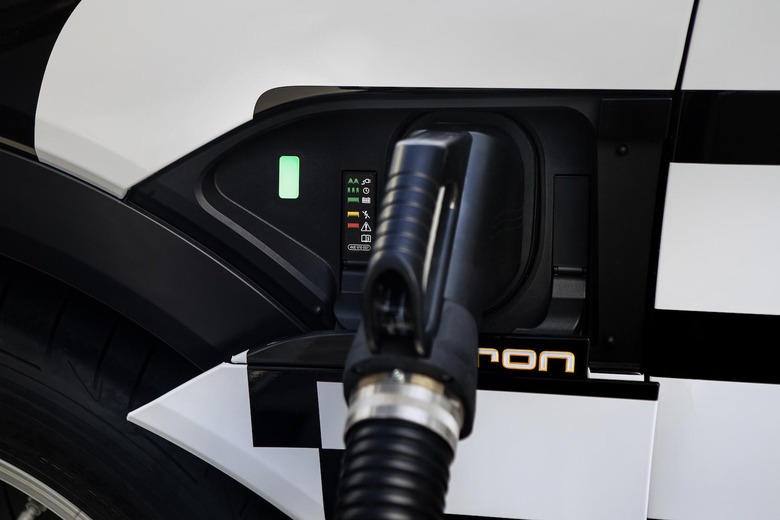 That will support the usual scheduling for charging according to different electricity tariffs, as well as for pre-conditioning the cabin. Setting a departure time, for instance, can make sure the e-tron is charged by that point and that the HVAC system has cooled or warmed the interior as appropriate. There'll be zone-based control over that, too: it'll operate the heated seats or heated steering wheel.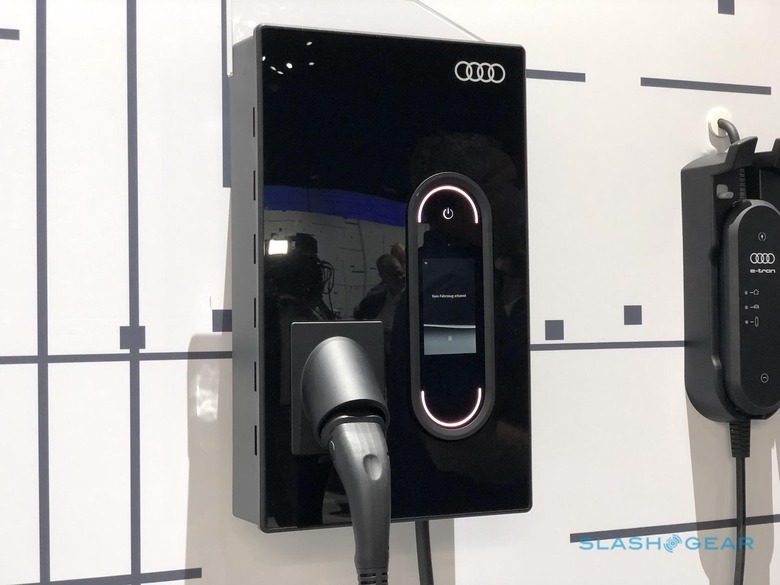 One the road, meanwhile, there's a growing charging network across the US, "Powered by Electify America." Audi says that, by July 2019, it expects that charger infrastructure to have nearly 500 fast-charging sites – albeit either "complete or under development" – across 40 states and 17 metro areas. By the end of 2019, there should be 300 highway locations and 650 metro locations. Highway chargers will be, on average, 70 miles apart, but no more than 120 miles at most.
The chargers themselves will be able to deliver up to 350 kW for faster top-ups, and e-tron buyers will get 1,000 kWh of Electrify America charging credits. That, Audi says, is equivalent to more than 2,000 miles of driving.
The 350 kW potential of the chargers, however, is more about future-proofing. In the case of the new e-tron, up to 150 kW DC fast charging will be supported, and Audi says that'll be sufficient for up to 80-percent charge in approximately 30 minutes. Come the Audi e-tron GT – and the Porsche Taycan – the 350 kW output will come into its own.
Recuperation is the key
Audi's electric motors also work as generators, converting braking force back into power that can extend overall range. The asynchronous motors can actually operate free from any magnetic drag torque, in fact, allowing for more efficient coasting. When recuperating power, Audi suggests as much as 30-percent of the e-tron's range could be supplied through regen.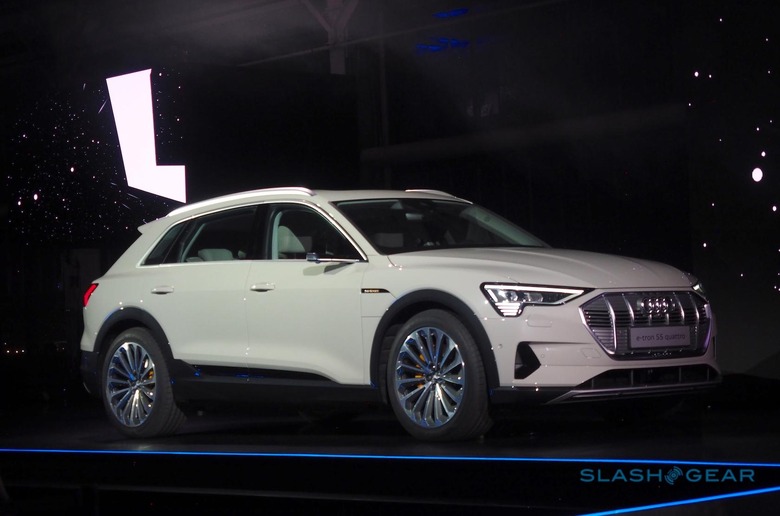 Take your foot off the accelerator, and coasting recuperation feeds power back into the batteries. Press the brake, meanwhile, and the e-tron automatically decides whether to use recuperation or the physical brakes. The former is sufficient to handle 90-percent of all braking scenarios, Audi says, with the friction brakes only adding their force if particularly required.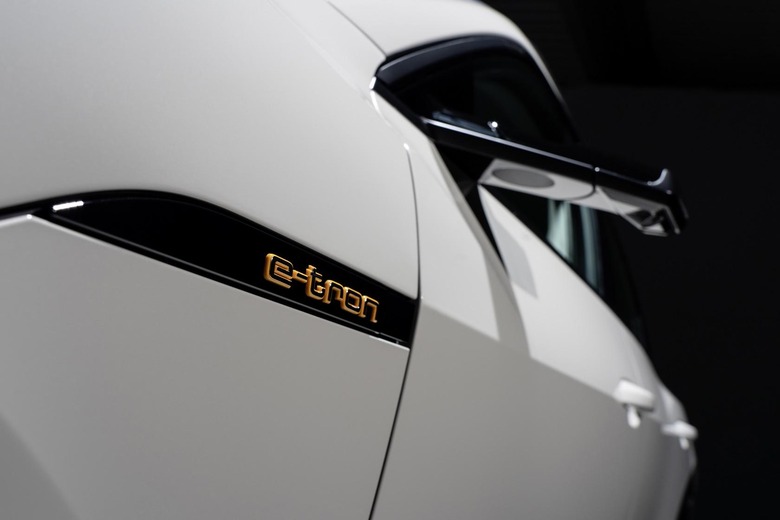 The e-tron offers three levels of energy recovery, controlled using the paddles behind the steering wheel. At the lowest setting, lifting off the accelerator allows the SUV to glide with no additional braking torque. At its highest, conversely, you get one-pedal driving: the e-tron slows significantly when you lift off the power. Either way, an icon on the dashboard prompts the driver when to lift based on the navigation system, along with radar and camera information about the road ahead.
It sounds complex, but we've already seen in practice how it can perform. Back in August we joined Audi in a pre-production e-tron prototype to descend the infamous Pikes Peak course, tracking just how much power the EV SUV could squeeze out using recuperation. Turns out: it's a whole lot.
No hair-shirt interior
Luxury car buyers won't compromise on interior quality, even if they're helping save the planet, and so the e-tron doesn't stint inside. The clever camera-based side mirrors won't be offered in the US; you can blame regulations for that. However, there's no shortage of other technology – or, indeed, the sort of materials you'd typically find in a high-end Audi sedan or SUV.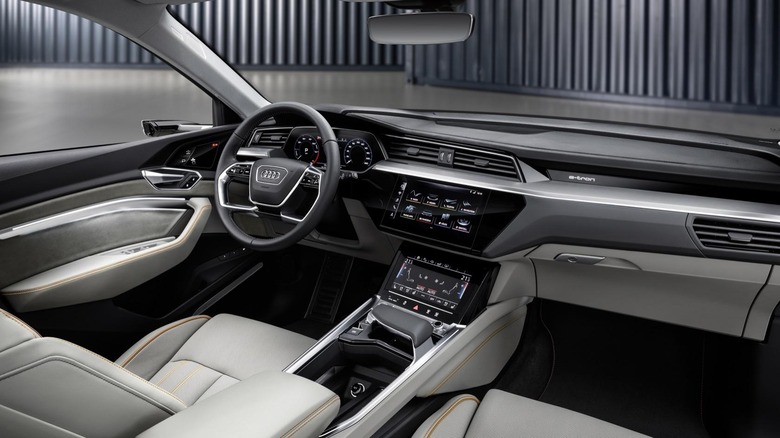 The dashboard wraps across the full width of the cabin, flowing into the door trim. Audi Virtual Cockpit Plus is fitted as standard, an updated version of the existing digital driver's instrumentation, its display free-standing behind the steering wheel; the latest MMI Touch system splits the infotainment across two sizable touchscreens. The upper, 10.1-inch panel handles media, navigation, and e-tron specific settings; the lower, 8.6-inch screen handles HVAC and text input.
As in the A8 and Q8, there's natural voice recognition, with cloud-based processing using the e-tron's embedded LTE connection that can also host a WiFi hotspot. Navigation is fitted as standard, with predictive destinations based on previous trips. Routes take into account available charging points along the way, including charging time in the ETA calculation, and taking into account the current state of the battery.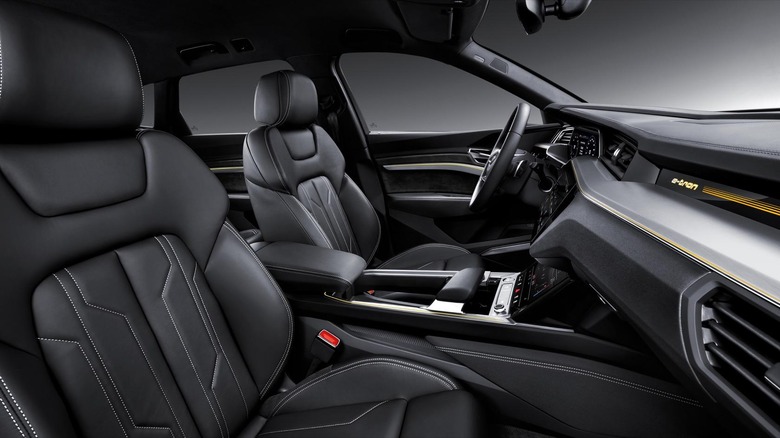 In the center console there's inductive phone charging and a small, "floating" gear selector. Valcona leather and natural wood trim are options, while the seats have stitching meant to be reminiscent of circuit board paths. A panoramic glass sunroof is standard, as is four-zone automatic air conditioning; an air quality package optionally adds an ionization and aromatization. The e-tron uses a heat pump to convert waste heat from the electrical components into power that can be used for the HVAC system.
Massage front seats can be had, along with heating/cooling. There's an ambient lighting package too, with adjustable color LEDs, while the 705 watt Bang & Olufsen Premium Sound System with 3D sound is fitted as standard. An electrically-operated tailgate – triggered hands-free with a foot gesture – reveals 28.5 cubic feet of luggage space; drop the second row seats, meanwhile, and that expands to 57 cu ft. A second front trunk – or "frunk" in EV parlance – accommodates the travel charger and the vehicle tool kit.
Not quite autonomous, but getting close
As you'd expect, the Audi e-tron offers all of the automaker's latest driver assistance and active safety systems. The Driver Assistance Package, for instance, adds adaptive cruise control that's capable of automatically responding to lane markings, roadside structures, and temporary limits in construction zones. It'll automatically adjust the speed according to what's best for battery life, as well as upcoming corners and turning circles. It can even intelligently settle into offset driving if multi-lane roads are too narrow for side-by-side positioning.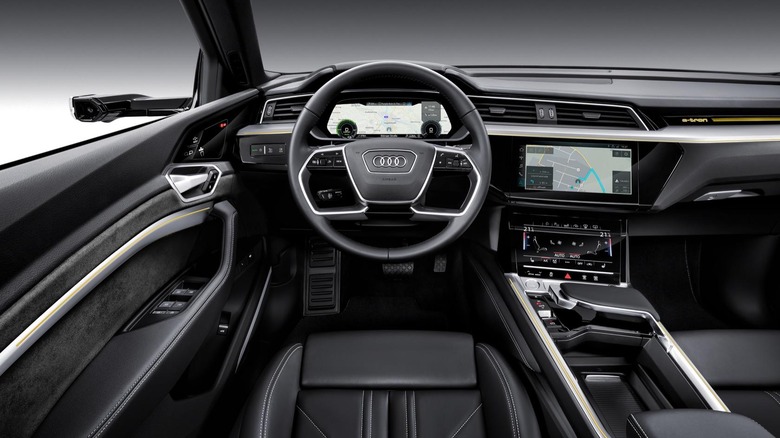 There's also intersection assistance, rear cross traffic assistance, and lane change and vehicle exit warnings. 360-degree cameras can be fitted, generating not only a top-down view but a 3D model of the surroundings that can be panned and zoomed around. That comes into its own with the Park Steering Assist package, that can navigate into and out of parallel and perpendicular parking spaces, forward or backward.
Pricing and availability
In the US, the 2019 Audi e-tron will kick off at $74,800 (plus $995 destination; before any incentives) for the Premium Plus model. That gets 20-inch wheels, Audi side-assist with cross traffic alerts, navigation, the B&O 16-speaker audio system, 12-way power front seats with heating and cooling, and leather seating surfaces, among other things. Options include a 19-inch wheel. US deliveries will begin in Q2 2019.
The 2019 e-tron Prestige, at $81,800 (plus $995 destination), adds a head-up display, Driver Assistance package, massage seats, power door closers, dual-pane acoustic front side windows, Valcona leather and extended leather across the interior, and the Air Quality Package. It also includes rear window sunshades and memory for the front passenger seat. Options include 21-inch wheels with all-season tires.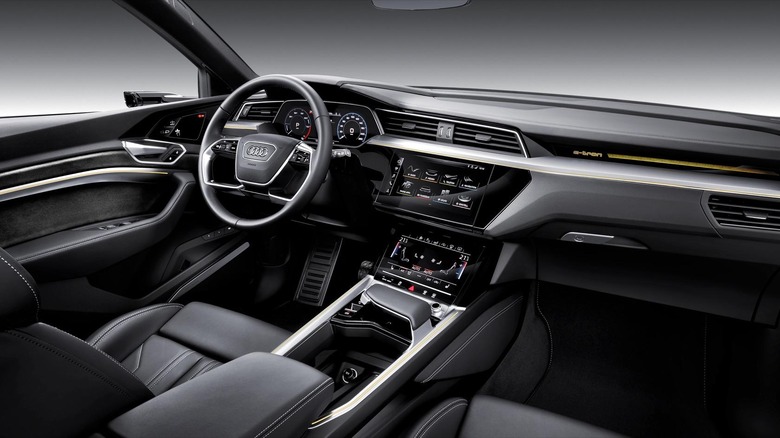 Finally, there'll also be a 2019 e-tron First Edition, of which Audi will only make 999 cars. That will combine a Daytona Gray exterior with 21-inch bi-color black wheels, Alu-Optic trim, and Dynamic orange brake calipers to match the orange highlights; there'll be special LED puddle-lamps, too. Inside, it'll get Black Valcona leather with gray contrast stitching, and Volcano Gray Ash natural wood inlays, together with Night Vision Assistant, and the Cold Weather Package with enhanced preconditioning. It'll be priced at $86,700 (plus $995 destination).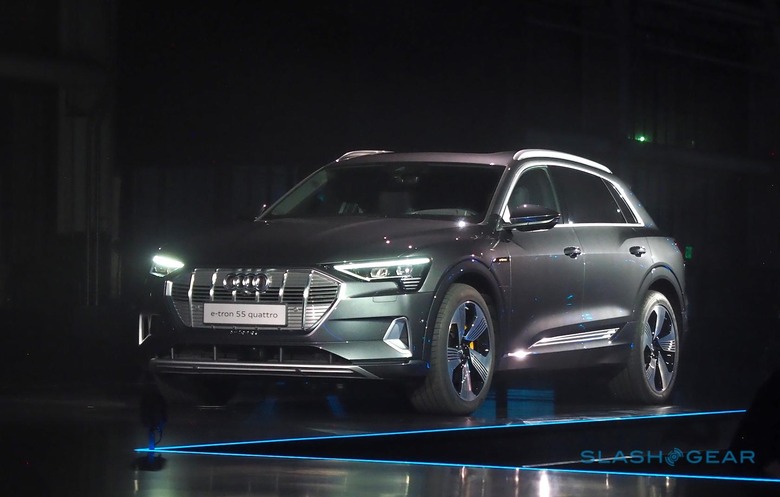 The 2019 e-tron may not be due to arrive until midway through next year, but Audi is opening up its configurator and reservations system today. There's a refundable $1,000 reservation fee to stake your place in line.