Audi E-Tron GT all-electric super sedan previewed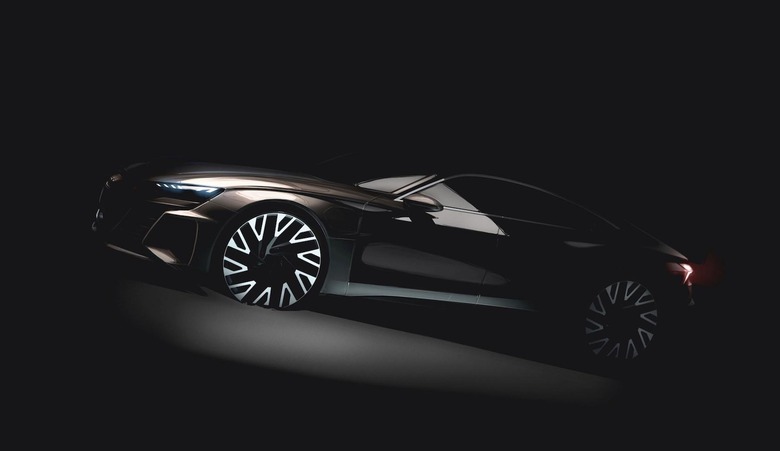 Audi is working on an all-electric Grand Tourer, a sleek four-door sedan which should not only give Tesla some sleepless nights but do plenty to push EVs into the limelight. Previewed in prototype form at Audi's Annual Press Conference in Ingolstadt, Germany today, the Audi E-Tron GT promises zero-emissions but no shortage of performance or luxury.
"We interpret sportiness very progressively with our fully electric e-tron GT," Rupert Stadler, Chairman of the Board of Management of Audi AG, said at the event. "This is how we will take our high-performance brand Audi Sport into the future."
Details of the car are, unsurprisingly at this stage, in very short supply. Indeed, Audi has only shared one image of the prototype, and it's a a design sketch at that. Still, it's enough to whet our appetites significantly.
Hints of the R8 supercar are as present and correct as you'd expect them to be. However, there's also plenty of Audi's current sedan design language too, with the sharp crease-lines of the new 2019 A8 and recently-unveiled 2019 Audi A6. With its lengthy hood and short rear overhangs it's an aggressive interpretation of the "four door coupe" fashion; those in the rear seats will clearly have to make do with minimal views outside, thanks to the rising waistline that pinches the side glass as it joins the C-pillar.
They probably won't mind, though, given what we're expecting to be under the sheet metal. Audi is almost certain to be sharing technology with stablemate Porsche, the Mission E electric sedan of which is expected to go on sale next year. Of course, Porsche designed a custom platform for its Tesla Model S-rivaling Mission E, something which is expected to be succeeded with the Premium Platform Electric, or PPE. The iteration of Volkswagen Group's electric vehicle platform for high-end cars, it'll follow the Modular Electrification Toolkit (MEB) on which upcoming vehicles like the VW I.D. BUZZ Microbus are based.
Audi, first, has its all-electric SUV to think about. The Audi E-Tron is on track to make its public debut in production form later this year, ahead of arriving at dealerships in 2019. Entirely electric, unlike the company's current hybrids, it's expected to have a range of more than 300 miles on a full charge, and support wireless charging and other high-tech features.
Volkswagen Group hasn't been shy about proclaiming its ambitions for electrification. Earlier this week, the automaker announced it had inked $25bn worth of battery deals to ensure sufficient supplies for its European and Chinese production. Another big-ticket deal for the North American supply chain is expected imminently. It'll need them, too, given its "Roadmap E" includes 80 new electrified models across its various brands.
In the case of the Audi E-Tron GT, we'll have to wait a while to see how it shapes up. Production, Stadler said, is expected to kick off early in the next decade, at the automaker's Böllinger Höfe site near Neckarsulm. The facility will be responsible for building two electric cars, in fact, at the beginning of the next decade.