Audi e-tron gets camera side mirrors (but there's a catch)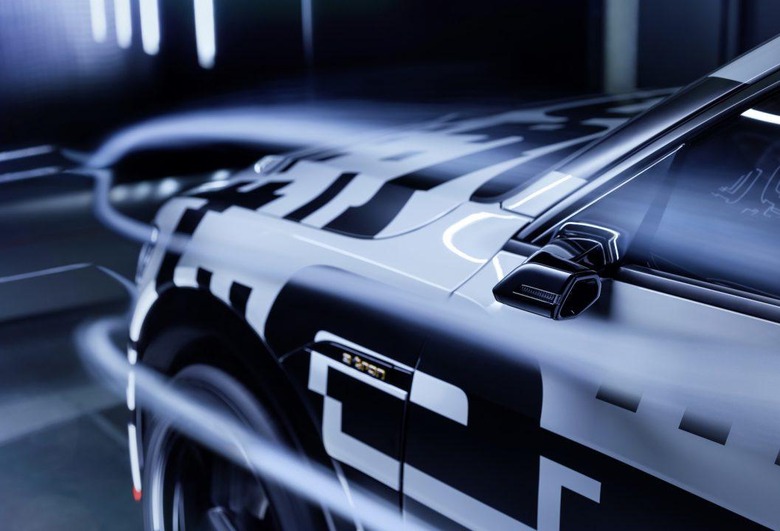 Audi plans to do away with side mirrors on its upcoming Audi e-tron electric SUV, offering optional cameras to replace them, though US drivers will likely be out of luck. The new SUV EV is expected to go on sale later this year, and will use a number of high-tech features – some standard, some optional – to improve efficiency and make the most of the battery's charge.
One of the most striking of those features will involve bringing a concept car mainstay to a production vehicle. The current Audi e-tron Prototype lacks side mirrors, replacing them with far smaller cameras. These beam a real-time view of the sides of the vehicle to OLED screens integrated into the join of the dashboard and the door trim.
It's not an unusual idea for concept cars, but no automaker so far has carried them over to a production vehicle. Audi, however, says it does indeed intend to offer them on the production e-tron, albeit as an option. The regular version of the car will have standard side mirrors with normal glass, but the "virtual exterior mirrors" will be a cost option.
The upshot, Audi says, is in efficiency and practicality. For a start the camera nacelles are far smaller than a mirror, reducing overall vehicle width by almost 6-inches. At the same time, they also cut vehicle drag, which helps with efficiency.
Finally, they improve on cabin comfort, since traditional wing mirrors are a key cause of wind noise. Audi says there'll be three different view settings offered: one for highway driving, another for turns, and a final perspective for parking. All well and good, but sadly US buyers of the e-tron SUV are likely to be left out of the fun.
That's because US Department of Transportation policy requires two physical side mirrors to be affixed to a new car. Although there has been some chatter of updating the policy – much as it was made mandatory for new cars sold from this year to include a reversing camera – right now there's no sign of that changing any time soon. Indeed, the US laws are particularly draconian about even the mirrors that can be used. While cars in Europe and elsewhere can have curved sections which help fit more of the exterior scene into view, US regulations forbid anything other than flat glass.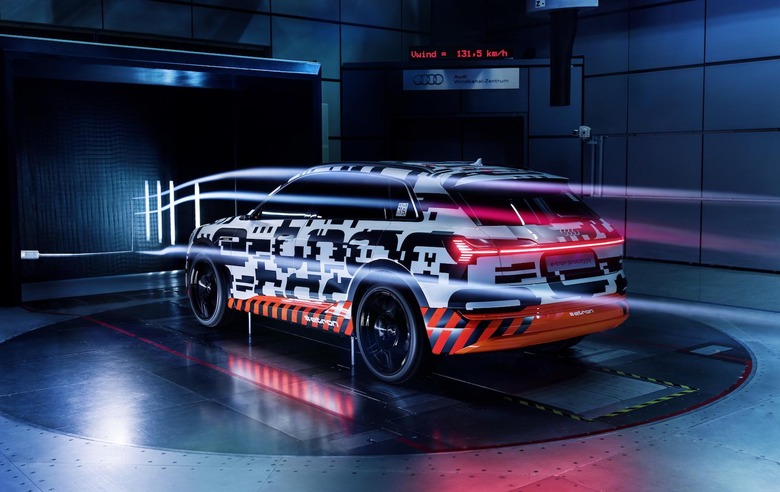 It's not the first time some of Audi's enhancements have run headlong into US restrictions. The company began installing laser headlamps on some of its high-end models in Europe several years ago, but the technology was not permitted on cars in the US – despite significantly improving on visibility. Still, Audi's other tweaks and fettling for aerodynamics on the e-tron should meet with US regulator approval.
The SUV's adaptive air suspension, for example, can lower by 1-inch at speeds over 74.6 mph, helping cut down drag. The underbody of the e-tron is completely enclosed, while some sections are given golf ball-style dimples which help streamline air flow. Behind the Singleframe Audi grille there are two louvers which can electrically open and close depending on whether the drivetrain and brakes need cooling. If they don't, closing the grille shut also aids in air flow over the car.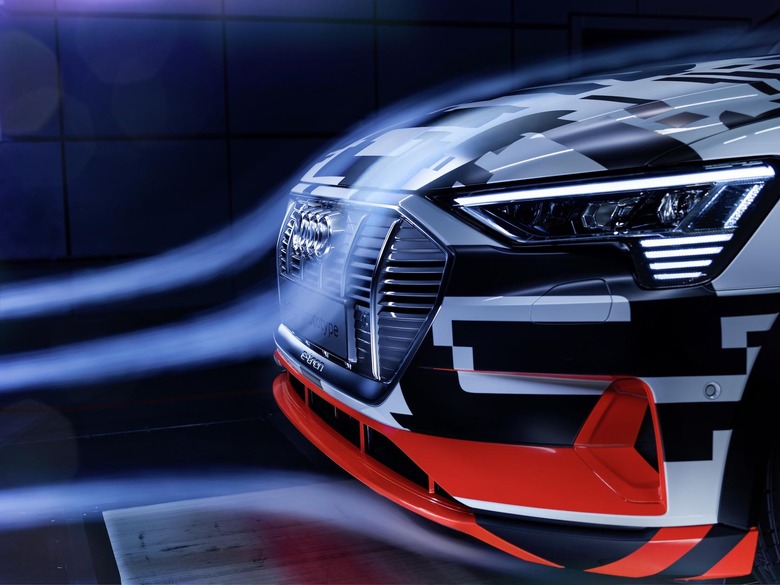 Indeed, you could argue that Audi's engineers have been fairly obsessive about aerodynamics. Even the wheels and tires have been reworked to cut drag. The 19-inch alloy wheels are flatter, for instance, while the lettering on the tire sidewalls has been etched into the rubber rather than raised up from it.
The result is a drag coefficient of 0.28, which puts the e-tron Prototype at the top of the SUV segment. That may not sound like much, but Audi says a hundredth of the drag coefficient figure works out to just over 3 miles of everyday range.