Audi A6 Avant E-Tron Concept Is An Electric Wagon With Big Ambitions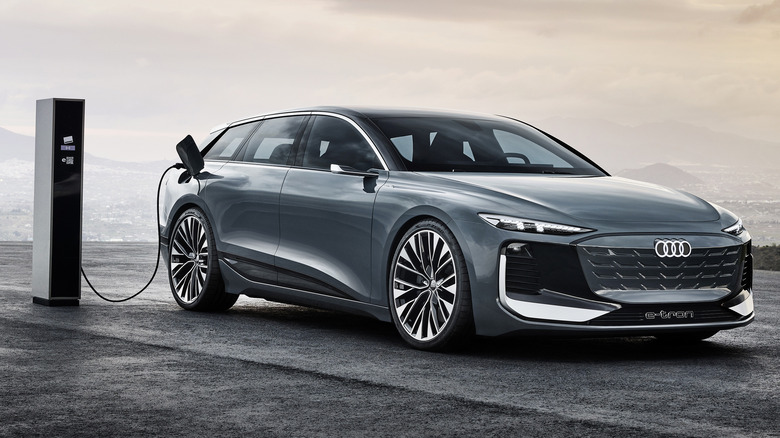 Audi
Audi knows how to make a beautiful wagon, and the Audi A6 Avant e-tron concept is proof sufficient that those talents don't disappear simply because the end result is electric. Second of the automaker's concepts to use the new PPE – or Premium Platform Electric – architecture co-developed with Porsche, it's not only a vision of the future of the Avant series but a promise of just what we can expect for range, charging, and styling from upcoming production EVs based on the new architecture.
It certainly looks the part. At the front, the A6 Avant e-tron has the now-familiar Singleframe grille, though perforated with a new cooling vent design. That handles keeping drivetrain, battery, and brake temperatures down. It's flanked by Digital Matrix LED headlamps, which can be used to project video games onto a wall ahead when the EV is parked.
A light show for more than just entertainment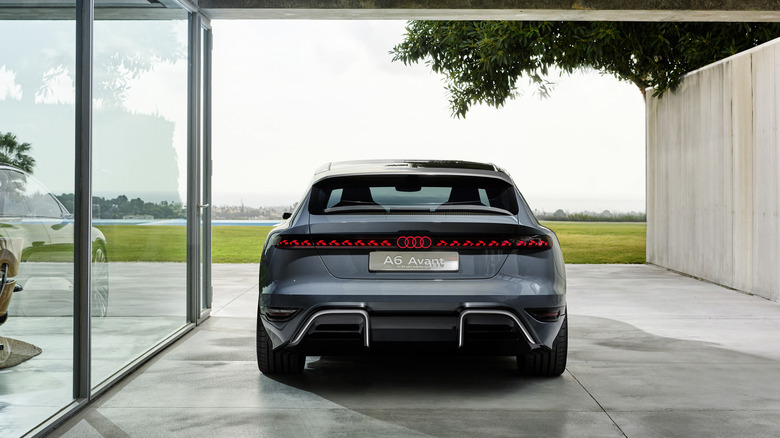 Audi
That's not the only lighting trick. At the rear, there's an OLED strip running the width of the car, which can be used as a display as well as to show customizable light signatures and other graphics. A 3D application technique means those graphics can have varying depth, too.
Integrated around the body, meanwhile, are high-resolution LED projectors. Three on each side can flood the ground with more dynamic lighting effects when the doors are opened, a more futuristic vision of current puddle-lamp tech. In addition, they can be used to show warnings to other road users — flagging an opening door to oncoming cyclists, for example.
A further four of those projectors take up place at the corners of the A6 Avant e-tron concept. There, they're used to project turn signal projections, along with other graphics.
Concept name, production future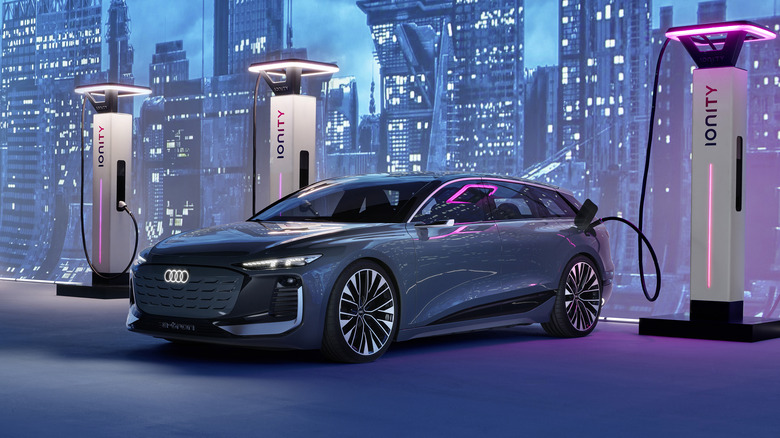 Audi
Twenty-two-inch wheels and the low ride height help emphasize what's already a lengthy EV: over 16 feet, in fact, and more than six feet wide. They're covered with swollen arches, a visual nod to the Quattro electric all-wheel drive that features dual motors for a total of 350 kW of power (469 hp) and 800 Nm of torque.
Like the A6 e-tron concept before it, what sets this particular electric vision apart is how upfront Audi is about its production potential. The A6 Avant e-tron concept is "a completely tangible look at future production models," Oliver Hoffmann, Audi Board Member for Technical Development, suggests. As a result, rather than eye-catching gullwing doors or sky-high performance, the German automaker is being far more practical with its promises.
Audi has some big boasts for the PPE architecture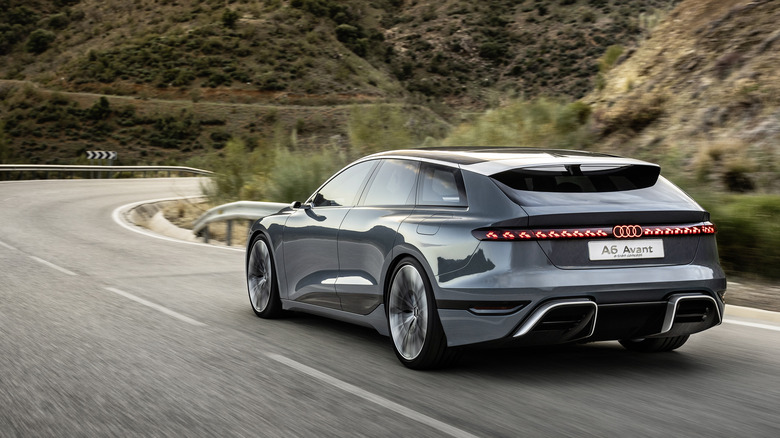 Audi
The PPE platform underneath it, for example, could manage up to 435 miles of range (on the WLTP test cycle) from its roughly 100 kW battery, and a 0-62 mph time of under four seconds. Even entry-spec models should still do that under seven seconds, Audi teases. There's 800V architecture and up to 270 kW DC fast charging support. That, Audi suggests, could add up to 186 miles of range after 10 minutes plugged into a suitably-potent charger.
That's in line with what the A6 e-tron Sportback promised, but the Avant's big difference is in its shapely – and capacious – rear. The swooping wagon design doesn't hurt when it comes to aerodynamics, but it also should deliver a useful uptick in cargo space. Maybe even sufficient, we can hope, to sway American drivers away from their default choice of an SUV.
One platform, plenty of variations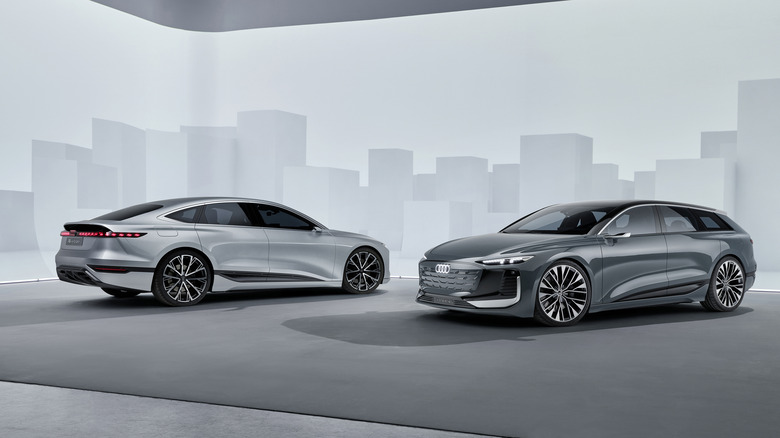 Audi
It's enough to get you rather excited about the Premium Platform Electric architecture, and of course, that's the whole point. The first cars to be built on PPE still haven't gone into production yet, but Audi isn't wasting any time with its pitch for why we should be excited about the evolution from its current platform.
For a start, the automaker says, it'll play just as nicely for low sedans, fastbacks, and Avant wagons as it does for more upright SUVs and crossovers. A side-effect of positioning the battery between the axles means a lengthy wheelbase is guaranteed. Audi and the other members of the Volkswagen Group will be able to tweak that dimension, but we're told to expect very short overhangs and large wheels as a matter of course.
Both dual-motor Quattro electric drive and single-motor rear drive will be offered, model-depending. While we've come to associate Audi with Quattro, that doesn't mean every future e-tron using PPE will be so-equipped. The automaker says that there'll be "basic versions" of its EVs that are focused on maximizing range, and which will have just one motor.
No compromise on charging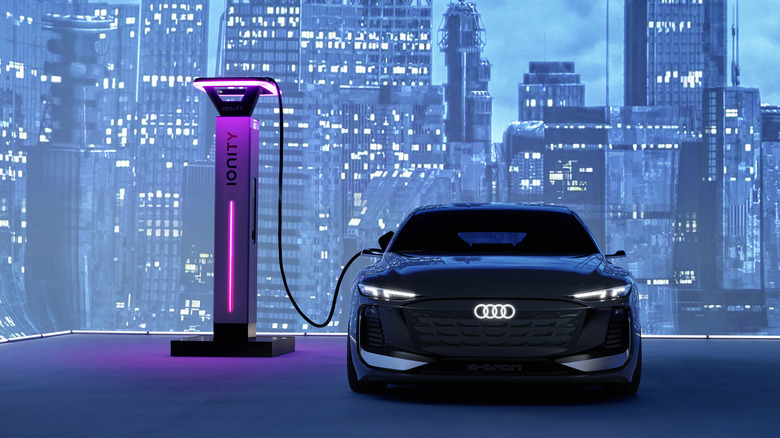 Audi
What it won't be cutting is the 800-volt charging architecture. In fact, that – and the up to 270 kW charging support it helps enable – will be consistent across PPE-based cars, even if Audi is targeting them at the high-volume mid-range segment. Find the right charger, and you're looking at a 5% to 80% charge in under 25 minutes.
We'll have to wait to see the first production Audi PPE vehicles, which the automaker says will be arriving in 2023. Initially, that'll be models scaled much like the A6 e-tron concept and A6 Avant e-tron concept, though Audi has plans to expand that into smaller and larger cars too.