OnePlus Nord N300 5G Review: Just Enough Bang For The Buck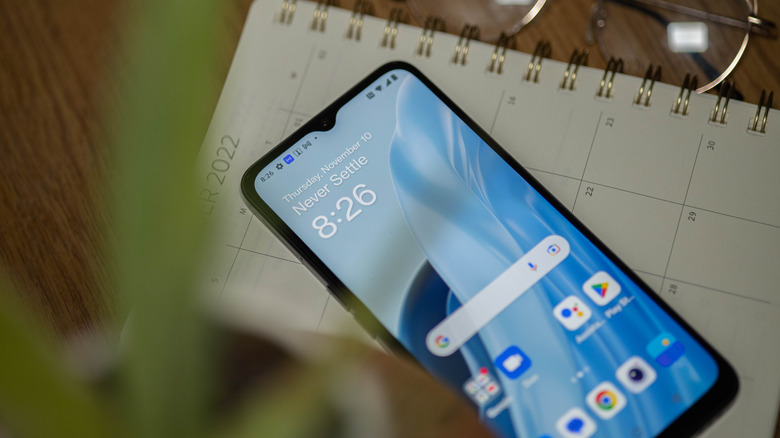 S.G. Howe/SlashGear
We may receive a commission on purchases made from links.
As of November 3, T-Mobile customers have a new affordable smartphone option from OnePlus, a manufacturer that first emerged in the phone market with an exclusive, invite-only flagship almost 10 years ago. Since then, the brand expanded its circle to include the average smartphone user — along with anyone in the market for earbuds and other tech wearables — and chose to deepen its roots as a more financially friendly Apple and Samsung alternative with the Nord brand.
The Nord line is the more modestly featured and priced line from OnePlus, while phones like the OnePlus 10T 5G remain fully-loaded phones that box in the same ring as other mobile brands' headliners. The OnePlus Nord N300 5G is a T-Mobile-locked smartphone that hit shelves at a modest $228. OnePlus provided a review unit so that we can judge whether this low-cost smartphone is worth its price — and how it stacks up against the competition.
OxygenOS: An easily navigable Android mask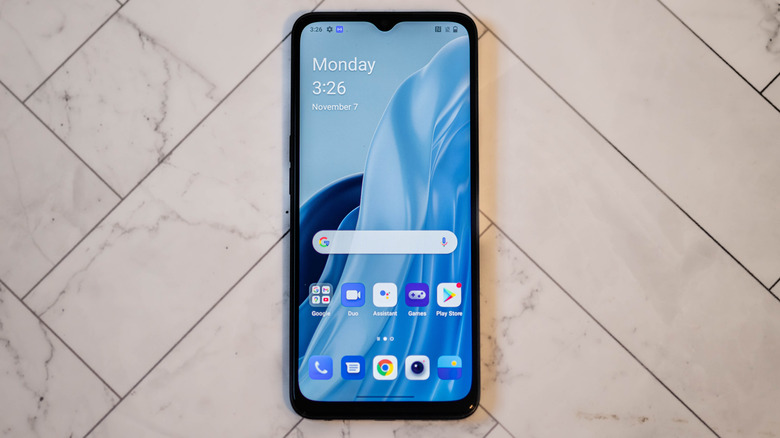 S.G. Howe/SlashGear
The Nord N300 comes out of the box running OxygenOS 12, a very clean-cut and uncluttered interface that is very closely based on Android 12. It's equipped with all the familiar Android personalizations. You have some control over fonts and font sizes, and "inventive wallpapers," where you take the color palette of your chosen photo and use it to create a new geometric wallpaper. 
On the Nord N300 5G you also can enjoy Android's Digital Wellbeing function, similar to iOS' Screen Time, which encourages the use of a "do not disturb" feature and breaks from the phone. With the phone's Zen Mode, "do not disturb" becomes more of a command than a request; it will lock you out of your phone entirely — you can receive calls, make emergency calls, or use the camera, but any texts and app notifications will be on a complete blackout for 20 minutes.
Signing in to a Google account isn't necessary for the Nord N300 to function, but it certainly makes things easier. You'll also need a OnePlus account to utilize a few special features: further customization of the OnePlus Shelf (its command/widget center), a Work-Life Balance feature that toggles the phone between customized "do not disturb" settings depending on the time of day, and Scout, a search feature that accesses results from installed and uninstalled apps as well as the web.
Display, streaming, and gaming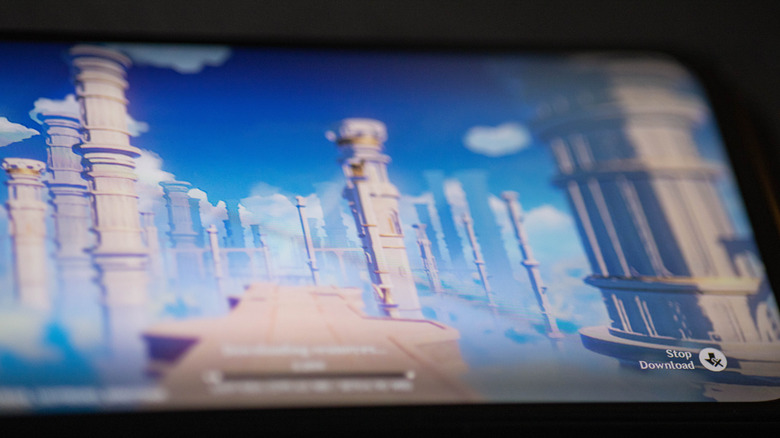 S.G. Howe/SlashGear
I found the Nord N300's display — 6.56 inches of LCD with a resolution of 1612 by 720 pixels — to be good for entertainment streaming like YouTube, Twitch, and Netflix, but I wouldn't pick this phone for mobile gaming. The lower resolution and the larger screen were a toxic combo at times for in-game picture quality, but my biggest struggle was with refresh speeds. 
Less demanding games, like "Pokémon GO," were completely manageable by the N300. But at the phone's default refresh rate of 90Hz, games like "Genshin Impact," "RAID: Shadow Legends," and "Call of Duty Mobile" froze, muddled, or crashed often. The phone allows the user to kick its refresh rate down to 60Hz, but once switched to this lower-end mode, processor performance took precedence over graphics fidelity in a big way. 
Don't expect much out of the purported workhorse of a battery if you game and stream all day, especially on mobile data. I wasn't exactly expecting an 18-hour marathon out of the battery, but after a day of putting the phone to work — switching between games, video, music streaming, and typical social media applications — the Nord sputtered out at almost eight hours of use.
Hardware design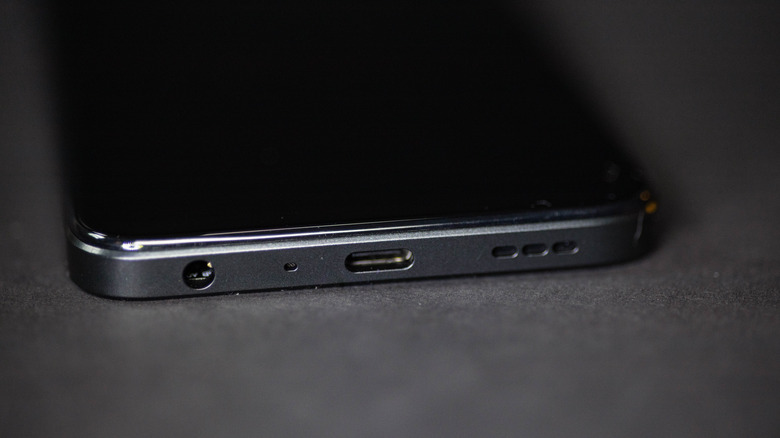 S.G. Howe/SlashGear
The Nord N300 feels like a well-built phone. The rear camera cluster is much less blocky than my iPhone 12 Pro Max's, and the phone itself seems sleeker: slimmer, flatter, and longer frame, if only by marginal measurements. The plastic backing is fingerprint resistant, but not as much so as a higher-end glass-backed phone, in my opinion. 
A headphone jack is included on the bottom along with the USB-C charging port and a speaker. The right-side lock/power button doubles as the fingerprint scanner, and on the left, you'll find volume buttons and the SIM tray. Overall, I really like the low, clean profile of the phone, but it does only come in black — or Midnight Jade if you're fancy.
The earpiece quality was fine — nothing overwhelmingly poor or outstanding. There's a lot left to be desired from the one speaker, though, so audiophiles would be disappointed. The speaker is capable of delivering plenty of volume, but I thought the bass performance was unimpressive and there was a tenor-ish reverberation that fuzzed up the more intricate details of the music we tested. 
Cameras front and back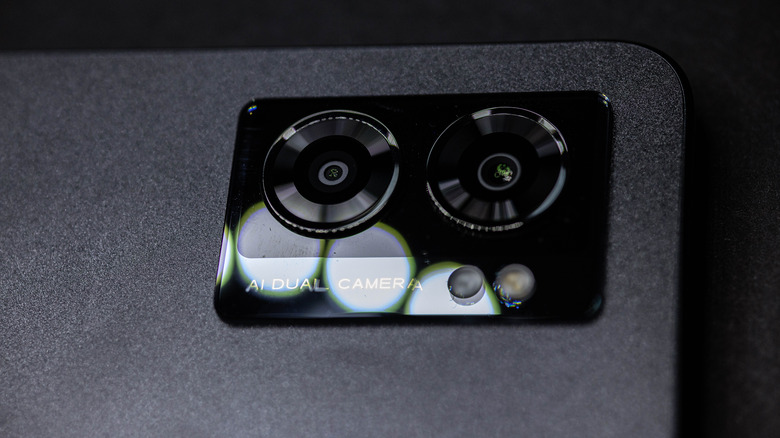 S.G. Howe/SlashGear
I had thought one of the rear-facing cameras would be either an ultra-wide or zoom lens, but I was mistaken. The Nord N300's rear-facing camera array includes a 48-megapixel camera and a 2-megapixel auxiliary camera. I'd initially assumed that at least one of the two lenses would be dedicated to ultra-wide angle photography or extreme zoom, but I was mistaken. Despite my assumptions — based on what's generally available in phones released in recent months — what's included is capable of capturing some decent photos.
I was surprised at how well the rear camera performed, figuring that the affordability of the phone was credited in part to major slashes in camera quality. But the colors were rich, the depth of field wasn't bad, and the detail retention was impressive, so long as I was shooting outdoors. 
It performed about as well as a midrange phone camera can be expected when indoors. That is to say, it delivered decent colors, but an underwhelming sharpness, and little hope for a top-notch photo of anything captured in motion. This is evident in comparing this photo of a frittata (shown above) to an outdoor photo (with a spiderweb, as shown below), complete with far more photo-friendly natural light.
As a photographer, I've never been all that impressed with the portrait mode on any smartphone. I can pick photos taken on a phone's portrait mode out of a crowd; they look like the filter on Zoom that blurs out your messy office during a video conference. 
The 16-megapixel front-facing camera's portrait mode is definitely one of the highlights of this phone if selfies are your thing. It's on par with the portrait modes of higher-end phones from Samsung, Google, and Apple. 
The HDR difference was barely present in the majority of pictures I took, but the live touch-ups and face-filtering capabilities of the selfie camera were good — almost too good. If you prefer a more subtle, natural-looking bokeh, like an actual digital camera would produce, I loved the back camera for this. It'll work for selfies, but I liked it, especially for outdoor and nature photos in full sunlight.
Up against a budget with Android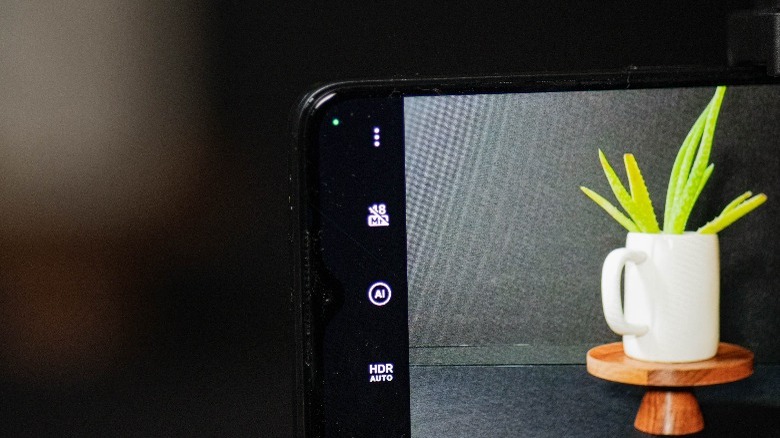 S.G. Howe/SlashGear
If you've never specifically looked for smartphones at a relatively low price point — for example, the best smartphones under $300 — you may be surprised at how much is out there. Truthfully, if you're looking for a new low-budget smartphone in 2022, you may be more inundated with options than if you were looking for cutting-edge new releases — so much so that a definitive ranking of the best low-cost smartphones would be nearly impossible.
For instance, Motorola. One of Motorola's recent efforts to stay staked in the smartphone game is the Moto G power (2022), which was listed for only $200. Its screen is only 0.06 inches shorter than the Nord's, offers the same refresh rate and pretty much identical resolution, but doesn't support 5G connectivity despite having been released in early 2020. It runs a newer, but less powerful, CPU from MediaTek.
Samsung's Galaxy A23, on the other hand, is more expensive than Motorola's and OnePlus's phones at $250, but you get a bigger display, a distinctly more desirable resolution at 1070 x 2048 pixels, Gorilla Glass 5 display protection, a 50-megapixel rear camera, four color options, and a slimly more powerful CPU with Snapdragon 695. The video capture capabilities are the same, though — both the Samsung and the OnePlus Nord N300 are only capable of 1080 pixels at 30 frames per second.

TCL has a phone under $200 with a huge 6.82-inch display and 5,000mAh battery, the Nokia G50 is 5G-enabled and its interface could pass for a Pixel's at a glance, and even previous Nord models run similar feature profiles at lower price points. The Nord N20 5G, for instance, brings a 64-megapixel camera and an AMOLED display for $282.
I have to say that I think the Samsung Galaxy A23 takes the trophy home as the best-value smartphone under $300, probably followed by the OnePlus Nord N20 5G, but the OnePlus Nord N300 5G is owed a very close third. 
In comparing the N300 to either of these, it just seems silly to not spend a little more cash for a higher resolution, sharper display, more durable glass, the same battery capacity, a better rear camera, and a better chipset. You have a slightly lesser selfie camera (if you're only looking at megapixels), with the A23, but I suppose you'd have to be a huge selfie person for that to matter, and the N20 can't refresh past 60 frames per second, but the N300 didn't do too hot in our tests there anyway.
Nord N300 5G vs Pixel 7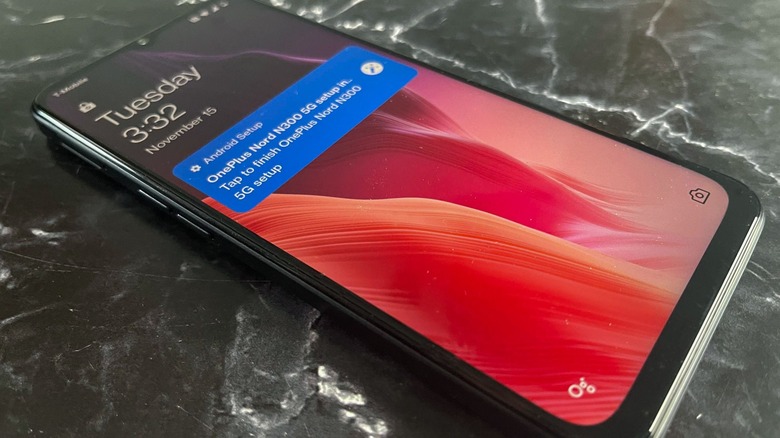 S.G. Howe/SlashGear
In looking at the N300 5G vs. Google's newest, the Pixel 7, there are some stark differences and some areas where the Nord could be considered a better value. The Pixel 7 can be purchased in more than one model with different internal storage space and sorts of 5G connectivity, while the Nord N300 5G is offered in a single iteration with access to one 5G frequency band: n77. As such, I'm focusing on the baseline (least expensive) version of the Pixel 7. 
The N300 5G has a larger display at 6.56 inches over the Pixel's 6.3 inches, and both offer 90Hz refresh. However, Pixel brings us an AMOLED screen against the N300 5G's IPS LCD screen, and offers significantly higher pixel density, making for an overall brighter, sharper, more vibrant display. In looking at the photography side, the N300's main back camera is, on paper, (48 megapixels) is only negligibly less capable than the Pixel's (50 megapixels) but the Pixel is better equipped for telephoto performance with resolution retention up to 8x zoom.
The Nord has a beefier battery — 5000 mAh storage — than the Pixel 7's 4335 mAh battery cell — and comes with a 33W fast charging adapter as opposed to the 18W and 30W charging blocks you can purchase separately for the Pixel from Google. Our Pixel 7 reviewer found that the Pixel went from zero to 100 in an hour and 45 minutes with the 30W charging block, while I got the Nord up to 100% battery (from stone cold dead) in less than an hour and 30 minutes using the included charger. 
Nord on price, Pixel on everything else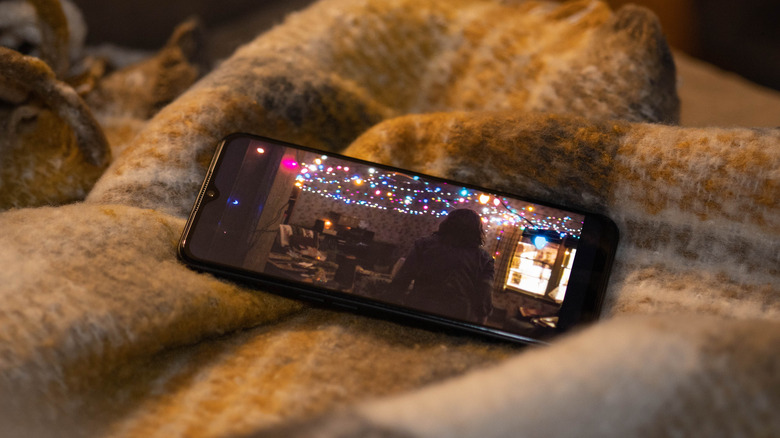 S.G. Howe/SlashGear
I'm not saying that you'd somehow get a powerhouse of a phone that beats out the Pixel for half the price; Google has the upper hand in quite a few areas. The base configuration of the Google Pixel 7 comes with double the internal storage — 128GB vs. 64GB — and double the RAM (the Nord only offers 4GB) with newer RAM technology (DDR5 vs. DDR4 in the Nord). The Pixel 7 operates on one generation newer of Android off the factory belt — Android 13 vs. Android 12. And inside the N300, you'll find a Mediatek Dimensity 810 CPU, which runs 50-60% slower than the Pixel's Tensor chip, per CPU Monkey.
Overall, the Nord takes a few points, but it is obviously an entry-level smartphone compared to the Pixel 7. This new Nord device is essentially running the specs of a 2018 Android flagship. Odds are that if all this information is relevant to you, you're probably particular enough about the engine behind your smartphone that the Pixel is a better-suited choice.
I think budget and preferred cellular carriers will be the determining factor for everyone else. As long as having a nearly 7-inch display isn't triple-underlined on your phone requirements list and you don't need a tack-sharp display for gaming, the Nord holds up in many playing fields and stands as a viable contender for mundane smartphone use, considering its price.
Wrap-up: Value based on intended market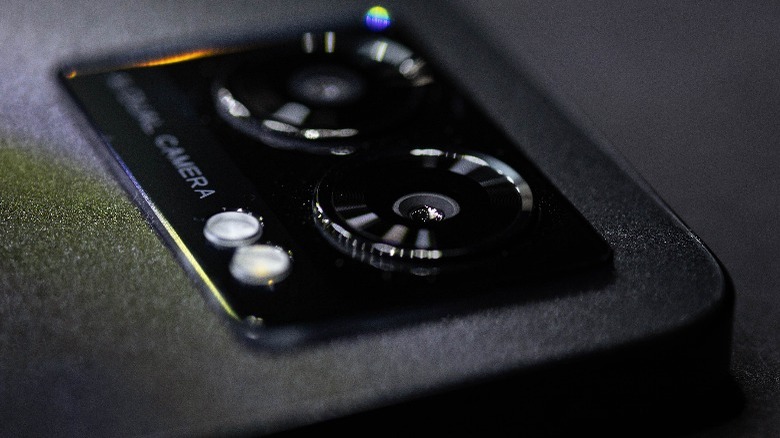 S.G. Howe/SlashGear
I think there's a ton of value packed in the Nord N300 5G. It's great to see affordable 5G connectivity options emerging — but we're still talking about a single carrier in the U.S., only, with T-Mobile. If you're a serious photographer, a gamer, or an audiophile, you might need a bit more of an engine behind your phone than what N300 5G can offer you.
Because I had no issues with download speeds in areas of moderate to high 5G signal, and could effortlessly complete everyday phone use like basic camera work, social media, and my daily dose of stalking various Pokémon, I think it's reasonable to overlook the cons of the phone — for my needs, anyway. 
If you have kids, grandkids, or pets that you want casual pictures of, the Nord will do the job for you with 5G connectivity as an added bonus. When an affordable smartphone with a quality build, Android familiarity, and a good feature-to-finance ratio is the priority, there's no reason to pass the Nord N300 5G up.