OnePlus Nord N300 5G Heads To The U.S. Next Month
The OnePlus Nord N300 5G release date is right around the corner, but will it continue to bring good value for the money? OnePlus is usually associated with smartphones that offer way more than what their price suggests, and the Nord N lineup is no different. With a price of just $240, the Nord N200 5G offered decent specs with a few compromises. Among its features are a 6.49-inch FHD+ 90Hz display, a Snapdragon 480 5G processor, a triple rear camera setup with a 13-MP main shooter, 16-MP selfie camera, 4GB RAM, and 64GB storage, and it's all powered by a hefty 5,000-mAh battery with an included 18W fast-charger.
Now, it seems its successor, the OnePlus Nord N300 5G, aims to bump those figures up a bit while still keeping its price at a minimum. OnePlus announced via a press release that the Nord N300 5G specs will feature a slightly larger 6.56-inch HD+ 90Hz display, more capable MediaTek's 2.4GHz Dimensity 810 chip, dual rear camera setup with a higher 48-MP main lens, and bundled with a much faster 33W fast-charger. However, it still retains some of its predecessor's compromises; that means the same memory, storage, battery capacity, and still no mmWave support for its 5G. Does that still translate to a better overall package when taking the OnePlus Nord N300 5G's low cost into consideration?
How does the Nord N300 5G pricing compare?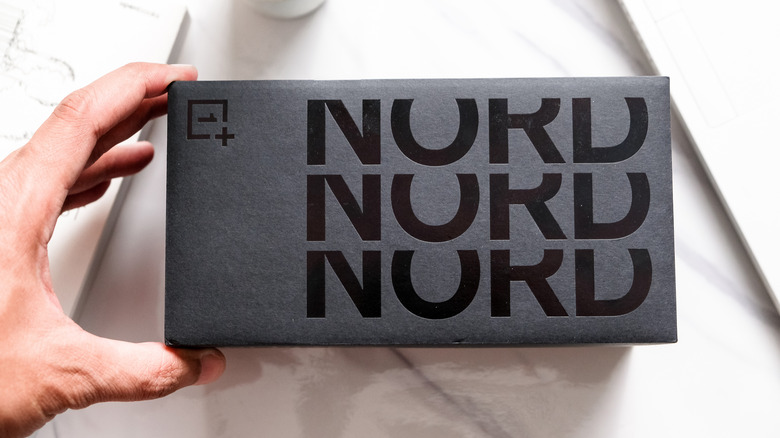 Framesira/Shutterstock
The OnePlus Nord N300 5G price starts at $228. Compared to the more expensive Google Pixel 6a, Nord N300 5G's larger display, better battery, and camera hardware make its pricing sound like a steal. Of course, this price point also puts it in direct competition with the surprisingly cheap Samsung Galaxy F23, which offers similar battery, memory, and storage options for pretty much the same price. Despite its dated 2.2GHz Snapdragon 750G processor, the Galaxy F23 does feature a beefier triple camera array with a 50-MP main shooter, as well as a bigger, crisper, and smoother 6.6-inch FHD+ 120Hz display.
The Galaxy F23's downside, however, lies in its limited availability, whereas the Nord N300 5G will be available in the U.S. through T-Mobile or Metro by T-Mobile. So far, the N200 successor is only being offered in one color — Midnight Jade — and it's unclear if more options would be available upon release. Perhaps the bigger concern is whether or not OnePlus' new budget smartphone entry will improve on its predecessor's iffy update promises. Consumers will find out soon enough when the OnePlus Nord N300 5G drops on November 3 starting at 9 a.m. EST and onward.