Google Pixel 7 Review: When The Numbers Just Work
Chris Burns/SlashGear
The Google Pixel 7 has everything the average smartphone user should want. It runs the most modern version of Google's Android operating system, it has a set of cameras that have the ability to make almost any shot look like a keeper, and it has a lovely screen. If you've been using a Pixel 6 for the past year, you'll find this Pixel 7 to be very, very similar in most ways.
If you've never used a Pixel smartphone before, now's as good a time as any. The Pixel 7 combines quality with a value that might surprise you if you're used to paying more than $600 for a new device. This is a phone that is predictable, reliable, and beautiful, all at once, and it has the processing power and battery capacity to out-perform your everyday average requirements.
But why would you pay $600 for a Pixel 7 when you could just buy an undeniably decent Pixel 6a for $449? Or should you go the other direction, and pay even more for a Google Pixel 7 Pro? You might be surprised by how easy it is to dismiss the benefits of owning a phone that costs several hundred dollars more.
Display and design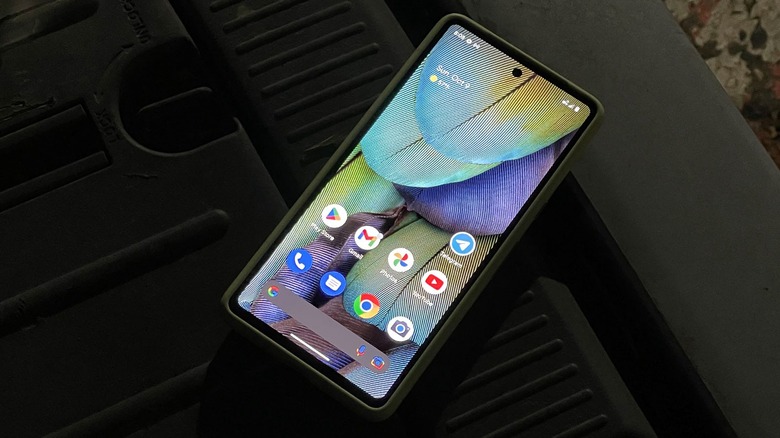 Chris Burns/SlashGear
The display on the Pixel 7 is ever-so-slightly smaller than the Pixel 6, and just a bit larger than the Pixel 6a. The size of the smartphone also fits between the Pixel 6a and the Pixel 6, though you'd be hard-pressed to tell the difference between the displays and sizes and shapes of the Pixel 6 and 7.
Side-by-side, the brightness and colors of the Pixel 6 and 7 are effectively identical. Now that we're working with 1080 x 2400 pixels with AMOLED tech, and a peak brightness bright enough to be visible in near-direct sunlight, we're at the point where we need not get brighter. Unless we discover a reason for a display to surpass 1,400 nits (Google's claimed peak brightness on this device's screen), the Pixel 7's power here is suitable enough to battle devices that cost hundreds of dollars more.
Much like its predecessor, the Pixel 7 has the ability to switch between a 60 to 90Hz screen refresh rate. Also like its predecessor, the Pixel 7 can decide if they want to run only 60Hz, or both 60 and 90Hz, depending on if they want to conserve battery life or not. Even with the 90Hz option (which Google calls Smooth Display) toggled on, battery drain didn't seem to increase substantially.
The Pixel 7 has a punch-hole display, with the punch set in the middle of the phone's forehead. Through this hole, a front-facing 10.8 MP camera has the ability to snap photos with a 21mm (ultrawide) lens, capture video at up to 4K resolution at 60 frames per second, and allow you to unlock your phone with Face Unlock.
Most of the photos in this review show the Pixel 7 in Google's standard Google Pixel 7 Case in the color Lemongrass, to match the color of the phone casing — also Lemongrass. Google's taken their color game to a new level with this generation, allowing color-matched accents in all the right places, including the antenna bands and the inner lip of the USB-C port.
Software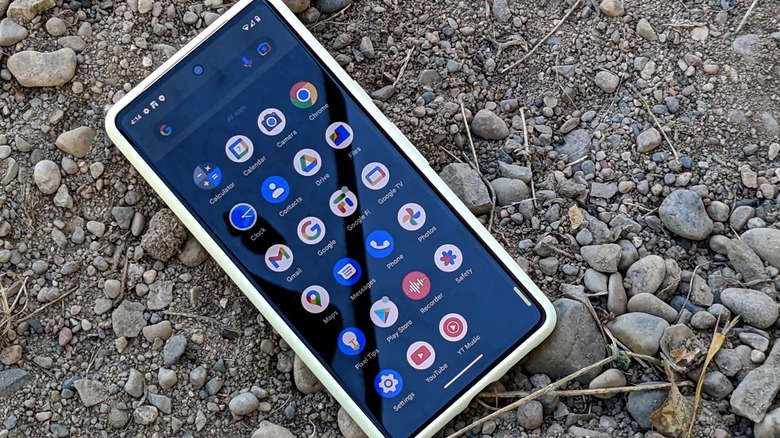 Chris Burns/SlashGear
The Google Pixel 7 runs Android 13 out of the box. This isn't a strictly barebones AOSP build of Android, but it's about as close as you're going to get in a production device on the market today. Gone are the days when a Google Nexus device could get us excited about new hardware that'd arrive with a strict vanilla software approach. Now we're looking at the Pixel version of Android — an operating system on a high-quality smartphone that feels like it was designed for the software, and vice-versa.
This newest Pixel phone delivers a highly reliable smartphone experience that's both simple and user-friendly. With Android 13 on Pixel 7, we're seeing a better-than-ever version of the full smartphone package for a wide variety of users. This is Google's newest and best, and it has Google's full attention: that means Pixel remains the first port of call for software updates and added features down the road.
Cameras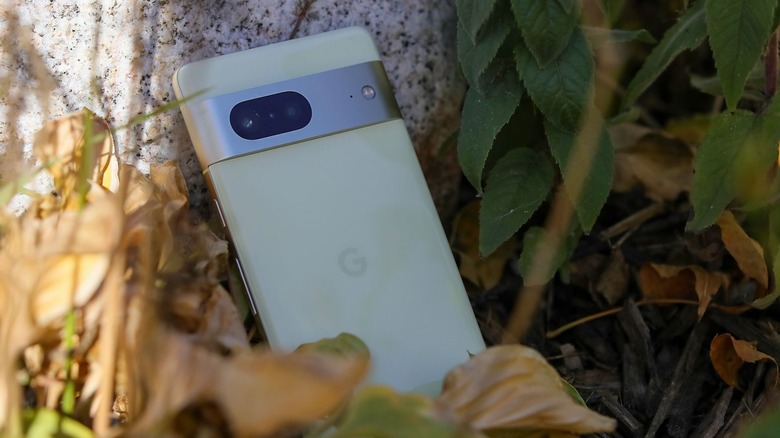 Chris Burns/SlashGear
The Google Pixel 7 has a set of cameras that, on paper, seem like a fairly extreme jump over what's come before. Now you have a 50 MP primary sensor instead of a 12 MP one, but that doesn't mean you get bigger photos. Your output will still be 12.5 MP, or 4080 x 3072, in the end. It's the quality of the pixels that've been arranged in this space that we care about.
Pixel 7 captures and delivers photos that are color-accurate, sharp, and professional. As it has been since the first Pixel smartphone, this device's true power comes from its live content detection and suggestions, smart processing, and post-capture editing.
With the Google Tensor G2 onboard, we now have access to a few more features than we had with the last Pixel, like Cinematic video (or Cinematic Blur, if you prefer), and Photo Unblur. Cinematic mode is a video feature that initiates a rather extreme blur effect on the background of the subject on which the user chooses to focus. It's a fun experiment that might be the most entertaining part of the first day you own the device, though whether it has longevity to bring you back is maybe questionable.
Processing magic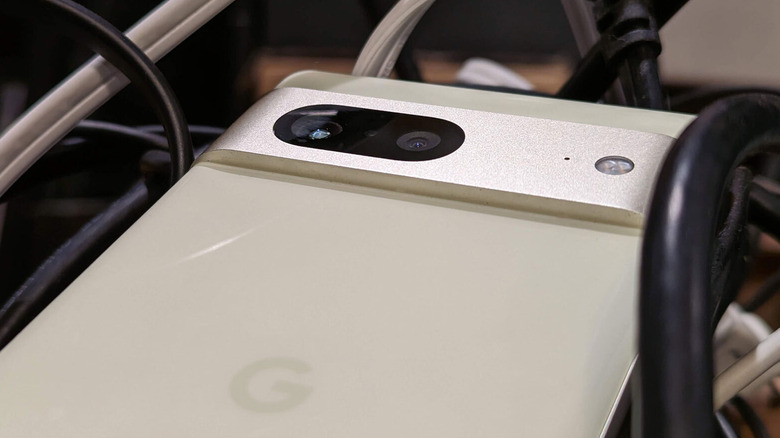 Chris Burns/SlashGear
Photo Unblur and Face Unblur are, at the moment, two peas in a pod. Once you snap a photo in which your subject is caught in a blur of motion, Google will suggest that you try to unblur the image. This — and other recommendations — appear in Google Photos when you're reviewing what you've captured.
Face Unblur isn't strictly new: you can also access this feature with a Google Pixel 6. The effect of that feature on a photo of a person's head has the ability to perform some surprising feats of sharpening.
Using Google's current Unblur system on any subject only really tightens up subjects a tiny amount — which could be good news. As it is with Google's other AI-powered photo processing features, it's a good bet we'll be able to enact some higher-level Unblur action in the near future, as the algorithm is refined with broader, repeated use.
More impressive than the blurring and the unblurring is this newest generation of Pixel camera setups' ability to distinguish the edges of objects. Hair — or more specifically in this case, whiskers — remain in focus, even when we're snapping portraits. Faux-bokeh madness would've rendered the edges a mess in older devices.
The Google Pixel 7 Pro is supposed to be the device that has macro photo powers, now, but stand back and zoom in with the Pixel 7 and you'll find some extreme detail, too. This is all assuming you've got a still hand and you're snapping photos on a bright, sunny day, of course.
Battery Life, Price, and 5G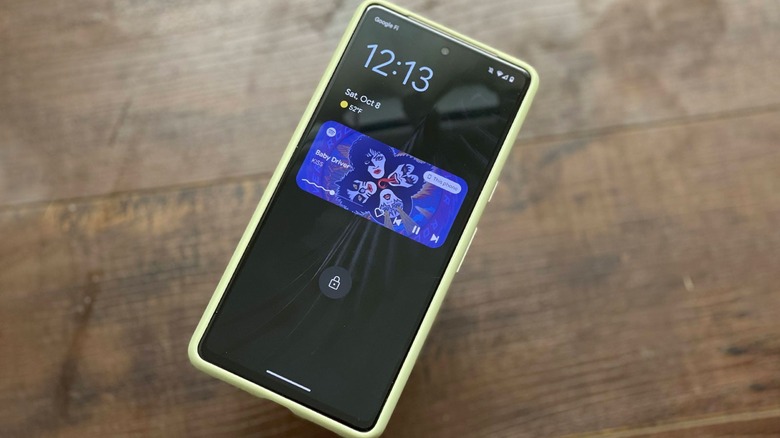 Chris Burns/SlashGear
The battery life delivered by the Pixel 7 was largely on-par with the Pixel 6; a full 48 hours of intermittent usage was not out of the question. As is generally the case, using 5G data and streaming movies at full brightness can drain the battery in a matter of hours. But assuming you're using your Pixel 7 for social media, photography, emails, and messaging, you'll not likely find yourself out of battery if you remember to charge each night.
The price of the Google Pixel 7 is $599 if you get the base configuration with 128GB internal storage. With that you'll get sub-6 (Sub 6Ghz) 5G coverage. You'll need a specific version of this device in order to have both sub-6 and 5G mmWave, including bands n260 and n261, ready to roll for AT&T and Verizon's higher-end 5G connectivity. You'll be paying an extra $100 for the privilege: that version will cost you $699.
The Google Pixel 7 has both a standard SIM card slot and eSIM capabilities, no matter the version you purchase. To keep 5G coverage for each version of the phone as confusing as possible, there's also a version of the Google Pixel 7 with 256GB internal storage with a price of $699 — that version does not have mmWave 5G capabilities. There is no 256GB version of the Pixel 7 with 5G beyond sub-6.
Google Pixel 7 Verdict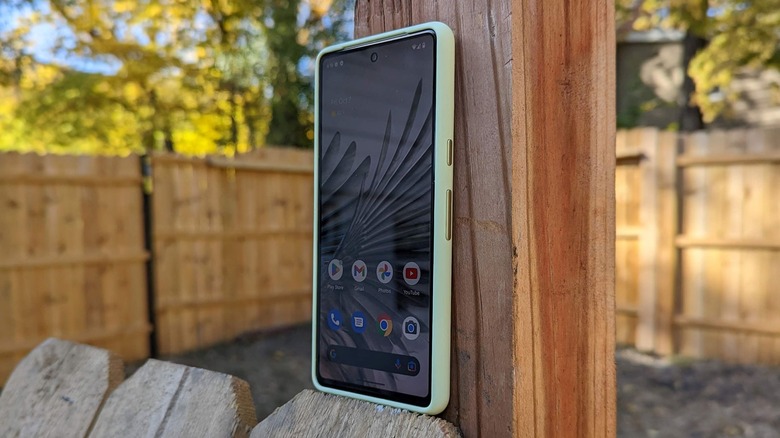 Chris Burns/SlashGear
You can hop off the fence now: the Google Pixel 7 is well worth the $599 you'll pay Google to own it. If you're already looking at the Pixel 7 as your next daily driver, your considerations for alternatives should all have Pixel in their name. The officially-discontinued Google Pixel 6 is a perfectly viable alternative, assuming that you're able to find one to match your carrier and at decent discount from the original $599 list price.
If you're looking for the least expensive yet highly reliable Android experience on the market today, you'll do well to look at the Google Pixel 6a. The display doesn't get as bright as the Pixel 7, and you'll have less of an ability to capture massive photos, but you'll have all the basics you need in the most compact Pixel still sold as-new today.
If you're trying to decide between the Pixel 7 and the Pixel 7 Pro, meanwhile, you're going to have a tougher time. If the added screen size and slightly more powerful set of cameras is worth ramping up to the Pro's $899 starting price, it'll probably be worth what you pay. You might also find yourself debating whether you want a flat display panel or a curved-edge panel — a matter of personal taste that can really make or break a smartphone experience.
You might even end up having to decide between the two unique color combinations of the cases in the Pixel 7's Lemon Grass (the version we're reviewing here) and the Pixel 7 Pro's Hazel (the version you'll see in our Pixel 7 Pro review). Otherwise you'll be going for Snow (white) or Obsidian (black), with a variety of color-matched protective cases available from Google, too. One thing's not up for question, though: 2022's Pixel line-up is every bit the combination of polished hardware and software talents that we were hoping for.