Nexus 6P Review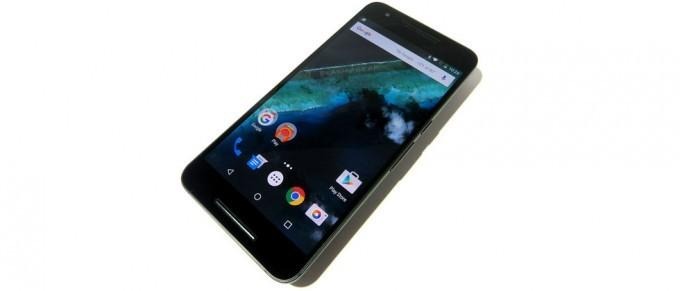 Past experience has told us not to expect a top-tier smartphone from the Huawei-made Nexus 6P sold by Google. It's been a surprise, as a result, to find a high quality hardware experience in this smartphone – one with a body and a camera just as well made as its software. In the past, the Nexus line has been Google's standard for developers and an expectation of a baseline for manufacturers of the future. In the Nexus 6P, Google and Huawei have made a device to lust after.
Hardware
With the Nexus 6P you're getting a smartphone with a full metal jacket. Top and bottom, left and right edges as well as the back of the device are metal. Up front you've got a single pane of reinforced glass (Corning Gorilla Glass 4), and around the back you've got another pane of glass (the same glass as up front) to cover this smartphone's camera array.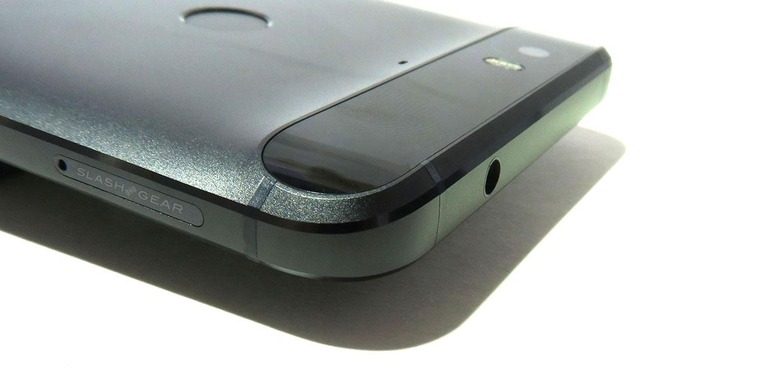 Unlike past Nexus devices, this smartphone appears to have some sense of style. The LG-made Nexus 5 rolled with a design that was very utilitarian. The same was true (to a slightly lesser degree) of the Nexus 6 made by Motorola. In both the Nexus 6P and the Nexus 5X you can see Google pushing a bit harder for a more unified, fashionable aesthetic.
And it feels nice.
One of Google's big pushes this year is for the launch of Android Pay. A device which exemplifies an ideal Android Pay experience exists in the Nexus 6P – that's what Google was likely aiming for. To bring Android Pay to the people, they had first to deliver it on a device people want to own and use, and afford.
This device has a generous set of front-facing speakers, as all good smartphones should.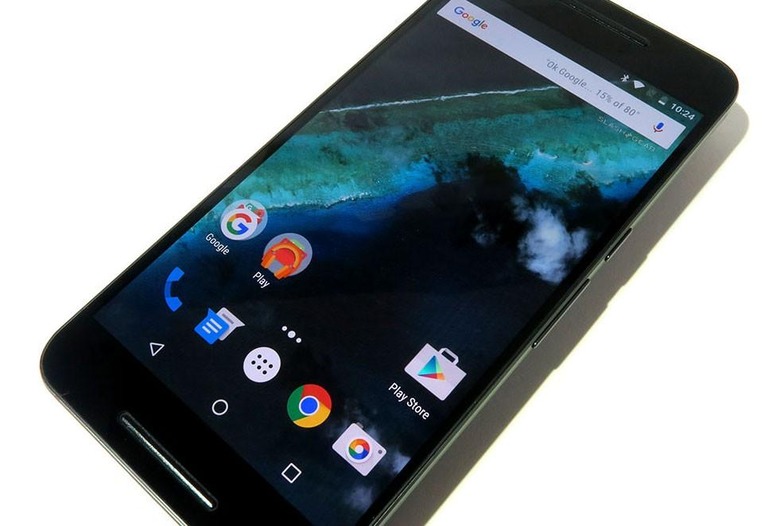 The display on the Nexus 6P is not as sharp as some smartphones that cost more money. If you're switching from a device released over the past few years, you're going to be impressed by the display here. If you're switching from – for example – a Samsung Galaxy S6 – you might notice the slightly less dense set of pixels.
The display on the Nexus 6P is 5.7-inches with WQHD resolution (2560 x 1440) pixels (aka 2K). That's sharper than most displays on the market today, and certainly on-par with the top displays on competing smartphones released as of the publication of this review.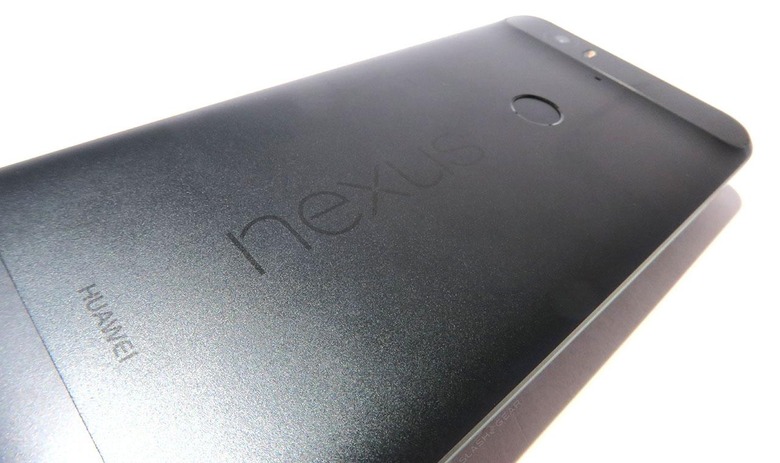 As with all smartphones – one of the objects you use more often than anything else in your daily routine – we recommend you get your hands on the Nexus 6P before you buy it to make sure it's the right size and shape for you.
Unlike some "large" smartphones we've worked with over the past few years, this one doesn't feel like it's a disaster waiting to happen. Especially with Google's own Nexus 6P case, which I'd personally recommend you pick up at the same time as your phone purchase if you plan on making a purchase – especially at $34, this case has a surprisingly adequate amount of quality (in materials as well as damage resistance) for for Nexus 6P.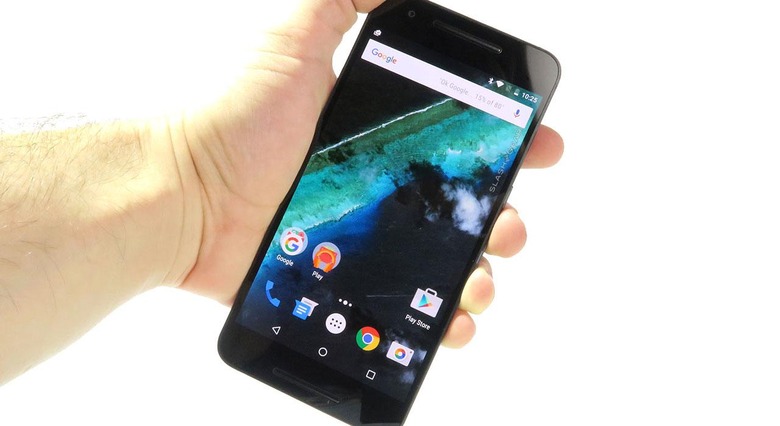 The entire device is creak-free. I can't believe I'm having to confirm that fact here in 2015, but several devices (that we have yet to review) have come up short as of late in the not-quite-solid construction department. Good news for you is that you probably wont be buying them anyway – with the Nexus 6P, you do not have to worry about any parts feeling less than highest-end.
Fingerprint Sensor
This fingerprint sensor goes by the brand-name "Nexus Imprint" and is the same part as used in the Nexus 5X. Both use the OneTouch FPC1025 fingerprint sensor, made by Fingerprint Cards AB, the same company that also, to no one's surprise, also made the fingerprint scanner for the Huawei Ascend Mate 7.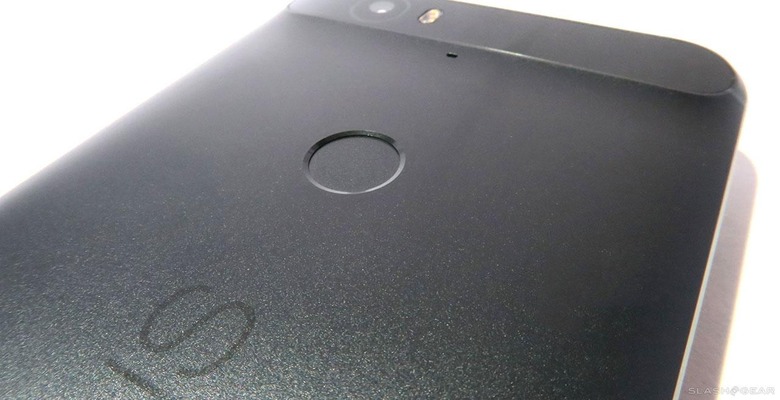 This sensor is amongst the best in the world. It's extremely quick – just a moment to read and you're in – certainly fast enough to bypass the lock screen entirely. While past implementations of fingerprint readers (on Android devices, at least) have left us mostly wishing for a more reliable solution, this year FPC has come with a piece of hardware that's top notch.
You'll be able to scan as many fingers as you like from whatever direction you like, and at whatever angle you like. Scan your toes if you really want to.
Once you've scanned at least one finger multiple times, you'll be able to unlock your device by pressing your finger against the scanner at the back of the phone. You don't even really have to press it – just place it. This scanner works so fast you'll find the device unlocked in the time it takes you to take it out of your pocket.
If you're planning on using Android Pay, both the Nexus 6P and Nexus 5X have the fingerprint scanners you're going to want to roll with. This Android Pay system works with in-store purchases as well as Google Play purchases now right out of the box.
Google Now on Tap
The Nexus 6P launches with Android 6.0 Marshmallow, including a few tweaks to the previously released Lollipop, coming with one new near-universal feature upgrade: Google Now on Tap. With this feature you'll be able to press and hold your home button to see a pop-up from Google that analyzes your screen's contents.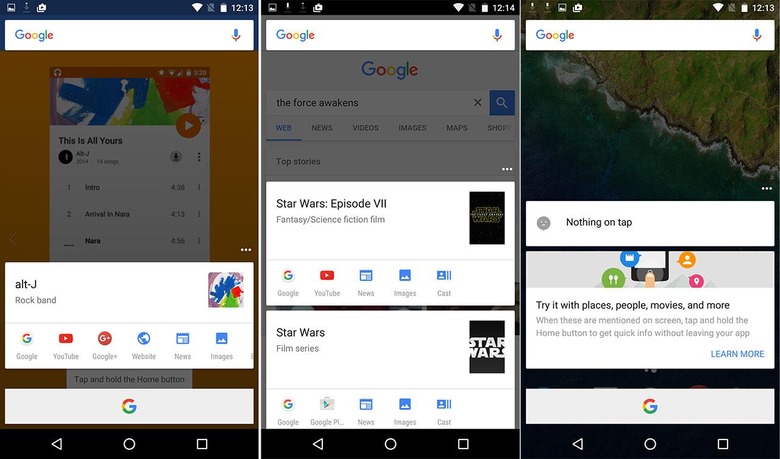 Based on what Google sees on your screen, Google Now will offer you information. You can learn more in this demonstration as well as this brief explanation as well as the video below.
This system can be experience-changing. It can make you want an Android device instead of an iPhone. It can make you think your smartphone is actually aware of what it's doing.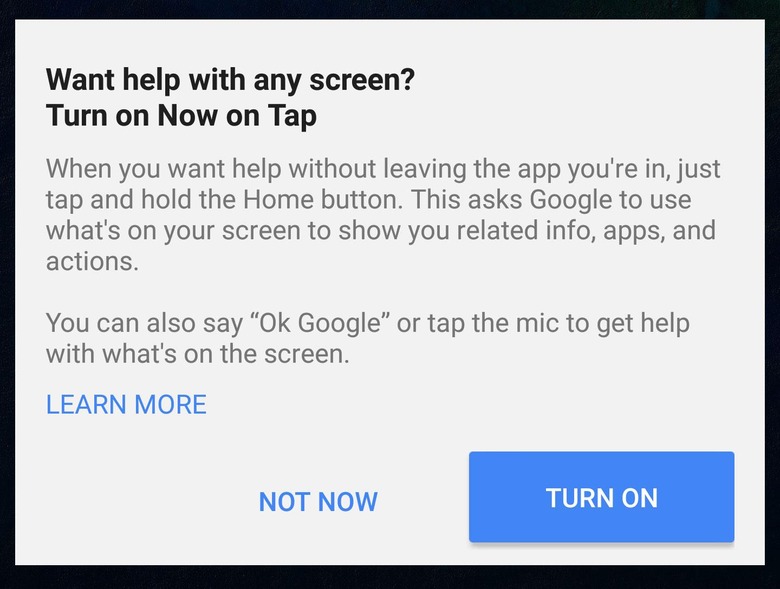 Google Now on Tap is a game-changer IF you're willing to make use of it. You've got to remind yourself that your smartphone is far smarter now than it ever has been before. For Google Now on Tap alone we recommend you either upgrade the smartphone you have to Marshmallow immediately or pick up a Nexus 6P or Nexus 5X as fast as possible.
Camera
Most of our camera action with this device can be found through the linked banner at the bottom of this section. Beyond that, I can assure you that this device has what may be the best camera ever released on a smartphone.
This device works with a 12.3-megapixel camera with an f/2.0 aperture and IR laser-assisted autofocus. It's the real deal. It focuses in and snaps photos faster than I've seen any other smartphone take photos, in all conditions.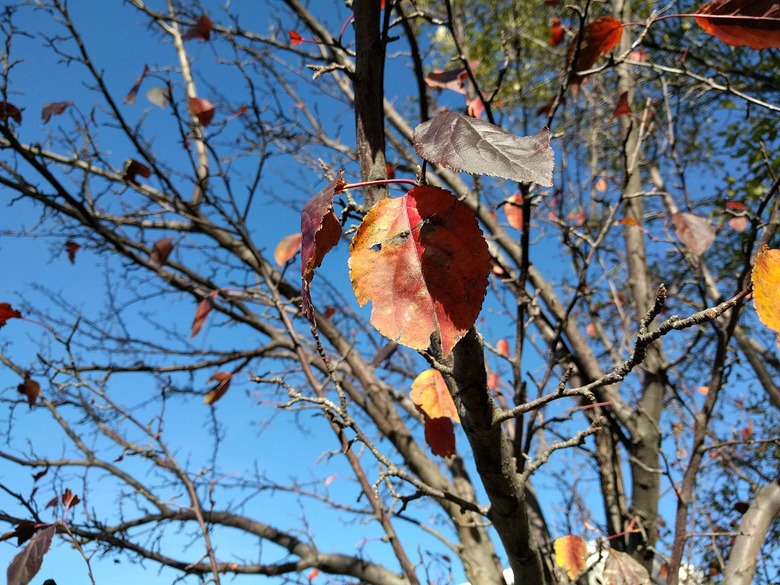 You'll also be able to capture slow-motion video at 120 or 240 frames per second – which is radical. That's as fast as the newest iPhone, and this device's camera has so far impressed us to a degree that we're (still) no longer lusting after the iPhone's camera as we have for many moons.
Both the Nexus 6P and the Nexus 5X use the same camera sensor, that being the Sony IMX377CQT. With the added power of the slightly better processor in this device over the 5X, the 6P has the ability to work with Smartbust shooting, EIS (electronic image stabilization), and the ability to shoot in 240fps instead of just 120fps. You can also shoot in 4K, if for whatever reason you need to do so.
Above you'll see a demo of 240fps video output to YouTube, while below you'll see 140fps video (also output to YouTube.)
Below you'll see a gallery of images and videos shot with the Nexus 6P. For a more analytical look, see our article Nexus 6P camera testing: our first real-world results
[gallerybanner p="411532"]
Battery
With Android Marshmallow you have a new feature called Doze. With this feature, your device will fall into a deeper sleep than it would otherwise whenever you're not using it. Because of this, you've got a longer daily lifespan on your device.
We're experiencing at LEAST one day's worth of battery life with standard usage. If you're the sort of person that cranks up the brightness and plays streaming videos with your mobile data plan all day long, you can expect a couple of full-length movies worth of time.
Have a peek at the article Android Marshmallow's best feature is a real snoozer.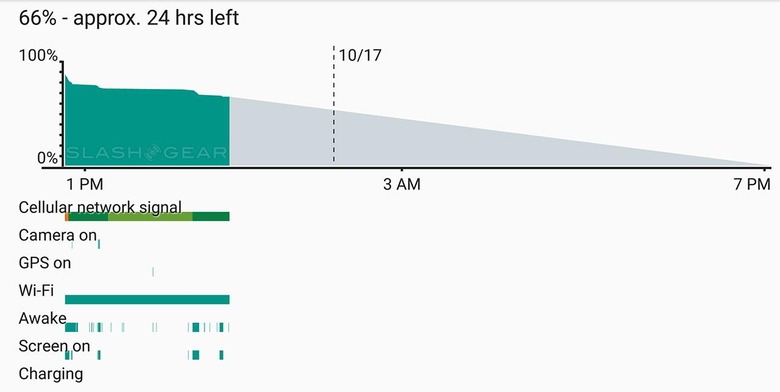 ALSO NOTE: Charge speed on this device is fairly quick if you use the charger that comes in the box. Don't expect to be using Fast Charge chargers from other manufacturers with this device's USB-C cord and seeing quick results.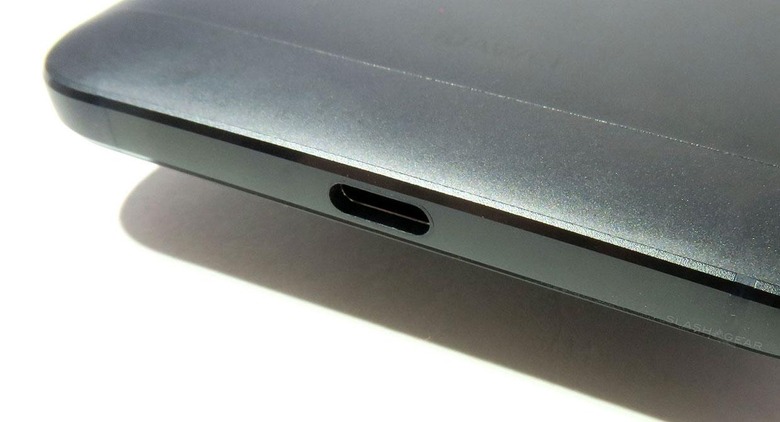 The good part of working with USB-C (or USB Type-C, if you prefer) is that you're not going to have to worry about plugging the device in the right way – there is no upside-down. The bad part is that you're going to need to pick up some extra USB-C cords from Google if you're the sort of person who misplaces cords easily.
The Nexus 6P does not work with a standard micro-USB cord like you've had in the past – that day is over. The age of USB-C has begun.
Specifications
Nexus 6P Technical specifications
• Operating System: Android 6.0 Marshmallow
• Display: 5.7 inches, WQHD (2560 x 1440) AMOLED display at 518 PPI, Corning Gorilla Glass 4, Fingerprint and smudge-resistant oleophobic coating
• Rear Camera 12.3 MP, 1.55 µm pixels, f/2.0 aperture, IR laser-assisted autofocus, 4K (30 fps) video capture, Broad-spectrum CRI-90 dual flash
• Front Camera: 8 MP, 1.4 µm pixels, f/2.0 aperture, HD video capture (30 fps)
• Processors: Qualcomm Snapdragon 810 v2.1, 2.0 GHz Octa-core 64-bit, Adreno 430 GPU
• RAM: 3 GB LPDDR4
• Internal storage: 32, 64, 128 GB
• Dimensions: 159.3 X 77.8 X 7.3 mm
• Weight: 178 g
• Color: Aluminum, Graphite, Frost
• Material: Anodized aluminum
• Media: Dual front-facing stereo speakers, 3 microphones (2 front, 1 rear) with noise cancellation
• Battery: 3,450 mAh Battery, Fast charging: up to 7 hours of use from only 10 minutes of charging
• Wireless & Location: LTE cat. 6, Wi-Fi 802.11a/b/g/n/ac 2x2 MIMO, dual-band (2.4 GHz, 5.0 GHz), Bluetooth 4.2, NFC, GPS / GLONASS, Digital compass
• Network GSM/EDGE: 850/900/1800/1900MHz, UMTS/WCDMA: B1/2/4/5/8, CDMA: BC0/1/10, LTE (FDD): B1/2/3/4/5/7/12/13/17/20/25/26/29, LTE (TDD): B41, LTE CA DL: B2-B2, B2-B4, B2-B5, B2-B12, B2-B13, B2-B17, B2-B29, B4-B4, B4-B5, B4-B7, B4-B12, B4-B13, B4-B17, B4-B29, B41-B41. Phone is carrier-unlocked with wide-range band support for service providers worldwide. Check with your service provider for more information.
• Sensors: Fingerprint sensor, Accelerometer, Gyroscope, Barometer, Proximity sensor, Ambient light sensor, Hall sensor, Android Sensor Hub
• Ports: Single USB Type-C, 3.5 mm audio jack, Single Nano SIM slot
• Other: RGB LED notification light
Wrap-up
In its first release in Google's Nexus program, Huawei has hit a home run. They've created a device that looks and feels as refined as any top-tier smartphone here in the United States is able to produce. This from a company whose releases in the USA so far have been tiny compared to those of OEMs like Samsung, LG, HTC, Motorola, and even Sony.
Instead of recommending this Nexus device to the Android developers amongst you, only, I can wholeheartedly suggest that every consumer take it for a spin. While our Nexus 5X Review recommends there are better devices for lower comparative prices on the market today, here the Nexus 6P stands alone.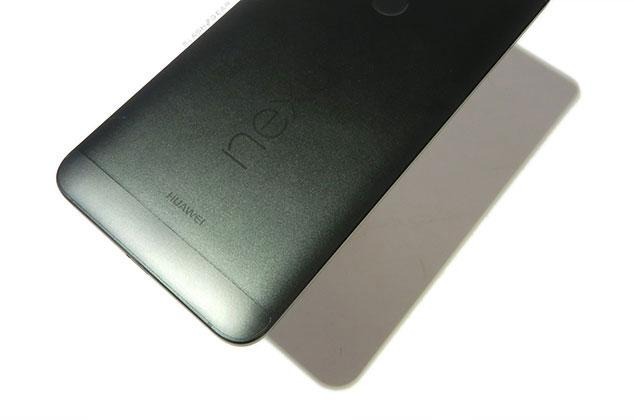 The Nexus 6P is currently sold out on the Google Store online, but should be back in stock soon (we suspect). When it's back, supposing the price is the same as it was when it left, this device will start at $499 USD.
In the box you'll get a Nexus 6P smartphone, SIM removal tool, Google Play Music promo card, USB Type-C 15W (5V/3A) charger, USB Type-C to USB Type-C cable, and USB Type-C to USB Standard-A plug cable.
Also note – we had our hands 0n the standard Nexus 6P Case from Google in "Carbon" color. While this case has given us some issues with covered volume buttons, otherwise we couldn't recommend it higher – it's top notch. Textured microfiber exterior and raised bezel included.
Follow along in our continuing coverage of this device in our Nexus 6P tag portal.