Asus ROG Zephyrus Duo 16 Review: Unique Gaming Luxury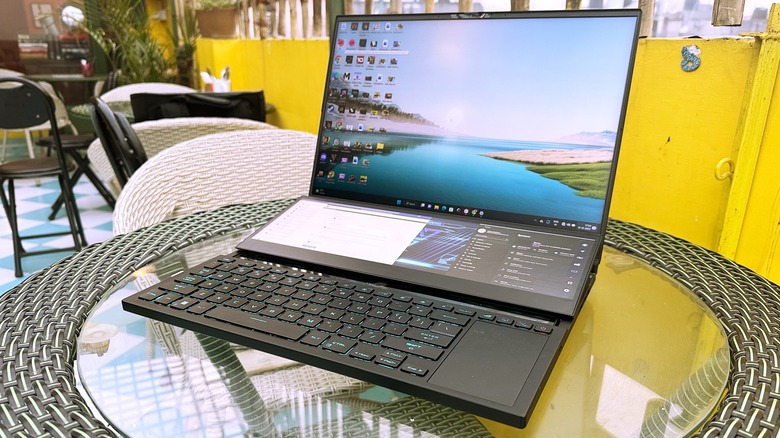 Nadeem Sarwar / SlashGear
Asus has developed a taste for making outrageous computing machines, especially when it comes to gaming-focused hardware and its Republic of Gamers aka ROG brand. Fitting a Core i9 processor inside a tablet? Check. Bringing water-cooling tech to a laptop? Check. Now, the company is marrying the productivity of a sliding secondary screen to the power of a flagship gaming machine, and the result is the ROG Zephyrus Duo 16.
The ROG Zephyrus series of laptops from Asus have traditionally sold the promise of a gaming laptop that doesn't look like a hulking gladiator's shield. The ROG Zephyrus Duo 16 is no exception. Tipping the scales at 5.73 pounds and with a thickness of 2.05 centimeters across, it is not the thinnest and lightest gaming laptop out there. However, once you open the lid, it becomes apparent that the Taiwanese company has done a mighty impressive job with engineering this machine.
The ROG Zephyrus Duo 16 fits a secondary 14-inch elevating 4K display right under the main screen. It's gorgeous to look at, but more than just offering extra screen real estate, the whole assembly lifts up to offer some precious airflow space for colling the power-hungry internals. As the display angle widens, the ScreenPad Plus also lifts itself towards the user and exposes a glass window with a view of the motherboard inside, bathed in glorious RGB lights. It is reminiscent of the boat-shaped glass pane at the back of the ROG Flow Z13 2-in-1 gaming tablet by Asus.
Solid build, clean looks, and weird I/O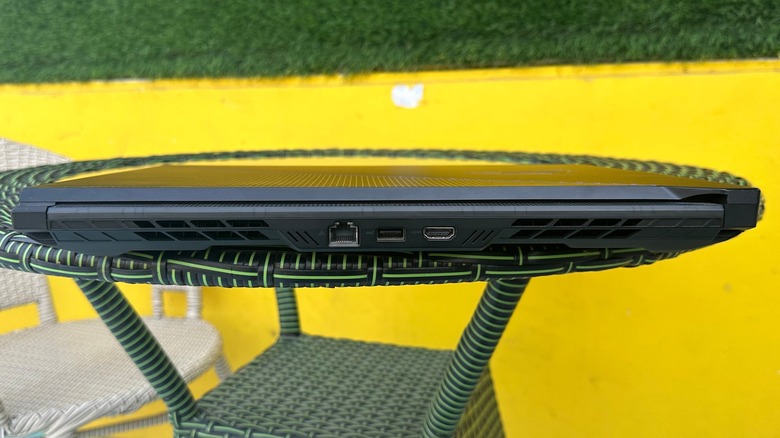 Nadeem Sarwar / SlashGear
The build is solid and the matte finish offers a good grip on the machine. It is also refreshing to see that Asus hasn't gone overboard with RGB lights on the exterior, as is the case with the company's own ROG Strix Scar series laptops and a few of MSI's gaming machines. Over the lid is minimal ROG branding. The understated all-black profile is neat, but the lid surface also gets smudged quite easily. But there are a couple of vexing elements too.
First, let's talk about the port selection. On the right edge, you get a USB-C (v3.2 Gen 2) port, while the left edge has another USB-C port sitting alongside a USB-A port, a microSD card reader, and a charging port. Over at the back, you'll find another USB-A port, an HDMI 2.1 port, and an ethernet inlet. The port selection isn't particularly generous, especially for a gaming laptop that costs as much.
Plus, It is somewhat cumbersome to access the rear USB-A port if you've already connected a USB-A accessory on the left edge. You also have to adjust the power cable's direction, because it gets in the way of the USB-C and USB-A ports alongside the left edge. Then there's the odd keyboard and trackpad positioning.
A keyboard and trackpad that demand your patience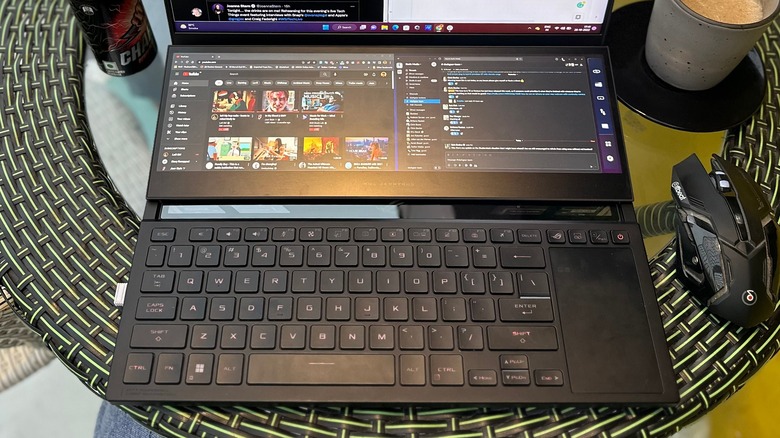 Nadeem Sarwar / SlashGear
Let's start with the most obvious concern with the per-key RGB-lit keyboard. There is no palm rest area, which leads to a rather uncomfortable typing experience. Plus, the trackpad on the right edge is an awkward element, and it really takes some getting used to. The numeric button area has been cleverly merged with that of the trackpad. With the press of a button in the top-left corner, you can turn the trackpad into a 5x4 backlit numpad grid. It won't offer you that pleasant tactile feel of a full set of keys, but gets the job done with a satisfactory touch input accuracy — and it looks pretty, too.
I also loved the keyboard on this laptop. There is no mechanical switch magic to be seen here, but the keys are well-spaced and I easily hit my regular typing speed within a day of testing. Typing on this device does feel a bit mushy, but there's just the right amount of resistance to keypress — and upward feedback is also pleasant. I have no major qualms while typing my way through a few articles or mashing the buttons in games.
There's a 720p webcam at the top. The image quality is nothing worth writing home about, and it delivers noisy visuals in indoor lighting conditions. Thankfully, the IR camera hardware supports Windows Hello authentication and does a decent job at recognizing the face to unlock the laptop.
Blows off the benchmark steam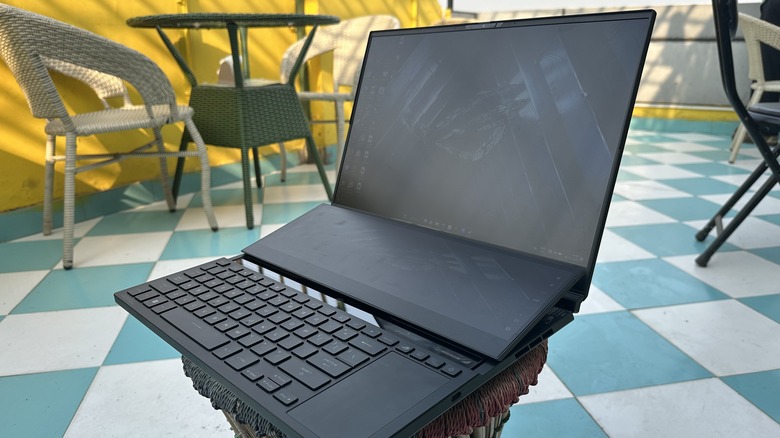 Nadeem Sarwar / SlashGear
Asus has armed the ROG Zephyrus Duo 16 with AMD's Ryzen 9 6900HX (8-core, up to 4.9GHz peak frequency) processor and NVIDIA's yesteryear flagship, the GeForce RTX 3080 Ti with 16GB of graphics memory. It is paired with a hefty 32GB of DDR5-4800 RAM and 2TB of PCIe 4.0 NVMe M.2 SSD. Those figures can further be expanded up to 64GB and 4TB, respectively. That's a pretty powerful configuration and can only be topped off by Intel's 12th Gen Core i9 processor, which takes the lead at multi-core performance against the AMD silicon.
It was no surprise to see the laptop blast past synthetic benchmarks. In the V-Ray benchmark, the Asus offering cleared 1,334 vpaths on the V-Ray GPU CUDA core test and pulled 1,893 vrays at the V-Ray GPU RTX test. Simulating "Battlefield V" at 1440p Ultra settings, 3D Mark's Time Spy benchmark test produced a graphics score of 12,463 and CPU score of 10,767 points, averaging over 120fps. Blender (BMW test) and Unigine Superposition (1080p Extreme) tests also delivered figures representative of a top-tier gaming laptop.
The PCMark 10 Extended test recorded a score of 9,590, with impressive sustained graphics performance, especially in resource-intensive rendering scenarios. The CPU-intensive benchmark Cinebench R23 showed 14,362 and 1,418 points at multi-core and single-core rendering tests. I tried to run Lumion to test the mettle of the innards at a real-world 3D architectural rendering task, but the app crashed (multiple times) when the MUX switch was enabled at Turbo level to deliver peak performance. The "Metro Exodus Enhanced Edition" in-built benchmark test averaged over 100fps at high-quality preset.
Peak gaming experience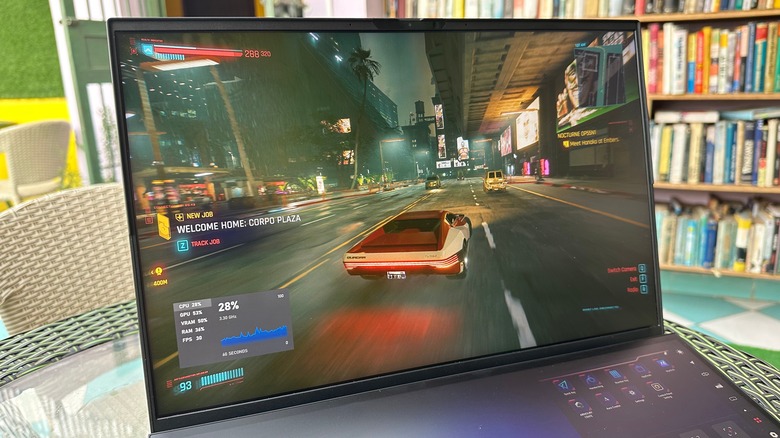 Nadeem Sarwar / SlashGear
Testing gaming performance I worked with maxed-out graphics settings for every game I tested on the laptop. At the Turbo performance preset, "Assassin's Credit: Valhalla" averaged between 80-90fps at Ultra, "Cyberpunk 2077" jumped between 40-50 fps at Ultra 1440p resolution, and "Horizon: Zero Dawn" played in the 80-90 fps range.
The likes of "Call of Duty: Warzone," "The Witcher 3," "Far Cry 5," and "Fortnite" comfortably remained in the 110-120 fps range. Playing "Forza Horizon 5" was a rewarding experience, with extremely good visual fidelity and frame rate stability at around 80-85fps at maximum graphics settings. "Guardians of the Galaxy" consistently peaked above the 90fps margin (although the visuals occasionally looked oddly smoothened), while "Deathloop" also ran extremely well with every environmental preset set to Ultra.
For old times' sake, I installed "Anthem" and cranked all the graphics settings to the peak permissible limits. The Asus ROG Zephyrus Duo 16 consistently played in the 85-90fps ballpark with stunning visual clarity. I encountered a few motion glitches, but that was likely due to server issues and not any kind of performance bottleneck. Overall, it was the best Anthem experience I've had in a while.
The gist here is that you can enjoy almost every AAA title at QHD resolution and peak graphics settings comfortably around the 60fps mark, and with little adjustment (read: hit-and-miss approach), older titles will consistently offer 100fps or more. 
If you want to see a game reach its true graphics potential, this machine is as good as a gaming laptop gets. 
Advanced thermals with a whistling fan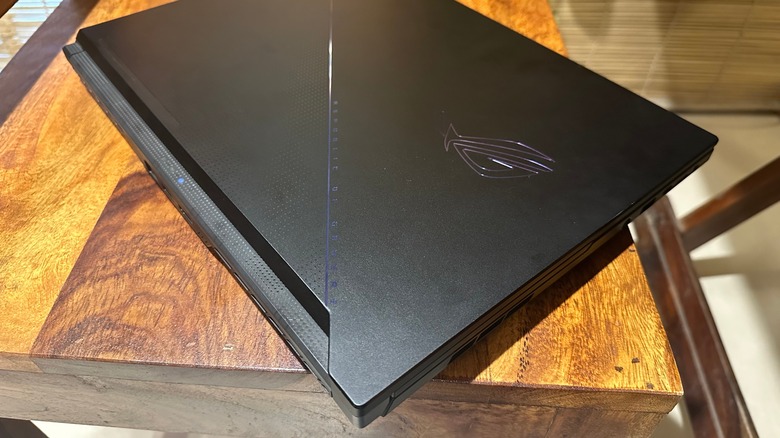 Nadeem Sarwar / SlashGear
With the refreshed lifting screen design, Asus suggests that they've seen significant airflow improvement over older comparable models. On the inside, the company is using Thermal Grizzly's Conductonaut Extreme liquid metal solution that Asus claims can keep the CPU up to 15 degrees cooler than it would be otherwise. It does yield better results at temperature management compared to my own ROG Zephyrus GA15 (GA502) gaming laptop, despite the far more powerful internals crammed inside the ROG Zephyrus Duo 16.
There are a total of five heat pipes and four heat sinks lined with 0.1mm thin copper fins. Then there are the custom-designed ArcFlow fans with an 84-blade architecture and a variable thickness profile. Paired with what Asus calls an internal blast cooling system, the company suggests that this machine has up to 13% improved airflow and up to 6 degrees cooler CPU and GPU temps than it'd have without said solutions. 
Of course, Asus is charging a premium for all that engineering, but the thermals leave a positive impression. I played a healthy bunch of demanding games on the machine, and heating was never a serious problem. Of course, you don't want to put this hunk of metal in your lap and use it for a long duration like you might a much smaller notebook. It also helps that the testing was conducted in an environment where temperature levels hovered in the 37-67 degrees Fahrenheit range.
Aspects like fan speed and CPU/GPU frequency can be tweaked from the pre-installed Armory Crate software, but even with the performance profile set to Turbo, the fans aren't problematically audible. That is, so long as you don't have a weak spot for said fans' unique, peculiar whirring.
A stunning display for gaming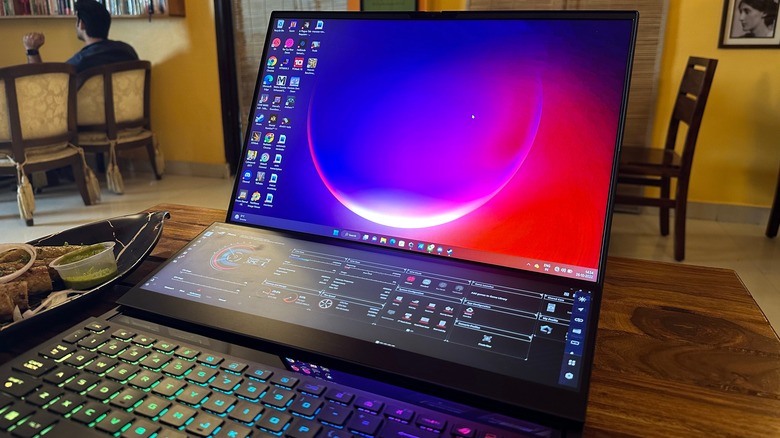 Nadeem Sarwar / SlashGear
Asus offers the ROG Zephyrus Duo 16 in 4K and QHD+ display configurations with screen refresh rates varying between 120Hz, 165Hz, and 240Hz. The unit we tested packs a 16-inch QHD+ (2560x1600 pixels) mini-LED display with 16:10 aspect ratio, 3ms response time, 165Hz refresh rate, and full DCI-P3 color gamut coverage.
This is a stunning screen, especially for HDR content consumption. Viewing angles are excellent, colors are punchy, the contrast is pleasant, and visibility under sunlight is great. The blacks are noticeably deeper than an LCD panel and you won't notice any form of edge bleeding at peak brightness levels. I ran the EIZO display quality assessment, and save for the slight grayscale non-uniformity alongside the lower edges, the ROG Zephyrus Duo 16's mini-LED screen aced every test.
The Asus ROG Zephyrus Duo 16 has one of the brightest screens that I've used in a gaming laptop so far. Plus, the combination of plenty of pixels with a 165Hz refresh rate is tailormade for enjoying the incredibly detailed world in games like "Cyberpunk 2077," "Horizon: Zero Dawn," and "Forza Horizon 5." In my opinion, this is the right configuration to get, as the 4K panel will likely drain the battery a tad too enthusiastically.
Asus has paired the brilliant display with a 6-speaker system, complete with Dolby Atmos support. I usually have little hope with laptop audio systems, so the Asus ROG Zephyrus Duo 16's wide soundstage and instrumental clarity took me by surprise. I played a few cutscene-heavy hours of "Assassin's Creed Origins" without feeling the need to plug in any headphones or earbuds.
A workflow-revolutionizing secondary screen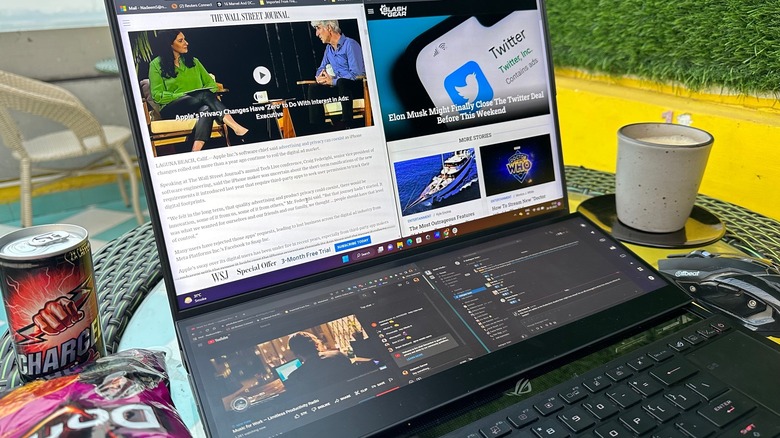 Nadeem Sarwar / SlashGear
From a gaming enthusiast's perspective, the secondary screen can be a godsend. Instead of apps like Discord and YouTube taking up screen real space or running in minimized view, they can be pushed down to the lower screen where your chats and music are always in your view. Plus, they also save you the hassle of missing out on important notifications from apps like WhatsApp, Slack, and Teams, among others.
The ScreenPad Plus is a full-fledged secondary screen that can handle every software that a regular laptop screen is capable of accomplishing, as long as you can live with the cramped UI elements. For example, communication apps, system settings, and productivity tools like Docs look fine. But if you fire up something like Adobe Photoshop, it would be nigh impossible to have a productive experience.
Asus worked with Adobe to push some of Photoshop's core editing controls down to the secondary display, leaving more screen real estate for the actual editing canvas. Asus also offers support for apps like Lightroom Classic, After Effects, Premiere Pro, and Illustrator. One can argue that Asus could have done better, but just the fact that Asus walked the extra mile to create something unique for demanding apps for creators is worth applauding.
Alongside the secondary screen's left edge is a vertical control panel, which can be made to float or even disappear on its own when there is no screen activity going on. It offers quick access to controls like brightness adjustment, moving the app windows between each screen with a single click, and bringing up a virtual keyboard.
You can also turn the secondary screen into the biggest touchpad you'll ever come across. In the touchpad mode, the secondary screen supports all the multi-finger gestures that a regular laptop touchpad is capable of. I expected it to be a bit janky, but the experience is surprisingly smooth and reliable. This feature is also a lifesaver, especially if the tiny vertical touchpad on the keyboard deck is giving you cramped nightmares.
Of course, having a giant inclined touchpad above the key area is not the most ergonomic design choice, but it's still a means to an end. Or, at least partially. Another neat convenience is that with the tap of an on-screen icon, you can pull up a transparent 5x4 numeric pad grid on the screen. When it's active, the touch response for the app running in the background is disabled.
I absolutely love the thought process and the attention to detail that went into making the secondary screen as productive as possible. I was initially skeptical and thought of the ScreenPad Plus as nothing more than a gimmick, but it has had a dramatic impact on my productivity. The ROG Zephyrus Duo 16 is a gaming laptop at its heart, but it's also one of the most versatile laptops with a truly meaningful innovation that I've ever used.
Big battery, fast charger, and compromising figures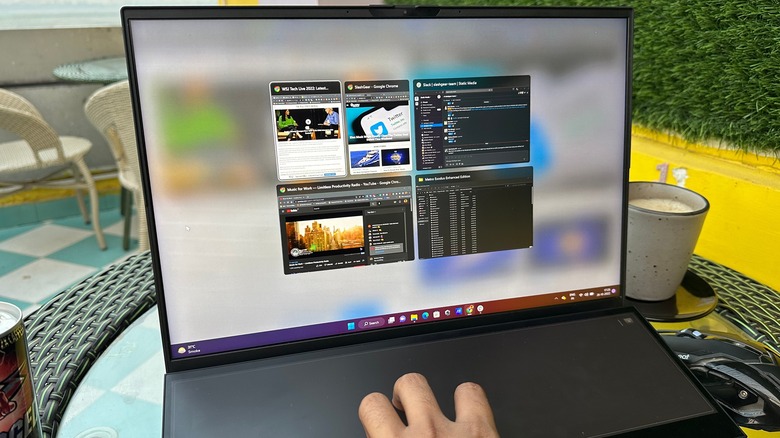 Nadeem Sarwar / SlashGear
The 90Whr 4-cell Li-ion unit inside the Asus gaming machine can be juiced up using a 280W AC power brick, which is almost as hulking as a real brick. It takes about two hours to fully charge the battery. However, if you don't want to lug the massive adapter, the laptop supports up to 100W charging via the USB-Type C port courtesy of a USB-PD charger. Asus touts 50% charge in 30 minutes, but those figures proved to be bit generous in our testing. 
Also, it's worth keeping in mind that a 100W USB-PD charger can't sustain the resource demands of the Turbo performance mode. As far as content goes, the laptop pushed the low battery notification before I could finish "The Lord of the Rings: The Rings of Power's" fourth episode during a repeat binge-watching session. 
Porting over my usual workflow, which involves at least three Chrome windows with about a dozen tabs, communication software (Slack, Discord, Teams, and WhatsApp) active at all times, Amazon Music running in the background, and light editing in Adobe Lightroom, I could barely go past 4 hours of serious work on a full charge. Of course, the fairly pixel-dense secondary screen takes its toll, but you don't really want to turn it off.
If you like to carry your work laptop to a cafe and seek to squeeze in a few sessions of AAA gaming between breaks, the safe bet would be to carry the charger in your bag. Just keep in mind that playing games on the silent or performance profile won't deliver the same high FPS output and graphics clarity as you get with the Turbo profile when the laptop's massive 280W charging brick is plugged in.
Verdict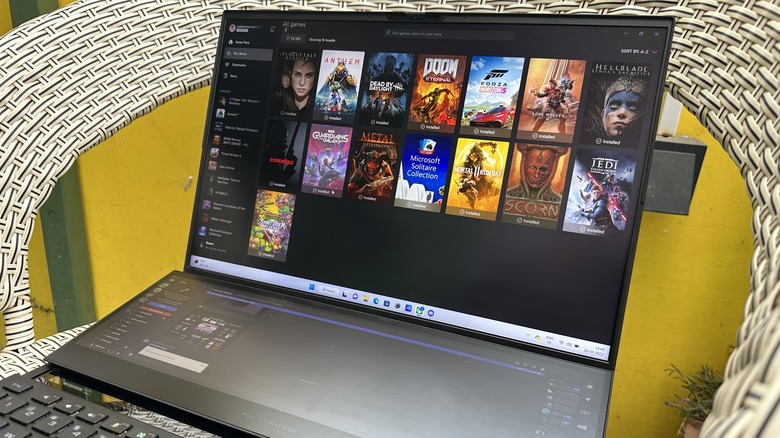 Nadeem Sarwar / SlashGear
The Asus ROG Zephyrus Duo 16 is a specimen of fine PC engineering, and fittingly, it carries a handsome price tag. This machine offers a wide variety of combinations of computing innards at a variety of prices — but it is going to cost a whopping $4,000 for the configuration we tested. 
Even the base model with an AMD Ryzen 7 6800H processor and NVIDIA's GeForce RTX 3060 GPU will set you back $2,500. The only reasonable way to justify that asking price, apart from the unique design, is that the ScreenPad Plus is a unique addition that also boosts your productivity. It offers a place to host every non-essential app and activity to offer a distraction-free gaming experience on the main screen. 
Plus, if you intend to put it on your workstation, the secondary screen will definitely prove to be of great convenience. You can look at it this way: a Tesla car can occasionally match the acceleration figures of a legitimate hypercar, but people will still pay a few million dollars for a Ferrari or McLaren because it stands out from the crowd. The Asus ROG Zephyrus Duo 16 falls in the latter category, where performance is not caught in a bottleneck, but you end up paying a fortune for those killer looks and a few other party tricks.
If you're someone who is investing in a gaming laptop that will turn heads everywhere with its futuristic looks and offers all the computing grunt in the gaming world, the Asus ROG Zephyrus Duo 16 is the right machine for you. Otherwise, Asus' own ROG Zephyrus G-series and ROG Strix Scar lineup will offer you plenty of power while saving you a lot of money.
In case you're looking elsewhere, the pricey Razer Blade 17 offers a combo of Core i9 and GeForce RTX 3080Ti for a cool $4,000. If you seek a similar configuration and would like to save money, too, you should check out the Alienware m17 R5, MSI Stealth GS77, and the Acer Predator Triton 500 SE.