Asus ROG Flow Z13 Review: Stunning, Expensive, And A Tad Vexing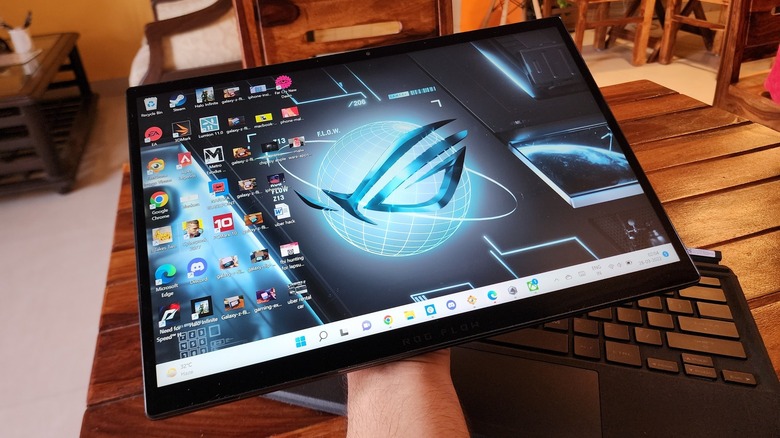 Nadeem Sarwar/SlashGear
Every once in a while, a PC maker goes out of its way to build a machine that either defies the logic of that class or simply blends two seemingly mismatched categories. The ROG Flow Z13 Falls in the latter bracket. It almost feels like Asus took the Microsoft Surface Pro and swapped its modest internals with a beefy Core i9 processor and a discrete NVIDIA GeForce 3000 series GPU. The somewhat unthinkable result is a full-blown gaming laptop that also pops out its keyboard folio and turns into possibly the most powerful tablet on the planet.
From the get-go, this is an audacious experiment that underplays the level of graphical power and thermal demands of a true-blue gaming laptop and hides those shortcomings behind a form factor that won't hurt your back. It even wades into the tablet category and absolutely destroys the entire competition while at it. But not everything is as good as this device's specs sheet would indicate.
A beautiful screen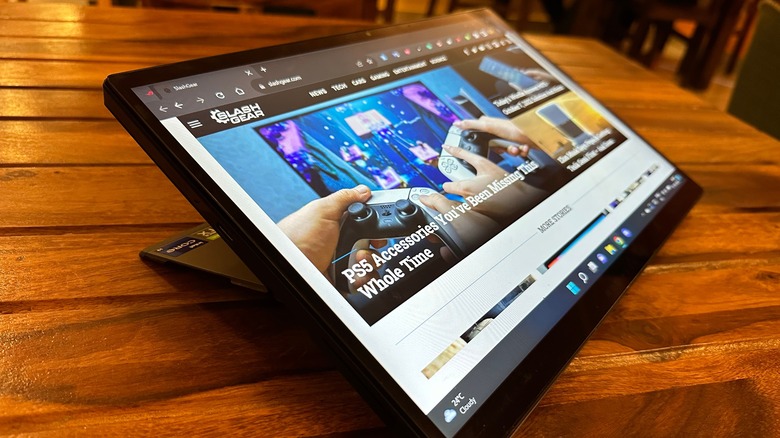 Nadeem Sarwar/SlashGear
Asus has armed the ROG Flow Z13 with a 13.4-inch FHD (1920 x 1080) Pantone-validated screen that offers a smooth 120Hz refresh rate and has the full sRGB color gamut covered. This device's display panel's aspect ratio is 16:10, which gives it just a wee bit of extra vertical space beyond the average laptop or tablet screen. It's good for day-to-day work and certain sorts of video content, but letterboxing happens at the top and bottom of the screen in a bunch of games.
As far as quality goes, this touch-sensitive screen is stunning. With a peak brightness of 500 nits, it is easy to work on the screen even outdoors without worrying too much about dim content and reflections. The viewing angles are great, the colors look punchy, and a 120Hz refresh rate ensures that everything feels smooth and snappy.
Asus also offers the machine in a 4K screen configuration, but exchanges 120Hz for 60Hz in the process. If you're buying the ROG Flow Z13 predominantly for gaming, stick with the FHD 120Hz option. The bezels are not the thinnest out there, but considering the heft of the device, they are of critical importance to ensure a strong grip.
A design unlike any other laptop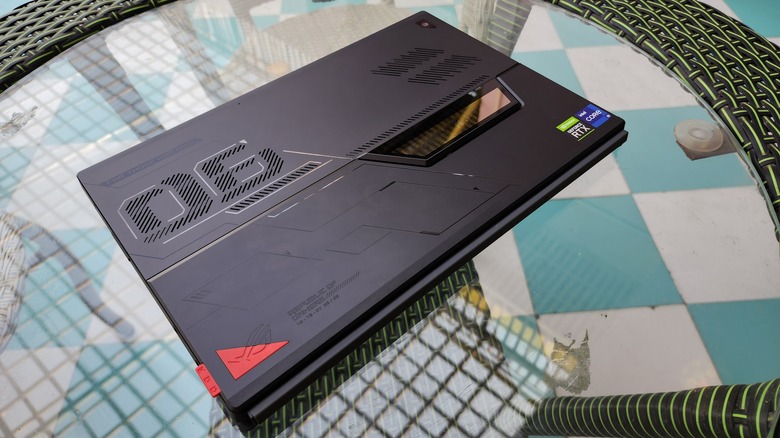 Nadeem Sarwar/SlashGear
This device is smaller than the 14-inch MacBook Pro along all the edges and also weighs less than its Apple competitor at just 2.60 pounds. In comparison, the Apple-branded laptop tips the scales at 3.5 pounds. The chassis of the Asus device is made of aluminum alloy, and it feels sturdy without any sort of flex across the frame.
Of course, it's a ROG machine, which means there are sharp aesthetic lines and cuts all over the rear panel. They don't look garish though. But the real gem here is the small glass window in the lower half that offers a look at the internal board. And yes, it's lined with RGB lights that can be made to pop up with varied lighting effects. In the weeks that I spent testing it across multiple coffee shops, I've had a healthy bunch of strangers ogling at the machine and asking about it.
Asus did a neat job blending minimalism without going overboard with flashy gamer-pleasing lights. Another neat surprise at the back is an SSD bay. It can be accessed with a single Phillips screw, but only accepts the condensed M.2 2230 SSD format — which is a bummer. 
At the same time, keeping in mind that this is a tablet, being able to upgrade the SSD is still a huge bonus. There's also a separate SD card reader at the back that doesn't need any screws to access. 
Novel thermals, odd port selection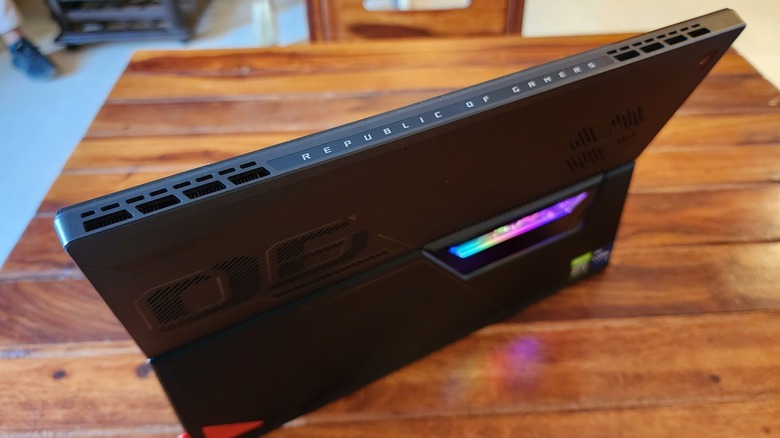 Nadeem Sarwar/SlashGear
Along the top edge are the heat vents to blow the air channeled by the two fans inside. Asus has put in place a vapor chamber cooling system inside and liquid metal over the CPU. This approach keeps space needed for cooling to a minimum — and surprisingly, it seems to keep fan noise to a minimum, most of the time. On the flip side, the rear panel gets hot even under mild stress. The fans are usually quiet, but if you're pushing the silicon under Turbo mode, get ready to hear the fans whizzing.
Asus hasn't skipped on the port selection part, considering this is a tablet after all. On the right edge are a 3.5mm headphone combo jack and a USB Type-A port along with a volume rocker and a power button.
On the left edge is a Thunderbolt 4 port for charging and file transfer, a standard USB-C port, a full-sized DisplayPort, and the custom ROG mobile port for connecting to the external eGPU with an NVIDIA GeForce RTX 3080 series card that Asus sells separately.
This is a surprising amount of ports for a tablet, but for your average laptop, this isn't a lot. MacBook (non-Pro) users might find it generous, but for the rest of the Windows PC-using community, Asus could've done a few ports better, especially with the adequate inches for edge thickness.
Surprisingly good keyboard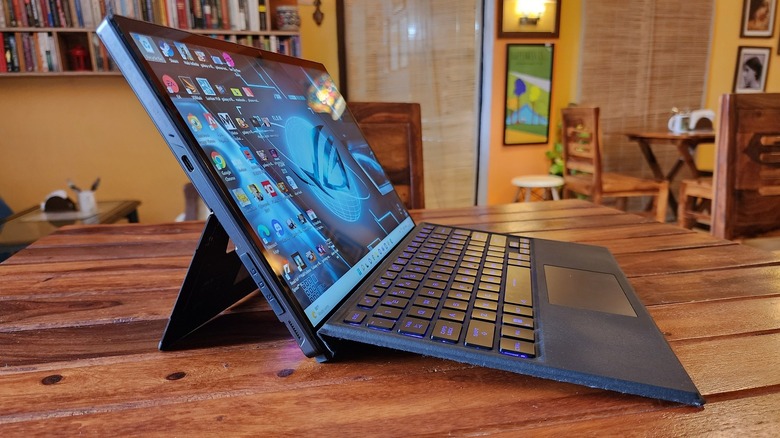 Nadeem Sarwar/SlashGear
The keyboard that comes bundled with the tablet attaches magnetically, just like the one Microsoft charges extra for when you buy a Surface tablet. Yes, it's RGB backlit, and you can customize the light flow of the keyboard as well as the glass window at the back. These RGB adjustments can be made from the Armory Crate, Asus' pre-loaded app that allows users to adjust the system profile, and fan speed, and play with the lighting effects on its gaming laptops.
The keyboard has a smooth silicone finish and feels sufficiently premium. As for the typing experience, it's surprisingly good. The key travel is decent and delivers healthy feedback. I found it to be an improvement over my Surface Pro Type Cover, which is no small achievement. 
One con with this keyboard is the lack of a dedicated print screen button. I've grown to love that convenience on my Asus ROG Zephyrus G-series laptop, and not having it on the ROG Flow Z13 was a little vexing. Another annoyance with the keyboard is that the reverse side is a magnet for dust. And if you got furry pets, may God help you.
The trackpad buttons offer a satisfactory click, but the overall size is rather small, which I found to be a tad limiting while editing images and doing basic 3D sketching.
The screen also supports stylus input. I tried Asus' own SA200H stylus pen on the ROG Flow Z13, and it was a smooth experience. However, it is not as good as the minimal latency and great tilt control offered by Samsung or Apple's styli for their respective tablets.
Benchmarking above the best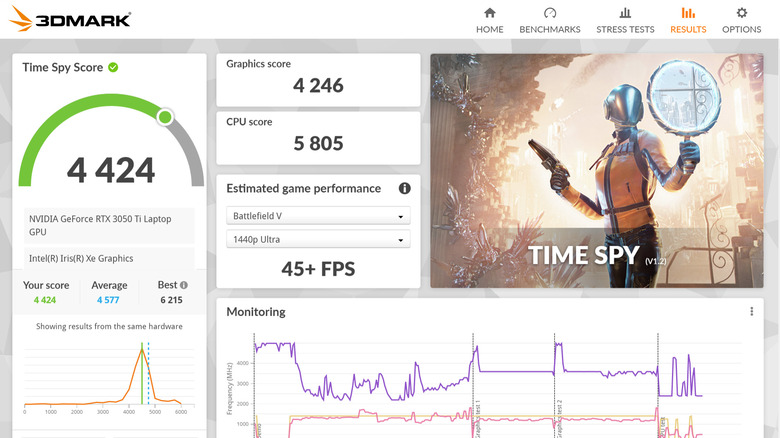 Nadeem Sarwar/SlashGear
The configuration we're reviewing here came equipped with a 12th-Gen Intel Core i9 (12900H) processor that has 14 cores and offers a peak frequency of 5 GHz. It was paired with 16GB of LPDDR5 RAM and an NVIDIA GeForce RTX 3050 Ti GPU with 4 gigs of graphics memory. The pairing of a top-end Intel CPU and an entry-level GPU might seem odd, but the results are palatable.
I ran three instances of each benchmark with the Turbo overclocking mode enabled in the Armory Crate. Blender finished the bread-and-butter BMW car scene in 3 minutes and 2 seconds. The V-Ray GPU CUDA test delivered 461 paths, while the V-Ray GPU RTX run produced 614 vray points.
Compared to a GeForce RTX 3050Ti in a proper gaming laptop like the ROG Zephyrus G14, those results are only about 10-15% lower. Simulating "Battlefield 5" (1440p resolution, Ultra settings), 3DMark Time Spy returned a graphics score of 4246, which is good enough. Cinebench R23, on the other hand, offered a single and multi-core tally of 9805 and 1840 points.
The ROG Flow Z13 put up a tally of 1922 and 12903 on Geekbench's single-core and multi-core tests, respectively. These results are better than the top results posted by Apple's latest 14-inch and 16-inch MacBook Pro notebooks with the mighty M1 Max inside.
A modest machine for AAA games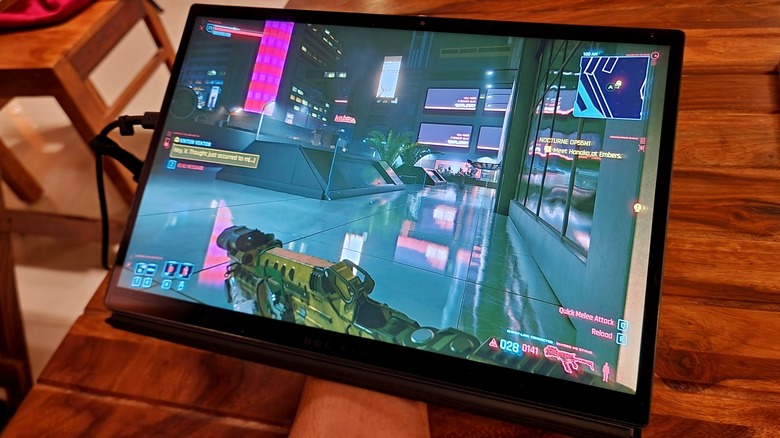 Nadeem Sarwar/SlashGear
When it comes to gaming, the device is limited by the power draw on the CPU as well as GPU due to its portable form factor. The Intel chip only maintains a sustained 50W output, while the RTX 3050Ti inside can only reach 40W in the boost profile. To put it simply, don't go around comparing it with a full-blown gaming laptop with similar specs.
However, the Asus ROG Flow Z13 can still hold its own when it comes to playing AAA titles, as long as you leave your Ultra graphics expectations behind. Starting on the higher end of the spectrum with "Elden Ring," ROG Flow Z13 mistered around 35-40fps on average with medium graphics settings.
In "Cyberpunk 2077" I averaged around 40-44 fps at medium settings, but given the sheer depth of graphics adjustments in the game, your tally might go up or down. "Assassin's Creed" wasn't too different. There were a few jitters here and there, but the overall experience was smooth.
Step down the AAA gun for real fun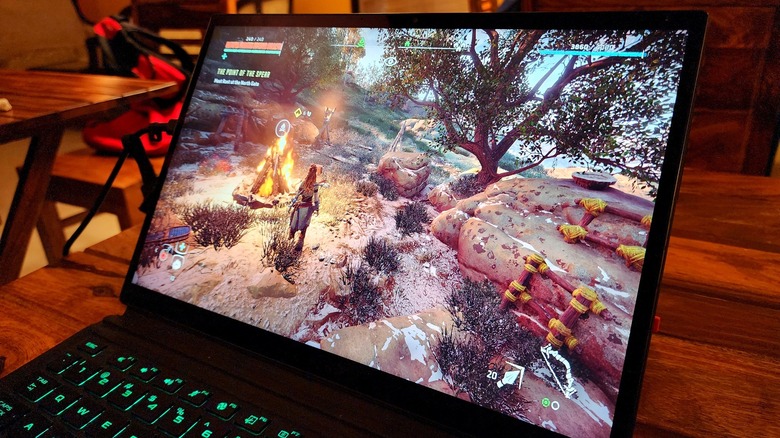 Nadeem Sarwar/SlashGear
For less demanding games or even older AAA titles, you can enjoy 1080p gaming at a 60-70fps range. For example, "The Witcher 3" comfortably sailed at over 70fps with high graphics settings. I tried a bit of experimenting with "Forza Horizon 5" at peak settings and only got about 30-35fps.
The experience was not terrible as there was still a sufficient amount of detail, but the experience was nowhere close to the high-FPS experience in low-graphics settings. I noticed that turning off ray tracing can bump up the fps count by at least 30-50% in demanding games like "Shadow of the Tomb Raider."
In "Apex Legends" and "Fortnite," I got around 60fps consistently, and new titles like "Metal Hellsinger" and "Deathloop" can touch that FPS mark at lower visual fidelity without ruining the experience. If you're more into less demanding indie titles like Hades, you can enjoy them in all their graphics glory at over 90fps.
It can handle your serious work, too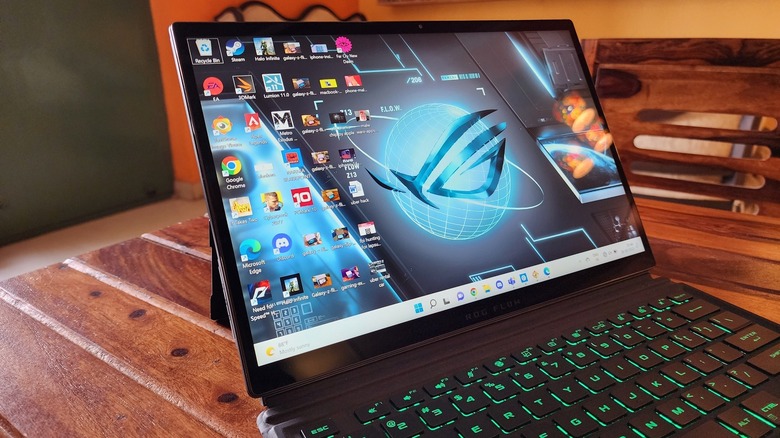 Nadeem Sarwar/SlashGear
If you're comparing the ROG Flow Z13 with a productivity powerhouse like the new MacBooks with the M-series hardware, the Asus tablet is in the same league as workflow beasts, and even beyond in certain benchmarks. In general, it is hard to find a non-gaming laptop that goes all the way up to the Intel Core i9 and packs in a discrete GPU.
I handed the machine to my architect friend who ran Lumion 11, one of the most demanding 3D rendering applications out there, and got a smiling thumbs up from him. My sister also tried her hands on the shiny machine with graphically demanding ML modeling tasks and running Python scripts with Anaconda prompt, and came out impressed.
But do keep in mind that the machine packs a Max-Q design GPU, so if you're planning to fire up something like Maya and Houdini and 3D modeling, the GPU here is far less capable of churning out those pixels and shader units. Simply put, the GPU here won't be nearly as capable as it is with your average video game.
Perplexing pricing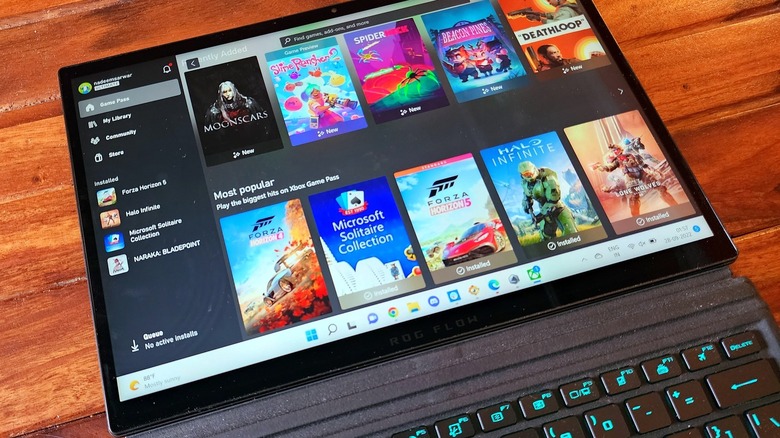 Nadeem Sarwar / SlashGear
Save for the unique form factor, there is little inside the Asus ROG Flow Z13 to justify that asking price. It starts at $1,300 for the base model with an Intel Core i5-12500H processor and no discrete graphics. For the Core i7-12700H variant paired to a GeForce RTX 3050 card, Asus' website is charging $1,800.
The configuration we tested had the Core-i9 CPU married to the slightly more powerful GeForce RTX 3050 Ti graphics card. This one is currently listed as out of stock on the Asus website, but surprisingly, Best Buy is currently selling it for $1,700 with a discount, while it regularly sells for a cool $1,900.
Just to add some perspective here, for that price, or a hundred dollars lower, you can pick more powerful gaming laptops from within Asus' own ranks. The best machines to look at here are the brand's latest set of Asus ROG Zephyrus G-series laptops, which offer a neat blend of powerful innards, a comparatively portable build, and a more sensible asking price.
Why should you buy it?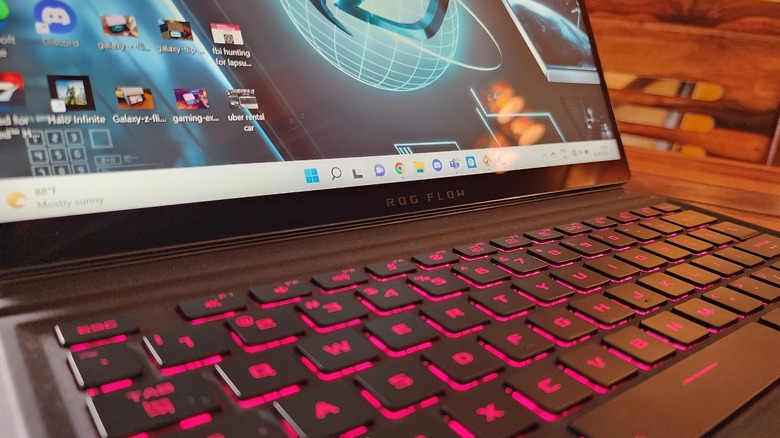 Nadeem Sarwar / SlashGear
The Asus ROG Flow Z13 does a lot of things right, but its form factor also brings a lot of practical limitations. No other tablet out there offers such high performance. If you've ever wanted a machine that goes from a "Halo" machine to a legitimate productivity horse, and finally evolves into a video-watching tablet, this Asus machine should be on your radar.
I particularly loved the fact that I can simply prop the tablet half on a table or my lap, and breeze past a few races in "Forza Horizon 5" with an Xbox controller without having to care about the keyboard. Plus, unlike a traditional gaming laptop with bottom-firing heat vents that can quickly make it hard to keep it in one's lap, the Asus ROG Flow doesn't offer any such thermal discomfort.
If you're concerned about raw performance, know that this machine can handle even the most demanding workflow. Overall, the Asus ROG Flow Z13 is a one-of-its-kind machine that is a jack of many trades, and won't leave you wanting for a lot more. That is if you are willing to pay for all those conveniences and are willing to ignore other more reasonable options.
Why should you avoid it?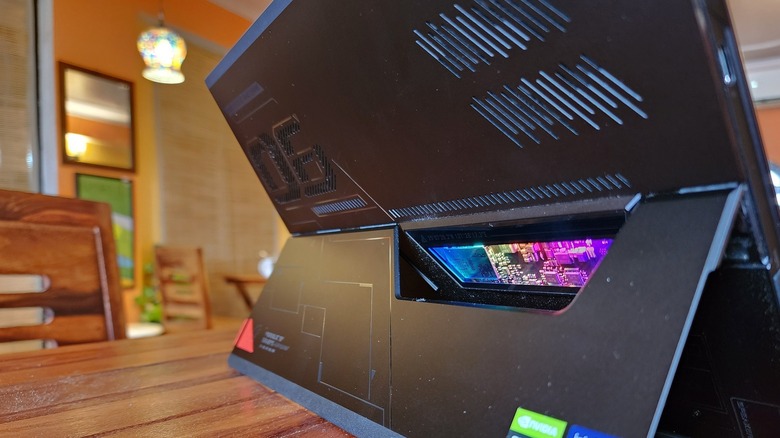 Nadeem Sarwar / SlashGear
If thin and powerful are your primary criteria, you should look at Razer's lineup of laptops which go all the way up to NVIDIA GeForce RTX 3080Ti and also let you pick from AMD silicon. In case you can't look beyond the Asus ROG Flow Z13 but still wish for more power, the external eGPU that Asus sells (separately or bundled) is your only option.
The ROG XG Mobile is a portable external GPU enclosure that offers the power of GeForce RTX 3080 in order to ramp up your gaming potential. The unfortunate part of this equation is that your final cart value will balloon all the way up to $3,300. That's an obscenely high price to pay for a gaming machine, portable or otherwise. For that sum, you can buy yourself a more standard laptop and a tablet or two and still save a few dollars.
Then there are the local, but extremely practical, limitations. If the ROG Flow Z13 isn't plugged in, an hour-long session of a heavy game like "Cyberpunk 2077" will deplete the battery. With the brightness set to 50%, I marathon-watched the "Lord of The Rings" trilogy, but the battery started blaring the low-power warning barely past halfway through the second film. While using it as my work machine with a predominantly Chrome-heavy workflow, the ROG Flow Z13 could only average around 5 hours. In a nutshell, not great.
Verdict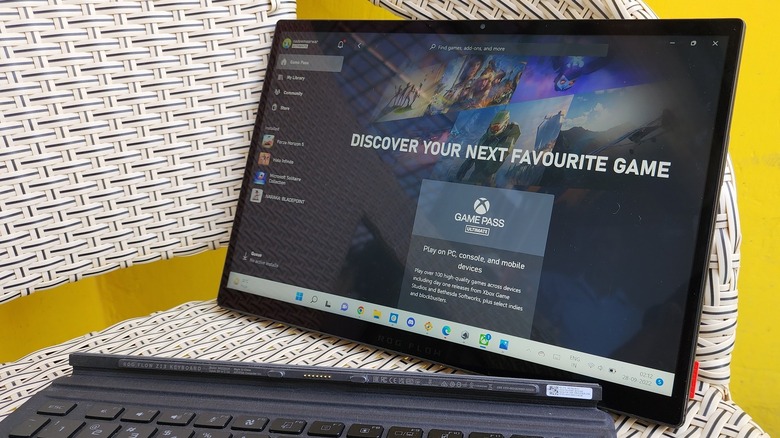 Nadeem Sarwar / SlashGear
It's never easy to justify the asking price demanded by most high-end gaming laptops, particularly for folks that are looking to work and play on the same machine. But the Asus ROG Flow Z13 is a glaring exception. The ROG Flow Z13 does the computing part better than most productivity laptops out there. It is powerful enough to handle your games, as long as you're not dreaming about 120fps Ultra graphics gaming. 
This Asus device goes a step further by cramping all that firepower into a rather unique chassis. This is a full-fledged windows tablet that blows the Surface Pro (and iPads) out of the water on every performance metric. The Asus ROG Flow Z13 has the brawn covered, but this machine is more about versatility than just raw gaming pedigree. If you seek an RGB-lit tablet-laptop mashup that can be the perfect desk companion for work and can also inject some "Cyberpunk 2077" energy during the breaks, this is the machine to get. 
It also helps that no PC maker has successfully made such an audacious hybrid. But it's hard to overlook the realistic expectations that one has from a laptop, especially in terms of battery life, port selection, and overall value for money. If you know your priorities and how your workflow aligns with what the Asus machine has to offer, start saving for the Asus ROG Flow Z13.