2022 Toyota Tundra Capstone Review: Hybrid Luxury Truck Focuses On The Essentials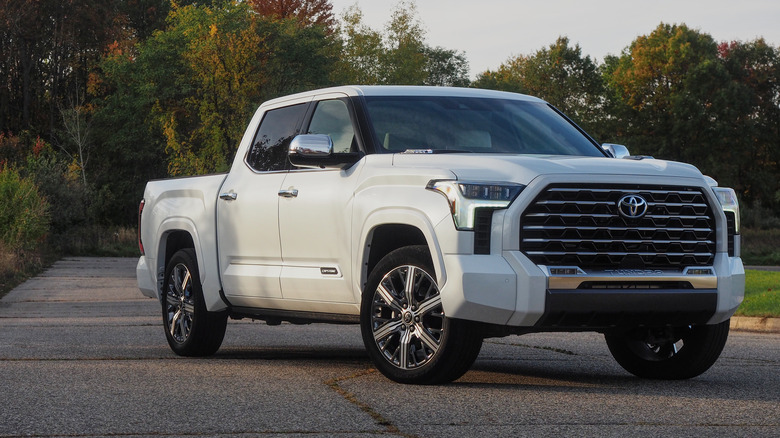 Chris Davies/SlashGear
The humble work truck isn't so humble anymore, and it's certainly not just there to work. While crossovers and SUVs have been feasting on the market once dominated by sedans, pickup sales continue to flourish among buyers who want scale and style but aren't willing to compromise on more upmarket trim and equipment. Witness, then, the rise of the luxe truck, rarely found in the mud but comfortably nudging prices up toward the six-figure mark.
In that respect, the 2022 Toyota Tundra Capstone is positively affordable. Toyota's flagship trim — paired with its flagship hybrid engine — starts at under $74k. By the time you add the load-leveling rear air suspension, Wind Chill Pearl white paintwork, a ball mount, and a spray-on bed liner, you're looking at $77,339 including destination.
That's a lot for a truck, certainly — Tundra ownership starts at under $40k in comparable SR 4x2 Crew Max form — but hardly the most expensive. Among Toyota's traditional competitors, Ford's F-150 Limited demands around $85k, while GMC's recently-added Sierra Denali Ultimate trim kicks off at around $81k. That's before you consider electric upstarts like the Rivian R1T, a heady $87k in quad-motor form.
Truck on the outside, luxury sedan on the inside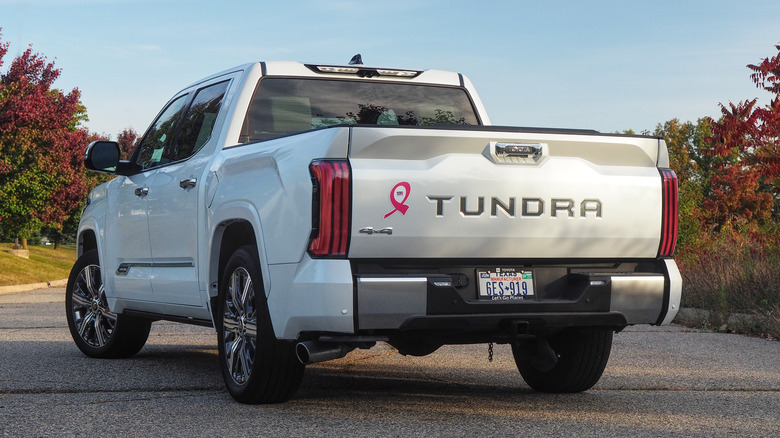 Chris Davies/SlashGear
The promise each makes is the functionality of a truck, but the features you'd once have needed a luxury sedan to enjoy. Heated and ventilated seats, huge touchscreen infotainment systems, massage chairs, and a bevy of driver-assistance aids help trim the risk of damaging the oversized 22-inch wheels. Yet still, in the case of this particular Tundra Capstone, a 5.5-foot bed, more than 10,000 pounds of towing capacity, and a 1,485-pound payload rating.
There are Tundra trims with bigger beds and more capabilities, but none with the same combination of that practicality with a positively lavish interior. Capstone really shows the difference between the outgoing Tundra and this new model, beyond just the burlier exterior styling — with its truck-typical blunt edges and accompanying low visibility for smaller pedestrians — with a step up in cabin conditions that's legitimately huge.
We saw some of that with the 2022 Tundra Platinum, but Capstone really kicks things into gear. Then again, so it should, given a roughly $16k price delta between the two.
Hello hybrid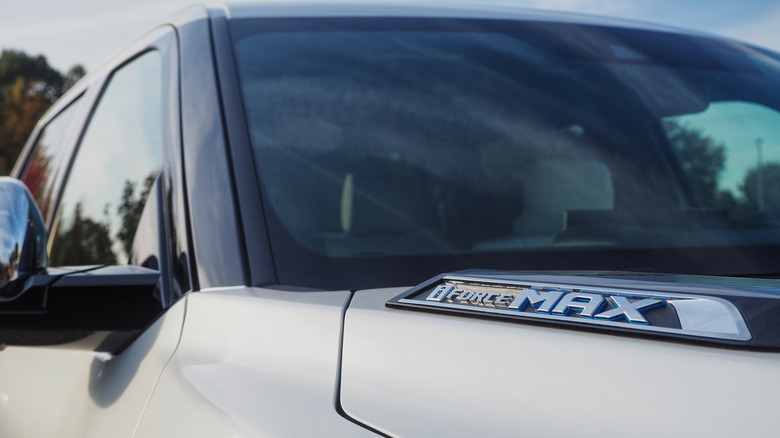 Chris Davies/SlashGear
Part of that price difference comes down to the step-up in engine. The 2022 Tundra Platinum we reviewed earlier in the year had the standard twin-turbo V6, that Toyota replaced its old V8 with. It comes in two tunes, either 348 horsepower and 405 lb-ft of torque, or 389 horsepower and 479 lb-ft of torque. A 10-speed automatic transmission is standard regardless, and there's a choice of 2WD or 4WD.
This Tundra Capstone, though, gets the i-FORCE MAX hybrid engine. It starts with the same V6 but combines it with an electric motor-generator to deliver a maximum of 437 horsepower and 583 lb-ft of torque. 4WD is standard.
It's a mild hybrid, not a plug-in hybrid (PHEV). The battery is small, a mere 1.87 kWh tucked underneath the rear seat, and designed to be charged using excess engine power rather than plugged in externally. There's no pure EV mode, but combined fuel economy rises a point to 20 mpg according to the EPA.
Refinement not economy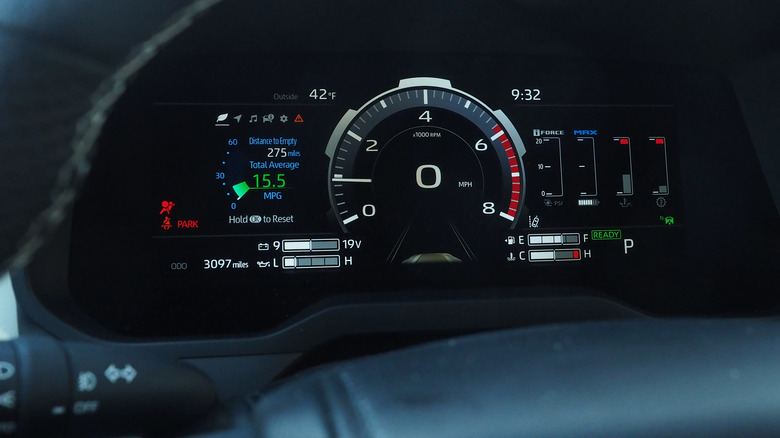 Chris Davies/SlashGear
That's the theory, anyway. In practice, the Tundra Capstone is smooth, and refined, but still pretty darn thirsty. I saw 15.5 mpg in my own, mixed-use. The reality is, Toyota is using its hybrid setup to polish off internal combustion's rough edges, more than to nail the economy issue.
On that level, it works unexpectedly well. The 10-speed auto is perfectly fine with the non-hybrid V6, but with the i-FORCE MAX filling in its shifts things are positively syrupy. The Tundra is fast, too, swift from a standing start thanks to peak electric torque arriving at a mere 2,400 rpm.
The Rivian holds its own for pure speed, of course, as does the all-electric Ford F-150 Lightning. It's hard not to be a little disappointed in how Toyota has handled the electrification transition generally, resting on its laurels after the early success of the Prius and taking an overly cautious route into pure EVs. Not only is there no PHEV or fully-electric Tundra, even this mild-hybrid still relies on a nickel-metal hydride battery rather than newer, more energy-dense lithium-ion or similar.
A cabin worth looking forward to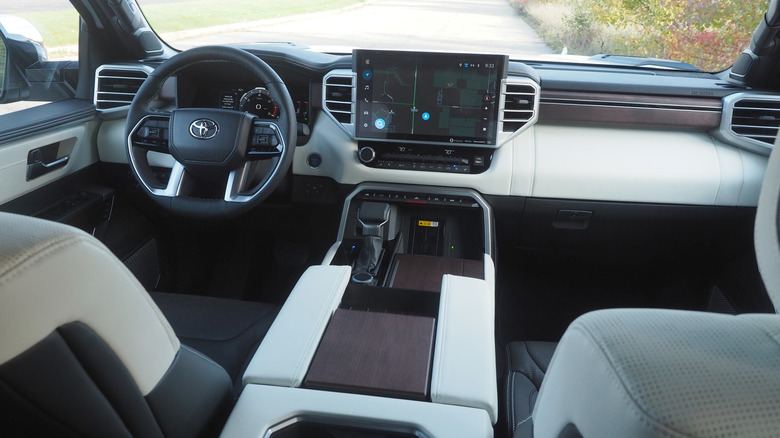 Chris Davies/SlashGear
I suspect, though, most owners won't really mind. Not when they're busy being wowed by the huge uptick in cabin design, equipment, and overall quality. It's where the old, facelifted Tundra just couldn't hide its age.
Now, though, there's a 14-inch infotainment touchscreen, looking like someone bolted a big tablet to the dashboard. It's running Toyota's newest software, with a far cleaner and more colorful interface, solid voice control — with a "Hey Toyota" hands-free trigger — wireless Apple CarPlay and Android Auto, and a 12-speaker JBL audio system.
It's hard to overstate just how much of an improvement this new UI is, even if Toyota lacks a split-screen view for smartphone projection. Far more intuitive, but also extra-practical when you're looking at the Tundra's various camera views for things like backing up with a trailer hitched on. Multiple different views are supported, and the on-screen buttons to switch between them — though a little busy initially — are large. I'm pleased to see Toyota adds a dedicated hardware button to summon the camera screen, too, rather than expecting you to go stabbing through menus when you're suddenly paranoid about hitting a curb.
Pretty but not quite practical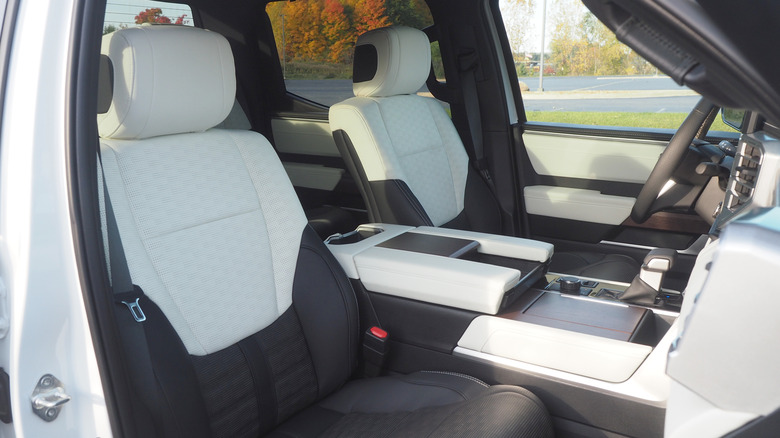 Chris Davies/SlashGear
In fact, there's quite a few hardware controls here. As well as a dedicated set of HVAC buttons and toggles, Toyota adds keys for trailering and the suspension system. The Capstone trim doesn't have all-round air suspension, but the optional rear system auto-adjusts for load and can have its height tweaked manually, too.
The rest of the dashboard gets swathes of wood, soft-touch plastics and fabrics, and semi-aniline leather on the comfortable seats. There's heating and ventilation for not only the front row, but the second too, and everything looks and feels leagues ahead of the old Tundra (or, for that matter, your average work truck).
Toyota's two-tone finish probably isn't your best bet if there's any chance of muddy boots (or dogs), and sadly there's no single-color alternative as you'll find on cheaper Tundra trims. It looks great — and bright, too, under the standard power tilt/slide panoramic roof — but practicality definitely plays second fiddle to appearance. Toyota doesn't stint on cubbies and bins, either, with a sizable storage compartment under the wide center armrest, various sliding trays, and a wireless phone charging pad.
Nailing the basics but skipping the sparkle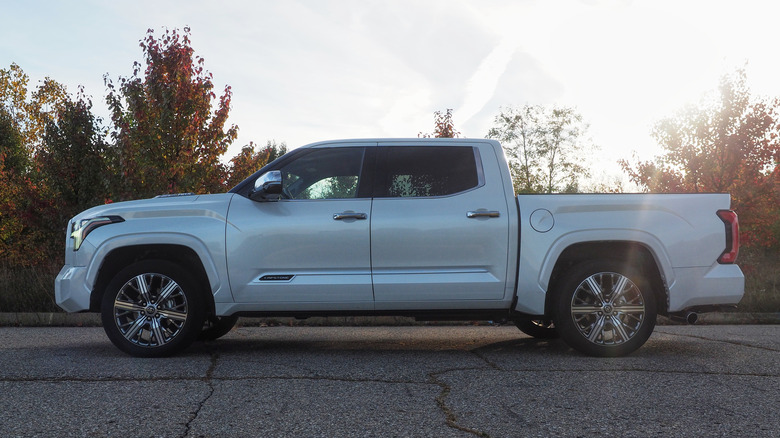 Chris Davies/SlashGear
It's all very capable, but I still can't shake the feeling that Toyota was playing catch-up with the new Tundra's design, rather than trying to jump ahead. Yes, the basics are all there, and yes, it's a handsome and plush truck, but there's little of the imagination we've seen elsewhere in the segment.
The power-extending rear steps that pop out from under the bumper are neat, and you get the usual mix of blind spot warnings, front and rear parking assistance, lane-keeping assistance, adaptive cruise control, and pedestrian-detecting collision prevention. Capstone trim gets a 360-degree camera as standard, too, all but essential given the scale and the sight lines you're working with here.
Where rivals spread power outlets aplenty around the exterior and interior, though, the Tundra has an optional 400W inverter and a single 120V outlet in the bed. The tailgate drops down with a clever, elbow-operated release built into the rear light cluster, but there's no multi-position opening like Chevrolet and GMC will sell you, nor integrated bed and hitch scales as Ford offers. There's no equivalent of Ford BlueCruise or GM Super Cruise hands-free driver assistance, either.
2022 Toyota Tundra Capstone Verdict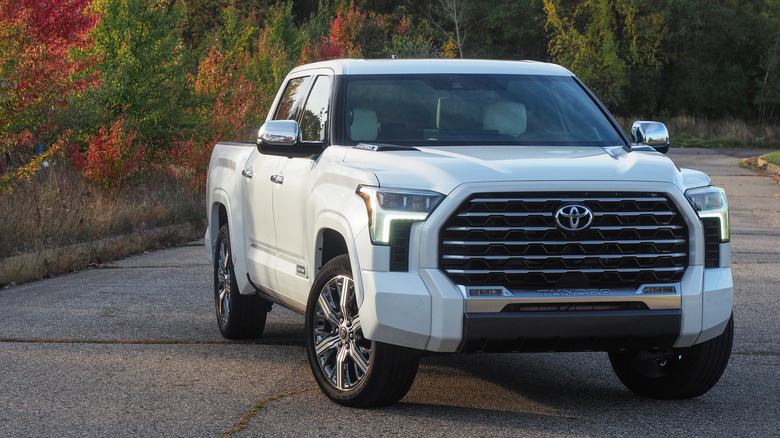 Chris Davies/SlashGear
In short, the 2023 Tundra Capstone is a capable and refined hybrid pickup, but it still struggles to stand out in what has become a fiercely competitive segment. Though leagues ahead of the old Tundra, the reality is that it takes more to stand out in the full-size truck category these days. I can't quite help but feel like Toyota had its benchmarking priorities skewed too far to what it had been doing before, rather than what the competition is doing now. 
If your focus is on a reliable workhorse, with luxury and tech features that wouldn't be out of place in a Lexus, then the Capstone trim not only delivers there but at a more aggressive price point than most of its rivals. The downside is that you lose out on some of the more ambitious features those competitors are pushing the envelope with. Luxury trucks look unlikely to go away any time soon, and Toyota clearly knows how to nail the essentials. All that's needed now is the sparkle of some exclusivity to make your Ford, GMC, and even Rivian driving friends jealous.