2023 Genesis Electrified G80 Review: The Drivetrain It Deserves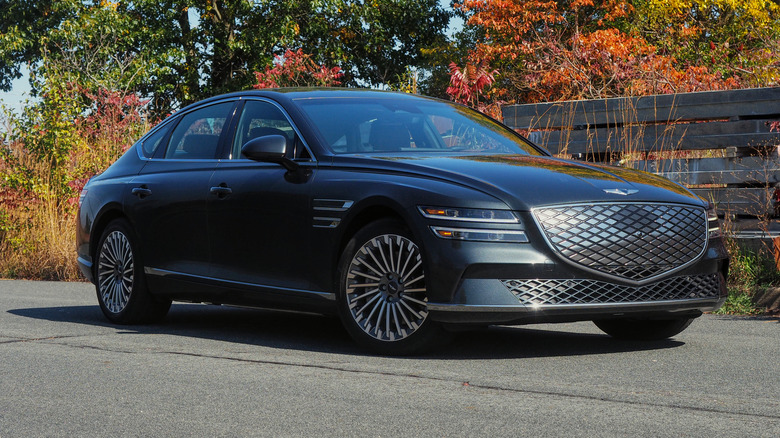 Chris Davies/SlashGear
You can't accuse Genesis of shouting about the 2023 Electrified G80. The automaker's fully-electric sedan looks almost exactly like its gas-powered siblings, surreptitiously slotting in its dual-motor drivetrain rather than demanding a unique nameplate like the GV60 electric SUV. It's also likely to be a rarity, at least for the moment.
Supplies of the EV are in relatively small number, Genesis says, and it'll only be offering it in select states: initially, Arizona, California, Connecticut, New Jersey, Nevada, New York, Utah, and Washington. Buyers there will have few choices in their local dealership: there's a single configuration, priced from $79,825 (plus $1,095 destination).
In fact, the only option on this $81,495 review car is the fetching Hallasan Green paint at $575. Sadly there's no U.S. tax incentive to sweeten the deal, either, since the rules were changed to emphasize electric cars actually built in America. The biggest question, then, is whether the Electrified G80 is actually worth shouting about in the first place.
Electric wafting makes perfect sense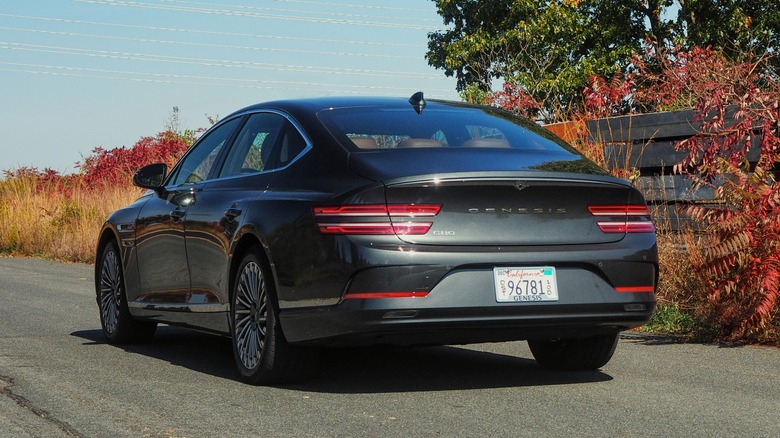 Chris Davies/SlashGear
With a pair of 136 kW electric motors — one for the front, one for the rear, for permanent all-wheel drive — the Electrified G80 is a spritely thing. 365 horsepower falls a little short of the most potent gas G80 and its smooth V6, but the EV's 516 lb-ft of torque bests it handily.
It nails the sense of luxurious wafting but adds acceleration more than capable of startling passengers or other traffic. Genesis offers several levels of regenerative braking potency, adjusted by the paddles behind the steering wheel, right down to a one-pedal mode. There's also Highway Driving Assist, a capable hands-on adaptive cruise and lane-keeping system, which helps dilute the chore of the freeway.
A camera-based active suspension system promises to monitor the road ahead and adjust the settings accordingly. It leaves the Electrified G80 surprisingly supple in its comfort mode, despite the extra weight over the gas version. Switch to sport, and things are unexpectedly amusing. The heft is there, yes, but the Genesis is firm and corners flat. I'd probably pick a BMW i4 for more eager driving, but the G80 EV holds its own surprisingly well given the positioning.
Hiding its EV nature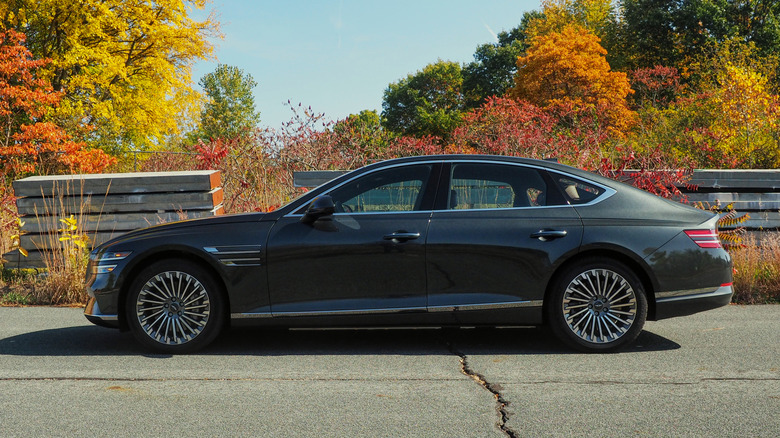 Chris Davies/SlashGear
You'd be forgiven for not noticing that the Electrified G80 is, well, electrified. I can't really say that's a bad thing: the G80 is, as sedans go, one of the more appealingly shapely. It wears Genesis' oversized "shield" grille well — a reminder to some of its German competitors that yes, you can do Big without being unpleasantly Brash — and then the swooping hood and roofline flow in a deeply rewarding way back to the concave rear.
There are, of course, a few giveaways. The grille looks like mesh at a distance, but it's actually mainly solid. A hidden panel swings open to reveal the Electrified G80's charging port. Genesis has special wheels for the all-electric car, too, 19-inches and with a fetching multi-spoke aero design.
Tailgaters will need to look out for the absence of exhaust pipes in order to spot the drivetrain difference. There's only standard G80 badging here, along with Genesis' trunk-spanning logo.
Some space compromises inside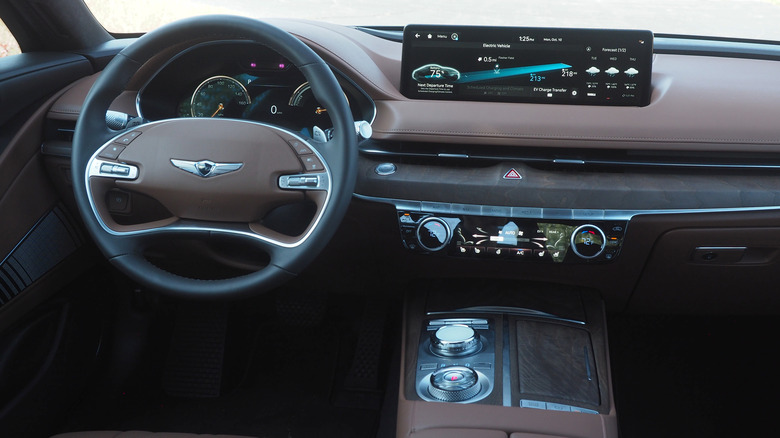 Chris Davies/SlashGear
It's a sedan, not a hatchback, though you'd be forgiven for assuming otherwise. The rear taper helps a little with second row headroom, too, even if it leaves the trunk opening a little narrow. The bigger issue is trunk space itself, with the battery eating into what would be cargo space in the gas G80.
That drops to 10.7 cubic feet, thanks to a raised bump in the rearmost section of the trunk. A regular G80 will hold 13.1 cu-ft. There's also a hit on rear legroom and headroom: the former is down almost 3 inches, to 35.9 inches, while the latter dips to 36.6 inches, a loss of 1.6 inches versus a G80 without the panoramic glass roof.
Despite how that sounds, I can't really fault the G80 EV's cabin. There's still plenty of room for sprawling in the rear, a side-effect of the fact that the regular car has a pretty large interior generally. Power-closing doors are standard, as is Genesis' remote parking assistance that allows you to slowly move the EV in and out of perpendicular spaces from the key fob. Gimmicky? A little, but neat if your space neighbors have left you little room to get back in.
A class-leading cabin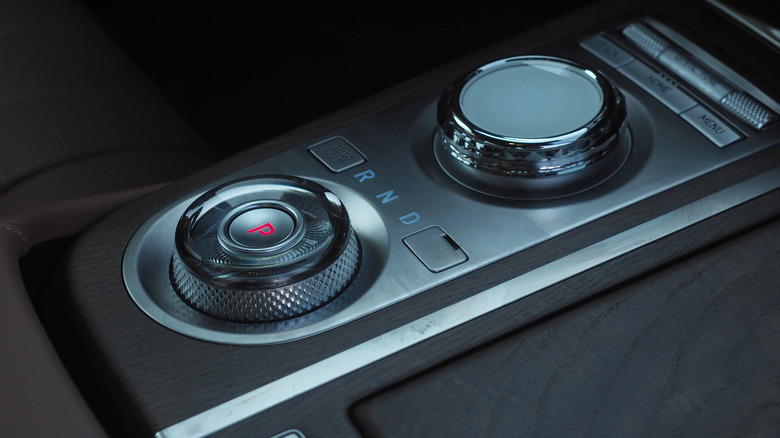 Chris Davies/SlashGear
Genesis strikes a balance when it comes to materials. The seats remain trimmed in plush Nappa leather, but the headliner, visors, and floor mats are all made from partially recycled textile. There's real wood on the dashboard and center console, a handsome open-pore finish that I far prefer to the glossy plastic we still see in so many "luxury" models, but here it's apparently discarded birch in another act of recycling.
Generally, though, this is a familiar place to be, if you've found yourself in a G80 recently. The climate control system keeps its tactile knobs for temperature adjustment, and there are metal button shortcuts for the infotainment system running above. Some of my control complaints remain — the volume dial is tiny, and front seat passengers kept reaching for the multifunction jog dial or even the transmission selector knob to turn their tunes up — but I can't question Genesis' materials.
Real metal and generous amounts of knurling and etching betray an attention to detail that rival automakers could do well to examine. Even the action of components like the column stalks or the transmission dial are pleasingly damped. Little things, but it's minutiae a lot of automaker still trip up on.
Healthy standard tech levels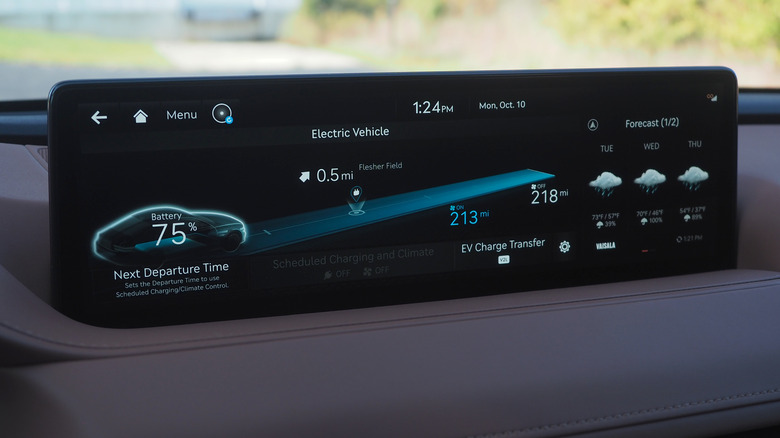 Chris Davies/SlashGear
The sizable 14.5-inch touchscreen still runs across the dashboard, with Apple CarPlay and Android Auto support. Genesis' UI flicks from forcibly minimalistic through to plentiful in terms of icons and graphics, though is actually pretty straightforward overall. There's a decent voice control system, too, which can not only adjust things like navigation and multimedia, but change the HVAC settings and even open the G80's windows and trunk.
A 12.3-inch digital instrumentation cluster is standard, with 3D graphics that use eye-tracking to add fake depth to the gauges. It works, assuming you have binocular vision, but since each eye then sees half the overall pixels it leaves the UI looking a little low-res crunchy. You can turn it off if you prefer.
Genesis' single trim level for the Electrified G80 means spec levels are healthy. There's tri-zone climate control, a head-up display, a sweet-sounding Lexicon audio system, active noise cancellation, a wireless phone charger, and heated/ventilated front seats. A couple of new menus in the infotainment dig into the EV side of things, including an at-a-glance view of current range, potential maximum range if you sacrifice things like climate control, and where the nearest charger is.
Genesis Electrified G80 versus EV rivals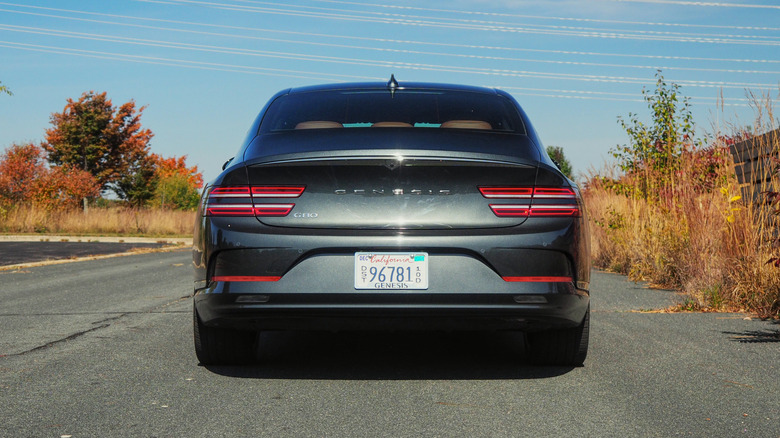 Chris Davies/SlashGear
Genesis says the Electrified G80 will do up to 282 miles on a charge, for a 97 combined MPGe figure. That's not bad, though falls short of some of its more obvious competition. BMW's i4 eDrive40 is cheaper but less powerful and lacks all-wheel drive, though it's rated for 301 miles of EPA range. 
Mercedes' fast-approaching EQE Sedan, meanwhile, doesn't have final EPA range numbers yet, but we're expecting around the 300 mark. It'll be priced similarly to the Genesis, too. The Electrified G80 falls in between Tesla's Model 3 and Model S in price, too; it doesn't exactly scream "direct competitor" to Elon Musk's cheaper car, though the Model 3 Performance does best it on range and speed.
Then there's Lucid Motors. Its (excellent) Air EV has, so far, been a six-figure affair, but there's a Lucid Air Pure version coming — the automaker insists — by the end of the year; it'll be priced from $87,400 and boast a wild 400+ mile range, albeit without the all-wheel drive of the Genesis. 
Speedy charging, if you can find the right location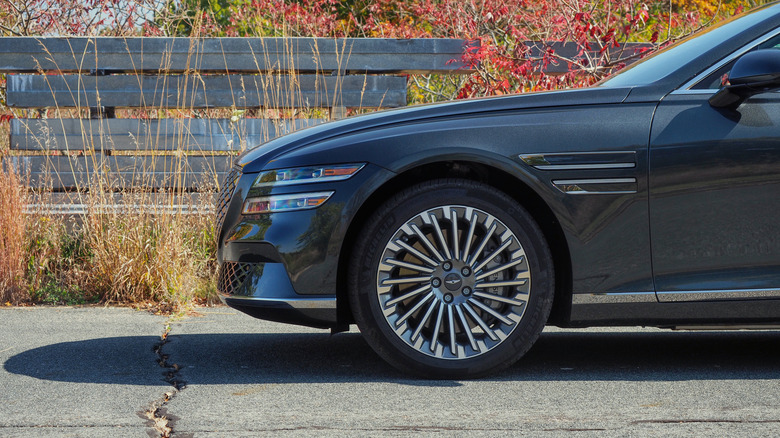 Chris Davies/SlashGear
When it comes to charging, Genesis promises the Electrified G80's 87.2 kWh battery will go from 10% to 80% in around 22 minutes on a 350 kW DC fast charger. The reality is that the EV doesn't actually support 350 kW — the actual peak number is 187 kW, Genesis tells me — but since the public chargers in the wild in the U.S. are typically either 100-150 kW or 350 kW, you'd need the latter to hit the maximum rate supported.
At home, with a 240V/48A Level 2 charger, you're looking at just shy of 7.5 hours to go from 10% to 100%. A heat pump is standard, for improved charging performance in low-temperature conditions. The tech involved in it can seem arcane if you're not proficient in thermal dynamics, but it's a welcome addition and everything is handled automatically behind the scenes.
Finally, there's standard vehicle to load charging, which is fancy Genesis talk for a 110V outlet that can use the Electrified G80's battery to power external devices. It'll muster up to 1.9 kW, enough for a handful of essentials in an outage, though you can't use the electric sedan as a full home backup like, say, Ford's F-150 Lightning does today, or Lucid Motors says its Air EV will soon be capable of.
2023 Genesis Electrified G80 Verdict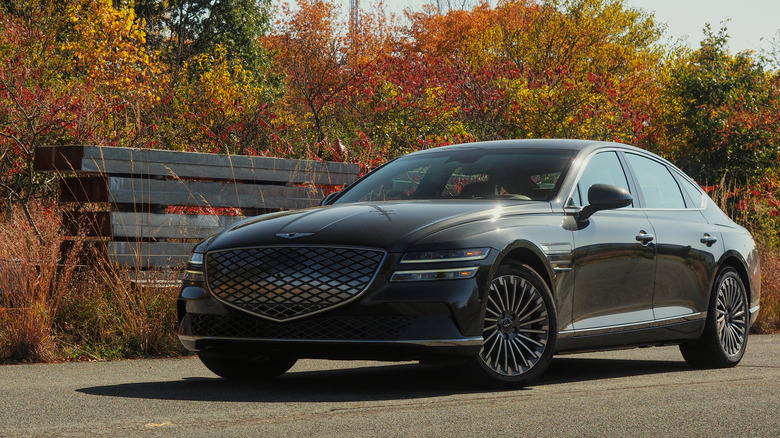 Chris Davies/SlashGear
Honestly, I was prepared to be unconvinced by the 2023 Electrified G80. It seemed, when Genesis first announced it, an afterthought: a gas-to-electric conversion to bridge the gap while the automaker worked on "proper" EVs, and with a silly name to boot. Well, reader, I was wrong — maybe not about the name, which I maintain is unwieldy, but the rest at least — and in fact, it's the gem of the G80 line-up.
The G80 Sport is a fine car, and Genesis' more affordable versions of the sedan strike an ample balance between luxury and attainability. For pure refinement and a driving feel that befits a BMW or Mercedes rival, though, the advantages of electric can't be ignored. The Electrified G80 isn't just the best G80, it's a convincing example of why electric and luxe go so well together. The biggest problem will end up being actually finding one for sale.