2022 Genesis G80 Sport Review: Beyond The Badge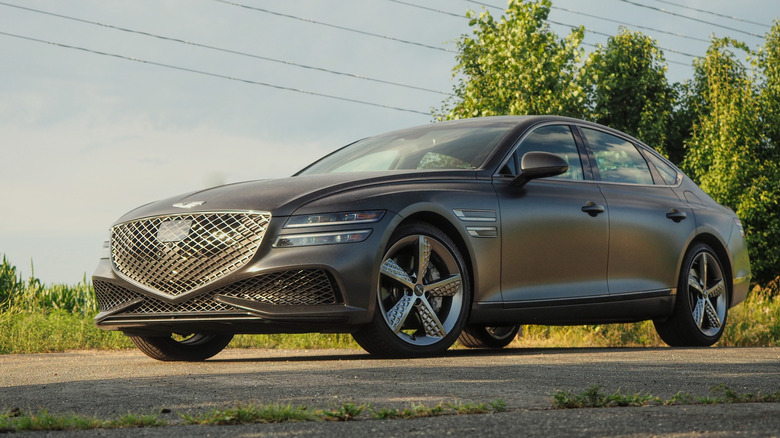 Chris Davies/SlashGear
Genesis' star is ascendent, and all it took was a portfolio of genuinely compelling, distinct, and lavishly-equipped luxury cars. Added to its midsize sedan options, the 2022 G80 Sport eases in as the automaker's flagship contender in a category dominated by stalwarts like the 5 Series and E-Class. Many have tried to compete there, but few have stood out, especially when it comes to how rewarding things are for eager drivers paying top dollar to put themselves behind the wheel.
If you're committed to take on the segment leaders, though, the G80 is a darned good place to start. Few cars in recent memory have upended their reputation quite like the second-generation model did in 2020, not just discarding the capable-but-unmemorable original but forcibly jettisoning its bland styling and copycat features. You might not like the aesthetic, or approve of all of Genesis' decisions, but you couldn't claim to not have noticed it.
The missing link
Chris Davies/SlashGear
What the G80 lacked, however, was a performance version. Sports sedans may not be quite as popular as they once were, with speedy SUVs now promising to satisfy our appetites for acceleration while also being more practical, but there's nothing quite like a fast three-box four-door to marry prestige and power.
Genesis' 3.5T engine is hardly a disappointment, though its 375 horsepower and 391 lb-ft of torque in the G80 Advanced or Prestige trims never really felt harnessed for outright pace. Sure, there was a Sport mode — adding weight to the steering and leaving the 8-speed automatic's shifts a little perkier — but the bias still leaned heavily on luxurious wafting.
The Genesis G80 Sport aims to massage some more enthusiasm into the equation. Available only in all-wheel-drive form, and only with the 3.5-liter turbocharged V6 engine, it makes no changes to potency but only to application. That includes a revamp to the electronically controlled suspension, keeping the road preview camera that promises to map upcoming potholes and ruts, but adding a degree of firmness and agility lacking from the Sport's comfort-tuned siblings.
The expensive G80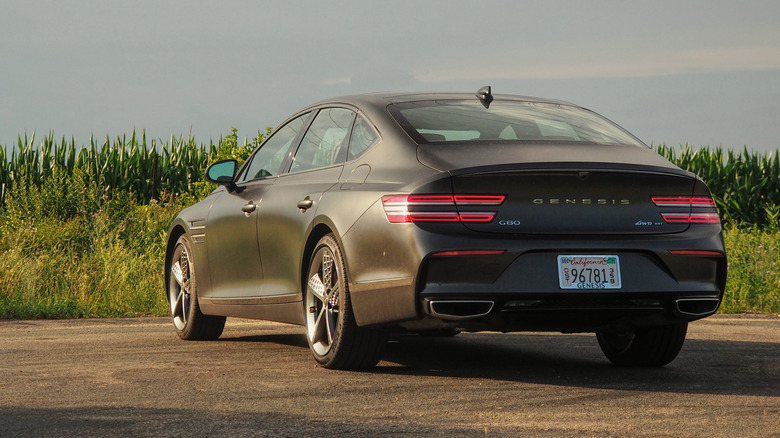 Chris Davies/SlashGear
G80 ownership kicks off at $49,500 (plus $1,095 destination) for the 2.5T RWD, with Genesis' 2.5-liter turbocharged four-cylinder engine pushing out 300 horses via an eight-speed transmission to the rear wheels; all-wheel-drive is an option. The G80 Sport, though, sits at the top of the expanded family tree, with pricing kicking off in the mid-60s and all-wheel drive as standard. That trim, though, lacks rear-wheel steering; by the time this 2022 G80 Sport Prestige had its $6,300 trim upgrade and special paintwork, you're looking at $72,595 all-in. Genesis offers the Prestige with both all-season or summer rubber, depending on your demands.
The rear-wheel steer is worth having, helping trim the G80 Sport's 16+ foot length into something a little more nimble. Though they only twist a few degrees in either direction, pivoting the rear wheels is sufficient to either cut the effective wheelbase for tight parking lot maneuvers or lend extra stability for higher-speed lane changes.
But what about BMW?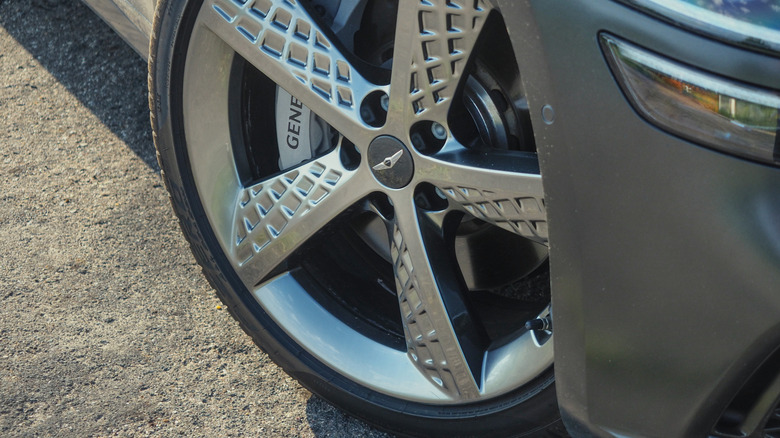 Chris Davies/SlashGear
All that said, Genesis doesn't stray too far from its original formula for the G80, despite what the Sport badge might declare. Switch to Sport mode and it's a little more enthusiastic, a little more urgent to accelerate, and in the corners, the suspension doesn't dampen your fun with plush squishiness like Comfort mode attempts to.
Those who really want to push hard, however, are probably going to want to stroll over to their nearest BMW dealer. The M550i xDrive brings a 4.4-liter V8 to the party, matches the G80's all-wheel drive, but has been dialed in with far more aggression than Genesis dared.
For that, you're looking at around $78k including destination, or a $5,500 premium atop the car you see here. On paper, it leaves the German car as the obvious choice, though the 5 Series extends that delta considerably if you want to spec out the cabin to Genesis levels. An M550i that parallels the G80's cosseting and included servicing will nudge past $90k.
Style comes as standard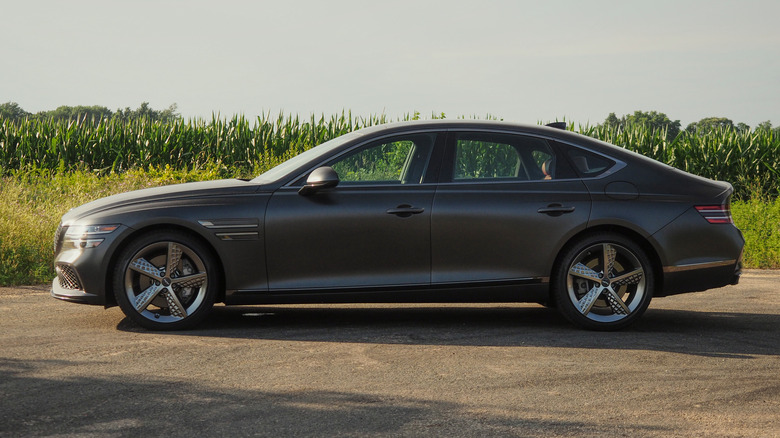 Chris Davies/SlashGear
Genesis' car stands out more in the parking lot, too. I'm not going to claim the matte-finish Makalu Gray paint isn't helping, but regardless of hue, there's no denying that the G80 is a handsome sedan. Better proportioned than the smaller G70, but less stately than the S-Class-rivaling G90, its swooping roofline could well borrow some inspiration from four-door coupes like Audi's A7 or Mercedes' CLS, but it's definitely a sedan rather than a fastback.
Whether or not you cough up the $1,500 for Genesis' matte paintwork, the G80 gets the oversized shield-style grille and flanking whisker-style headlamps that the automaker has leaned into so effectively. Those double-strake lights are echoed by further flourishes behind the front wheels, and then the theme is picked up once more at the concave rear. It's not just that it looks distinctive, but how nicely Genesis' lines and detailing play together in the light that makes it cohesive.
19-inch alloy wheels are standard, but the Prestige Package upgrades them to 20-inch versions with a love-it-or-hate-it five-spoke design. I happen to think the spider web-style texturing looks good, but not everybody I asked agreed. Sadly the 19-inch fractal snowflake wheel design offered on the non-Sport versions of the car can't be carried over, which is a shame as they still look epic.
The new interior benchmark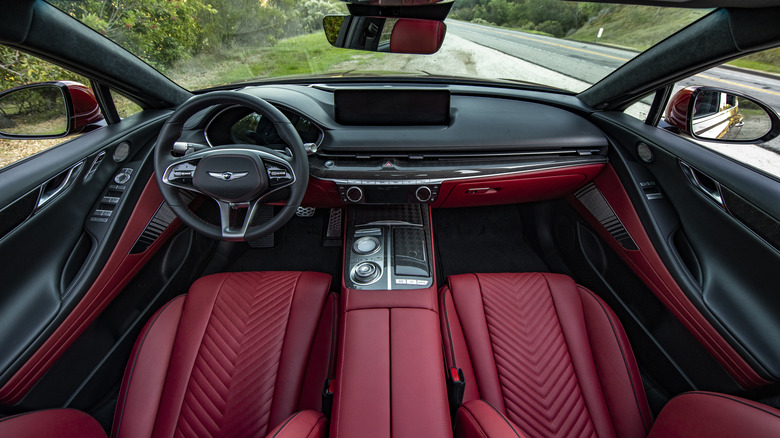 Genesis
The good impression carries over into the cabin, where Genesis strikes a balance between classic and avant-garde. The G80 Sport gets leather seats with heating and ventilation up-front — and heating in the back — as standard, along with an Ergo Motion driver's seat to avoid aches and stiffness on long-distance trips. There's adjustable ambient lighting, rear sunshades, tri-zone climate control, a Lexicon 21-speaker audio system, panoramic sunroof, and a power trunk with hands-free access.
With the Prestige package, you get an upholstery upgrade to top-notch Nappa leather, plus microfiber suede on the headliner and pillars. There's also carbon fiber trim, which always looks a little plasticky to my eyes. I'd rather Genesis just threw in more of its metal trim instead.
Individual tastes there aside, the G80's interior is a pleasing place to find yourself. Unsurprisingly it's spacious, particularly in the rear where the width and legroom could leave you wondering if you really need that fancy new 2023 Genesis G90 for limo duties. The Sport steering wheel — replacing the odd rugby-ball version in the regular G80 — is a welcome change, too, and I'm pleased to see Genesis sticking with some physical controls for things like volume. All that switchgear feels premium, nicely damped and trimmed in metal, making sure the most frequent touchpoints aren't disappointing.
Some tech good, some tech bad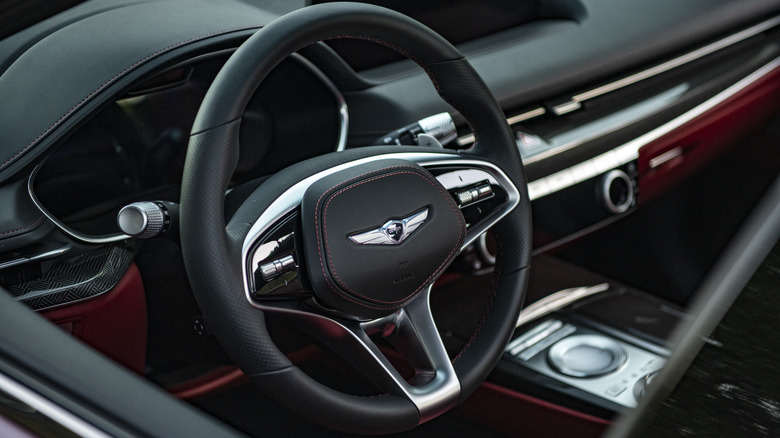 Genesis
Atop the dash is a 14.5-inch touchscreen, low and wide, running Genesis' own infotainment UX. It's clean and generally simple to interact with, though the positioning of the display means those without the longest arms may have to lean forward to tap and swipe at it. The jog wheel — with its dished glass touch surface — in the center console provides an alternative.
There's wired Apple CarPlay and Android Auto support, and a wireless phone charger. Genesis Digital Key allows for easier sharing of access via a smartphone, though the fingerprint sensor of the GV70 isn't included.
The Prestige Package adds Genesis' 12.3-inch 3D instrument cluster, though as in previous cars from the automaker I'm not entirely convinced. It's a high-resolution panel, but because each eye gets half the pixels it ends up looking a little crunchy. The overall effect of stacked gauges and dials is clever, but I'm not sure it's useful; you can, if you prefer, turn it off.
A solid value play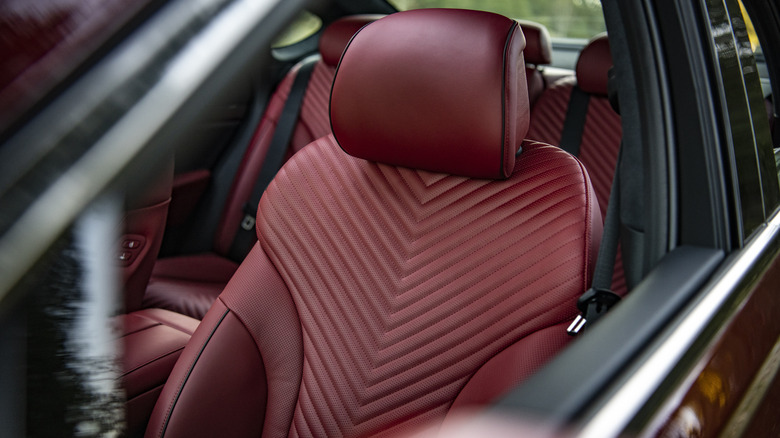 Genesis
Genesis — like its Hyundai parent — is generous with its active safety tech. The G80 Sport gets smart cruise control with Highway Driving Assist II as standard, along with forward collision-avoidance assistance, pedestrian and cyclist warnings, lane-change side and evasive-steering assistance, junction turning and crossing warnings, lane keeping assist, blind-spot warnings and collision assistance, and rear cross-traffic collision avoidance assistance. It'll even caution you if you're about to open the doors into traffic.
A 360-degree camera is standard, as are front and rear parking sensors and 10 airbags. Genesis then loads up its ample warranty coverage: 5 years/60,000 miles of general warranty and 10 years/100,000 miles of powertrain coverage. 3 years/36,000 miles of maintenance and service valet are bundled in, too. If true luxury is avoiding annoying chores, the G80 is off to a great start.
The Prestige Package, meanwhile, adds rear parking collision avoidance assistance, forward attention warning, and Remote Smart Parking Assist. Hold down the appropriate button on the remote, and the G80 can slide gracefully in or out of a tight parking space. It still feels a little gimmicky, but it's better than dinging the sedan's lengthy rear doors — which, like those at the front, feature power closure — on whatever's parked next to you.
2022 Genesis G80 Sport Verdict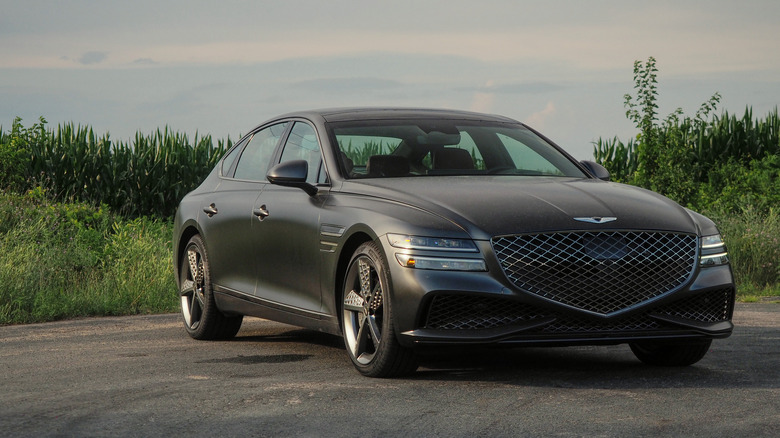 Chris Davies/SlashGear
The Sport billing here feels a little gimmicky, too, which is a shame because I don't think the G80 needs to resort to such things. It's convincing enough to stand out in a sea of luxury sedans, and sure, it may not be the fastest or the most agile in its class, but there's a charming degree of balance here nonetheless. Indeed it feels like Genesis has quickly figured out what it took some automakers decades to understand: luxe car buyers say they want performance, but most just want the trappings of it.
Judged by that measure, then, though the G80 Sport may not be the fastest sedan, it looks the part and it doesn't sacrifice comfort and gadgets to achieve it. The cabin is impressive enough to send Audi, BMW, and Mercedes scurrying back to rethink their baseline, while the ride quality could readily convince you that the Genesis should be your go-to road trip car. Only stopping more often for gas than you might in a 540i xDrive or E450 4MATIC — both of which are mild hybrids — could give you pause there, with the G80 Sport's 20 mpg combined underwhelming compared to BMW and Mercedes' 25 mpg.
The G80 sweet spot, then, probably remains the 2.5T AWD. That starts at $52,650, and though it misses out on the V6, there's still plenty of wafting potential from the capable turbo-four. Pushing the boat out does get you a mightily slick luxury sedan, though, and what's notable is that where once the idea of paying top dollar for a Genesis would feel laughable, today that decision is a whole lot easier to justify.