2023 Genesis G90 First Drive: More Memorable Luxury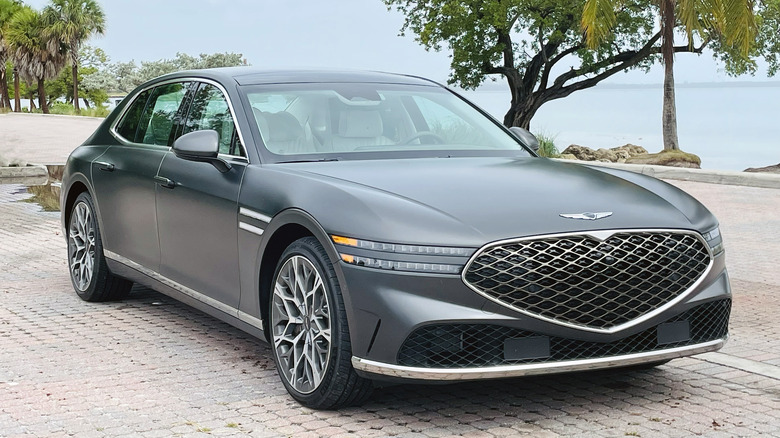 Emme Hall/SlashGear
As I sink into the back seat of the 2023 Genesis G90 after a cross-country flight, I am instantly smitten. The buttery cream-colored leather is ridiculously supple and the seat back is reclined for maximum comfort. I push the door-close button on the center console and my door swings shut without missing a beat, instantly cocooning me away from the blasting horns of Miami International Airport. A few more button pushes and the seat warms my tush just a touch and the full back and seat massage fires up. The front passenger seat has been moved forward so there is just one thing left to do—extend my footrest and take a nap.
The G90 is available in two trims, the 3.5T or the 3.5T e-SC. The first refers to its 3.5-liter twin turbocharged V6 engine; the higher trim adds an e-supercharger. More on that later, though, because I can't talk about the G90 without first pointing out its divine exterior. I love how Genesis has a very distinct design aesthetic across its brand, in all its bifurcated headlamp glory. There isn't anything like them on the road today.
Luxe Looks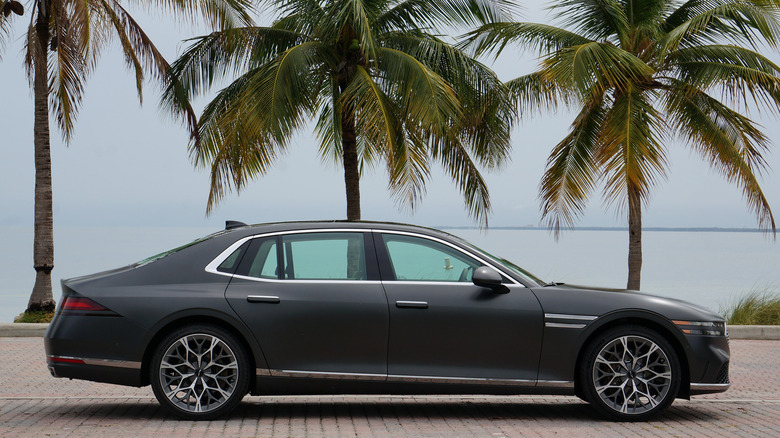 Emme Hall/SlashGear
Up front a dual-layer grille brings a depth to the fascia while the two-rows of micro-lens LEDs in the headlamps make for a surprisingly bright light, despite their small size. You know when a Genesis is behind you. The clamshell hood is a nice, classic touch, while the profile of my top-trim tester is set off by intricate 21-inch wheels–an inch smaller on the base model–and a strongly sloped c-pillar. Flush-mounted door handles pop out when the driver approaches the car, andthe 125.2-inch wheelbase gives the G90 a stately presence.
Out back, followers of the Genesis G90 are treated to two rows of LED tail lamps, the bottom just a straight horizontal line emphasizing the 76 inches of width. There are two traditional taillights up to where turn signals and reverse lights happen, but these too are connected with a horizontal line of light. Above these are a dramatically sloping tail with a short ducktail spoiler. Altogether it's a nice look.
Inside Scoop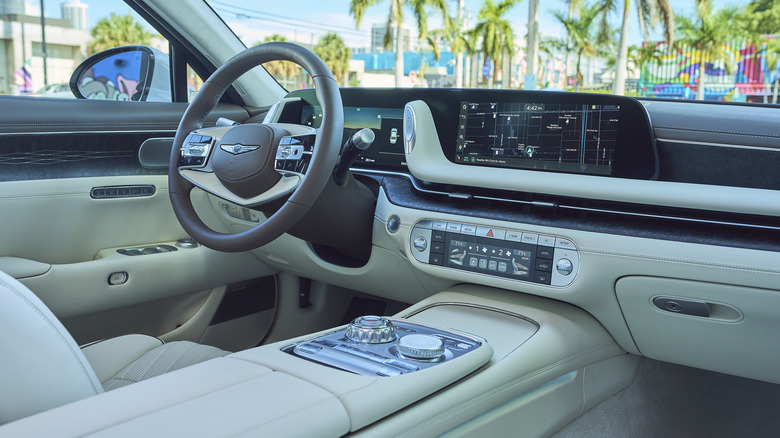 Genesis
Inside, buyers are treated to an obsidian black, dune beige, Bordeaux brown, or glacier white leather interior. I think the white looks the nicest but, then again, I don't have to clean it at the end of the day. Both trims get heated, ventilated, and massaging front seats that will stay on for up to 20 minutes, and a 12.3-inch infotainment screen with Apple CarPlay and Android Auto. Curiously, the smartphone mirroring is wired; I'd expect a wireless connection from an emerging luxury brand, but then again there are a total of five USB ports scattered throughout the car.
Aside from the wired/wireless conundrum, the infotainment system in the G90 is quite robust with some cool features only found on high-end luxury vehicles. A mood curator gives riders the choice of four different ambiences: Vitality, Delight, Care, and Comfort. Each sets the scene with nine minutes or so of fragrance, music, ambient lights, sunshades— yes, the G90 has sunshades on the rear windows— and massage. None of them make me feel particularly vital or delighted, but I enjoy the novelty.
Sounds Fancy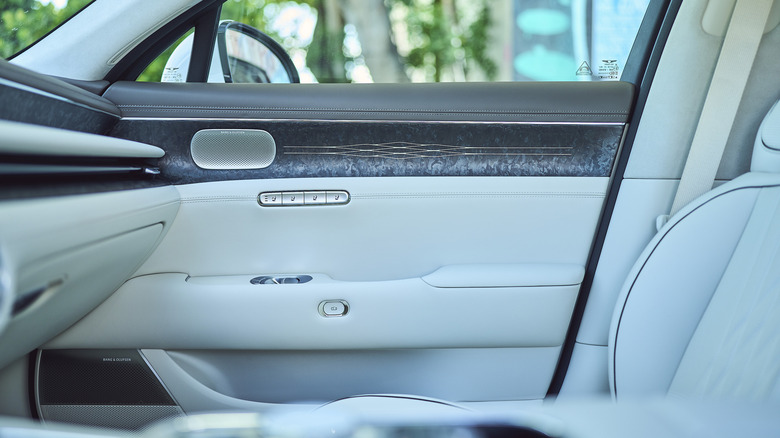 Genesis
I like that there are still mechanical buttons for the most common infotainment functions like navigation and radio, but it's easy enough to scroll through options either with a dial on the center console or by swiping with my finger. My top-trim tester also gets the Bang & Olufsen 23-speaker sound system that is top-notch. Through the Virtual Venues Live technology, I can program the stereo to sound as if the music is coming from Boston Symphony Hall, or take it down to a simple surround sound. This is similar to the technology found in Volvo with its Harmon Kardon system, and I think audiophiles will dig it.
Moving to the driver's seat, I have a leather-wrapped and heated steering wheel, natch, with a multi-functional 12.3-inch digital gauge cluster. Genesis is very cognizant of blind-spots, as a video feed shows up in this gauge cluster when I signal, and I get a visual alert in the standard head-up display when a car deigns to enter my space. Don't say you weren't warned.
Easy Entry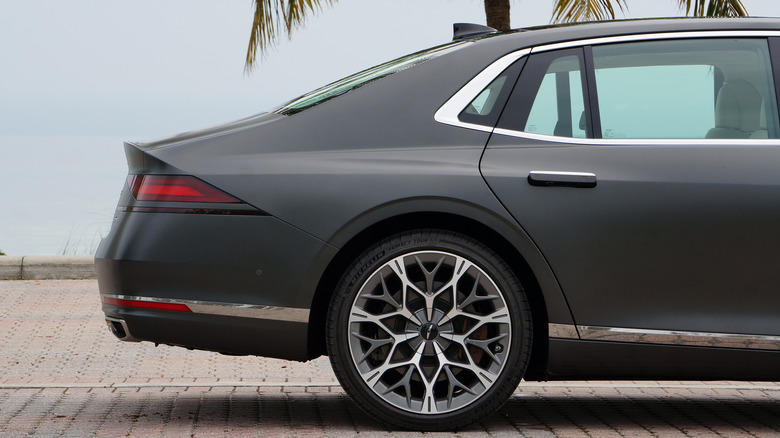 Emme Hall/SlashGear
Both front and rear doors can be closed without having to reach out of the vehicle. A button on the center console will automatically close the door, while there is a button on the door to actually open it. I should note, the open button does not fully open the door. It merely unlatches it. Should an emergency occur there is a mechanical latch hidden in the door pocket.
The front doors can be programmed to close when the brake pedal is pushed, essentially closing the doors on start up. It takes me a minute to figure out how to close the doors upon exit but it's simple: just touch the outside door handle and they do their thing effortlessly.
Nobody Wants Shotgun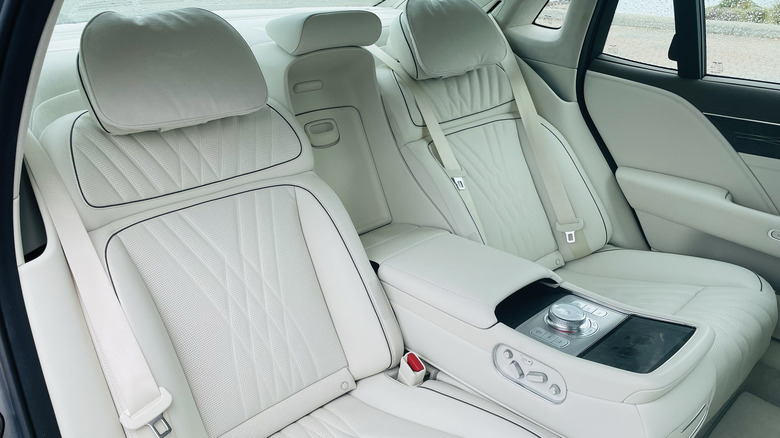 Emme Hall/SlashGear
The piece de resistance, however, is the rear seat. Sure, there isn't any champagne cooler or lambswool floor mats like you'll find in a Rolls-Royce, but neither does the Genesis G90 cost you a half a million dollars. Instead you'll find a fold down center console that turns the three-person backseat into two bucket seats. Here is an 8-inch touchscreen to control seating position, the optional massage function, lighting, climate and sunshades. There are two USB-C ports in the back, as well as wireless charging on the top trim. In this day of pandemic consciousness, there's even a UV light-sterilized box to get all those nasty germies off your phone or whatever else you can fit in there.
While the G90's wheelbase sits squarely between that of the Audi A8 and the Mercedes-Benz S-Class, there is still nearly 38 inches of legroom in the rear seat. However, at five-feet, nine-inches tall, my toes just graze the fully extended front seat when I have the foot rest up. It's not a deal breaker by far, but those six-feet and up may find they have to keep a bend in their knees to enjoy the foot support.
It Drives, Too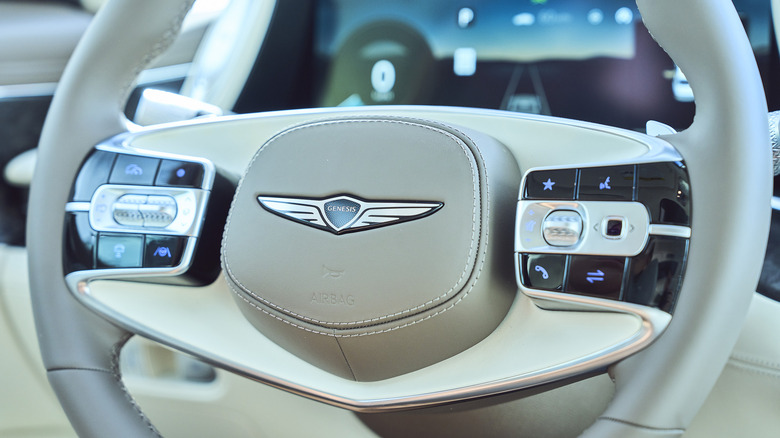 Genesis
And good Lord I've written all this and I haven't even talked about how it drives. I don't get to sample the base model, which makes do with a healthy 375 ponies and 391 pound-feet of torque, but instead spend my day in the 3.5-liter twin-turbo V6 E-SC. Here I've got 409 horsepower and 405 pound-feet of twist under my right foot. Both engines are mated to an 8-speed automatic transmission putting the power down to all four wheels. The E-SC, or E-supercharger, isn't a traditional supercharger, but more like a 48-volt mild-hybrid system that gives more torque off the line and enables a super-smooth engine stop-start function. This is part of Genesis' pledge to electrify its fleet, offering only new models as EVs by 2025 and offering only EVs by 2030.
Alas, the G90 still runs on dead dinosaurs, but it doesn't do too badly with them, returning 17 miles per gallon in the city, 24 mpg highway and 20 mpg combined. Expect a bit better from the base model with its lighter weight.
As fun as it is to be driven in the Genesis–there is even a chauffeur mode to ensure the backseat rider stays comfy at all times–the driver's seat is still a good place to spend the day. The G90 isn't a corner carver—far from it. The top trim's air suspension is set up to soak up bumps and provide an exceptionally smooth ride, using the ADAS cameras and sensors to make changes in the dampers as needed. The throttle and transmission are tuned for cruising. During my day with the car I never once feel it shift and the stop-start system is virtually undetectable. This is the car I want for a cross-country roadtrip.
Driver's Aids Standard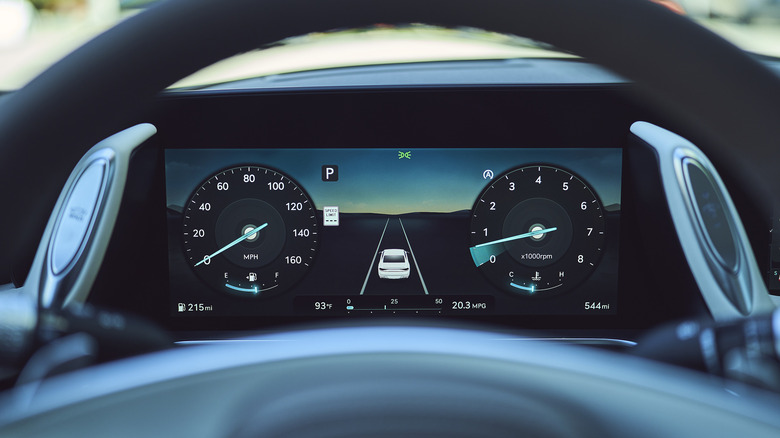 Genesis
The G90 can be a bit lazy on downshifts, even in Sport mode and when using the paddle shifters, but that's really not the point of this car. The G90 is meant to sail smoothly into the night, ambient lights turned to purple, massaging seats churning away, with Yacht Rock playing on the stereo.
Lastly, I can't talk about the G90 without talking about all the Advanced Drivers' Aids technology. Both trims get all the bells and whistles including smart cruise control with stop and go which, when paired with Highway Driving Assist, can take the stress out of traffic jams by keeping a set distance behind a lead car and staying in the lane. It's a hands-on system (and you should know that there are no self-driving cars on sale as of this writing) but it is an anxiety-buster. Also standard are a 360-degree camera, remote smart parking assist, forward-collision warning and assist, lane-keeping assist, parking-collision avoidance assist, and the aforementioned blind spot monitoring.
No Key Required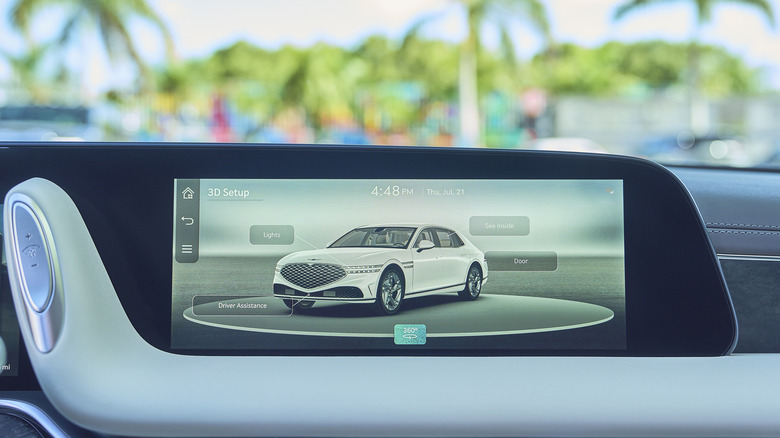 Genesis
Genesis, though, takes the technology one step further with a digital key that works on both Apple and Android devices. Using Genesis Connected Services, the digital key will automatically load that driver's personal settings for navigation, audio, and seating preferences. Further, since through the use of ultra-wide band frequency the G90 knows what part of it you are approaching, the trunk will automatically open if you walk towards it.
The G90's key was shared to me through text message and stored in Apple wallet. Android users will store their key in Samsung Pass. At the end of the day, Genesis is easily able to revoke my key so I no longer have access to the car. The coolest part is that the key can also work using NFC tech, which stays awake even if my phone runs out of juice. And if I lose my phone altogether? No worries. A traditional key fob is still included. When technology improves, Genesis Connected Services offers over-the-air updates for the life of the car, even to second or third owners.
2023 Genesis G90 Verdict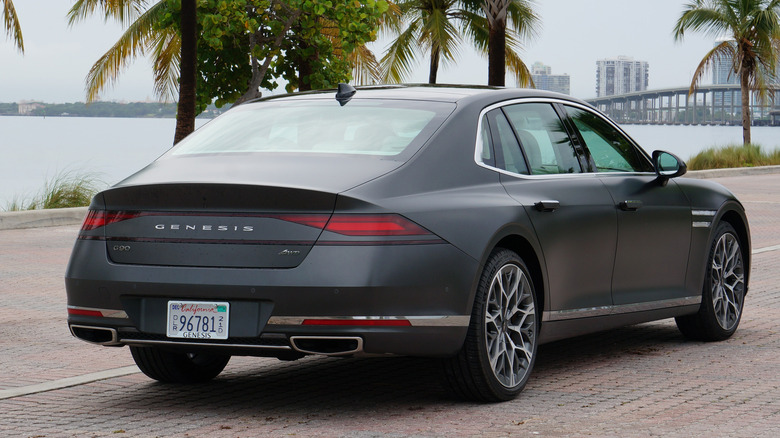 Emme Hall/SlashGear
So, what is the price for all the hullabaloo? The 3.5T comes in at $89,495 including $1,095 for destination, while the 3.5T E-SC stands at $99,795 including destination. Genesis offers flat pricing for both trims with no options available, although a rear-seat pillow is available as an accessory and I highly recommend you buy it. I liked it so much I thought about stealing it.
I'm not here to tell you that $100,000 for a car isn't a lot of money because it is, but, when you look at the luxury market, it's a very competitive price. The 2022 S-Class starts at over $111,000, and if you want an all-wheel drive BMW 7-Series you'll shell out over $113,000. Both make the Genesis G90 look like quite a bargain. You can get an Audi A8 for under $87,000, but that is down on power and doesn't have anywhere near the features you'll find in the G90.
If you want one you can put in a refundable down payment of $1,000 and join the Genesis Priority One club. However, that option will end once the 2023 Genesis G90 reaches dealerships, expected to happen in August of this year.