20% Of Video Game Fans Wish They Could Own This Extremely Rare Console
Rokas Tenys/Shutterstock
Video games have been around for more than 60 years now. While the early titles were two-dimensional with simple mechanics, enthusiasts now enjoy high-resolution 3D gameplay on large monitors and virtual reality headsets. Even though PCs and laptops are powerful enough to run video games, some video game fans prefer to play on their favorite consoles, which could be the latest PlayStation 5 or the Xbox Series X. 
However, a number of users wish to own classic video game consoles that are extremely rare to find. And while they might not work like new, these rare artifacts can cost thousands of dollars.
Recently, we surveyed our readers about which rare gaming console they wish to own. We gathered 588 responses from people in the United States. To our surprise, the most famous rare gaming console is not the oldest or the most expensive. Here are the results of SlashGear's survey about rear gaming consoles and their popularity among video game aficionados.
Is all that glitters gold?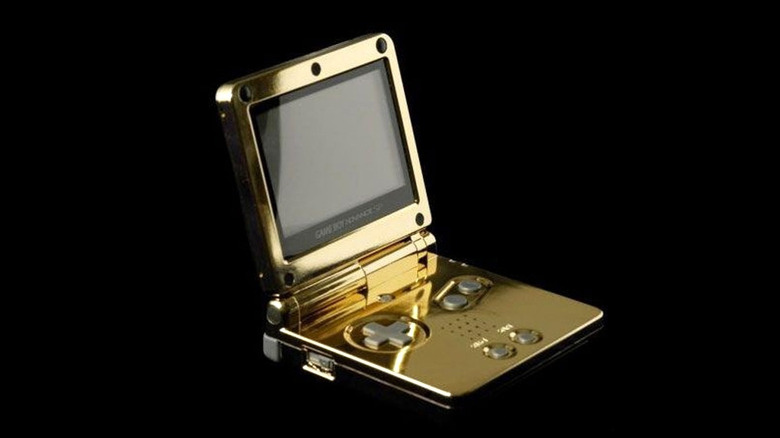 Nintendo
In the survey, SlashGear asked video game fans about extremely rare consoles they wish they could own. To begin with, 11.39% of respondents want to own the Gold Minish Cap Game Boy Advance SP. An authentic Gold Minish Cap Game Boy Advance SP has been listed anywhere from $70,000 to $95,000 on online auction sites.
Now, let's talk about the most expensive game console ever created: The Nintendo Wii Supreme. While the original Nintendo Wii came out in 2006, it quickly became the game creator's most famous console. Later, the maker of the iPad Supreme, Stuart Hughes, created the Nintendo Wii Supreme. The console is made with 2,500 grams of 22-karat gold and has diamonds on the outer surface. Hughes says it's worth $365,000. Despite being the most expensive console, a middling 14.63% of survey participants voted for the Nintendo Wii Supreme.
Have you ever heard of the Nintendo 64DD? As it turns out, 16.67% of the people involved in our survey wish they could own the rare gaming console. This is perhaps one of the oldest consoles on our list as it was released in 1996 with games like "Super Mario 64" and "Legend of Zelda: Ocarina of Time." Although the console never made its way out of Japan, a new unit can go for more than $7,800.
The PS4 20th Anniversary Edition reigns supreme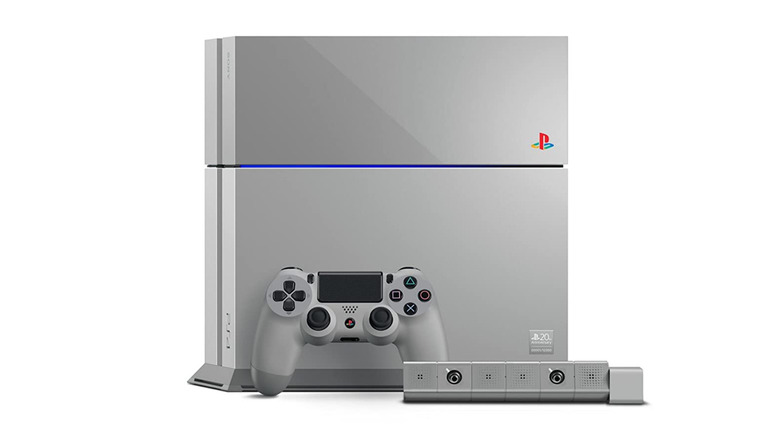 Sony
With 18.37% votes, the Nintendo PlayStation is the third most popular rare gaming console out there. It was the first product from Sony and Nintendo. However, the collaboration did not work, and the companies manufactured only 200 of them, making it a super rare find. One of the prototypes was sold for a whopping $360,000.
Another rare console that secures the second position in our survey is the Atari Cosmos. Of those surveyed, 18.71% said they wanted to own one. As an unreleased item, only six are known to exist, out of which half are in working condition. Back in 2010, one of the partially working consoles was sold for $7,500. So there is a chance that this console is worth more today.
But it's PS4 20th Anniversary Edition that takes the cake with 20.24% votes, making it the most popular rare gaming console in our survey. For context, PlayStation celebrated its 20th birthday in 2014. The console was so popular that Sony sold all the 12,300 units made within days. The console was priced at $499. While lucky people got their hands on the limited edition console, many still wish they had the Sony PS4 20th Anniversary Edition.