The Nintendo Wii Supreme Is The Most Expensive Game Console Ever Created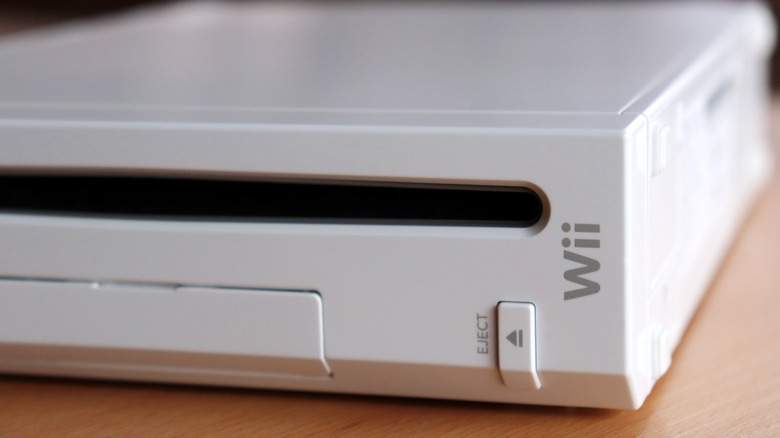 Isa Fernandez Fernandez/Shutterstock
The title for the most expensive game console ever made belongs to the limited-edition Nintendo Wii Supreme, but is it truly worth its weight in gold? When the Nintendo Wii officially debuted in 2006, it came with a $249 price tag. It easily became among the company's most successful home consoles, selling about 100 million units in the process. Unbeknownst to Nintendo, however, were the various unofficial luxury variants of its popular console.
One of these variants was a gold-plated Wii that defunct game developer THQ made specifically for Queen Elizabeth as a publicity stunt of sorts in May of 2009 (via CNN). This shiny custom-made Wii didn't end up in the hands of Her Royal Highness and was instead auctioned off by its new owner years later. The royal edition Wii originally had an asking price of $300,000, but here's the kicker, it still wasn't the most expensive game console even at that price. Enter the Wii Supreme, yet another glitzy custom job that came out in the same year, albeit bearing a much heftier cost than any other Wii made before.
NES is silver, this Wii is golden ... literally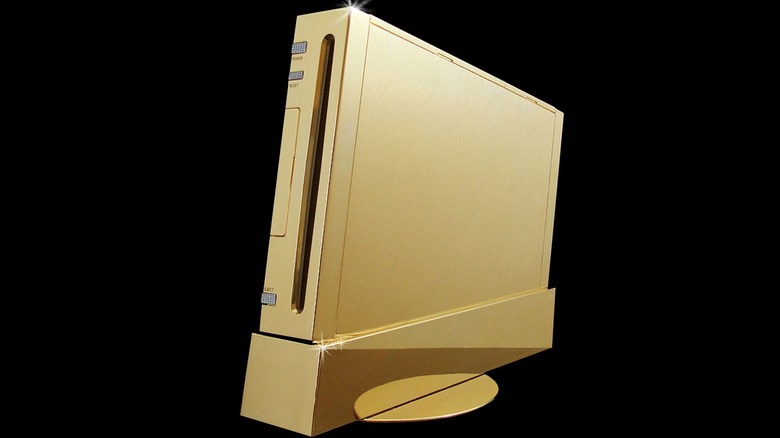 Stuart Hughes
The Nintendo Wii Supreme was created by Stuart Hughes, the same folks behind the opulent $190K iPad Supreme. Rocking over 2,500 grams of 22-karat solid gold, the Wii Supreme comes with an extravagant price of £299,995 (about $365,000), according to its seller. Complementing its solid gold exterior are multiple flawless diamonds that adorn the golden Wii's buttons, amounting to 19.5 karats in total. It took six months to build what its creator deems as the "ultimate gaming station."
Apart from being the most expensive game console ever created, the Wii Supreme is also quite scarce considering its production was limited to only three units. Its raw materials alone are worth somewhere in the neighborhood of $200,000 (via Engadget). If that's the case, a buyer should be a really big fan of the Wii if they're willing to cough up an extra $100,000 or more just to get those precious materials on a decades-old machine. The question is, who would even be willing to do such a thing?
Is the most expensive console worth the money?
When it comes to pricey game consoles, the most expensive console sold online went for $360,000 (via Guinness World Records). The record holder was a rare Nintendo PlayStation prototype that served as a historic piece representing Nintendo and Sony's failed joint venture. THQ's gold-plated Wii, on the other hand, didn't garner offers that were equally as impressive when it was sold at Goldin auctions. Bidding for the royal-intended Wii started at $1,500 before reaching the winning bid of $30,000. 
Of course, the Nintendo Wii Supreme has a lot more gold and precious stones in it than the aforementioned console, but whether its value will still hold in the long run remains to be seen. One thing's certain though, the buyer's going to have a hard time finding parts for it given that Nintendo already shuttered the doors of its Wii servicing. Perhaps the most expensive game console ever created isn't even meant to be played on, but rather, simply something to be gawked at as a collector's pièce de résistance.