$190k Stuart Hughes iPad Supreme swaps taste for gold & diamonds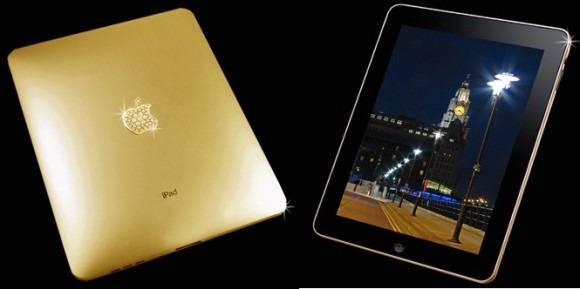 If the knowledge that your regular iPad won't set you aside from the 1m+ others who picked up Apple's tablet, then how about stunning passers-by into dropped-jaw incontinence with the Stuart Hughes iPad Supreme Edition.  The UK company take a regular 64GB iPad WiFi + 3G and replace the back panel and surround with a single piece of solid 22ct gold, weighing in at 2,100 grams.  Then, because lashings of gold simply aren't enough, they throw diamonds at it too.
In fact, there are 53 diamonds – totalling 25.5 cts – which are mostly used to recreate the Apple logo on the back.  The irony is, of course, that you probably want to coddle the iPad Supreme in a case, in which case you won't actually be able to see the gems at all.
Only ten of the extravagent tablets will be made, each one priced at a not-inconsiderable £129,995 ($189,999).  Frankly we'd rather buy a regular iPad WiFi + 3G and spend the rest on... well, just about anything else.