will.i.am: "The Ultrabook is the new ghetto blaster"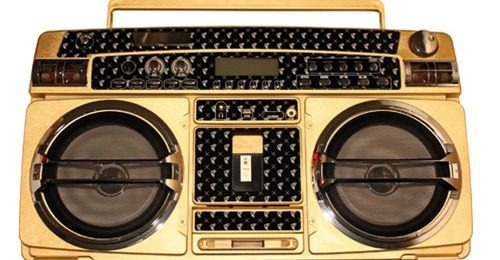 "The ultrabook is the new ghetto blaster" claims will.i.am, proving both that CES is never short of bizarre hyperbole and that Intel's "Director of Creative Innovation" can be always relied on to make nonsensical soundbites. Speaking on stage at Intel's keynote at the tech show, will.i.am revealed that he has been carrying an ultrabook – Intel's new take on the ultraportable segment – for some  time now, using it for collaborative music creation with colleagues and fans.
In a way, you can see will.i.am's point – or at least the point he's perhaps trying to make. The ghetto blaster used to be a communal point for music lovers, with home-crafted mixtapes used to share new tracks and new forms of musical style. With the transition of music creation to computers – "now you make it on the computer and listen to it on the computer" the Black Eyed Peas artist said – now people can not only get together to listen but to create tracks in the first place.
will.i.am's segment on stage ended with a brief clip of his next track – something he says was created, at least in part, on an Intel-powered ultrabook – and some perhaps confused applause from the attendant geeks.
On more solid ground, perhaps, check out our hands-on with Dell's first entrant to the ultrabook market, the XPS 13, as well as HP's ENVY 14 Spectre, Samsung's second-gen Series 9, LG's "Super" Ultrabook Z330 and more in our ultrabook hub. The slimline ultraportables certainly seem to be one of the key trends of CES 2012 so far.