CES 2012 Is Go: Ultrabooks fast out of the blocks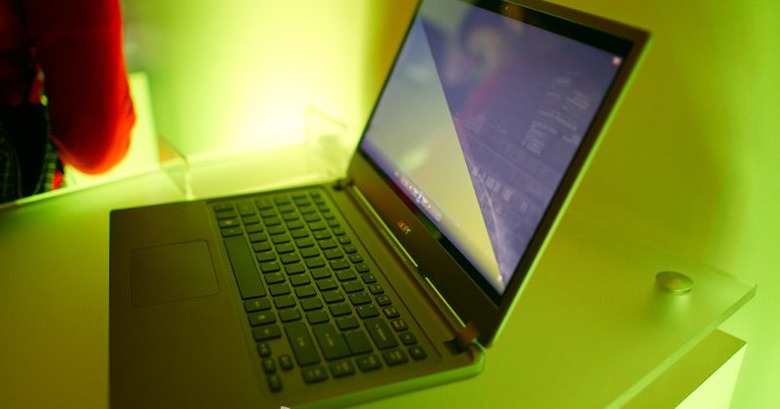 CES 2012 may not "officially" kick off until Tuesday January 10, but you'd never realize that looking at the flood of new products grabbing a pre-show chance at the limelight. CES Unveil yesterday and the packed timetable of press conferences today are already showing some themes, however, with ultrabooks and smart TV taking an early lead as the consumer electronics industry lays out its cards for 2012.
Intel is betting on ultrabooks in a big way: what once seemed a rather obvious branding exercise for ultraportable notebooks has evolved into an increasingly compelling segment. PC manufacturers seem content to keep churning out the status quo until someone – often Apple, but sometimes each other – forces them to put a little extra thought into their new hardware.
The ultrabook concept has done just that, driving vendors away from cheap-feeling plastic cases and bottom-of-the-parts-bin components and instead into a realm where models live and die by their premium feel. Intel's sub-20mm mandate, along with the 1.4kg weight limit and focus on speedy resuming from standby and hibernate has pushed Acer, Lenovo, Toshiba and others to consider solid-state storage, aluminum and other low-weight hardware, and – most importantly for end-users – how to bring those things in at a competitive price.
Check out all of our Ultrabook coverage here
Rather, then, than fighting over who can squeeze out the very highest benchmarking result or who has the shiniest UI widgets and enhancements – aspects that are, frankly, of little interest or even relevance to consumers – the competition is now around whose machine is ready to use quickest when you lift the lid, or whose has the longest runtimes and standby. They're parts of the user experience that actually make a difference to everyday use.
As for TV, vendors aren't just competing for the biggest screen – though there's still a fair amount of "mine's bigger than his" genital compensation going on during the CES keynotes – but which has the most smarts behind it. Android is creeping into more sets, with Lenovo's K91 based on Ice Cream Sandwich perhaps the most eye-catching – but it will be low-cost Google TV boxes based on media-centric ARM chipsets that make the most difference to the market.
Check out all of our Smart TV coverage
Google's decision to ditch Intel chips and shift over to ARM marks a huge pivot point for the company's smart TV ambitions. x86 chips run hotter, drink more electricity, often need active cooling with a noisy fan, and ironically – despite generally faster clock speeds on paper – struggle more with HD media playback than ARM chips do. That's why just about all smartphones on the market run on ARM, and it's those advantages that low-cost Google TV STBs will benefit from.
Hard to believe it, but we're only partway through the pre-day of CES. There's a growing number of intriguing looking smartphones hitting the wire, and we're still yet to see what Samsung, Panasonic and NVIDIA have for us.
You can keep up with all of SlashGear's coverage of the show at our CES 2012 Hub.