White Nexus 4 Hands-on and Unboxing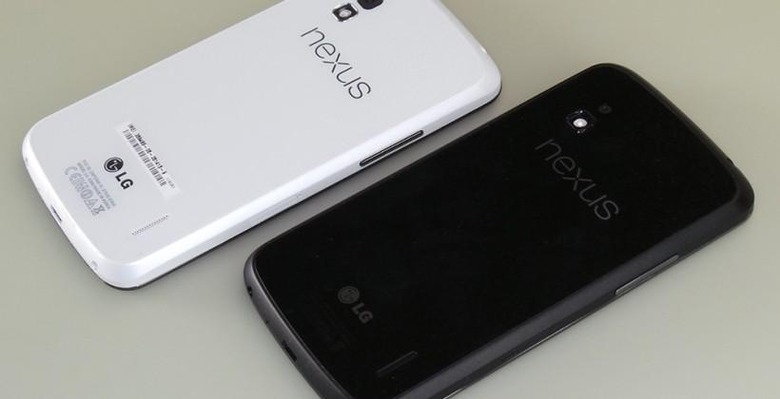 This week Google and LG have made the unicorn of the Nexus lineup – that being the White Nexus 4 – a reality. Here at SlashGear we're taking the time to unbox and have a closer look at the device and its brand new Bumper Case as it makes its way to online stores and eventually into the retail space in the USA. And yes, it's basically the same package: it's just white.
One of the only big differences between the original Nexus 4 and this white iteration is the makeup of the band around the edge. While the original Black version has a slightly grippy feel to it, this White is a bit more slippery. This might be just the bit you were looking for if you're all about the shine over the ability to hold on to your phone.
Otherwise this machine works with the same guts as its Black affiliate: 4.7-inch display at 1280 x 768 pixel resolution, IPS LCD technology covered with a pane of Corning Gorilla Glass 2. Dimensions of the device remain 133.9 x 68.7 x 9.1 mm with a weight of 139 grams, and the back works with the same 8 megapixel camera as specified in Google's own listing of the original Black.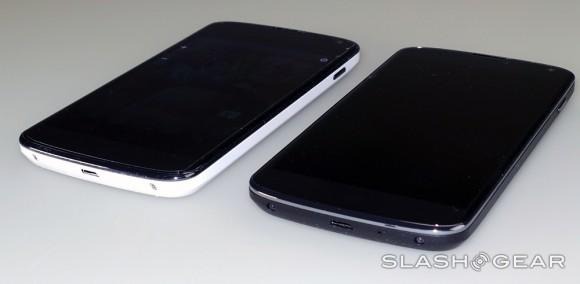 Inside you'll find the Qualcomm Snapdragon S4 Pro quad-core processor, this just a step down from the Snapdragon 600 found in the Samsung GALAXY S 4 and the HTC One. Android 4.2.2 is here on the device right out of the box, while we do expect updates to Google's mobile OS sooner than later.
Also in the package we've gotten is Google's white iteration of their own Bumper Case. This case acts as a protector between your Nexus 4 and the ground and acts as a bit of a bonus grip that you might not otherwise have with LG's preference for slippery, slippery plastic. This device will be available from Google soon, and it's unknown at the moment whether or not T-Mobile – or other carriers in the future, for that matter – will be carrying this color in stores.
BONUS: As you may have already noticed, the videos above have been filmed with Google Glass – or #throughglass, if you prefer. This adds to a collection of features filmed with Google Glass that will be continuing to expand through the future here on SlashGear, another of which was our 2014 Lexus IS Prototype Test Drive earlier this week – stay tuned for more!