Verizon Teases GALAXY S 4 & HTC One Possibilities for CTIA [UPDATED]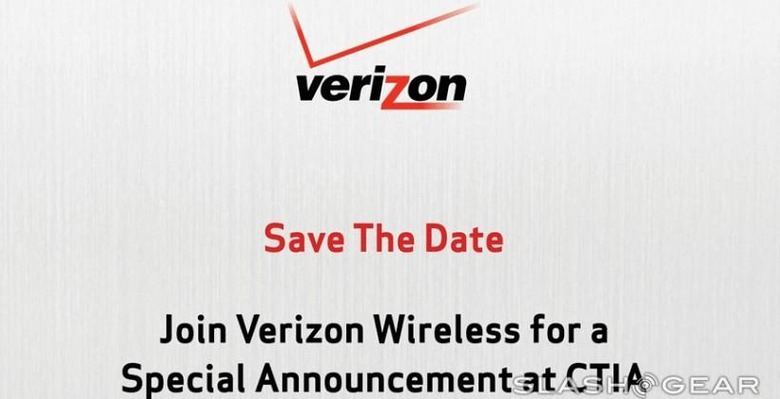 Today Verizon has sent out a "save the date" announcement for this year's Spring CTIA event in Las Vegas, Nevada. This announcement aligns quite well with the releases of both the HTC One and the Samsung GALAXY S 4, especially given the slightly-later reveals of high-end devices through Verizon over the past year. As the Samsung GALAXY S 4 has been confirmed for Verizon but not dated or priced while the HTC One has been both confirmed and denied, we'll be placing our cash on the former.
This year's CTIA 2013 event in Las Vegas will be taking place near the end of next month, May 21st through the 23rd. This Verizon event has been scheduled for the 22nd of May at 11AM PDT, and you can bet your bells that SlashGear will be live in-effect for the entire show. Verizon could also be revealing a new set of services, leaving the smartphone announcements to their own unique event(s) outside the convention.
Thus is the way of things with carriers, and thus has it been over the past few years with technology conventions. As we spoke about earlier this year immediately after attending Mobile World Congress 2013 in Barcelona, technology conventions aren't dying, they're changing. They're evolving, and though we can guess and prod at the idea that Verizon might be bringing some smartphones to show off in Vegas, chances are they wont.
Have a peek at our HTC One full review for more information on that lovely smartphone and stay tuned for our full review of the Samsung GALAXY S 4 rather soon. These two devices are set to do battle throughout the summer as their businesses stake their name on their success. While the HTC One is a complete re-thinking of how the smartphone can be ideal, Samsung has invested in their already-successful design, further idealizing its innards.
Let us know what you're planning on picking up, one way or another!
UPDATE: Looks like Verizon has now confirmed the GALAXY S 4 well before the event – time to get your HTC tickets out!