Verizon HTC One release date moved to August 15th

Though we'd seen this machine in a leaked roadmap pinning it for the first of August of this year, the Verizon HTC One has appeared bumped to the middle of the month instead. What we're assuming here is that the move has a lot to do with the oncoming push for the Motorola Moto X. There's also the Motorola lineup of DROID devices coming to the carrier, each of them set for release inside August as well.
The HTC One has been with several other carriers around the world now for several weeks, having been announced earlier this year and sent out internationally earlier this year. This device has seen strikingly positive reviews across the board, finding itself the subject of two SlashGear reviews – one original, one AT&T edition.
SlashGear also reviewed the HTC One mini earlier this month. This device is a smaller iteration of the HTC hero device, coming with a lower-powered processor and a slightly different build to attach to those users aiming for a more palm-sized device. At the moment that smaller machine does not exist as a carrier edition.
The new date appears via Droid Life where they've been passed an internal document from Verizon, here suggesting that NFC Mobile will be seeing a target reboot date for the first of August and a move of dates from the 1st to the 15th of August.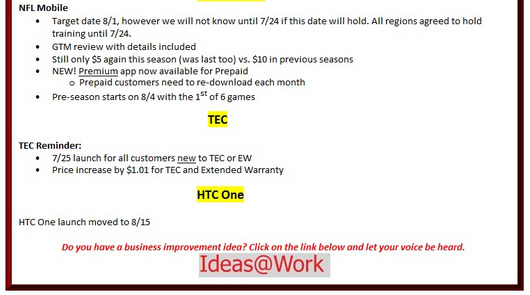 Our Verizon HTC One civil war article stands. While the new DROID machines do pose their own threats to the success of the HTC One on this big red carrier, HTC's contribution to the Android universe is still one of the top most all-round powerful value propositions on the market today. Have a peek, and let us know if you've changed your mind now that there's another 15 days between you and the aluminum-clad One.