HTC One mini Review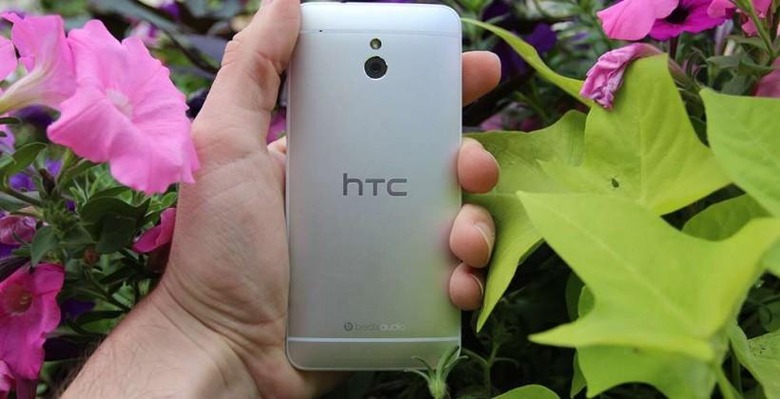 Several months after the first market availability of the original HTC One, the HTC One mini emerges as a compact amalgamation of everything that was right about its predecessor. Working with a smaller body, a lower resolution on a sized-down display, and a processor that's not quite as powerful as the Qualcomm SoC on the HTC One, can this miniature second wave of a smartphone strike true for those of us with a smaller palm?
Hardware
This machine's 720 x 1280 display (across 4.3 inches of screen real-estate) does not disappoint. While the HTC One is slightly sharper mathematically, we're well into the "I wouldn't have noticed if you'd not said something" zone. This machine's display is so close to the surface of the glass that protects it, it's difficult to tell that they are, indeed, two separate pieces of hardware. Right from the moment you turn this smartphone on, you can feel HTC's efforts continue to hit top-notch.
The HTC One mini comes in at 132 x 63.2 x 9.25 mm in size and 122g in weight, shaving off just about as much on its left and right as it does on its top and bottom, feeling in the end to be essentially the same thickness – even if it is a smidgen different (0.05 mm thinner, to be exact). Where the Samsung Galaxy S4 Mini feels like a shadow of the full-sized Galaxy S 4, the HTC One mini feels like a companion to the HTC One – more like an alternate reality approach.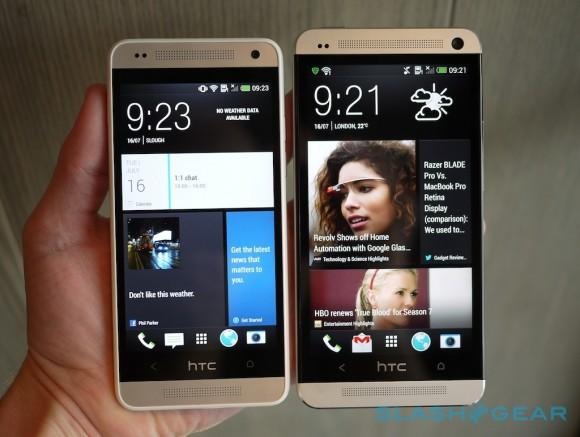 While it would appear at a glance that the HTC One mini's plastic ring around its edges were placed there only to be a differentiator for the final build between this and the original, it does serve to make one feel less fearful of dropping the whole unit. It's not as if this ring is going to do a whole lot more to protect the front or back of the smartphone from a concrete slab ground, but there's more of a sense of safety here, even if it does dare us to suggest that it makes the device feel more like a Samsung handset (it doesn't).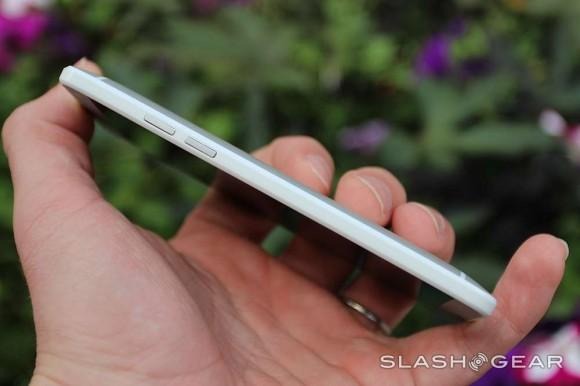 Instead it would seem that the aluminum back panel and two speaker grill-filled front panels serve, with the single pane of Gorilla Glass up front, to keep this device well in the premium build universe. Up front you've still got the double-dose of sensors peeking out at you on the left up top, and one of two high-powered cameras up on the right.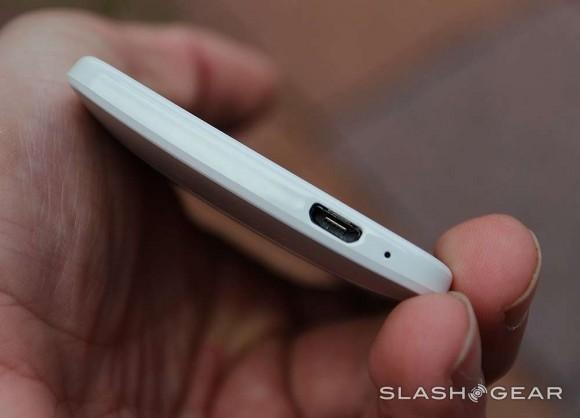 There's also a notification light up in the topside speaker grill – 12th hole in from the right, second row from the bottom – one single pin hole and a world of difference for those who demand such a shiner. This light serves to tell you the HTC One mini is being charged up, for the most part, but you'll also find a set of checkmarks you can toggle in settings under "Notification flash", including Calls, Voice mail, Messages, Calendar, Mail, and Alarms.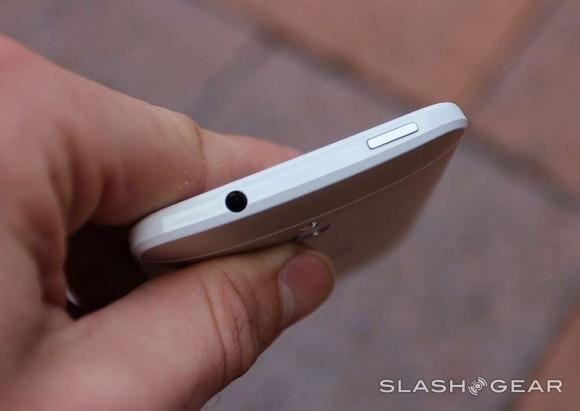 Behind the speaker grills up front are stereo speakers, working with HTC's own branded audio setup BoomSound and sounding every bit as powerful as they do on the HTC One. It's surprising, really, that HTC brings this premium feature to devices other than the HTC One – you'll find it in HTC 8XT as well – though we've yet to test that unit for comparable ear-shattering. Here on the HTC One mini you've got the same best-in-glass speaker setup first delivered with the HTC One, top and bottom both.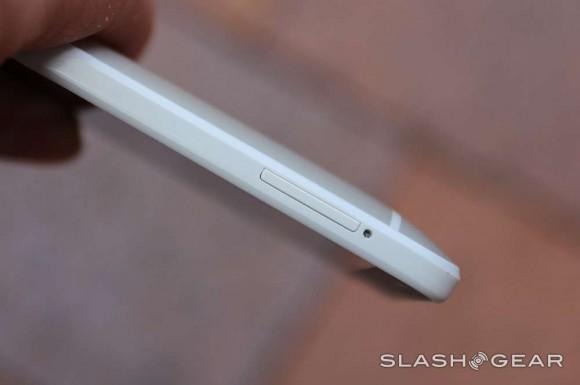 On the right side of this smartphone you'll find two volume buttons instead of a rocker – this is modified from the HTC One which used a single piece of metal with a circular pattern through its form. Up top is a standard-sized headphone jack alongside a power / lock button that, instead of having an IR-blaster built in, is simply a bit more aluminum this time around.
The left side of the HTC One mini holds this device's single microSIM card slot which can be popped out with an HTC-provided pin, while the bottom holds one of two mic holes (the other is on the back panel) near an off-set microUSB port for power and PC connections. This is an offset port in that it's not right in the center, where many major smartphones' usb ports tend to find themselves.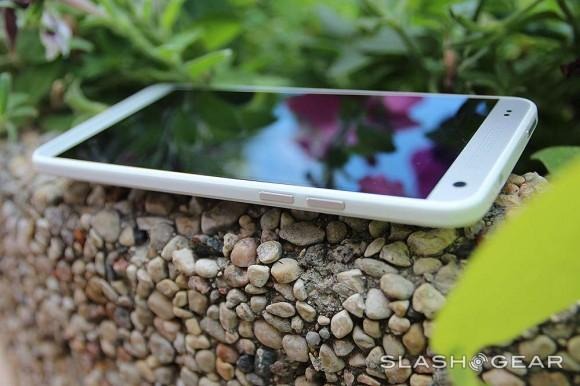 The back panel of the HTC One is split into three – there's a top section that's roughly the same size as the bottom, then a center single panel that takes up the majority of the machine. This center panel holds the 3D alternate-shade of aluminum spelling out HTC as well as the second of two HTC One mini-bound cameras and a single LED flash. The second of two microphone holes sits on the left between the top and middle panels, the opposite side of the hole on the HTC One.
You'll also find the Beats Audio brand intact here, this time a bit more subdued (at least on this light silver edition) than the original (which blasts the logo out in hot red). FCC and other certification data finishes out the package at the bottom in a silver so light you can barely see it.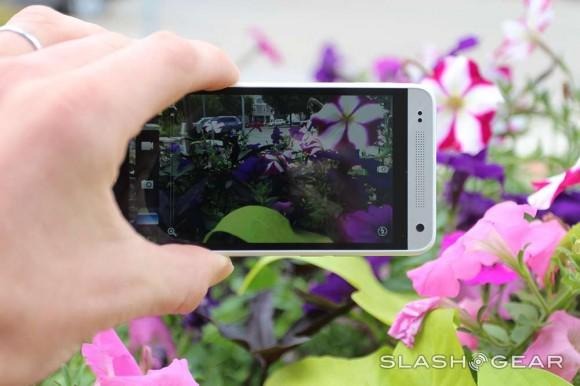 Inside you've got 4G LTE and HSPA compatibility with Wi-Fi a/b/g/n and Bluetooth 4.0 (ready for LE/ Bluetooth Smart in Android 4.3 eventually) as well as aptX support for high-powered wireless audio. You'll not be getting any NFC this time around, unfortunately – not a deal-breaker for most, but as the NFC universe expands, one must consider such a thing.
Software
The software is nearly a perfect replica of what's found on the original HTC One here on the international edition of the HTC One mini. The big differences come in the app selection and the compatibility (or lack thereof) with certain functions due to hardware changes. No IR-blaster means no Sense TV, no NFC means no Android Beam. These are compromises you should be willing to make when you jump in on this miniaturized version of the full-sized hero.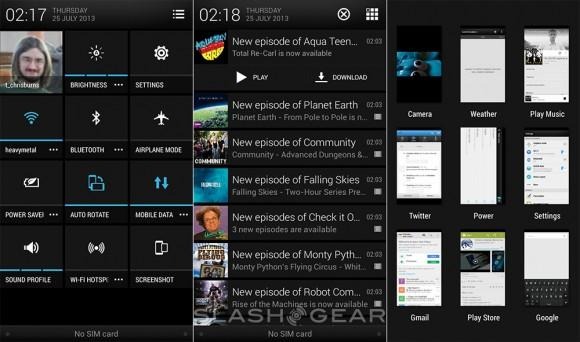 The HTC One mini adds Mocana's KeyVPN app right out of the box – this allows you to connect to secure networks, of course, and does so as one might expect. Google's full suite of Google Play apps is here, including Play Movies, Play Music, Play Magazines, and Play Books, these running alongside HTC's iterations with additions like "Music".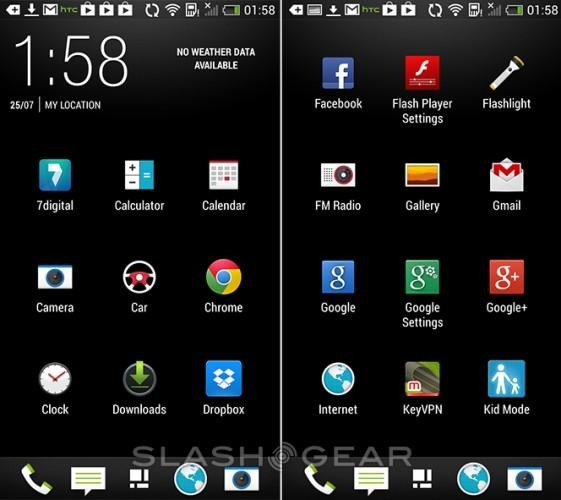 HTC's music app is the same as it was on the HTC One, here delivering the ability to play lyrics from songs and show wild animations during track playback. HTC also includes a simple PDF Viewer that can access the device's own storage as well as cloud apps like Dropbox. Editing of PDFs is done by Polaris Office.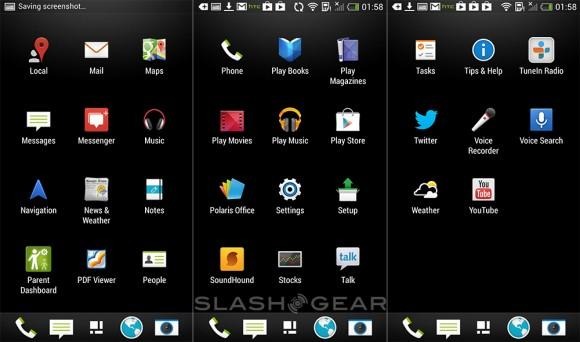 Dropbox is also – once again – included with the basic build of this HTC smartphone. You'll also be seeing music sales with 7digital, music identification with SoundHound, and internet radio with TuneIn Radio. These along with Play Movies and YouTube have HTC making sure you're going to be putting your BoomSound speakers to good use.
The first page you see when you enter past your HTC One mini's lockscreen is a system called HTC BlinkFeed. This first appeared with the HTC One and continues here with its entire set of abilities still ready to roll.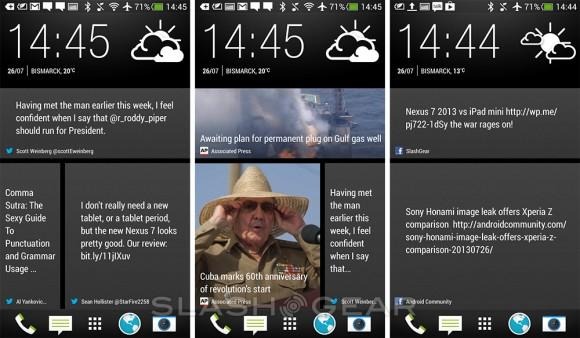 You'll be able to collect news sources and updates from your social networking profiles to create one big image-intensive collection of quick-views. Each of these rectangles is able to be tapped to expand, and you're able to turn each of your news sources on/off at will.
The system is set by default to refresh only when on wi-fi, but you can change it to work with mobile data if you wish. By all eyeballing accounts, this and every other part of the UI in the HTC One mini appear to be moving every bit as swift as the original, despite the lower capacity for processing power in this smaller device's interior architecture.
Performance
The HTC One mini works with a dual-core Qualcomm Snapdragon 400. This means it's not quite up to the task of taking on the HTC One's Snapdragon 600 with its four CPU cores, but here on a device with a smaller device with a smaller display with a lower resolution, the results appear the same. We've noticed no slowdown in everyday use, and we've not yet seen lag even when opening some of the most demanding games on the market. It would appear that we've reached a point in the smartphone chip-making world where the power has out-run the demand.
Have a peek at the benchmarks above and see what you think. While this device doesn't make too much of an effort to break down any top-tier barriers, it's well ready to do its own job, and do it well.
Camera / Battery
The camera here continues to work with HTC Zoe, Full HD (1080p) video recording and high-quality results on both the front and back-facing camera. The back-facing camera continues to work with the full HTC One-born UltraPixel setup, complete with results just as impressive as the original.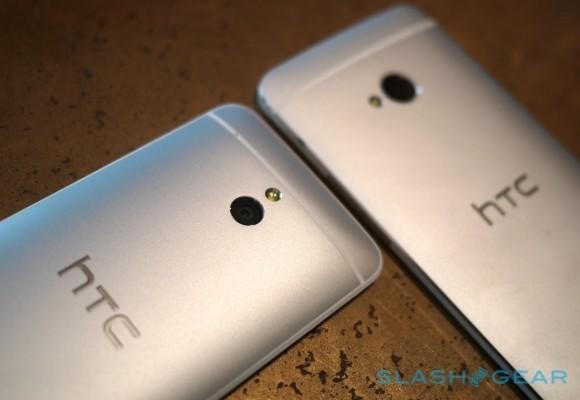 While it might seem that working with a slightly less powerful processor might result in lower-quality results in image processing, or at least slower processing therein, the differences are minor, if noticeable at all. This device has the same f/2.0 aperture in play as well as the same dedicated ImageChip 2 image processor – this is in addition to the main device processor, mind you.
What you've got is a system that shoots photos and video as well as the HTC One, with one difference: the HTC One mini does not work with Optical Image Stabilization. The big place this takes effect is in filming videos, which here can be a bit more "shaky" as a result. If you've never used the HTC One and felt that bump in quality, this change-over won't make a difference to you.
Have a peek at a collection of sample shots above and let us know what you think of the system compared to the original. It certainly feels the same, and as always, it's as much about the photographer as it is about the camera.
Battery
The HTC One mini works with a non-removable 1800mAh battery which, paired with Qualcomm's battery conservation features in its Snapdragon processor and HTC's own battery saver mode in this phone's settings, you'll be getting a massive amount of battery life on standby. In fact, if you leave your device in your pocket and turn off data altogether, you might just get a few days' worth of life out of it.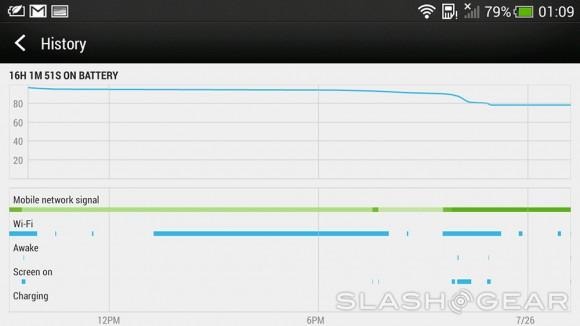 If you're a heavy user, on the other hand, this phone will need a charge by the time the day is through. If you're doing nothing but streaming video and playing games, you'll get no more than 8 hours out of the HTC One mini, while light users – email, chat, and the like, will easily get a full work day without plugging this machine in to the wall.
Wrap-up
In the end you'll have to base your decision to purchase this device on whether or not you're willing to make a trade-off in size and for a few odd features for a lower price point. If you're not seeing this decision between the HTC One and the HTC One mini as a trade-of, and instead simply want a smaller device that fits your hand better than the original, then you'll be good to go! In the end, this machine takes everything that was great about the HTC One and jams it into a smaller package.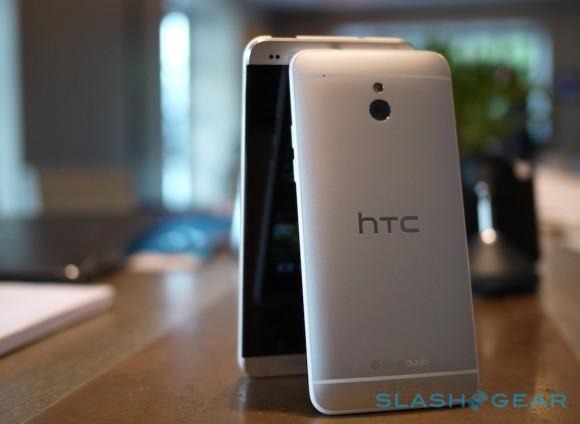 Let us know if there's anything else about this device that you'd like SlashGear to test – this is a living review, after all, and we'll continue to update as you, the reader, would ask us to. We're here to provide you with the information you want on the HTC One mini – the same being true of all our reviews – stay tuned!