Twitter brings video sharing to Direct Messages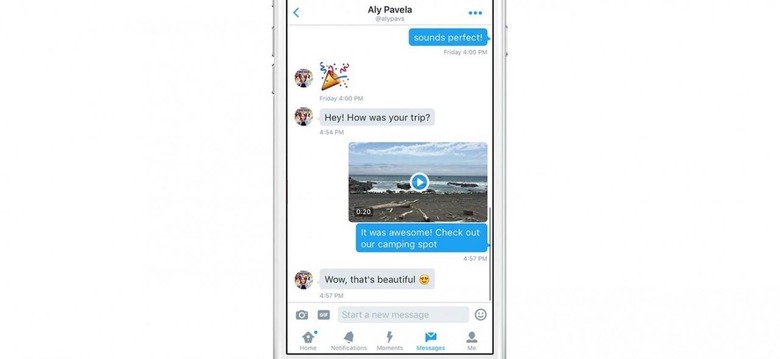 Now that the outrage over Twitter's potential changes to the timeline has calmed, the social network has been rolling out several new features to its app this week. Yesterday saw the official debut of GIF support, including the ability to see which moving images are trending, as well as search. Now Twitter users are able to capture and then share videos in Direct Messages, bringing the private, one-to-one message type closer to basic texting apps and services.
Twitter says the update to Direct Messaging will be rolling out to both the iOS and Android app worldwide. Likewise, the web app will allow sending videos, but obviously not capturing them. Direct Messages also support the new GIF sharing features.
This latest change follows a number of updates to Direct Messages, including the increased limit of 10,000 characters, and the ability to share tweets within DMs. All this may not be enough to improve Twitter's user base growth, but it's interesting to see Direct Messages develop into something comparable to Google and Facebook's offerings.
Maybe Twitter is thinking about eventually turning Direct Messages into its own platform, and possibly even separating it from the default app. Last year, third-party app Direct Messenger debuted on iOS, offering users an option to use DMs and nothing more, essentially turning the service into a private chat app.
SOURCE Twitter