The Daily Slash: April 13, 2011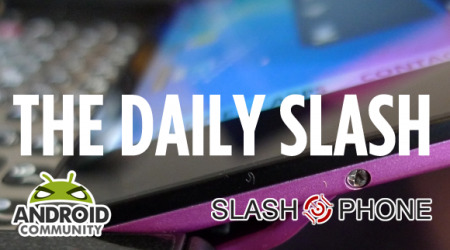 Allow me to give you the skinny on everything you're going to need to know in order to go on with your life today. I mean it! There's some crazy important stuff going on today that may well, very possibly, perhaps, chance your whole life. Some of it is in the Android world, some of it is in the greater phone world, and some of it's basically gadgetastic right here on SlashGear. Let's begin with a bit of the ol' aliens from another planet rumor – that's right! Aliens are back in the news, and it's your favorite: Roswell, New Mexico. That's the least credible story we have for today. It's all uphill from here!
Next, we've got a couple of basically fantastic giveaways going on, one of them for a couple of tablets, the other for... another tablet! That's right, we've got both a Motorola XOOM tablet set for you to win AND a BlackBerry PlayBook for your free having! You could walk away with a tablet of your choice! Of course, provided you enter the contest(s), that is. Go for it!
Then it's time to finally have an Angry Birds that lets you plan across multiple platforms, or in my case, multiple Android phones, without starting over! That's right, Rovio is looking to Sync Angry Birds for easy continuation, no matter what system you're on! Next, so long as we're speaking about apps, Apple has revealed Final Cut Pro X for all of your ultimate video cutting needs! Oh and you'd like some Windows news too? We've got that – Windows 8 early build leak hits the web. Don't expect TOO much out of it. Perhaps they should have contacted THIS Indy developer for tips on how to secure a bit of software from pirates.
Next, learn from our resident business guru Ben Bajarin Why Cisco Shut Down the Flip Business
Then behold the sensational day of HTC power! It's the HTC Sensation, and we've got not only a lovely hands-on video, but an official announcement, a set of lovely benchmarks, but a comparison to the ATRIX 4G for your consumption. Then we do it all from a slightly different perspective over on Android Community as well!
Speaking of Android Community, we've got an extended bit of that XOOM contest for MORE wins, an invite to the same event SlashGear is invited to – T-Mobile's day in the sun, and just terrible reports of the HTC ThunderBolt dropping its LTE signal! The humanity!
And we've got some Angry Birds Easter pictures!
And we've got some T-Mobile Sidekick unboxing video and speed tests!
Everything you could ever want to know, right?