Apple Unveils Final Cut Pro X, Now 64-Bit Awesomeness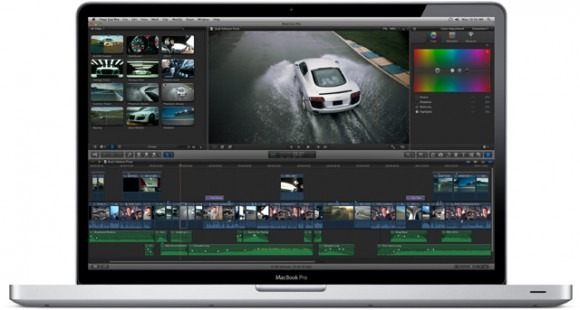 We mentioned before that Apple may be making a "jaw-dropping" announcement at the SuperMeet during the National Association of Broadcasters (NAB) event in Las Vegas this week. And now our dreams have come true. Apple just unveiled Final Cut Pro X, a much needed update to the industry's flagship film editing software. It's been rebuilt into a 64-bit application on Apple's Cocoa framework with a brand new interface and support for full background rendering.
The most prominent improvement is that the new Final Cut Pro has been rebuilt as a 64-bit application, which will enable it to surpass the 4GB memory available to 32-bit applications.
"Final Cut Pro Ten will no longer be hamstrung by the 4GB of memory that are available to 32-bit applications, and can now take advantage of as much memory as you can throw at the application," said Peter Steinauer, Architect of Final Cut Pro. "What this means in technical terms is larger, more complex projects, larger formats, larger frames of memory, deeper and richer effects decks, basically all of the things that are ridiculously memory intensive now have full run of all the memory you can throw at the problem."
The rebuild takes full advantage of Mac OSX Snow Leopard features including OpenCL, Quicktime X, Grand Central Dispatch, and Core Graphics/Animation to enhance performance. The support for background rendering will significantly improve work flow as editors will no longer need to wait for certain parts to be rendered before continuing. In fact, editing can continue even as clips are being imported.
Final Cut Pro X also picked up some new features adapted from its consumer bretheren iMovie 11. Content analysis such as face and people detection as well as wide, medium, or close-up shot range detection have been added as a Smart Collections feature. A Compound Clips feature allows for easy video nesting and a new Magnetic Timeline automatically syncs a video clip with its primary audio clip. You may be able to kiss PluralEyes goodbye now.
Natively, the application can now handle up to 4K resolution-independent playback, non-destructive image stabilization and color balancing, automatic audio cleanup, scalable rendering, and more.
And perhaps most awesome of all is that the new Final Cut Pro X comes unbundled at only $299. Compare that to the current Final Cut Pro version that is available only in a studio bundle with Color, Motion, and Soundtrack Pro for $999. It's not certain right now whether there will be a studio package for the new version, but Apple promises that more information on those other apps will be announced in the coming weeks. Final Cut Pro X is scheduled to be available in June.
[via ArsTechnica]