HTC Sensation: qHD 1.2GHz dual-core flagship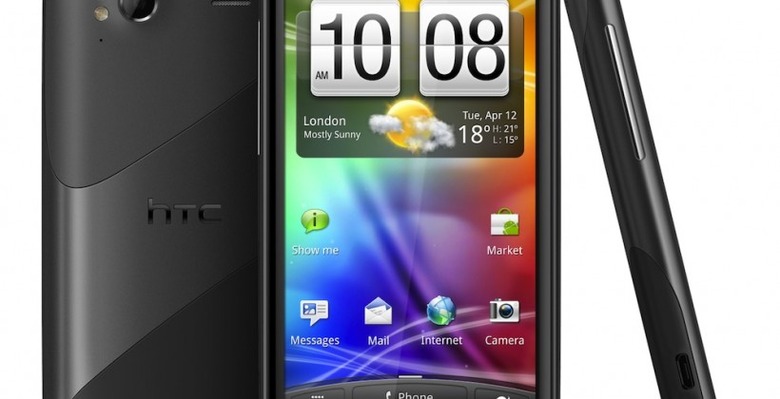 The HTC Sensation has been officially launched – aka the HTC Pyramid – the company's new Android flagship. Running Android 2.3.3 Gingerbread on a dual-core Qualcomm MSM 8260 1.2GHz processor, the Sensation has a Desire HD-matching 4.3-inch S-LCD touchscreen running at qHD 540 x 960 resolution, HSPA/WCDMA connectivity, and an 8-megapixel camera capable of 1080p Full HD video recording with stereo sound.
There's also 1GB of ROM and 768MB of RAM, a microSD slot (with an 8GB card pre-loaded), and  VGA-resolution front-facing camera. Connectivity includes WiFi b/g/n, Bluetooth 3.0, a 3.5mm headphone jack, and a microUSB port with MHL support for HDMI output (with the appropriate dongle).
The HTC Sensation measures in at 126.1 x 65.4 x 11.3 mm and weighs 148g with the standard 1,520 mAh battery, and follows HTC's unibody aluminum design language with a three-tone rear panel (either graduated grays or a subdued trio of purples). A sheet of toughened Gorilla Glass protects the touchscreen. There's also GPS/AGPS, a dual-LED flash on the back and the usual gyro, G-sensor, digital compass, proximity sensor and ambient light sensor.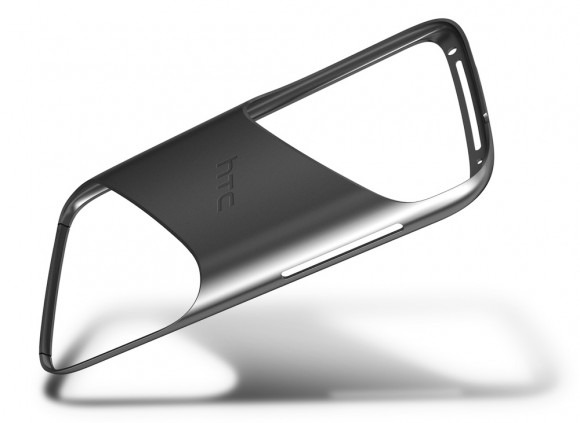 Like the HTC Flyer, the Sensation will come preloaded with HTC Watch, the company's movie and TV show rental/purchase system. Over 600 titles are expected at launch, including recent big-name movies, with UK pricing expected to be around £0.99 per rental or £1.99 for purchase. Trailers begin playing immediately, over 3G or WiFi, while purchases/rentals can only be downloaded over WiFi and, thanks to some smart buffering, begin playing after around 10 seconds.
Once bought, content is available in an online digital locker, and can be accessed on up to five HTC devices (though not other platforms; you can't access movies on your PC, for instance); users will be able to add/remove one device per 30 day period. HTC will offer carrier-billing with certain carriers and credit-card payments for everyone else. The Sensation offers SRS WOW audio, or video can be played back via the HDMI output.
With the HTC Sensation, the company introduces a new version of HTC Sense, borrowing some of the cues from the Flyer tablet. There's a new homescreen with a 3D carousel layout supporting endless scrolling, as well as a redesigned lock-screen that is designed to act as a "real-time window" to important information. Instead of the basic lock-slider from previous Sense devices, there's a new "launcher ring" to which user-assigned app icons on the lockscreen can be dragged; that instantly unlocks the phone and opens the app. Icons like Mail or Messages can show how many new email or SMS are present.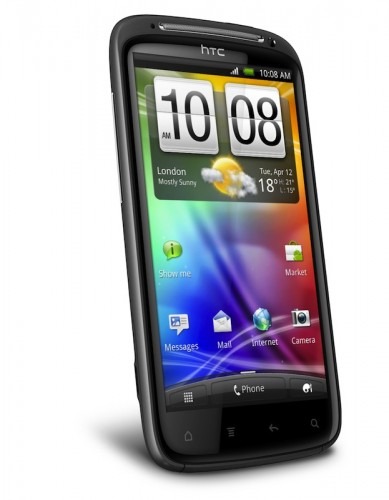 Multiple lockscreens are on offer, from a basic weather view through stocks and shares, a gallery pulling new images from Flickr, a 3D clock, and Friend Stream social networking updates. Dragging one of those updates or images to the launcher ring automatically opens it in the default app. HTC has also tweaked the camera app so as to reduce the delay in loading it and taking shots; while the Sensation lacks a dedicated camera shortcut key – which HTC says is to preserve the phone's sleek lines – the "instant capture" feature did seem faster to grab a shot than on previous devices. There's also touch-focus and stereo audio recording in video, along with basic on-device video editing; during calls, the microphone array is used for active noise cancellation.
The HTC Sensation will see a global launch rather than just European availability. In Europe it will initially arrive – in May or June 2011 – on Vodafone before spreading to other carriers. In the US it will be offered as the HTC Sensation 4G on T-Mobile USA, complete with HSPA+ connectivity. The Sensation will also go on sale in Asia (carriers tbc). No word on pricing at this stage, but expect something in excess of the Desire HD.
We'll have hands-on photos and video with the HTC Sensation very soon!
Press Release:
HTC UNVEILS MULTIMEDIA SUPERPHONE, THE HTC SENSATION™

HTC continues to introduce advanced entertainment capabilities with the introduction of HTC Watch on the HTC Sensation

LONDON – April 12, 2011 – HTC Corporation, a global leader in mobile innovation and design, today introduced the HTC Sensation, a smartphone that shines a spotlight on entertainment with HTC's new HTC Watch™ video service. Crafted with premium design elements, the HTC Sensation features the company's latest HTC Sense™ experience that puts people at the center by making their smartphones work in a more simple and natural way.

"Smartphones have evolved into pocket-sized entertainment centers that enable people to take their favorite content with them wherever they go," said Peter Chou, CEO of HTC Corporation. "The HTC Sensation takes this even further by combining the great new HTC Watch entertainment experience with the latest HTC Sense experience to deliver a powerful, evolved multimedia smartphone to our customers."

"The HTC Sensation integrates multimedia content with relevant, thoughtful features, bringing an exciting new dimension to Vodafone's smartphone range. The HTC Sensation will be available first in key Vodafone markets from Q2," said Patrick Chomet, Vodafone's Group Terminals Director. "The strength of Vodafone and HTC's partnership is a marker of our commitment to offer our customers truly compelling and market-leading mobile experiences."

Premium Design and Materials

Tapping into HTC's trademark design language, the HTC Sensation's premium look and feel is enhanced by its rounded edges, aluminum unibody construction and the touch screen surface is protected by a contoured screen that feels more natural as a finger is glided across it. The 4.3-inch qHD display delivers high-resolution widescreen viewing and gives the HTC Sensation slender proportions that feel natural in a person's hand. At the heart of the HTC Sensation beats a powerful, 1.2-gigahertz dual-core Qualcomm® Snapdragon™ processor, which enables gorgeous graphics and all-around fast performance.

HTC Sense

Complementing the HTC Sensation's premium design is the latest HTC Sense experience that boasts a host of new features and enhancements, helping people to have more fun and get more done. For instance, HTC Sense introduces a customizable active lockscreen experience that transforms the lockscreen into a real-time window to the most important information and content, such as social updates, photos, weather or stock updates that are viewed by simply turning on the display. In addition, the new active lockscreen becomes a customizable gateway that lets people quickly jump to the most used features, like making a phone call, sending an email, taking a picture or anything else with the same quick gesture usually used to unlock the phone. For instance, the camera can be launched right from the lock screen with a single motion, saving precious seconds when you're trying to capture the action. Sharper graphics, vibrant animations and new widgets make HTC Sense look better than ever and, by continuing to focus on all of the aspects, both large and small, that make HTC Sense special, HTC introduces a more cinematic and immersive weather experience with stunning imagery and audible weather effects.

HTC Sense also makes it easy to have fun by enabling people to capture and share special moments. The HTC Sensation's 8-megapixel camera doesn't just shoot gorgeous photos but, with the new instant capture feature, lets people capture the moments they want without worrying about missing or keeping up with the action. The HTC Sensation also shoots full HD video in 1080p resolution, with full stereo sound, at up to 30 frames a second, giving you smooth video that is better than many other phones. With the new Video Trimmer tool, people can crop their clips to the perfect size for easy sharing with friends and family.

HTC Watch

The HTC Sensation is a smartphone that is built from the ground up for a sophisticated, evolved multimedia experience. The 4.3" widescreen display means that users can watch movies like they were meant to be seen – in their full cinematic glory, with no cropping or letterboxing. The HTC Sensation is also the first smartphone to feature HTC Watch – an application and service that puts an entire library of the latest, premium movies and TV shows right at your fingertips, letting people discover the latest video content in an easy and visually engaging way. HTC Watch uses progressive download technology that makes it possible to watch videos without waiting for a huge file to finish downloading. HTC Watch offers the choice of renting or buying videos, and if purchased, lets you watch them on up to five different HTC devices.

Availability

The HTC Sensation will be broadly available through Vodafone across major European markets. It will also be available in Asian markets in Q2 2011.