Tesla's "solid metal snake" robo-charger is terrifying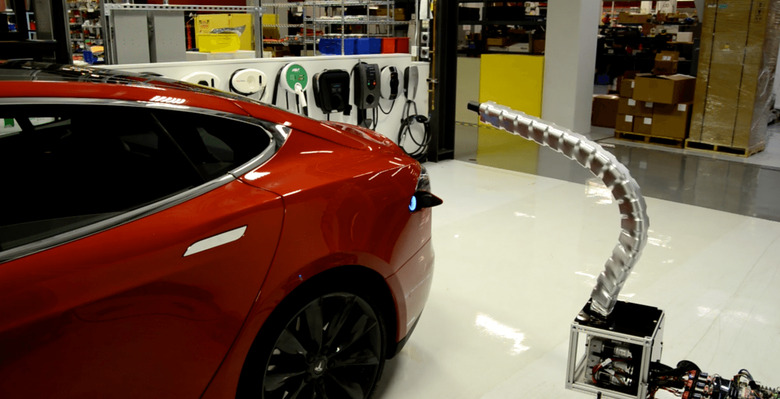 Elon Musk promised us a "solid metal snake" to automatically plug in your Tesla, and the outspoken engineer hasn't failed to deliver. A brief video of the sinuously wavering auto-charger was revealed today, showing the prototype robot coiling down and jabbing into the waiting charging port of a red Tesla Model S. According to Musk's previous promises, the charger is designed to work not only with the current Model S, but upcoming cars like the Model X and Model 3.
Tesla's goal is to remove one of the lingering frustrations from electric car ownership: plugging it in when you get home, or indeed walking back to the garage in the morning only to discover you forgot to do that and the battery is flat.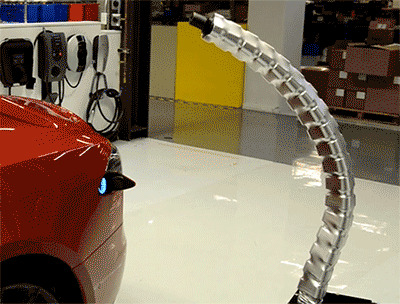 Of course, a physically moving charger is a somewhat complicated way of giving EV owners relief from having to plug in themselves. Other plug-in electric and hybrid car manufacturers are experimenting with wireless charging as an alternative, for instance.
Qualcomm has been working on its Halo wireless charging tech for several years now, and it's already being used in Formula-E racing.
Meanwhile, BMW and Mercedes-Benz partnered up a year ago to develop their own wireless charging platform, which may – with Qualcomm more recently inking a deal with Qualcomm – end up being built on Halo too.
Whether Musk's snake will graduate from lab to public garages or – like the battery-swap idea Tesla trialled but then effectively sidelined – will end up just an engineering aside remains to be seen.
Charger prototype finding its way to Model S. https://t.co/L9E4MR642G

— Tesla Motors (@TeslaMotors) August 6, 2015
SOURCE Twitter