Microsoft has revealed their Surface Pro 3, "the tablet that can replace your laptop." Making very clear that they intended this machine to be covered within and around that statement, Microsoft has presented a machine that's made for work – and yet there seems to be a bit more to the story right off the bat.
Surface Pro 3 hands-on
To make doubly clear the idea that they want this device in consumer hands as fast as possible, Microsoft literally handed out a Surface Pro 3 to everyone eligible at the Surface Pro 3 event today in New York City. This included SlashGear, so we've got a full-fledged hands-on experience ready for you this afternoon.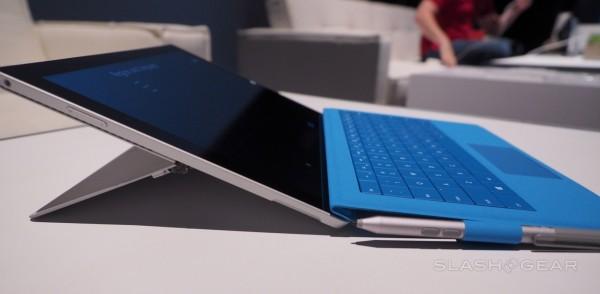 This device works with a 12-inch display, an Intel i-core processor inside, and a newly-applied keyboard. The Surface Pen works in a variety of new ways, and the entire tablet is lighter than its predecessors, despite having a larger display.
While you'll want to grab the shortened version of the whole experience below, our Surface Pro 3 hands-on experience feature should give you as much detail as you could ever desire before our full review.
Type Cover, 4K Dock
The two major accessories for this tablet – besides the Pen, are the Surface Pro 3 Type Cover and the 4K Dock. Instead of releasing a set of covers with or without keyboards in them, Microsoft here suggests that there can be only one. This keyboard cover attaches upwards, rather than below the tablet, and makes for a much nicer typing-on-lap experience than previous models.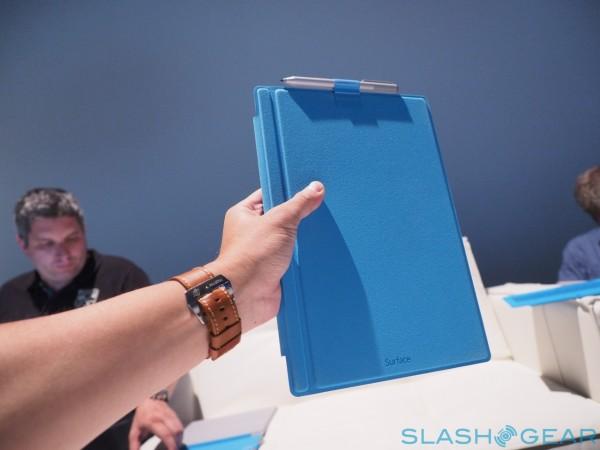 The 4K Dock is similar to previous Pro releases, this time ready for action with 4K displays. Imagine taking your tablet out of your backpack, placing it in a dock and activating a picture sharp enough to make use of a full-powered 4K display. That's hot.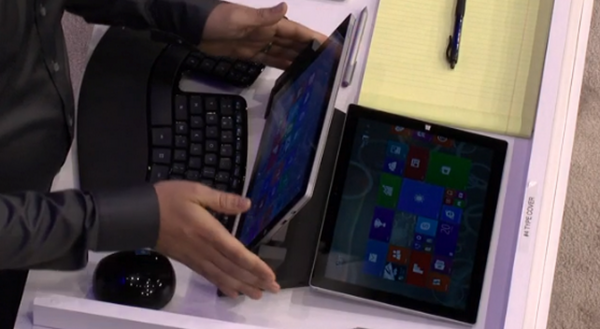 The Surface Pro 3 also works with a built-in hinge which makes for a much more versatile experience than in the past. With 150-degrees of possible angles, you're not just relying on flat or halfways-sideways anymore.
Surface Pro 3 Pen
If you're going to pick up a Surface Pro 3, it would seem almost imperative that you also get the Surface Pro 3 pen. This device works with the "lowest latency in the industry" and offers a couple of killer click features to make this writing experience second to none.
Where competitors focus on the accuracy of the pen, here Microsoft focuses on the bottom line: taking notes. Clicking the pen can turn your device on and launch OneNote to take a note in seconds.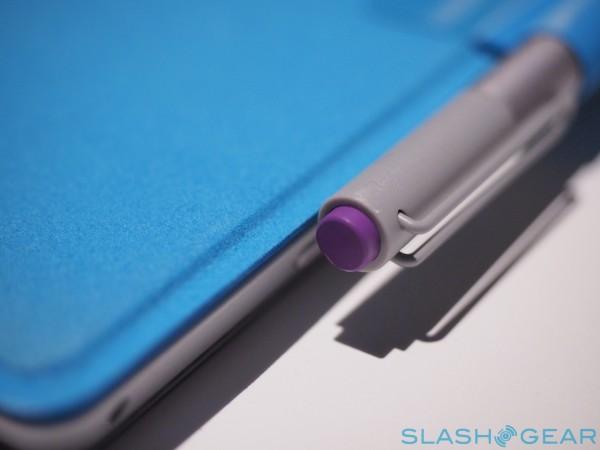 Clicking the Pen three times – instead of just two – saves the note you took to the cloud with OneDrive, allowing you then to access said note on any Windows device. This includes Windows 8, Windows RT, and Windows Phone 8, of course.
Up against MacBook Air
Microsoft brought out some of the big guns with their own Office suite of apps and Adobe – showing off a never-before-seen version of Photoshop. This Photoshop optimized for touch was just one of several differentiators making the case for the Surface Pro 3 up against the MacBook Air.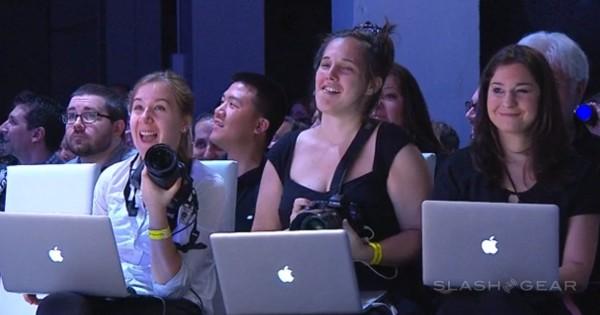 Above you'll see an image of part of the Surface Pro 3 event video livestream shared with the public by Microsoft. You'll see three reporters sitting in the front row of the event working with MacBook Air notebooks – not an uncommon sight at events such as these.
A sizable point was made by Corporate vice president of Surface Computing at Microsoft Panos Panay today about the current state of tablets. Suggesting that there was a "conflict" in using both a notebook and a tablet – or having both in a single backpack – Panay made clear that Microsoft was going to "take that conflict away."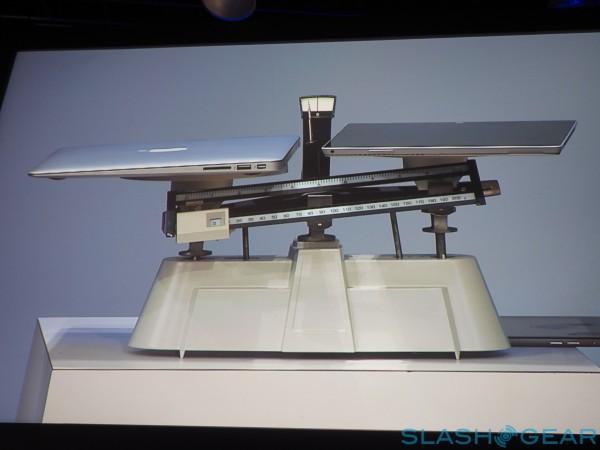 He went on to pull out the Surface Pro 3, weighing it up – figuratively and literally – against a similarly-sized MacBook Air. Have a peek at our guide Surface Pro 3 wages war with MacBook Air for more details up close and personal.
Surface Pro 3 pricing and release information
There are several new sizes and flavors of the Surface Pro 3. This includes the most base version of the device with a $799 USD price point, this coming with an Intel Core i3 processor, 64GB of internal storage, and 4GB of RAM.
The base model for the Core i5 Surface Pro 3 cost you $999 with 128GB of internal storage and 4GB RAM. For $1,299 you'll get 2x the internal storage at 256GB, and 8GB of RAM.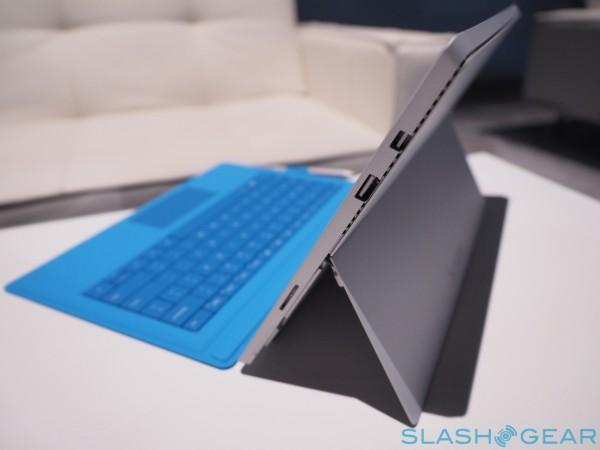 Surface Pro 3's Core i7 model will come in two iterations. The base version starts at $1,549 for 256GB of internal storage and 8GB RAM. The more expensive model will bring on 512GB solid-state storage and 8GB RAM for $1,949 USD.
The Surface Pro Type Cover will cost you $129.99, Docking Station $199.99, and Surface Pen $49.99 USD. You can pick up an additional pen-loop for $4.99, an Ethernet Adapter for $39.99 USD, and an extra 36W power supply for $79.99 USD.
The entire lot will start shipping on June 20th, while you can begin ordering the device starting today.
No Surface mini?
Surprise! While Microsoft CEO Satya Nadella did show up, the connected rumor – that he'd show off the Surface mini – did not come to fruition. Because of this, we've hypothesized that Windows RT may be dead, or at least on its way out.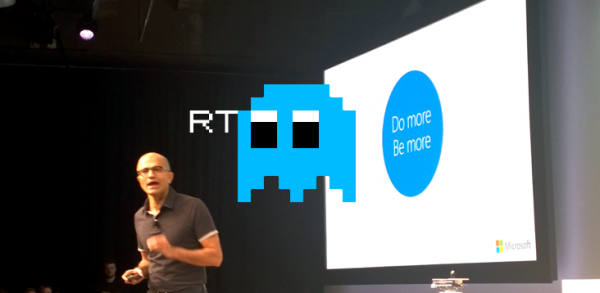 Instead of pushing multiple versions of Windows to the public, Microsoft may instead be headed toward a universe where you get the same OS, regardless of display size. Think about that one when you open the same document on your Windows 8, Windows RT, and Windows Phone 8.1 device in the near future.