Sonos Beam Review: AirPlay 2, Alexa, And TV Harmony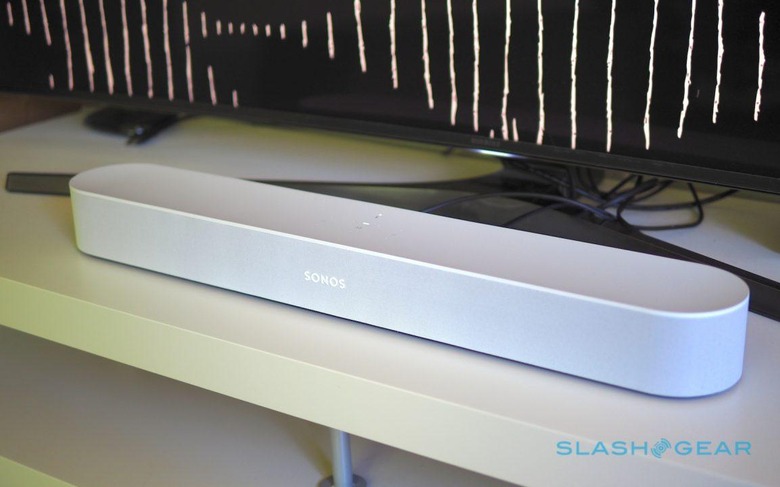 EDITORS' RATING: 8/10
We may receive a commission on purchases made from links.
Sonos' vision of entertainment has always been more open house than invite-only, and with Amazon Alexa, Apple AirPlay 2, and the Google Assistant on the horizon, the new Sonos Beam epitomizes that ethos more than ever. The $399 speakerbar isn't just a more affordable version of the company's Playbar and Playbase models, but the smart guts of the Sonos One packed into a louder, TV-friendly enclosure. Question is, does the Beam's house party go without a hitch, or are all these assistants bad neighbors?
Just shy of 26-inches long, the Beam is fairly short for a soundbar. Sonos wraps it in either black or white fabric and, while it's designed to sit surreptitiously at the foot of your TV, there's a $59 wall mount if you'd prefer. Several third-party mounts are already available too, that can sling the speaker under kitchen cabinets or elsewhere.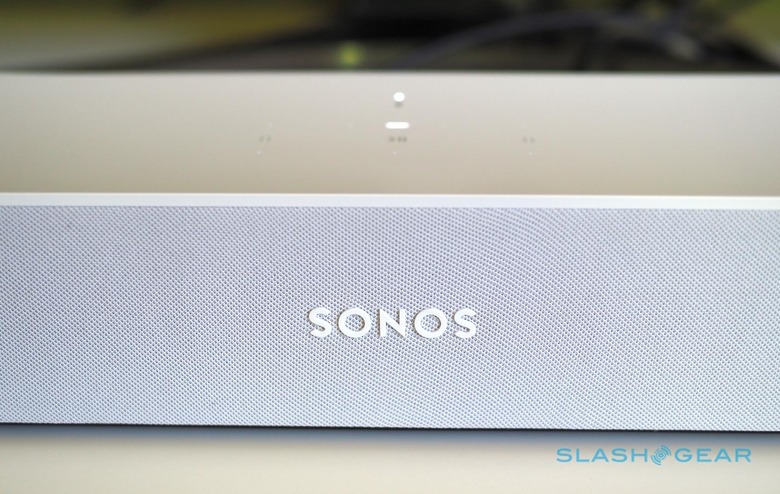 Setup and Installation
As with other Sonos products, ports are minimal. There's power, ethernet, and HDMI on the back, plus WiFi b/g (2.4GHz) and Bluetooth LE. It's worth noting that, though the Beam supports 5GHz WiFi that's only to communicate with rear surround speakers and a Sonos Sub, not your router. The Bluetooth, meanwhile, is only used during setup; you can't pair the Beam to your phone, for example, and use it as a Bluetooth speaker.
Like the Playbar and Playbase, setup is a straightforward affair. First you get the Beam on your Sonos network, using the smartphone app and pressing the button on the back of the speaker when requested. Then comes linking it to the TV.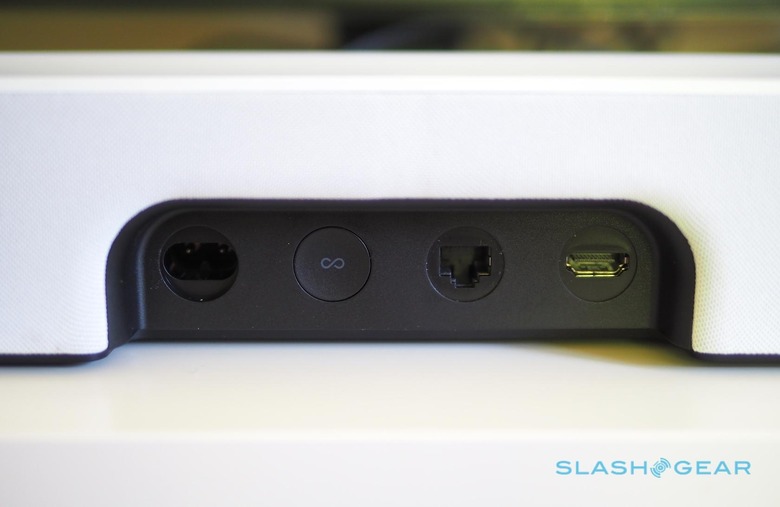 The ideal situation is to use the included HDMI cable with an HDMI ARC port on your TV. Most recent TVs have one HDMI port labeled "Audio Return Channel": when hooked up to that, any audio is routed through the Sonos rather than from the TV's own speakers. It also allows the Beam volume to be adjusted by the TV's remote control, courtesy of HDMI CEC. Of course, it does demand that you sacrifice an HDMI port to the Beam, which might be problematic depending on what else you have hooked up to your TV.
In theory it's close to plug-and-play, with the app walking you through switching the TV's settings over to using the external speaker. I had a little trouble initially with a Samsung TV, getting the HDMI ARC to recognize the audio output, but figured it out eventually; I suspect it's more of an issue with the TV than the Sonos. A Vizio TV I tried worked from the get-go, with no problems at all.
If you don't have an HDMI ARC port, Sonos includes an optical audio adapter in the box. You'll need to supply your own cable, but it does mean you can still pipe sound from the TV to the speaker. All the same, that does mean you miss out on the Beam's smarter features.
Alexa, entertain me
Like the Sonos One, the Beam is a smart speaker. Sonos' big plan is to support as many assistant technologies as it can, though right now there's only Amazon's Alexa. The company tells me it's actively working on Google Assistant integration, and still hopes to have that ready sometime this year.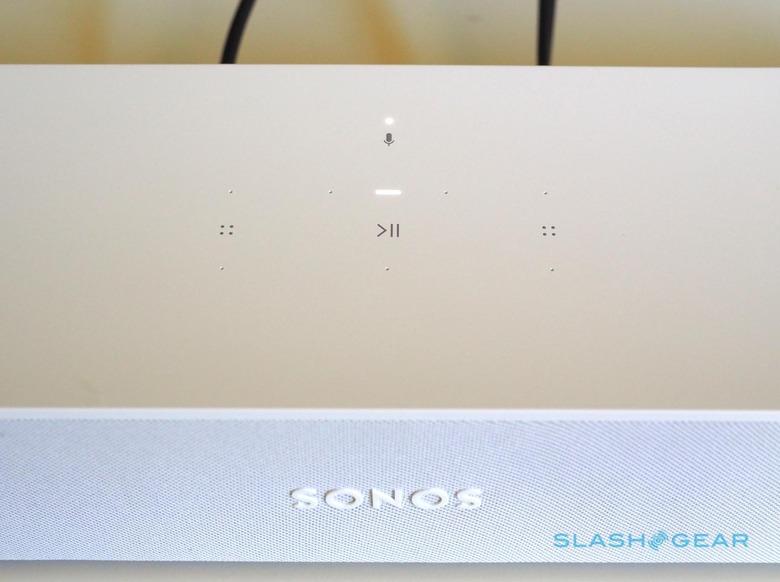 I had no issues getting Alexa to hear me, even over the sound of the TV audio. There's a five microphone array on the top panel, using beam-forming to pinpoint your voice across the room. You can trigger Amazon's AI with the Alexa wake word, or press the microphone button; a mute button stops Alexa from listening. As with the Sonos One, there are also volume and play/pause controls, which you can also swipe to skip forward and backward through playlists.
The Beam will do pretty much anything an Amazon Echo smart speaker will do. You can ask trivia questions or set timers, get weather reports and ask for music, and control smart home equipment like connected lights and thermostats. However unlike the most recent Fire TV Cube, the Beam doesn't have video streaming built-in.
Alexa can turn the TV on and off by voice, as well as control volume and mute. If you have a Fire TV plugged in too, you can pair that and use Alexa to play shows and movies, as well as open apps.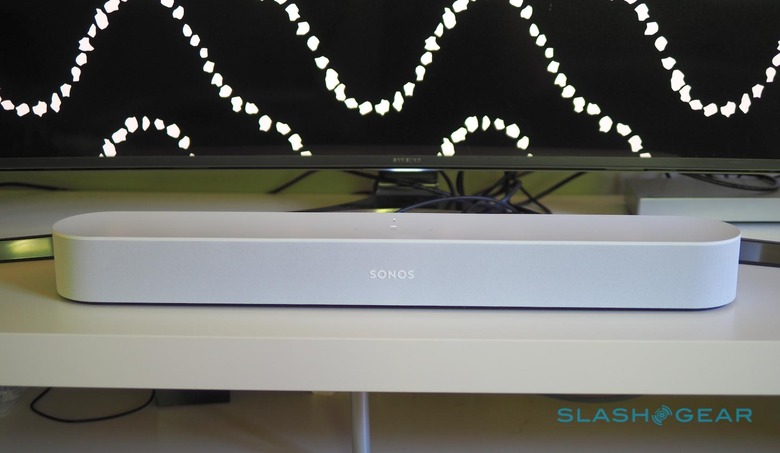 It's not quite as elegant as the Fire TV Cube, with its custom interface intended to be entirely voice controlled. Indeed, Sonos tells me, it doesn't see Alexa on the Beam as a complete remote control replacement yet, more of a transition product. There are also a couple of obvious omissions in Sonos' own Alexa skill.
You can't turn on Voice Enhance mode, which makes vocals more easily heard while tamping down the rest of the audio, or Night Mode, which softens the more aggressive bass in TV shows and movies, by voice yet, for instance. They're still controlled in the iOS and Android apps. Sonos tells me it's actively looking at adding that functionality, however.
Siri, play nicely with your new friends
Apple has traditionally been fairly standoffish when it came to third-party speakers. The Beam, though, arrives alongside AirPlay 2 and that means much broader compatibility with your iOS devices, including the ability to control playback with Siri.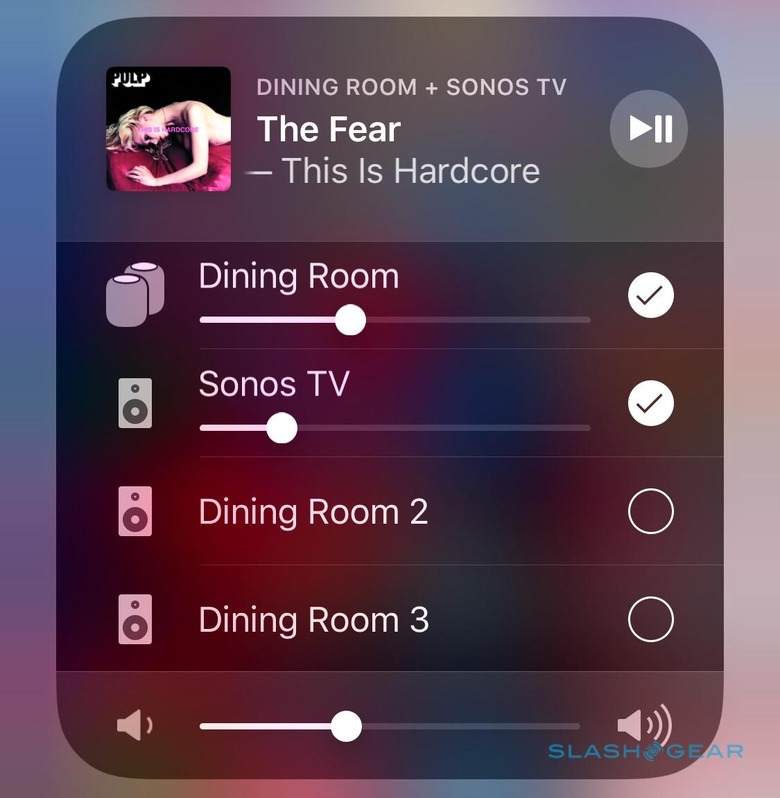 Although only the Sonos One, Play:5, Beam, and Playbase natively support AirPlay 2, there's a workaround to get it working with the company's older models. As long as they're grouped with one of those four speakers, old Sonos hardware will be able to handle AirPlay 2 streams too. Then, your Sonos speakers show up in the AirPlay menu in whatever audio app you're using on your iPhone or iPad.
If you want to do it completely by voice, you have to add the Sonos speakers in the Apple Home app. That allows Siri to recognize them by room and name, and you to request playback by artist, track, album, or genre. It's worth noting that, unlike with Apple's own HomePod, the Beam doesn't have native Siri support: you'll still need an iOS device. Like a HomePod, meanwhile, for the moment you can only use Siri to access Apple Music on your Sonos speakers, not Spotify or other third-party services.
What's particularly impressive is that, even though you're streaming from an iOS device over AirPlay 2, you can still use Alexa on the Beam to control the playback. After asking Siri on my iPhone to play Apple Music through the Beam, I could then say "Alexa, skip the track" and other basic navigation commands, and have the Sonos handle that rather than pulling out my phone or speaking to Siri again.
Small box, surprisingly big sound
Having used both the Playbar and Playbase, I did wonder if the larger, more expensive speakers would've spoiled me for the Beam's sound. Certainly, with its roughly 60-percent smaller design, there has been less room for drivers. Inside you get four full-range woofers and a single tweeter – each with a Class-D digital amp – and three passive radiators. Half of the woofers face forward; the remainder point left and right, to widen the sound-stage.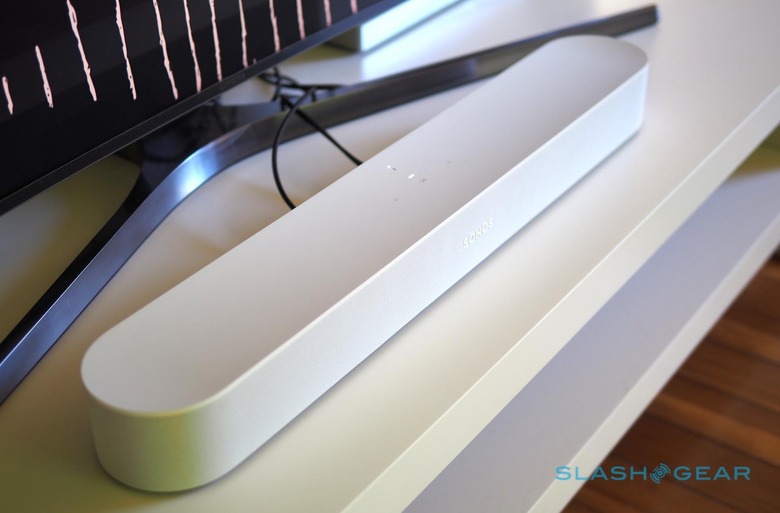 In practice, while you can clearly notice the difference between the Beam and the bigger speakerbars, Sonos' smallest still deserves praise. In a medium-sized living room it proved more than sufficient at its middle volume setting, with a surprising degree of stereo separation despite the relatively short length. Dialog is clear, so much so in comparison to the TV's own speakers that Voice Enhance mode felt like overkill. Something this size really shouldn't sound this voluminous.
Trueplay tuning helps even more. Sonos' room-accommodating, EQ-adjusting system still requires you to walk around for about a minute, waving your smartphone around, and it still demands an iOS device rather than Android. Given how Apple's HomePod automatically adjusts itself with no demands made on the listener, Trueplay seems awkward in comparison. All the same, it does improve the sound quality, and the Beam actually tunes things in twice, once from the sofa to make sure TV and movie sound is aimed just right, and then a second time for music and the room in general.
The Beam inherits its bigger siblings talents for creating a wireless surround sound system. You can link a pair of speakers – I used two Play:1 but you could use Sonos One or other speakers from the company, just as long as they're both the same model – for the rear surround, along with a Sonos Sub for more bass. That full configuration would get expensive, mind, mainly for the low-end: at $699, the Sub is almost twice the price of the Beam.
Sonos, I'm told, doesn't expect many to go for that full 5.1 system. A couple of rear surround speakers, though, it believes are much more likely candidates. There's even a bundle – a Beam and two Sonos One's – for $649, handily still undercutting a single Playbar or Playbase.
A less welcome hand-me-down is the Beam's audio support. Sonos still only handles PCM stereo, Dolby Digital, and Dolby Digital 5.1: there's no DTS and no Dolby Atmos. I suspect the target audience here won't mind that too much, and indeed they may be more swayed that you can stream TV audio to other Sonos speakers in the house, but it's still a fairly bitter pill given we're seeing more affordable DTS and Atmos options now.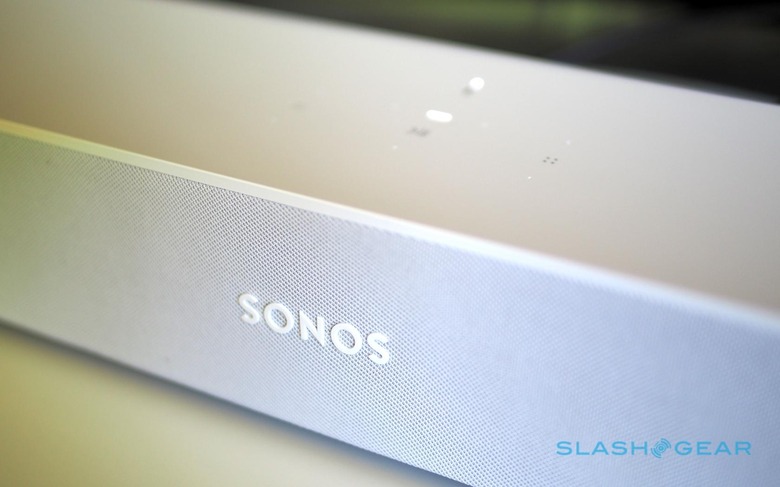 Sonos keeps user-customizable sound settings to a minimum. You can tweak the Beam's bass and treble, turn the Loudness on or off, and adjust the lip sync if the audio isn't quite lining up with what's on-screen. What the speaker doesn't have is a specific music mode: it uses the same profile for both music and home theater duties.
It can leave music with less stereo separation than you'd get with, say, a pair of Sonos One linked in stereo mode, though it's still more than enough for everyday listening. The Beam's bass shortfall seemed less of a drawback, too, for music compared to thumping movie soundtracks. I notched the treble up a little, since by default the Beam leans on the dialog-friendly midrange. Unfortunately there's no way to have the speaker automatically switch between two EQ settings depending on whether it's in TV mode or playing music.
You can also find your TV watching is interrupted, should someone decide to join the Beam with a Sonos speaker group. It'll come back when you press the volume key – just like it switches into TV mode when you turn the TV on – but Sonos tells me it's also working on an Alexa command to do the same.
Verdict
Sonos' talent has always been taking something deceptively complicated and making it serenely foolproof. That used to be multi-room music; now, it's getting multiple assistants and streaming platforms to work together without an AI uprising. For the most part, the Sonos Beam succeeds.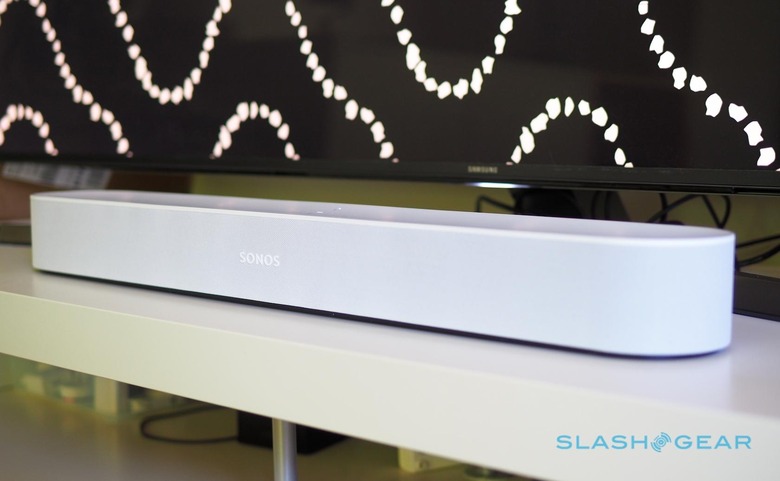 The company's vision of an assistant-agnostic smart speaker rightly pleases anybody averse to locking themselves – and their expensive hardware – into a single ecosystem. Sure, there are, when it comes to more complex things like handling playlists and controlling one service with the voice assistant of another, still hiccups to be found. Yet in everyday use it's markedly simple to just ask Alexa to play something, or beam it over from your iPhone via Siri and AirPlay 2, and get on with the rest of your day.
All of that would be for naught, of course, had the Beam sounded like a length of rebar. Happily that's not the case. While those with bigger rooms or 5.1 surround sound ambitions probably still want to look to the Playbar or Playbase, anybody else who just wants a simple, flexible way to noticeably upgrade from their TV speakers will find this new Sonos fits the bill without breaking the bank. That it does so with more assistant smarts than anything else out there makes the $399 price tag all the more remarkable.
SlashGear uses affiliate links, and sometimes if you buy something we may get a small commission on the sale. This does not affect our editorial content