Sonos One Review: When Alexa is the DJ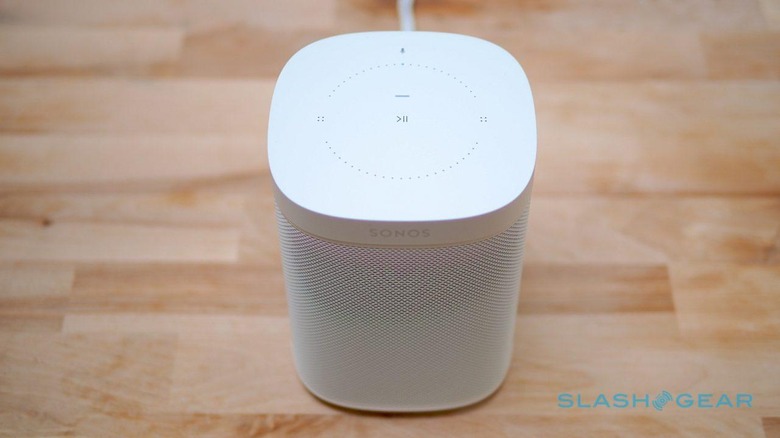 Smart speakers are big business now, and with Amazon's Echo and Google's Home dominating the market, Sonos had a choice: step up or slip behind. The Sonos One shows the connected speaker stalwart chose to play the game, and not just with one virtual assistant but as many as it can. Rather than making its own AI for the Sonos One, the $199 connected speaker aims to be friends with all of them.
Sonos has taken an "assistant agnostic" approach with the Sonos One. Sure, out of the box today it works with Alexa, but down the line the Google Assistant will join Amazon's party. Sonos has already said it's eager to work with other platforms too: if Microsoft wanted to get Cortana running on the Sonos One, for instance, the speaker-maker wouldn't object.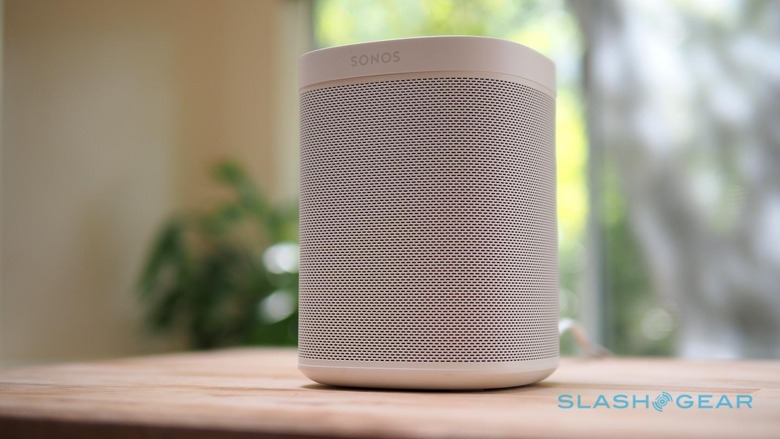 It's a refreshing approach, at a time when your choice of smart speaker can effectively lock you and your family into a platform. An Echo is always going to be Alexa-powered; Google Home will always use the Google Assistant. How successful Sonos will be at its plan depends on how willing third-parties are to work with it, but there's no denying it's a more ambitious and consumer-friendly strategy.
That said, at first glance you could easily mistake the Sonos One for the PLAY:1, though there are a few differences both aesthetic and functional, and Sonos tells me that only the bottom plastic cap and rubber feet are shared. Both are offered in black and white, though the white Sonos One has a matching white mesh rather than the silver of the PLAY:1. On the back, the newer speaker has a network pairing button rather than the speaker stand mounting screw on the older model.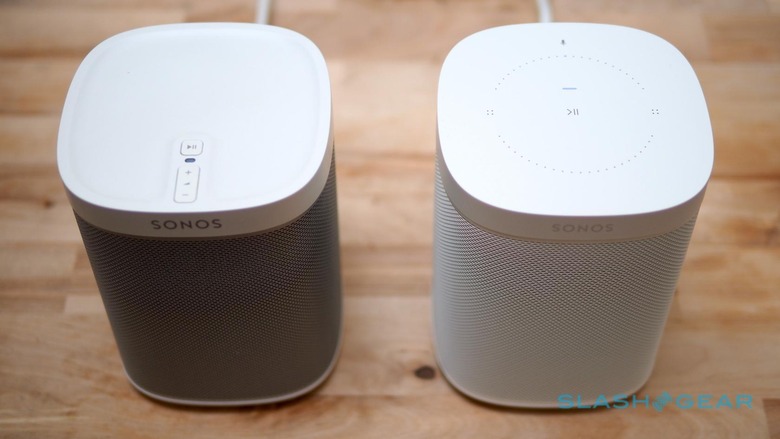 The biggest difference, of course, is the top panel. It's now flat, rather than the dust-gathering concave surface of the PLAY:1, and has some extra controls. The touch-sensitive buttons borrowed from the PLAY:5 mean you can play/pause or adjust volume with a tap, or swipe to change tracks. There's also a microphone button with its own LED, to mute or un-mute the six-mic array.
Privacy is a big deal, no matter the virtual assistant you're relying on, and so Sonos is making a big deal of that particular button. It's hardwired into the microphone array power circuit, the company says, and so if it's off there's no way for sneaky software to re-enable it without you knowing. Of course, you also have to trust in the privacy policy of whatever assistant service you're using – Amazon today, but Google eventually, and more if Sonos has its way – which might give the paranoid pause.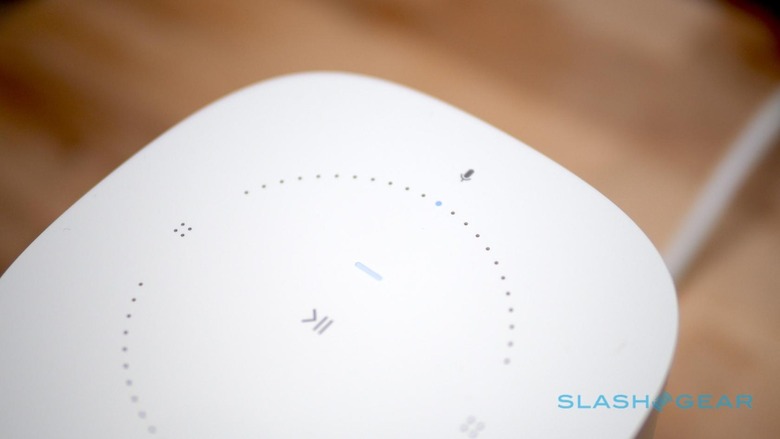 Right now, you can use the Sonos One as you would any other Sonos speaker. Through the Sonos app you can set it up as its own zone or group it with other speakers; if you have two, you can link them as a stereo pair, or as the rear speakers in a surround sound system. Unfortunately you can't pair a Sonos One and an existing PLAY:1 you might have.
Sonos One sounds, unsurprisingly, like a PLAY:1 – that is to say, impressive for its tiny footprint. Two Class-D digital amps power a tweeter and a mid-woofer, with a surprising amount of bass for the form-factor. Sonos' Trueplay tuning makes it even better, though right now if you're using an iPhone 8 or iPhone 8 Plus it won't work; you'll need to dig up an earlier iOS device for now.
Of course, if you use the Sonos One as nothing more than a Sonos speaker you're missing out: the whole point is that you can use voice control, rather than just the Sonos app. There's some setup involved first, mind. After you've configured the speaker in Sonos' app, you then have to link your account with the Sonos "skill" in Amazon's Alexa app. That's also where you log into any third-party music services you might want to use, like Spotify, Pandora, iHeartRadio, and more.
There's a fair amount of bouncing between apps, but you should only have to do it once. After that point, saying "Alexa" will wake up the Sonos One just as it would a regular Echo speaker. Indeed, you can do all the usual things too, like asking questions, getting weather reports, controlling your connected lights and other smart home kit, and setting reminders and alarms.
I suspect music will be most Sonos One buyers' primary interest. Even if you have speaker groups set up in Sonos, you can optionally recreate them in the Alexa app along with other smart home devices like lights and more; after that, you can control the whole group by voice. Oddly, you can't mix Sonos and Echo speakers in the same groupings.
If you don't use Alexa's groupings, the assistant respects whatever room groups you've set up in the Sonos app. Asking for playback by any member of an existing group will begin it through all speakers in that group: I combined the Sonos One and another speaker in my kitchen, and both played what I asked the Alexa speaker for. Usefully the Sonos-specific commands don't need to be made through the Sonos One: whatever Alexa-powered speaker is nearby, whether it's an Echo Dot, an Echo Show, or something else, will give the same results.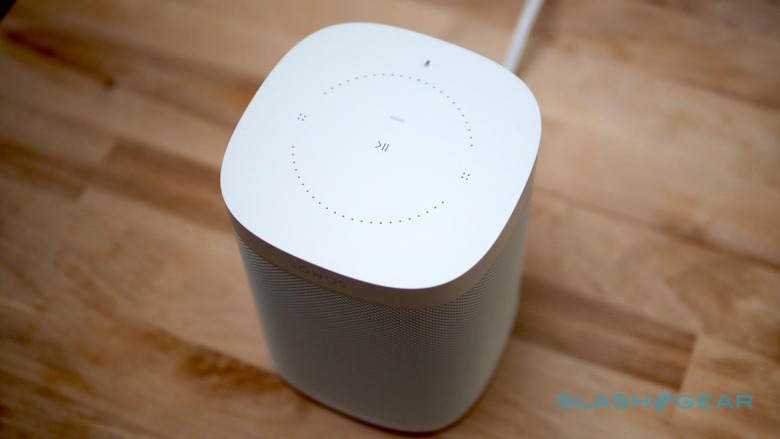 How well that all works depends on what music service you're using, and it turns out not all connected speakers and services are created equal, at least right now. I can ask Alexa for music from Spotify and she'll play it on an Echo speaker; however, if I ask for it to play on a Sonos speaker, or group of Sonos speakers, I get an "I cannot play Spotify on that device" message instead.
Instead, when you ask for a track or album, Alexa on Sonos defaults to Amazon Music. Spotify tells me that full playback control by voice is in the pipeline, but can't give me a timescale on when it might be added; Sonos says "soon after launch." For now, though, while you can play/pause, skip tracks, and control volume by voice on the Sonos One when listening to Spotify music, you have to start it manually through the app.
[Update 11/21/17: Sonos has added Spotify support for requesting playlists, albums, or tracks through Alexa. As such we've removed it from the review "cons"]
If you're an Amazon Music, iHeartRadio, Pandora, SiriusXM, or TuneIn user, you won't have the same issues. You might, though, encounter others.
In theory, you should be able to play existing and create new Pandora stations with Alexa. In practice, after repeatedly saying "Alexa, play Pulp station in Pandora" and getting "Should I add a station for Women in Pop to your Pandora account?" I gave up and asked for something else.
Switching to Amazon Music, I started an Amazon radio station playing on the Sonos One. Alexa gave me a chirpy "Okay!" when I asked her to play it across all the Sonos speakers in the "Kitchen Speaker" group I'd set up in the Alexa app – of which the Sonos One was a member – but the other speakers resumed the Pandora channel they'd been playing last instead. At that point I asked Alexa to just stop all playback, but while the Sonos One stopped, the rest of the Sonos speakers didn't; I had to resort to pausing them in the Sonos app.
My experience wasn't always so glitchy, of course; indeed, those times were the minority. Being able to simply ask for a track, or a radio station, or just music to suit a mood is fairly transformational. Often, I confess, I end up listening to the same playlist on repeat through my Sonos speakers because it's easier just to hit play than go looking for something new. Having Alexa act as DJ meant I started listening to a broader range of music.
The Competition
For a long time, Sonos had the multi-room speaker market to itself. Now, there are increasing numbers of smart speakers that want to edge in on its game.
Most obvious is, ironically, Amazon's own Echo line-up. Though the original full-size Echo was pitched as intended for music, it never got close to the sound of, say, a PLAY:1. That might change if Amazon's promises for the upcoming Echo Plus pan out, though I've not tested it yet.
Similarly, the upcoming Google Home Max is Google's pitch for a smart music speaker. It'll be more expensive than Sonos One – twice the price, in fact – and uses Google's Assistant rather than Alexa. If that's your choice of virtual helper, of course, Sonos is adding it to the Sonos One later down the line.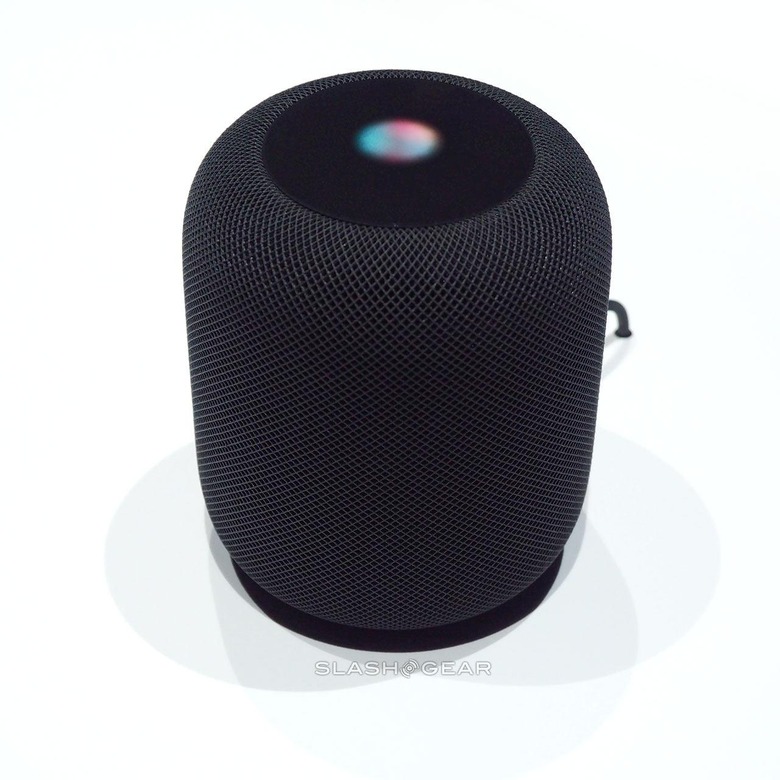 Apple, too, is getting into the segment. Its HomePod is due by the end of the year, and will be $349. Having listened to a prototype, I can say it delivers a more 360-degree sound than Sonos' PLAY:3, which has a more directional sweet-spot for listeners. What remains to be seen is whether Apple's Siri, which powers the HomePod can catch up to Alexa's traction with third-party services and devices.
Meanwhile, if you're an existing Sonos owner and you just want to add Alexa support, you don't need to buy a whole new Sonos One to get it. An Echo Dot is a whole lot more affordable and, though not as cleanly integrated, gives the same functionality. Indeed, for the cost of a single Sonos One, you could add an Echo Dot to four Sonos-equipped rooms.
Wrap-up
Viewed in isolation, the Sonos One is a great little music player. Aesthetically pleasing, it sounds, quite honestly, far better than a $199 speaker has any right to. It slips right into a larger Sonos installation with barely a ripple: ease of use, after all, is why the company's fans still pay a premium for their elegant platform of choice.
Of course, I said all that about the PLAY:1 back in 2013. Getting a single speaker to work with a single music provider is a fairly straightforward challenge. Getting multiple speakers to work with multiple music providers, and different apps, and multiple users who might make different demands from different rooms in the home, is a whole other level of complexity. That's a lot of cooks to account for, when music lovers are expecting a perfect broth.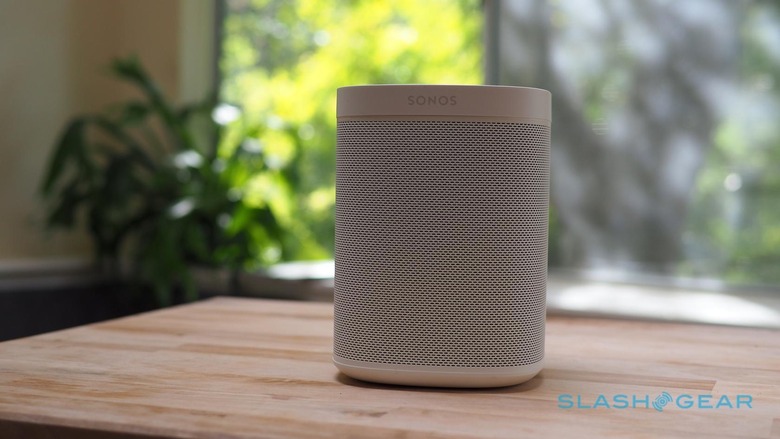 Maybe it's unsurprising, then, that the Sonos One doesn't quite hit all the right notes out of the gate. Setting aside things like absent Spotify support, the misplay between Sonos groupings and Alexa groupings could make more complex smart home setups tricky. Eventually, Amazon tells me, you'll be able to group and ungroup rooms completely by voice, which may address some of the confusion.
As a Sonos user who's also an Alexa user, I like being able to combine the two platforms. As someone who's reluctant to get locked into a single ecosystem, I'm particularly pleased to see Sonos' assistant-agnostic attitude. That alone sets the Sonos One apart from its rivals; factor in great sound quality and a competitive price, and it's clear that Sonos has pushed itself back into contention in this new smart speaker age.