Sonos PLAY:1 Review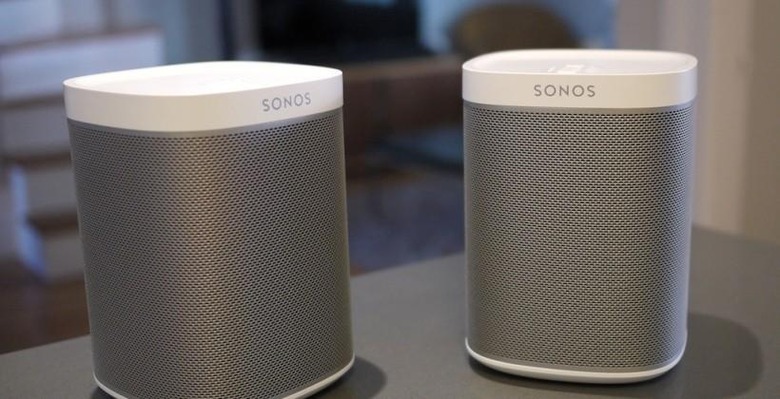 Once upon a time, Sonos was a tough sell. Whole-house streaming audio had its appeal, certainly, but it was also expensive. The wireless audio market has come on strong since the first Sonos all-in-one speaker, the PLAY:5, in 2009 though, and with Apple's AirPlay, not to mention various WiFi and Bluetooth models from rivals, it's time for a new entry-level option, the Sonos PLAY:1. At $199.99 apiece it's Sonos' most affordable speaker yet, billed as not only the ideal accessory for smaller rooms, but well-suited to act as the rear surround pair to the PLAYBAR. Competition is strong, though, so does the PLAY:1 do enough to keep Sonos ahead of the pack? Read on for the full SlashGear review.
Hardware and Design
Like the PLAY:3 and PLAY:5 the new Sonos is a relatively sober, subtle affair. Offered in black or white like its siblings, it's compact at 6.5-inches tall and 4.75-inches square, and feels dense and expensive. Physical controls are typically minimal: three buttons and a status light on top, for volume up/down and play/pause. The latter is a new addition to Sonos speakers – it replaces the dedicated mute button of before – though the latest firmware pushes the same functionality to the existing models. It leaves controlling playback in individual zones far more straightforward, especially since a double-press skips on to the next track in the current playlist.
On the back, there's an ethernet port and a speaker-stand screw, while the power socket is underneath and uses a specially-angled cord supplied in the box. Sonos also includes a flat ethernet cable, though the PLAY:1 doesn't have an aux-in port, as on the PLAY:5, for piping through external sources. That's arguably less important now, though, since Sonos updated its controller apps to play local music stored on your phone or tablet.
Setup takes a few minutes to complete. If you're adding the PLAY:1 to an existing Sonos system, it's a case of plugging it in, choosing "Add New Component" in the controller app, and pressing the play/pause and volume-up buttons simultaneously. You can then start music playing to the speaker directly, or include it in a new or existing group; with two PLAY:1 units in the same room, you can set them as the left and right channels of a stereo pair. It's even possible to use the PLAY:1 in the bathroom. Sonos has sealed the casing, and while the speaker isn't waterproof, it's capable of withstanding high humidity, such as the steam from a shower.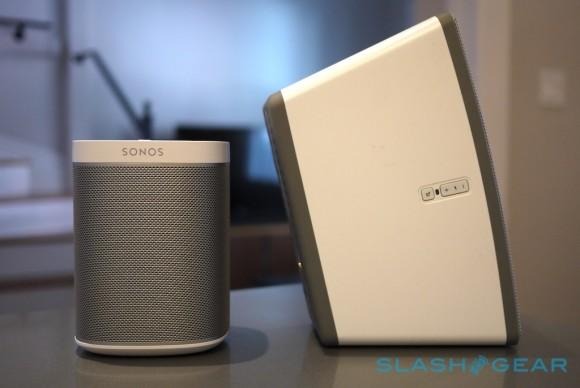 For those new to Sonos, there's a decision to be made. The company uses a proprietary wireless link between the speakers, and so requires bridging with your home router rather than piggy-backing on an existing WiFi network. To do that you can either plug one of the speakers into a spare ethernet port on your router, or you can use a $49 Sonos BRIDGE, to which all the PLAY components then link.
Sonos deprecated its dedicated remote controls some time ago, opting instead for smartphone, tablet, and desktop apps. There are versions for iPhone, iPad, Android, Windows, and OS X, and you can have multiple apps controlling the same speaker network, managing different zones simultaneously, or even communally working on the same zone.
Performance
Behind the finely-machined silver mesh is a custom-designed mid-woofer and tweeter; Sonos doesn't like to talk about specific power output, though does say that there's new processing technology introduced on the PLAY:1 to squeeze more sound out of the speaker than you might expect.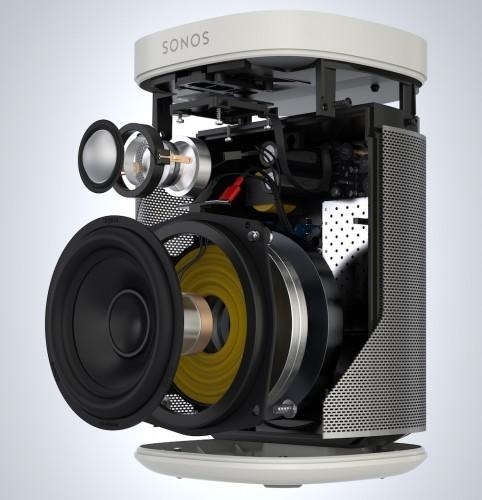 That bears up in practice, too. It's surprising how much power comes out of the PLAY:1, even at lower volume settings, but more impressive perhaps is the range of the sound. It takes side-by-side auditioning with a PLAY:3 and some seriously bass-heavy music to find the PLAY:1's low-end shortcomings. Our fears that it would be all mids and trebles and no bottom end were very much unfounded.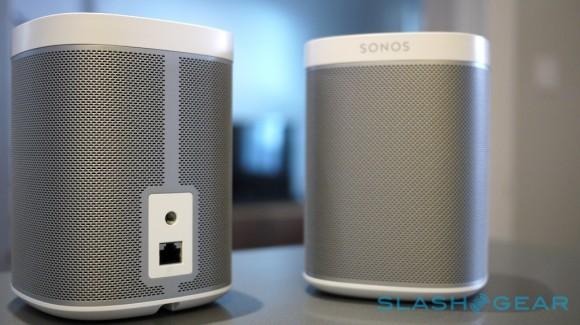 Not to say that the rest of the range disappoints, however. The PLAY:1 handled crunchy, aggressive tracks from The Kills with just as much clarity and musicality as it did more spritely dance music. Amy Winehouse's throaty vocals had their combination of silk and rasp, while some string quartet tracks showed great balance for the most part, some weakness in the pluck of the cellos perhaps our only criticism.
Things get even better when you pair a couple of PLAY:1 units together into a stereo pair. Then, they're more than a match for Sonos' larger models in standalone mode, with a soundstage and power that belies their compact construction. Finally, we hooked up two PLAY:1 units as the rear surround channels with Sonos' PLAYBAR, when their combination of size and power made them perfect foils for the excellent soundbar: capable without overwhelming the front channels.
Unfortunately, one of the rumored enhancements the PLAY:1 was tipped to bring, an integrated battery, hasn't in fact been included. We'd hoped the new speaker would be portable for impromptu use in the garden or when moved between rooms, but in fact you'll still need a power connection nearby.
Value
With the arrival of the PLAY:1, the cost of entry to Sonos is even lower. A two-zone setup is now under $400, versus the $600 it was before; factor in another $49 for the BRIDGE if your router isn't nearby one of the speakers, though Sonos is running a holiday promotion where you get the BRIDGE free if you buy a PLAY:1.
The new model also makes turning a PLAYBAR into a surround sound system slightly more realistic. Previously, that meant a not inconsiderable $1,300 – $699 for the PLAYBAR itself, and then two PLAY:3 units at $299 apiece – and though the PLAY:1 can't yet bring that down to under the thousand dollar mark, it nonetheless feels a more appropriate pairing for satellite speaker purposes.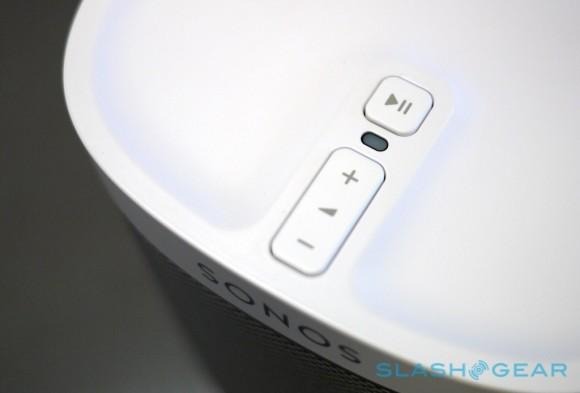 Apple users might wish to look to the company's own AirPlay system for an alternative approach. AirPlay – which supports both audio and video streaming, from iOS, OS X, and Windows devices – can stream to multiple third-party speakers from iTunes on a Mac or PC, though iOS devices can currently only stream to one zone at a time. Apple doesn't make the AirPlay speakers itself: the most obvious comparison to the PLAY:1 is probably iHome's iW3, which looks much like the Sonos but also includes a rechargeable battery and works as a USB dock for iOS devices.
Wrap-Up
For existing Sonos users, the PLAY:1 is a no-brainer. Affordable enough to slot easily into an existing zone that needs a little extra oomph, and yet capable enough to keep up the company's reputation for audiophile-friendly quality, it's equally at home setting up new zones in rooms that might once have not quite warranted a full PLAY:3, like guest bedrooms or hallways. It's also the ideal foil for the PLAYBAR; dedicating a couple of PLAY:3 units solely as rear surround speakers always felt a little over-luxurious to us.
As an entry-level step into Sonos ownership, the PLAY:1 also makes a lot of sense. The combination of super-straightforward setup and great audio quality continues to single Sonos out, as does the range of integration with both local and streaming audio sources. It truly passes the "technologically-uninterested spouse" test, something few gadgets actually manage.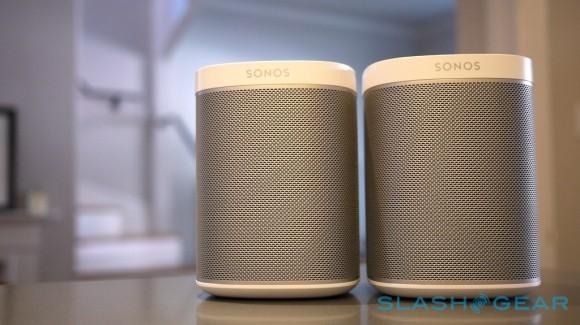 It's not perfect, however. Rival wireless speakers that include battery support for the same price highlight the hole on the PLAY:1's spec-sheet. Exactly how many people would actually tote their Sonos around is questionable, but the $200 point is a competitive one and every advantage helps.
Even with a battery missing, though, we'd still lean toward Sonos for a whole-home audio system. The PLAY:1's simplicity, performance, and blend-into-the-background convenience epitomizes why: the tech drops out of the way and leaves you to enjoy the music, even if you're not gadget-minded. A $199.99 speaker is arguably worth much more when it prompts zero headaches in setup and use, and it means the Sonos PLAY:1 comes recommended.