Smartbook trademark oddness rears its head again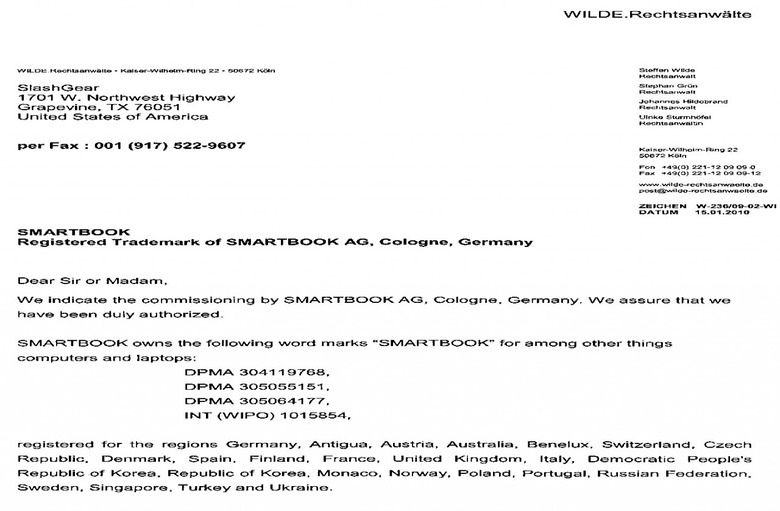 It's not too often the SlashGear fax machine creaks into life and starts churning through the thermal paper*, so imagine our delight when lawyers Wilde Rechtsanwalte got in touch earlier today.  Apparently they're the legal beavers of choice of Smartbook AG, the German firm who you may remember from November 2009's legal kerfuffle over the smartbook trademark; they wanted to point out to us that their client still holds the term in most of Western Europe, Australia, Singapore, South Korea and elsewhere.
We can only assume that, what with smartbooks being a common sight at CES 2010 last week and us making liberal mention of models from Lenovo, Mobinnova, HP, Freescale and others, they felt it important to remind us of what legal manoeuvrings are going on across the Atlantic.  In case you've forgotten, lawyerly wavings in Germany and elsewhere saw several ultraportable device sites in Europe redact any mention of smartbooks, lest they get dragged across the courtroom coals.
Unfortunately we're left guessing as to why exactly they got in touch, as so far all we've received is that first page you can see above.  Wilde Rechtsanwalte, if you're out there reading this, please do re-send the rest (if indeed there was any); alternatively you can save the cost of an international fax and get in touch the 21st century way.
* Yes, it's actually an online "virtual" fax service, not a real fax machine, but that's not quite so evocative is it.