Mobinnova Beam smartbook hands-on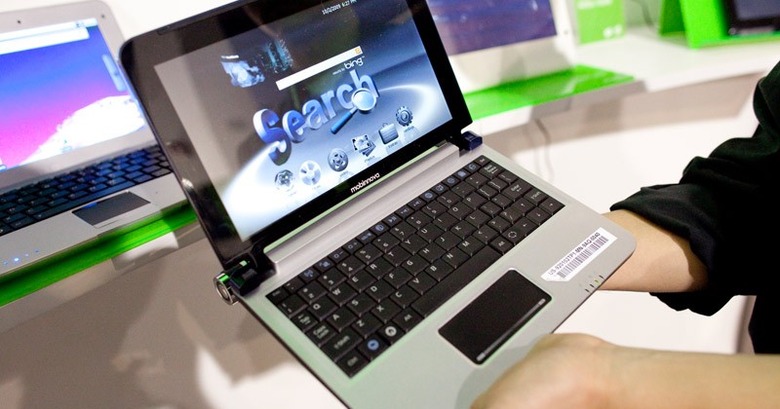 NVIDIA's Tegra 2 isn't just to be found in HD-capable mediaplayers; it's also going to spearhead the company's push into the smartbook segment.  The Mobinnova Beam was perhaps the most eye-catching smartbook around back when the platform was announced in June 2009, and we stopped by NVIDIA's stand to try out the latest version.  Check out our hands-on video after the cut.
Part of what makes the Beam so distinctive from the netbook rank-and-file is its twisting hinge section, which flips down to prop up the keyboard at a comfortable angle as well as to reveal the ports.  Since Tegra 2 supports 1080p Full HD, Mobinnova have fitted the Beam with an HDMI output along with the usual USB 2.0 and audio in/out; there's also a multifunction connector which – with a dongle – adds ethernet and VGA.
Of course, one of the billing points of smartbooks is that they offer all-day connectivity and battery life, and so the Beam gets WiFi b/g, Bluetooth 2.1+EDR and integrated triband UMTS/HSPA (850/1900/2100).  When it launches later this year it'll be available exclusively with AT&T service in the US.  As for that battery, thanks to the frugal ARM Cortex A9 processor NVIDIA have picked for Tegra 2, Mobinnova still maintain you'll see a full-day's use despite the compact 232 x 186 x 20.5 mm size.
In use, Mobinnova's OS – a custom UI built on top of Windows CE – proved smooth and responsive, and we were able to open up several Firefox tabs as well as play media simultaneously without any slowdown.  NVIDIA also showed us the Beam playing 1080p footage on an HDTV, which played without a pause.  Later on there'll be an Android version of the Beam too, though that wasn't ready for CES 2010.  The pay-off to the bag-friendly scale is a relatively small 8.9-inch (1024 x 600) LCD and a keyboard that's a little on the cramped side for our liking, but there's no arguing with the portability.
No word on pricing or specific release dates, but we're hoping AT&T subsidies bring the Mobinnova Beam down to a sub-3G-netbook level.  More photos and a video demo below.
Mobinnova Beam with Tegra 2 hands-on:
[vms 1c9c495413f934dd1a15]