Lenovo Skylight Smartbook official: AT&T 3G, 1GHz Snapdragon & 10hrs battery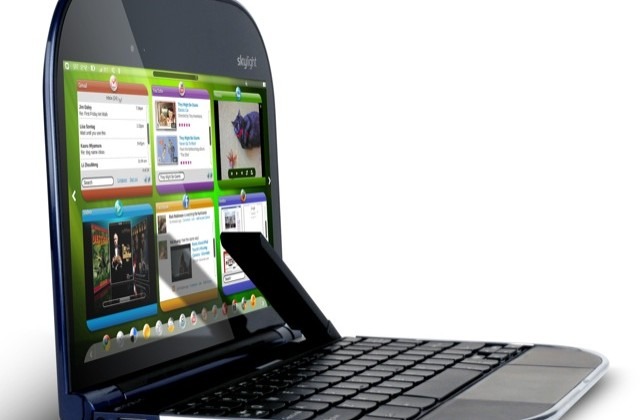 We may receive a commission on purchases made from links.
As expected, Lenovo have announced details of their first Smartbook – in fact the first ARM-based, Qualcomm Snapdragon smartbook in the industry – at CES 2010 this week, the Lenovo Skylight.  The 10.1-inch 1280 x 720 ultraportable has a 1GHz processor, integrated quadband 3G with AT&T service in the US, and battery life of over 10hrs.  Lenovo preload the Linux OS with various web widgets, including Amazon MP3 download access and YouTube.
There's also a mono speaker, audio in/out, two USB 2.0 ports and a mini-HDMI connector, together with 4-in-1 memory card reader and a microSD slot with an 8GB card pre-loaded.  That adds to the Skylight's rather meager 8GB of integrated flash storage; Lenovo also throw in a 4GB USB stick and 2GB of online storage.  Finally there's a 1.3-megapixel webcam, and the whole thing measures 253 x 201.1 x 17.2-18.9 mm and weighs under 2lbs.
Everything hinges on price, then, and the sticker shock will depend on how willing you are to sign up to a two-year AT&T agreement.  Subsidized prices are yet to be confirmed, but the Skylight outright will start from $499 in either "Earth Red" or "Lotus Blue"; that seems on the expensive side, when we were initially told that Smartbooks would potentially be sub-$200 netbook-killers.  It'll go on sale in the US come April, with European and Chinese availability later in 2010.
Press Release:
Lenovo Skylight Lights Up The Web with Industry's First ARM-Based, Qualcomm Smartbook All Day Use, Always Connected Device Heightens Mobile Internet Experience, Connects with AT&T 3G Mobile Broadband Service in the U.S.

RESEARCH TRIANGLE PARK, NC – January 5, 2010: Lenovo today announced the Lenovo Skylight, the first ARM-based smartbook based on Qualcomm's SnapdragonTM chipset platform. Skylight harnesses the best of smartphones and netbooks to create a new mobile consumer device. With a stunningly sleek and slim design, all day battery life, robust wireless connectivity and custom interface with live web gadgets, Skylight is designed to transform the mobile Internet experience. The Skylight smartbook connects with AT&T 3G mobile broadband service in the U.S.

"The web has become the window to the world for more and more people, helping them connect with friends and family across town or thousands of miles away," said Peter Gaucher, executive director, Mobile Internet Product Management, Lenovo. "Skylight combines the long battery life and connectivity of a smartphone with the full web browsing and multimedia experience of a netbook to create one of the first devices in this developing smartbook category. Consumers want choices. They can now choose from a full portfolio of Lenovo mobile consumer devices including netbooks, smartbooks and laptops."

"Now more than ever, consumers are looking for devices that will keep them connected virtually anytime and anywhere," said David Haight, vice president, business development, AT&T Mobility. "The Lenovo Skylight is slim and attractive with extraordinary battery life, and when paired with the nation's fastest 3G network and AT&T Wi-Fi service, it gives consumers a great web and media experience on the go."

Skylight brings users a brand new way to enhance their mobile web experience:

Beauty and Brains – Thinner than many smartphones, Skylight's sleek and lightweight design is a technological combination of beauty and function. Skylight is being introduced in two new vibrant colors, glossy lotus blue and earth red models. Skylight's clamshell design opens to reveal a brilliant high definition 10.1 inch screen designed for watching high definition videos or viewing photos. Tote it in a purse, backpack or bag. Weighing less than two pounds, Skylight is extremely mobile and lightweight enough for the user to tote it in a purse, backpack or bag. Unlike many netbooks, Skylight's full size keyboard makes typing easy.

No Power Cord? No Problem – Skylight has over 10 hours of active battery life,1 enough to allow the user to watch two movies or more back to back on the next plane flight. Simply plug it in at night to charge like a mobile phone. On the next plane flight, enjoy watching two movies or more back to back.

Wireless Freedom – Skylight has built-in WiFi and 3G connectivity to give users a web connection nearly everywhere they go, and Skylight will seamlessly handoff between the WiFi and 3G. With the purchase of an AT&T DataConnect plan, users get 3G data but

also access to AT&T's nationwide Wi-Fi network, including more than 20,000 Hot Spots in the U.S. for fast and easy web access on the go. Web Optimized Interface – Skylight's unique custom interface lets the full capabilities of the web shine through with live web gadgets. Users can check Google GmailTM, update their FacebookTM status, see what's new on YouTubeTM or browse the Internet. simultaneously without having to continually refresh or log in. There are more than 18 preloaded web gadgets including Amazon MP3 to download digital music favorites and Roxio CinemaNow to buy and download digital movies. Powered by the Qualcomm 1GHz Snapdragon chipset platform and featuring 20 GB of standard flash and 2 GB of cloud storage, Skylight delivers the performance needed for mobile users unwilling to compromise their mobile experience and the flexibility to store their data wherever they like – in the cloud or on the device.

Qualcomm's Snapdragon platform offers a powerful combination of mobile processing performance, optimized power consumption, ubiquitous connectivity and powerful multimedia in a single chip.

"Snapdragon-based smartbooks like the Lenovo Skylight will change the way we connect to the world, and enjoy the web and media on the go," said Luis Pineda, senior vice president of marketing and product management for Qualcomm CDMA Technologies. "Lenovo is leading the way for innovation in this space by utilizing the groundbreaking capabilities of our Snapdragon platform. We are excited for consumers to enjoy the new mobile experiences, such as extended battery life and increased connectivity that the Skylight will deliver."

Pricing and Availability3

The Lenovo Skylight smartbook will be available starting in April in the U.S. It will be available in China and in Europe later this year. In the U.S., it will be sold through www.lenovo.com, www.att.com and AT&T retail stores. Pricing will start at $499 at full retail price. AT&T offers two- year AT&T DataConnect service plans, as well as Data Connect Pass – a pay-as-you-need it data service available by the day, by the week or by the month.