Freescale Smartbook Tablet hands-on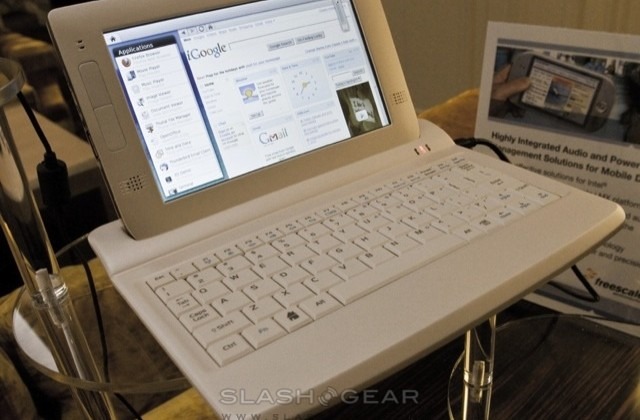 Freescale were one of the first this week to announce a new tablet for CES 2010, and in their case it was a potentially sub-$200 Smartbook reference design based on their i.MX515 HD-capable chipset.  We caught up with Freescale – and the prototype – this morning; check out our first impressions after the cut, together with some hands-on video of the Smartbook tablet in action.
Video demo after the cut
By avoiding x86 processors and instead looking to ARM's Cortex A8 technology, Freescale reckon they can get all-day runtimes out of the 1,900 mAh battery.  It also helps keep the price down, as does the 7-inch resistive touchscreen.  In practice, while we miss the zero-pressure tactility of a capacitive display, the resistive panel worked reasonably well; there were some pauses as media loaded, but once it got started a 720p HD clip played smoothly.
Freescale have also developed an optional docking station with keyboard (which would cost around $50), that turns the slate into a netbook of sorts.  There's no screen angle adjustment, however, and you can't fold it closed to protect the slate screen during transport, so this is really more the sort of thing you'd leave on a desk for use at home.  Still, there's a USB port into which you could plug in a full-sized keyboard while on the move.
Wireless connectivity is WiFi b/g/n and Bluetooth as standard, with 3G an option (expect that to bump up the price a little), and you also get GPS, a 3-megapixel camera and between 4 and 64GB of storage (plus a microSD card slot); more specifications here.  As for availability, Freescale reckon commercial versions of the Smartbook could reach the market by Summer 2010, assuming OEMs get themselves in gear.
[vms e66ca401d5f38b48c89a]