HP Snapdragon Smartbook Tipped For CES 2010 Reveal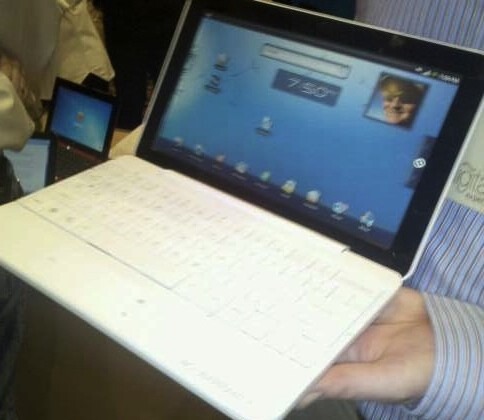 Looks like Lenovo's Skylight is going to have some competition, as early details of an HP and Qualcomm Smartbook collaboration are revealed.  According to the Qualcomm press release, the HP Smartbook will run Android and use the 1GHz Snapdragon QSD8250 chipset, along with 3G and WiFi for always-on connectivity.
Update: jkkmobile has shared a live shot of the HP Smartbook, and says he has video incoming:
Other hardware specifications are unknown at present, but HP are promising to reveal the unnamed Smartbook at the Pepcom Digital Experience and ShowStoppers events during CES 2010.  We'll bring you more details and some hands-on feedback when that happens.
Press Release:
Qualcomm and HP Showcase World's First Snapdragon Smartbook Device With Google's Android Operating System

- Groundbreaking Device to be Showcased at Consumer Electronics Show 2010 -

LAS VEGAS, Jan. 6 Qualcomm Incorporated (Nasdaq: QCOM), a leading developer and innovator of advanced wireless technologies, products and services, today announced it is working with HP to design an Android-based smartbook device. The design utilizes Qualcomm's Snapdragon(TM) QSD8250(TM) chipset platform with integrated Scorpion central processing unit delivering speeds up to 1GHz. The device demonstrates how long battery life, 3G and Wi-Fi connectivity, a highly intuitive user interface and other features can meet the needs of consumers with mobile and constantly connected lifestyles. HP will provide a technology demonstration of the device at the Pepcom Digital Experience and ShowStoppers events taking place during the International Consumer Electronics Show 2010 in Las Vegas.

"Qualcomm's Snapdragon platform delivers significant competitive advantages to our customers, enabling them to feature exceptional performance, ubiquitous connectivity and powerful multimedia in devices ranging from mobile handsets to smartbooks," said Luis Pineda, senior vice president of product management for Qualcomm CDMA Technologies. "Working together with partners such as HP, we will be able to bring a more valuable connected experience to consumers around the world."

"HP has a long history of providing consumers with an exceptional level of computing," said Steve Manser, senior vice president in the Personal Systems Group at HP. "By leveraging the unique features of Qualcomm's Snapdragon chipset and the Android operating system, HP is showcasing an entirely new type of mobile device designed specifically for consumers who live a large part of their lives online."

Qualcomm's Snapdragon platform offers an unprecedented combination of gigahertz mobile processing performance, optimized power consumption, ubiquitous connectivity and powerful multimedia in a single chip. The Snapdragon platform is enabling smarter smartphones, as well as a new class of devices called smartbooks. Smartbooks last all day on a single battery charge and offer the best aspects of a smartphone experience — constant connectivity, instant-on functionality and customizable interfaces — all in a device with a larger display form factor.