Sleek Audio CT6 Customs Review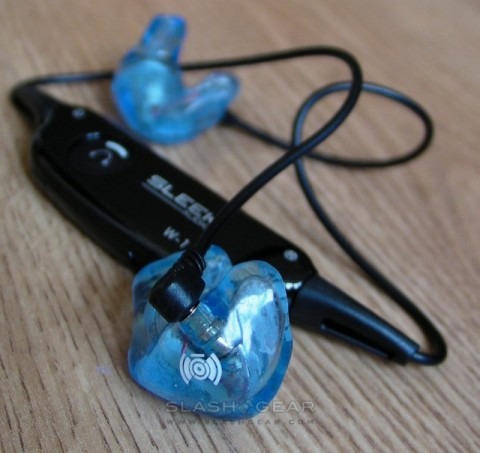 When we reviewed the Sleek Audio SA6 earphones last October, there was no disguising how positively we felt about the customizable in-ear monitors. So, when Sleek told us that we could expect the same and more from their custom-molded earphones, the freshly-rebranded CT6 Customs, and offered to fit us for them while at CES back in January, we couldn't resist trying them out. It's been a while since our SA CT6 Customs arrived; have they lived up to expectations?
We've had more than a few people ask where our CT6 review is, and we admit its been some time since our video unboxing (which you can also see below). What we've been tracking is the Customs bedding in, the single-We've also been using the Customs in a variety of situations, from airplanes to listening to MP3s and CDs, both at home or the office, and when out in public.
Both of Sleek's products are special because they're customizable, though of course they go about this in different ways. For the SA6s, you have the choice of several interchangeable bass and treble tubes which allow you to tweak the standard balance depending on your musical and sound preferences. In the case of the CT6 Customs, their unique tailoring comes from the fact that they're individually made for a single wearer's ears. Sleek took molds of our outer and inner ears, and from that their audio specialist Bill crafts two unique acrylic shells, inside which their signature single balanced armature drivers.
Other choices depend on whether you prefer the cable to hang down or flip back, over the top of your ear. Sleek will position the removable-cable port either high up on the CT6 or down closer to the bottom, depending on your preference. There's also a broad array of colors and finishes, from clear through various transparent and translucent shades, to solid acrylics and even slightly glittering options. They'll also print on a logo of your choice from an image file you send them; as you can see, we went with the SlashGear roundel.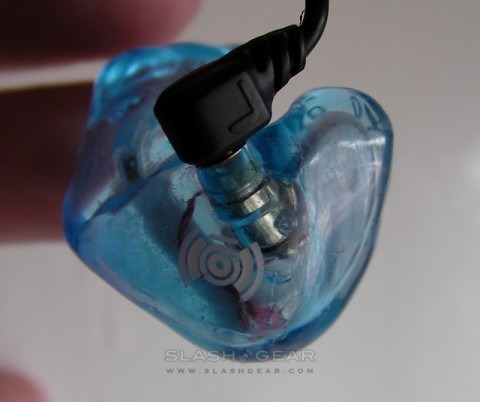 Sleek will fettle the treble and bass of the CT6 Customs as you enjoy it – this is obviously easier if you've lived with the SA6s for some time, and can carry the "settings" over – but it's a one-time decision. Still, given the relatively fiddly nature of the bass and treble tubes on the stock headphones, it's unlikely you'd be wanting to change them all that often anyway.
Back in our Sleek Audio SA6 review, we praised the earphones' sparkling treble, consistently warm and natural mid-range and thick, satisfying bass. Interestingly, the sound profile of the CT6 Customs is noticeably different, even though Sleek had made them to the same settings as we were used to with the SA6s.
Part of this is undoubtedly down to the longer sound tube, which extends further into your ear canal with the CT6 Customs. Sleek will make this either long, medium or short (ours fall in the middle), dependent both on your own preference and the results of your ear mold. Given the delicacy of the inner-ear, we're pleased their team have a background in audiology to be able to advise on that.
That's not to say the sound is disappointing; anything but. The mid-range manages to be clearer, smoother and more balanced than with the SA6s, stepping forward as a dominant frequency range rather than merely bridging the bass and treble as so often is the case. General vocals and instruments, whether the guitars of mainstream rock or the center section of an orchestra, are finely detailed. Meanwhile the treble – in our case with the "plus" tuning, so emphasized above the norm – sparkles as with the SA6s but with a new-found airiness that's always on the right side of shrill.
The bass – which we also specified to Sleek's "plus" setting – isn't as grumbling as on some headphones we've tested, and if your preference is truly throbbing lower frequencies then the CT6s may not quite satisfy. That said, we can only comment on our own setup; talk to Sleek Audio and stress how much low-end you'd like, and they'll probably be able to muster up some extra in-ear thumping. That's the benefit of having not only custom earbuds but custom tuning, too. Nonetheless, the CT6s certainly aren't a weak bass performer, and the overall impression is one of a very balanced mixture of mids, highs and lows that suit a broad range of musical styles.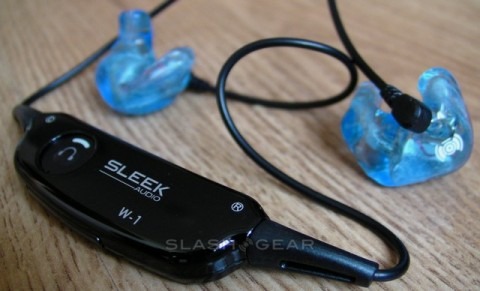 Since we still had Sleek Audio's wireless system in from our tests with the SA6s, we plugged it into the CT6s to see if we could notice any difference. Sleek's wireless setup bypasses Bluetooth A2DP and instead uses technology by Kleer; that promises CD-quality lossless audio. The downside is that you'll struggle to find a PMP or cellphone with a Kleer transmitter built-in, and instead have to use the supplied dongle.
For full details of the Sleek Audio Kleer wireless system, check out this review; in terms of the CT6 Customs, we could notice no difference between the cable supplied and when going wireless. Even better, the occasional habit of the Kleer receiver swinging at the back of your neck and tugging out an SA6 earbud was bypassed with the CT6 Customs, since they have such a good grip on your ears.
Durability is a tricky one to judge. The acrylic seems sturdy, though the curved inner-ear tubes make us a little more wary of dropping the CT6s into a pocket unprotected. While the hard case Sleek Audio provide is certainly impressive, it's also not especially pocket-friendly, and we wish they'd thrown in at least a padded pouch that would cushion the earbuds during travel. Still, they've survived several plane journeys, knocked about while dangling from the top of a shirt, and there are no noticeable scratches or chips; even the logos are still clear and whole. We're perhaps being over-cautious because we know that replacing the CT6s isn't just a case of grabbing another off-the-shelf pair.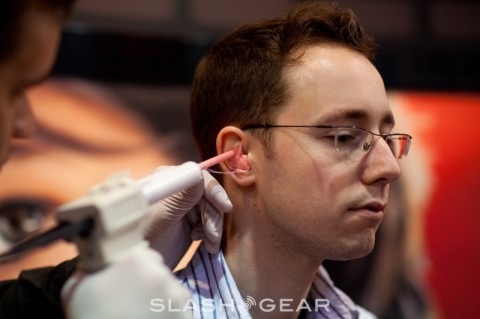 It's their uniqueness that makes the Sleek Audio CT6 Customs less straightforward than the SA6s – or indeed any standard earphones – and which, along with the price, could put people off. Having to have impressions made requires a trip to an audiologist, and then there's the delay in waiting for them to be crafted and delivered; none of this is easy-going in a world where we're used to pretty much instant gratification.
Stick it out, though, and you're rewarded with an excellent audio experience and superb fit. The SA6s did a good job of staying in our ears, but the CT6 Customs are another level of comfort and stability; these are earbuds you can jog, jump or somersault while wearing them, and you'd strangle yourself with the cable before they fell out of your ears. Invest in the Kleer wireless system and they're even more wearable.
There's no denying that they're relatively expensive for earphones: $349.99 for the earphones, plus the cost – between $25 and $50, on average – of having impressions made. The Kleer wireless system is usually another $120, though buy it at the same time as the CT6 Customs and the lot comes to $449.99. For your money you're getting not only custom molded earphones, as a fair few other companies offer, but custom tuning too. It's the latter that would see us picking Sleek Audio over the other premium headphones offered; at $100 over the standard SA6s it's a small price to pay for unique fit and sound.
Sleek Audio CT6 Customs unboxing:
[vms c6bb9f0cd2a47751a186]