SlashGear's Transformer Prime Quad-Core Pack Giveaway!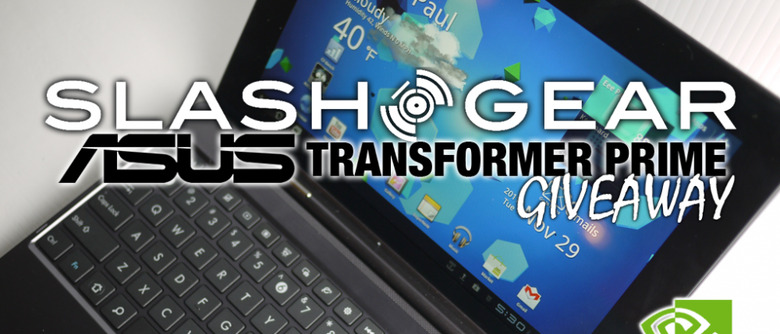 It's tablet season here on SlashGear, and what better way to start off Spring than with your very own ASUS Transformer Prime Android tablet with keyboard dock and Powerbag Messenger bag to match? It's NVIDIA, the creators of the Tegra 3 quad-core processor with 4-PLUS-1 technology powering this fabulous tablet that are providing prizes, and two full "Quad Core Packs" are what we've got to give away! Have a peek at our original Transformer Prime review, then see our review of this same excellent tablet with Android 4.0 Ice Cream Sandwich installed, then head below and win one for yourself!
UPDATE: We now have our winners! Melissa Moruetta and Derek Walling please contact us at giveaway[AT]slashgear.com with your preferred mailing address and phone number – we'll also be contacting you via Facebook/Google+ to confirm your identities! For those of you not listed here and did enter on [Android Community] – head over there to see if you're a lucky winner!
The tablet and the keyboard dock are shown in the reviews above, the Tegra 3 offering 4-PLUS-1 technology: not just the four cores you'll be using for heavy-duty graphics and gaming, but a fifth core for low-power tasks and sleep mode. The Powerbag you're getting is not unlike the one your humble narrator reviewed during CES 2012, but in this case it's a messenger bag instead of a backpack. This whole experience is going to blow you away not only right away when you get your hands on it, but throughout 2012 as well as the NVIDIA Tegra Zone gains over 20 console-quality apps.
You've got one one, not two, but FOUR chances to win between our contest and the contest going on right now at Android Community – have a peek here at our rules and head over to their contest post to get in on as many chances as possible to win a full Quad-Core Package! Our rules are as follows:
1. "Like" us on Facebook: at facebook.com/slashgear/ and leave a comment in this Facebook thread: http://tinyurl.com/7cpoes4 telling us one or more ways you plan to use the Transformer Prime tablet or what Tegra 3 optimized games you can't wait to play!
2. "Circle" us on Google+ at +SlashGear and leave a comment in this Google+ thread: http://tinyurl.com/76rmhs7 also telling us one or more ways you plan to use the Transformer Prime and/or which games you're dying to play.3. Winners will be selected like so: we'll pick a set of our favorites and put them in a hat to pick at random on March 23rd!
You may only submit ONE entry to each social networking site and only ONE comment on each social networking site will be chosen (if it's awesome enough to be chosen!) Below lies the technical bit of the contest, note the requirements for where you'll be eligible in this tiny world of ours especially.
Giveaway begins March 16th, 12:01AM PST, and ends Friday March 23rd, 12:01AM PST barring any complications finding the winners. Both winner will be announced here in the main news feed and at our official Facebook/Google+ pages.

Competition is open to residents of the US only, over the age of 18. One entry per person. Family members of NVIDIA and SlashGear/Android Community are not permitted to enter. Competition entries are only accepted via the specified SlashGear Facebook and G+ page; entries left in the comments section of this or any other post will not be recognized.

The winner will be contacted by an AndroidCommunity/SlashGear staff member upon being selected and will be expected to respond to that staff member; they will be expected to respond within 24 hours else their prize may be forfeit and another winner selected. Editors decision is final and no correspondence will be entered into. Winners agree that their name and details of their entry may be used for promotional purposes by, but not limited to Android Community, SlashGear, and NVIDIA.
Prize consists of a pack including one ASUS Transformer Prime tablet, one Transformer Prime mobile dock, and one Powerbag Messenger bag. There is no other alternative for prize winner unless this prize should become unavailable, in which case SlashGear reserves the right to substitute another prize of equal or greater value. Any questions can be directed to giveaway[AT]slashgear.com.
Contest provided by SlashGear/Android Community. Prizing provided by NVIDIA. Any questions regarding this contest should be directed to giveaway[AT]slashgear.com.
BONUS: have a peek at some of the games already on the market that show the full power of the Tegra 3 chip inside this beast of a tablet: