Samsung teases Android Lollipop for the Galaxy Note 4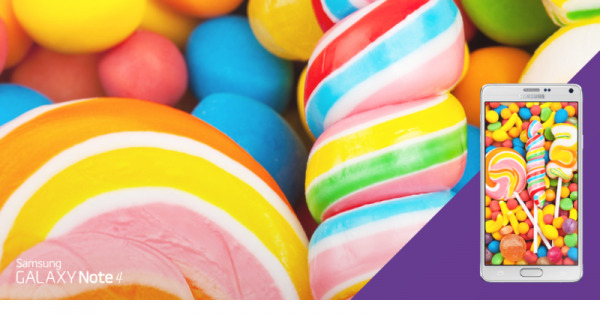 Samsung has finally spoken up about Android 5.0. Or rather, in this case, it's more like a whisper. But we'll take anything over the silence it has been observing for almost a week now. Over at its Twitter account, the Korean OEM is actually advertising the Galaxy Note 4's QHD Super AMOLED display, but it is using a screen filled with bright colored candy of the lollipop kind. It is effectively hinting that Android Lollipop will be coming soon. As to when, we still don't know.
This isn't exactly an earth-shattering revelation as we expect OEMs to sooner or later make Android 5.0 available to their most recent models. Some, like Motorola and Sony, have even promised the sweet treat to older models, at least those that go back as far as 2013. Still, there is some amount of comfort to be taken when an OEM formally acknowledges the latest Android version for a particular device. There will probably be even more rejoicing if the OEM drops a date or even just a month. But perhaps Samsung is just erring on the side of caution not to promise something it can't deliver on time. Considering how much work must be put into porting the heavily customized TouchWiz interface to Android 5.0, that might be a wise move indeed.
As to the fate of flagship of the Galaxy S series, that is still unknown at this point. The Galaxy S5 is likely to get a Lollipop makeover as well, but perhaps a bit later than the Galaxy Note 4. The more pressing question in our minds is perhaps about the Google Play Edition of the device. Initially teased back in July and again last week, the Galaxy S5 GPE is yet to see the light of day. Considering the GPE roster is due a refresh, that could come very soon as well. Perhaps Samsung is also too busy with that model to give it's TouchWiz version due attention.
That now leaves LG as the only major Android device maker without a peep about its plans for Android 5.0 and its devices. Considering the previous harmonious relationship between it and Google, which resulted in the Nexus 4 and Nexus 5, you would have presumed that LG would be one of the earliest to show support. But others have beat it to the punch, and you can see them all here in our Android 5.0 Lollipop round up.
SOURCE: @SamsungMobile