Android 5.0 Lollipop: when and where to get your sugar fix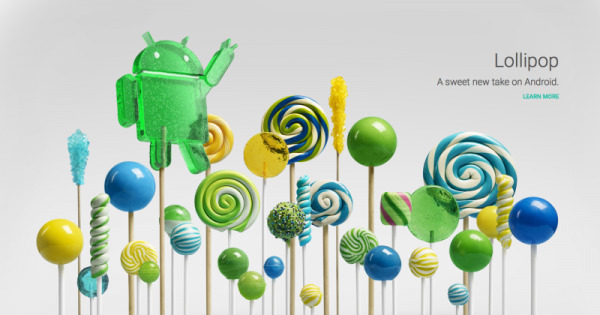 With Android 5.0 Lollipop, Google has answered the biggest question of what the next Android version will be named. Now the next biggest question is when will the sugary treat roll out and to which devices. Of course, the answer to that varies for manufacturer to manufacturer, some of which are being coy about their plans. Here we will try to round up what we know and have heard so far, both official and leaked, starting, of course, from Google's own blessed device line.
Nexus
Naturally, Android 5.0 will come pre-installed in the newest batch of Nexus devices, the Nexus 6, the Nexus 9, and the Nexus Player. But what about older ones? The Nexus 5 and the Nexus 7 2013 are unsurprisingly the first candidates for a sugar infusion, but owners of slightly older devices need not fret. The Nexus 10 is included in that list and so is the Nexus 4, after a bit of a blooper in the device announcement. Even the 2012 Nexus 7 is invited to the party as well. As to when that will happen, the ball is expected to start rolling by mid-November, at least for the Nexus 5 and the Nexus 7, with the others to follow a bit later.
Right now though, there are already developer preview images for the Nexus 5 and the Nexus 7 2013 ready for testing, but, as the name implies, it isn't the real deal just yet. The Android TV ADT-1 dev kit is reported to also be receiving an update to Android 5.0, though that is unofficial and has to be sideloaded.
Motorola
Being a former subsidiary of Google has its perks, but also has its responsibilities. Especially when you've just been chosen for the very first time to bear a Nexus smartphone in your name. Motorola must keep up appearances of being very Google-friendly and luckily for owners of its devices, it doesn't disappoint. Immediately after the announcement of Android 5.0, Motorola made a separate announcement to detail its update coverage. The good news is that its entire lineup from 2013 to present will get updated to Android Lollipop. This list includes:
• Moto X (2013, 2104)
• Moto G (2013, 2014, 4G LTE)
• Moto E
• DROID Ultra
• DROID Maxx
• DROID Mini
No schedule yet, but of course that hinges on when Google actually releases Android 5.0 in its final form.
Sony
Good Android citizen Sony is not to be outdone. It has more devices in its roster since last year so it will naturally have a lot to answer for. Impressing many in the Android community, the OEM promised that all its Xperia Z lineup will eventually get Android 5.0. Sadly that does not sound reassuring for owners of the budget-friendly Xperia E line. In any case, if you own any of these devices, be glad that you will have your Lollipop soon:
• Xperia Z
• Xperia ZL
• Xperia ZR
• Xperia Tablet Z
• Xperia Z1
• Xperia Z1S
• Xperia Z Ultra
• Xperia Z1 Compact
• Xperia Z2
• Xperia Z2 Tablet
• Xperia Z3
• Xperia Z3v
• Xperia Z3 Compact
• Xperia Z3 Tablet Compact
Sony isn't promising a schedule either but says that the process will start at the beginning of 2015, with the Xperia Z3 and Xperia Z2 taking top priority.
HTC
HTC doesn't have an impressive list, but it has committed itself via its HTC Advantage to providing the Android Lollipop update within 90 days from the release of Android 5.0. This technically applies only to the HTC One M7 and M8 flagships, but a recent leak would have us believe that it will trickle down to more recent models as well. The leak also provides a supposed timetable for those devices too:
• HTC One M7, M8 – GPE in late November to December, Sense in January-February
• HTC Desire EYE, HTC One (M8) Dual SIM, HTC One (M7) Dual SIM, HTC One (E8), HTC One (E8) Dual SIM, HTC Butterfly 2 – January-March
• HTC One Mini 2, Desire 816 – March-April
• HTC One Max, HTC One Mini, HTC Butterfly S – March-May
NVIDIA
The graphics chip manufacturer, who also moonlights now as an Android gaming device maker, has also signified support for the new Android version. It has proclaimed on its Facebook page that its SHIELD Tablet is ready for Android 5.0. When it will actually do so is still unknown, but like many, it is just waiting for Google to open the floodgates. Curiously, it doesn't mention if the SHIELD Portable is also ready. Even more worrying perhaps is that there is no mention of the non-SHIELD Tegra Note either.
LG, Samsung
Birds of the same feather, perhaps? Neither of the two top Korean Android manufacturers have come to rally behind the Lollipop, even for their flagship smartphones. Although it is perhaps a given that the LG G3 and the Samsung Galaxy S5 and Galaxy Note 4 would be prime candidates, it would still be reassuring for their user base to know which ones will be getting their due share. Perhaps these two preferred to keep their traps shut lest they offer false hope and be burned for it in the end.
That said, Samsung might actually have some sweet deal going on behind the scenes. Teased repeatedly is a Galaxy S5 Google Play Edition that has yet to materialize. Given the timing, that version would undoubtedly carry Android 5.0 with it when and if it does come out.
Wrap-up
Material Design, ART by default, multi-user accounts, enhanced security. These are just some of the promised features coming our way in Android 5.0 Lollipop and many Android fans are undoubtedly on their toes waiting for the candies to rain down on them. All that's left now is for Google to actually kickstart the process by releasing this sweetest Android into the wild, which, if all goes well, should happen by early to mid November.