Samsung Odyssey and Marco confirm Windows Phone 8 is getting serious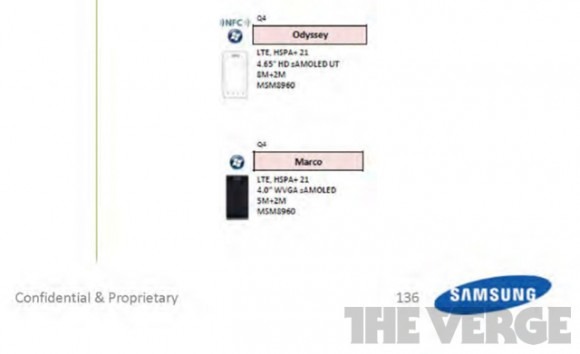 Details of two of Samsung's new Windows Phone 8 handsets have emerged, codenamed Odyssey and Marco, with 1.5GHz dual-core processors and sizable Super AMOLED displays. The Samsung Odyssey will have a 4.65-inch HD-resolution touchscreen, LTE and HSPA+ 21Mbps support, and will be an "iconic smartphone" according to the hyperbolic description, while the Samsung Marco will be slightly more conservative.
Still, the Marco is believed to have a 4-inch Super AMOLED display running at WVGA resolution, as well as the same LTE and HSPA+ connectivity. It will pack a 5-megapixel main camera rather than the 8-megapixels of the Odyssey, with both having a 2-megapixel front shooter.
Inside is Qualcomm's Snapdragon MSM8960, a 1.5GHz dual-core that's expected to show up at the heart of many Windows Phone 8 devices in the coming months. The Odyssey will also get NFC – though not, apparently, the Marco – which will allow for use of the Wallet Hub mobile payments system in the new OS.
Ironically, the details of the two handsets leaked out courtesy of Samsung itself, with The Verge spotting them on the roadmap in a filing from the ongoing Apple vs Samsung suit. No more specific release information is available than simply Q4 2012, but that would fit in with what's believed to be Nokia's launch plans for its own Windows Phone 8 line-up.
Samsung is one of Microsoft's launch partners for WP8, as it was at the launch of Windows Phone 7, though the company's handsets running the platform have been overshadowed by the rise of Android devices such as the Galaxy S III. The Odyssey could change all that, however, a hero device picking the best of Samsung's expansive component supply-chain, and pairing it with an OS that looks significant improved.