Samsung Galaxy Tab 7.7 LTE Review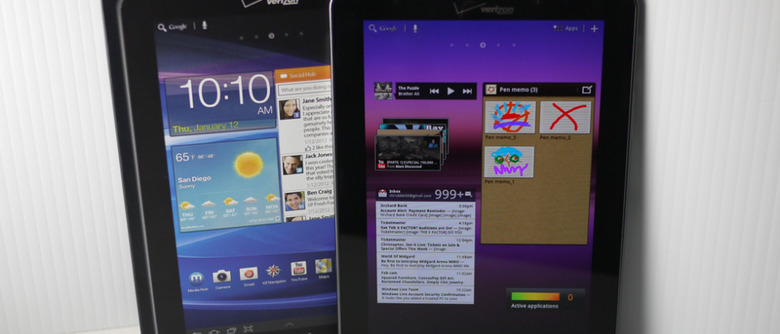 The size range of Android-based devices Samsung has made over the past year is far and away the largest any manufacturer has yet achieved, and if you're unable to find the screen size you desire at the moment, you likely have only to wait another week or month and poof! It will appear. That said, it appears that the Galaxy Tab 7.7 has appeared here in the USA in an LTE edition made specifically for Verizon, and having taken a glance at every single other display size in the lineup I can comfortably say the following: this is one of the best.
Hardware
This device is small enough to fit in your purse or carry-along sack, but a bit too large to fit in your pocket. The mid-range is still dominated by the original Galaxy Note, and the "full-size tablet" is still sitting at 10.1-inches – this 7.7-inch tablet is perfect for someone who doesn't need access to the device 24 hours a day but wants to keep a slightly lower profile than they would be if they'd be whipping out the 10-inch tablet all day long.
That said, this device brings a few fantastical specifications along with it that trump even the 10.1-inch tablet, including the first Super AMOLED Plus display at 7.7-inches, this bringing you a higher resolution display than this device's larger sibling. Have a peek in the hands-on video here to see how this device measures up literally against the 10.1-inch Tab and see the resolution difference as well.
[vms 935defcb1f9e247a97c0]
The device is essentially the same thinness of its Tab relatives, that being just 7.89mm at its thickest point – putting the overall feel of this device in the "hero" range for tablets without a doubt. This is not a member of the low-class tablet family that's been expanding at an undeniable rate over the past few years, it's one of the much more high powered and well constructed group instead.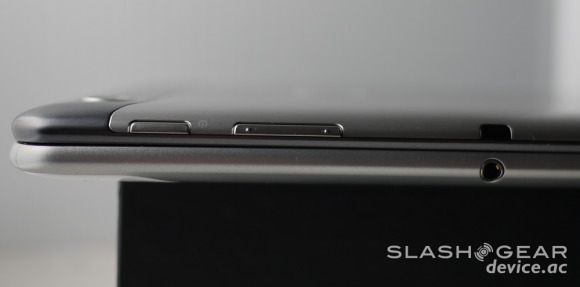 Above what you're seeing is the Galaxy Tab 7.7 on top and the 10.1 below, both of them ringing in at thinner than you could ever ask for in a tablet device. Then if the 1.4GHz dual-core processor in the 7.7 didn't impress you when you saw it tossing around pages and games like paper, the full aluminum construction of the tablet will. This tablet looks and feels nice, and has certainly very quickly become my favorite Samsung tablet to use (and I've used them all).
Software
Inside you'll find the rapidly aging Android 3.x Honeycomb, complete with Samsung's own TouchWiz UX on top. This is the same TouchWiz we were first introduced to back at CTIA in the Spring of 2011, and it's looking as good as it's ever looked here in this slightly modified version over its 10.1-inch optimized cousin.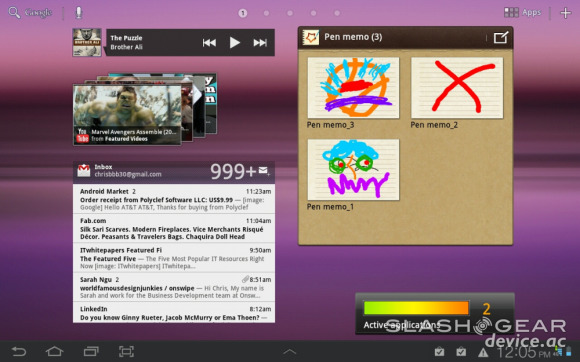 What you've got here is a software experience made specifically for the tablet, not quite Ice Cream Sandwich, but just about as close as you're going to get without getting there. Samsung has been adamant about their want to update a whole swathe of their Galaxy devices inside the Summer months, so we're hoping this device wins out in that battle as well. Meanwhile this setup is perfectly workable for your daily tablet needs. Also of note, even though it's not unique to this device: the Android Marketplace is now optimized fully for devices with displays much larger than a smartphone – so you're in business here from the top of the software experience down to the base.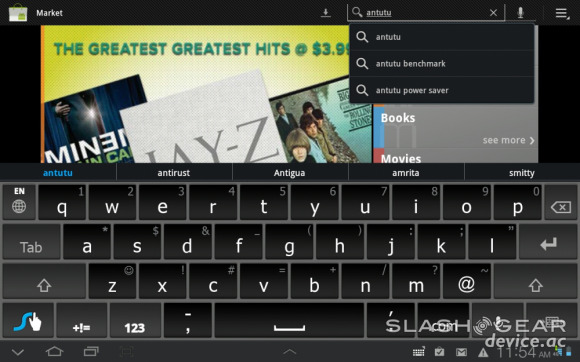 That said, you've got an experience which is actually closer to what we've seen this week with the Galaxy Note 10.1 than it is to any of the other Galaxy Tab devices released thus far. Samsung is aiming for a much more "Note" experience for their whole line of devices here in the first months of 2012, finding heavy success it seems with this slightly unique approach started with the Galaxy Note.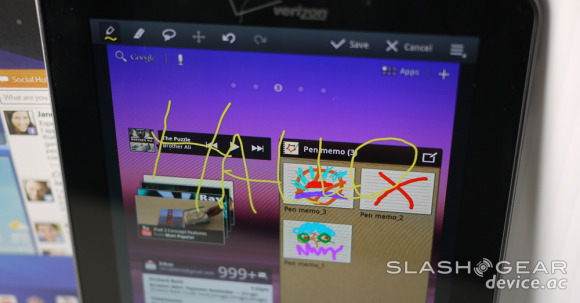 Have another peek at the Superbowl push for the Note experience to see how excited Samsung is about this world of note-taking. Keep in mind that this device does not come with an S-Pen, but that you'll be able to work any capacitive pen you've got on hand to rock the drawings on the screenshots you take with the device's built-in software screenshot button in your dock.
Just like the Galaxy Tab 7.0 Plus, this device also includes an infrared eye as well as the Peel app to make using this strange bit of hardware easy as pie. What you'll be able to do with this combo is control your TV, cable box, and more. As Cory Gunther of Android Community noted back with the 7.0 Plus, "I was pleasantly surprised with how simple and easy this worked." The same is true here – it all works right out of the box.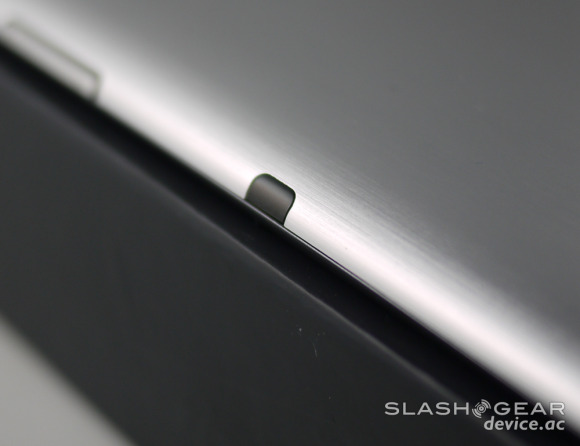 Have a peek at a couple of benchmark tests here if you'd like to compare them with the rest of our [Tablet Review Series], and note that comparing devices in this way should be taken mostly as a bonus entertainment exercise as it's really the total experience you should be paying attention to when you decide on picking up a tablet such as this.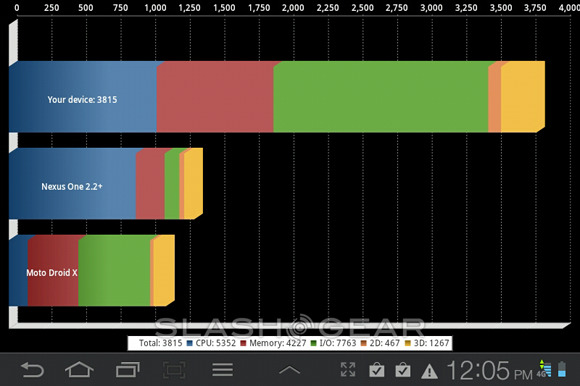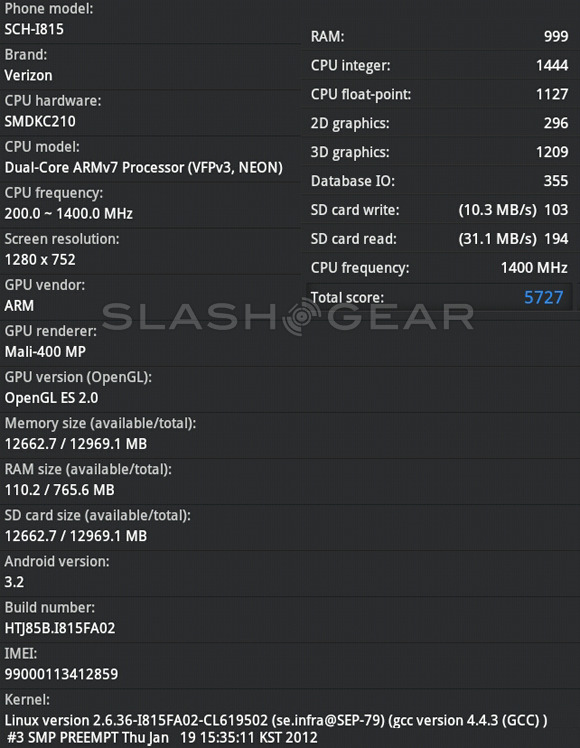 Camera / Battery life
Just like the rest of the Galaxy Tab line, the battery life on this device has been nothing short of extraordinary. Tablets made by Samsung with Android have never been disappointing in the battery world, and here with an undeniably massive 5100 mAh battery, this 7.7-inch beast is able to work with high brightness and ultra-dense resolution for a full 20+ hours easy. Just so long as you're not streaming video that whole time.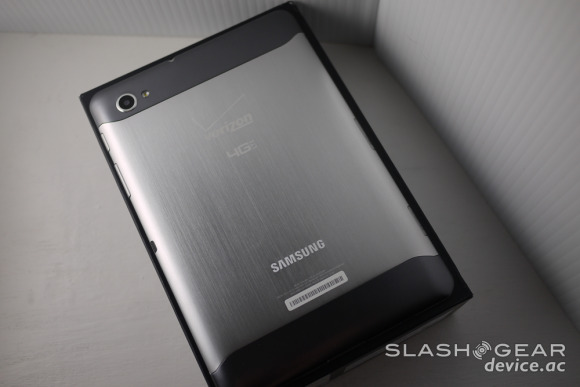 The cameras on the front and the back are OK, but certainly don't bring the fury like the tablet-based cameras on the ASUS Transformer Prime and the HTC Jetstream do – they're still the winners of the tablet-based camera war, if that still is a thing. Have a peek at a couple of photos and a video here to see what's up with this 3 megapixel camera on the back of the device.
[vms 34185e0193753adb6cb7]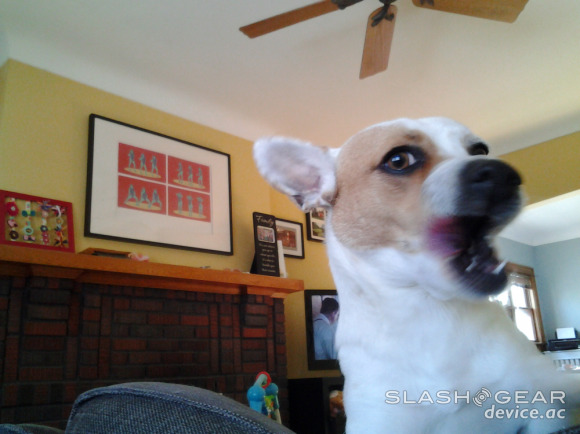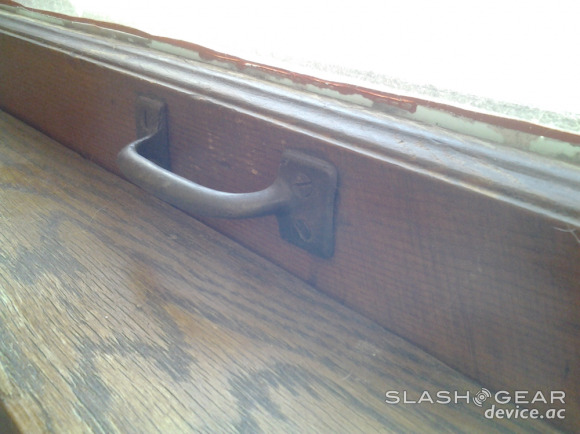 Wrap-Up
This device is, again, what I'm gonna go ahead and say is the sweetest spot for tablets at the moment. If I had to choose between this device and the Galaxy Note (original), I'd choose the Note. I'm still of the opinion that tablets are mostly bonus devices made for fun rather than utility, and the Galaxy Note takes care of everything I could possibly want a smart device to do. That said, if you've got a want for a tablet, this one's a magical size.
If you've tried a 10-inch tablet and you find it sort of absurd, but still want a display larger than your everyday average smartphone, take a peek at this tablet at your local Verizon outlet. It's certainly an entertaining device to play with.