Samsung Galaxy S5: All you need to know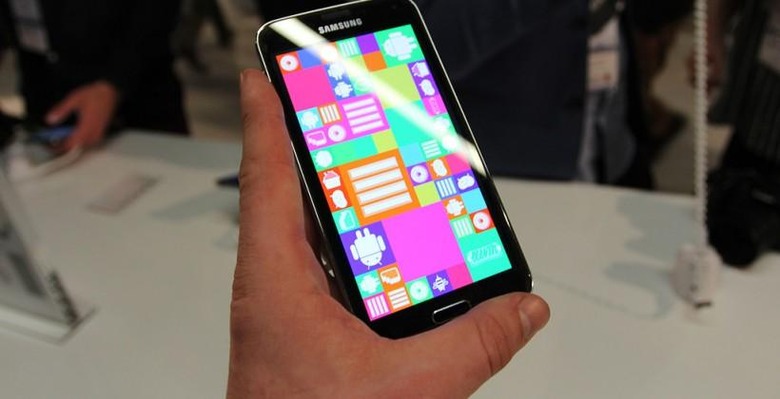 As hotly-anticipated smartphones go, the Samsung Galaxy S5 ranked up there alongside the new iPhone, with all eyes on the dominant force in Android handsets at Mobile World Congress this year. Samsung didn't stint on the show, opening the launch with a full orchestra and then running through the new specs – fingerprint biometrics, a 16-megapixel camera, and more – in a huge press event that also saw it revamp its wearable companion range. As the dust settles, follow us on past the cut for all the key details about the new Galaxy S5.
Hardware and Design
Samsung hasn't strayed far from the Galaxy S4, following the "if it ain't broke" pattern of redesigns that has left the Galaxy S5 looking markedly similar to its predecessor. Hopes for a metal casing were dashed early on, with Samsung sticking with plastic, but at least now it's waterproof and dustproof (as long as you remember to close the little flap over the USB port). Opinions are divided on the textured rear panel, which some have compared to a Band-Aid, but as we found in our hands-on time with the phone, it does at least leave it easy to grip.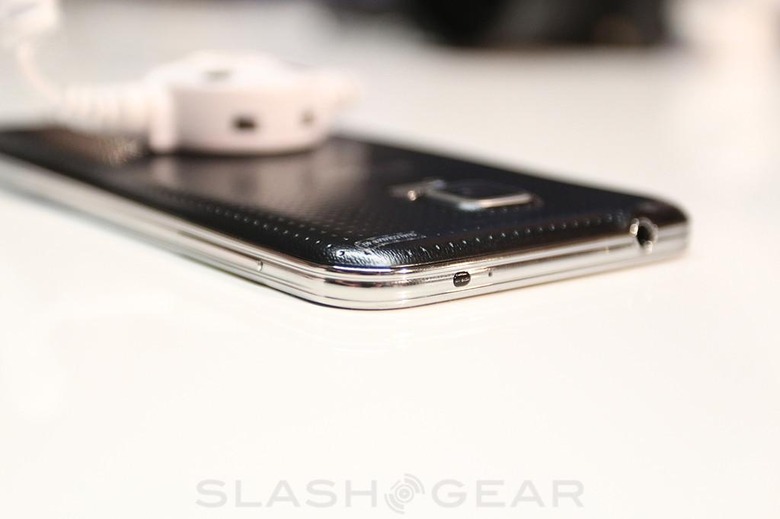 Up front, Samsung has stuck with Super AMOLED, now a 5.1-inch 1920 x 1080 panel. It looks great, but more importantly Samsung has introduced an "Ultra Power Saving" mode which automatically kicks in at low battery levels (or when toggled manually) and shuts down unnecessary features as well as flipping the screen into monochrome for a huge extension of runtime.
Inside, Samsung has a range of processors depending on market and LTE status – spanning Qualcomm quadcores through to hexa- and octacores – with 2GB of memory and 16GB or 32GB of storage (a microSD slot handles up to 128GB cards like SanDisk's recent whopper). There's also been some advances in wireless: Cat4 LTE for up to 150Mbps downloads, network depending, and a clever bonding technology dubbed Download Booster that runs WiFi (a/b/g/n/ac) and LTE simultaneously for up to 650Mbps downloads (and a quick way to chew through your cellular data allowance).
Samsung has stuffed the Galaxy S5 with a range of sensors and there's the company's own TouchWiz interface on top of the latest version of Android KitKat. Thankfully there aren't the same superfluous software gimmicks as on last year's flagship, with Samsung focusing more on true value-adds. The IR blaster and WatchOn feature, which turns the Galaxy S5 into a universal remote, is a good example.
You also get a user-replaceable battery, which Galaxy S-series owners have grown used to over the years. Samsung slots in a 2,800 mAh pack as standard.
Camera
Samsung's megapixel count keeps rising, and the Galaxy S5 is now up to 16-megapixels, paired with an LED flash and autofocus. As well as stills it will record up to Ultra HD 4K video at 30fps, though it can be turned down to Full HD or lower as well. Up front is a 2-megapixel camera for selfies.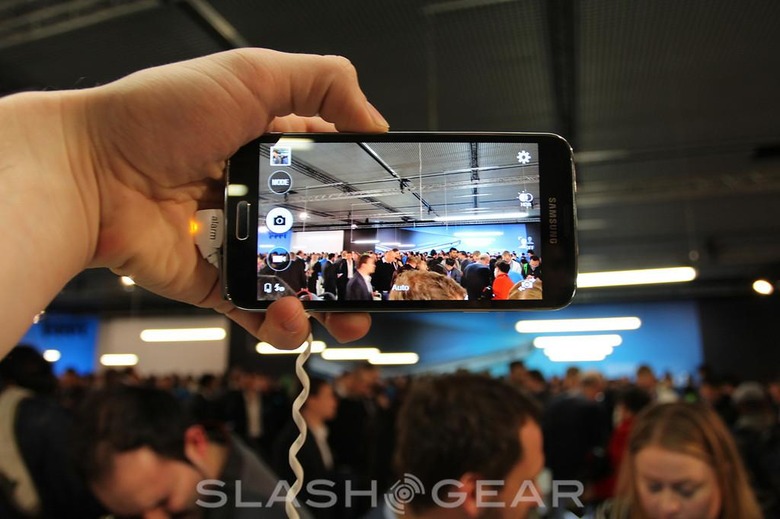 Samsung has given the Galaxy S5 real-time HDR capture, for high-definition shots with no lag for processing, but perhaps more useful is the super-fast autofocus. That locks in just 0.3s, the company boasted, and our playtime with the camera suggests they may well be right. It's definitely one of the fastest phone cameras we've ever seen.
There are also various software tools, for adding things like DSLR-style bokeh to shots – those dreamy bubbles of light – or background defocus without requiring fancy lenses.
Fingerprint Scanner
Biometric security is fashionable on phones these days – the iPhone 5s has Touch ID, and HTC's One Max has a fingerprint scanner on the back – so it comes as little surprise to see Samsung including the same. The Galaxy S5 follows in the iPhone 5s' metaphorical footprints by integrating it into the home button, though unlike Apple's the Samsung scanner demands a swipe rather than just the fingertip being placed on top.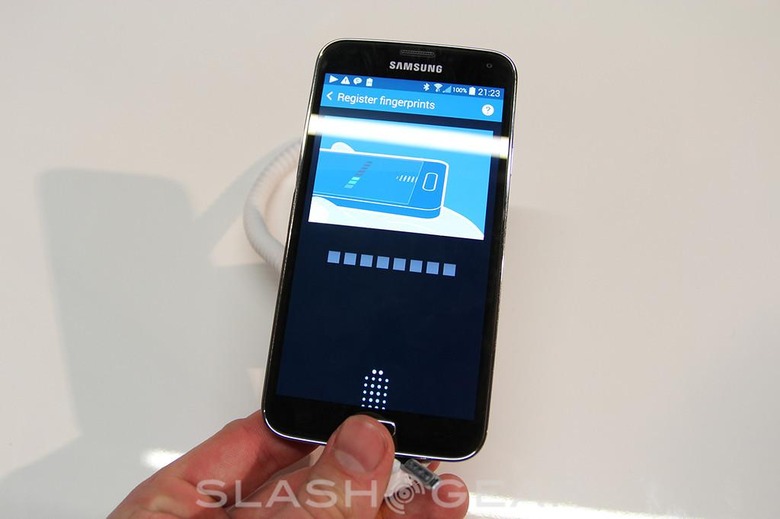 As well as locking the phone, or securing a certain collection of data, Samsung's scanner can be used to authorize mobile payments thanks to a deal with PayPal. Multiple fingers can be saved, with Samsung saying the biometric key itself is only ever kept on the phone, not backed up to the cloud.
We had reasonable results with the accuracy of the scanner, though it's worth noting that by virtue of the design you have to swipe your finger down vertically in order for it to be read. That made unlocking the phone while holding it one-handed a little tricky at times, given you basically have to cradle it with your fingers and try to angle your thumb down across it.
Accessories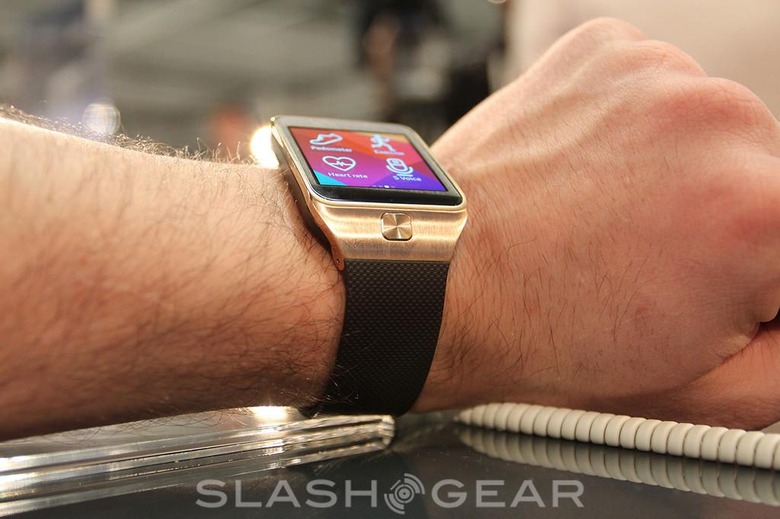 There'll be the usual range of cases – generic and designer-branded – from Samsung to go along with the Galaxy S5, but the smartphone launched alongside a three-strong line of new wearable gadgets at MWC. The Gear 2 (and its camera-free Gear 2 Neo sibling) builds on the original Galaxy Gear, shedding bulk and switching Android for Tizen, with the promise of an open-SDK this time around so developers will find it easier to code for the watches.
Samsung Gear 2 and Gear 2 Neo:
As before, the smartwatches pipe notifications from apps, calls, SMS, and other alerts to the wrist, as well as controlling music playback and showing calendar entries. New, though, is a pulse rate sensor on the inside edge, that takes a reading every 90 seconds and works with the Gear 2's pedometer feature (it'll also feed the data over Bluetooth to Samsung's S-Health app on the Galaxy S5, or to third-party fitness apps when they get to grips with the APIs), along with an onboard music player for listening to audio via Bluetooth headphones even if you don't have your phone nearby.
The third – and arguably more alluring – wearable accessory Samsung unveiled for the Galaxy S5 is the Gear Fit. It loses the camera of the Gear 2 but slims down with a beautiful AMOLED touchscreen that curves around the wrist.
Samsung Gear Fit:
You still get the pulse sensor, and pedometer functionality, but since it doesn't run a "proper" OS like Tizen developers will be limited to using the Gear Fit as a remote control or notifications window for their phone apps. Nonetheless, it's a beautiful piece of hardware and the application of flexible OLED that we've been waiting to see.
What about the competition?
Samsung doesn't have the space to itself, and there are some rivals worth considering alongside the Galaxy S5. If Android is your bag, Sony's new Xperia Z2 is well-specified, has a great screen, and fantastic build-quality. Meanwhile, HTC will launch its new One (codenamed "HTC M8") on March 25, widely expected to do its own interesting things with camera technology, as well as continue the well-esteemed metal construction of the existing handset.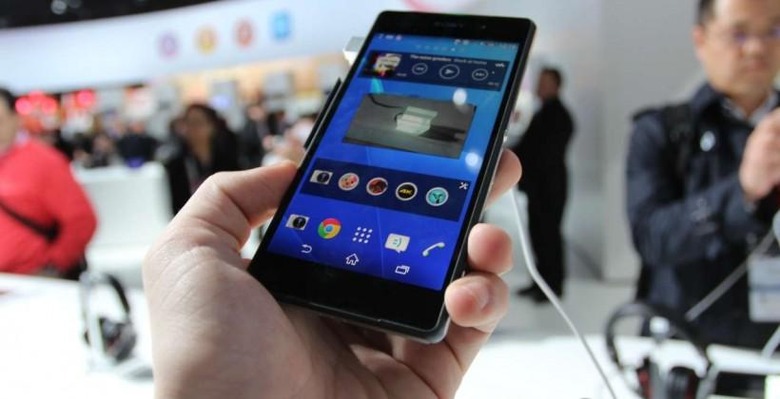 iOS-lovers have the iPhone 5s to consider, but long-standing rumors of a larger-screen iPhone for 2014 continue to circulate; you may be waiting some time if you hold off on the Galaxy S5 to see if those Apple whispers come true, mind. Over on Windows Phone, the new Nokia Lumia Icon is fast and well-designed.
When can I get one?
Samsung will begin offering the Galaxy S5 in a global roll-out from April 2014, with US availability confirmed across all the major carriers, including AT&T, Verizon, and T-Mobile. None have given an exact release date at this stage, however.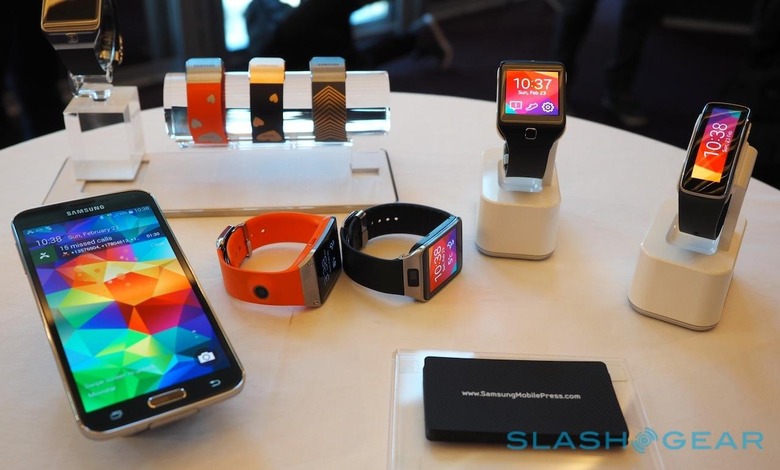 As for pricing, that's not been confirmed, though we can make some assumptions based on previous Samsung flagships. In the US, it seems likely that you'll be paying $199.99 with a new, two-year agreement for the 16GB Galaxy S5.