Samsung Galaxy S5 Camera Features hands-on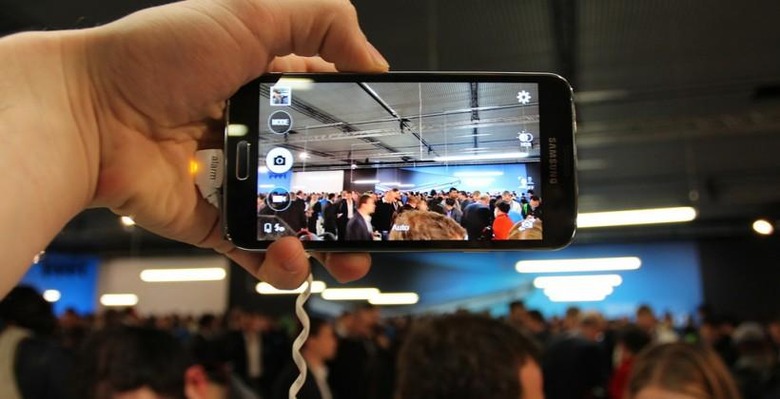 Having just been introduced to the Samsung Galaxy S5 itself this week, we've decided to dive in on the camera in a bit more detail. This newest generation Samsung smartphone works with the finest camera offered on a smartphone from the manufacturer to date with a number of features that make it unique in this hard-hitting field of play. The Galaxy S5 features a 16-megapixel camera at its back and a 2-megapixel camera up front.
This device works with a camera focus that hits in 0.3 seconds. Samsung suggests that this is the fastest shutter speed on a smartphone today, rolling out only faster on the highest-powered DSLRs on the market besides. Thus far the results seem amazing – even in-hand when we've tried it for ourselves, nothing seems to compare – we'll have to inspect the true results when the device hits our review bench soon.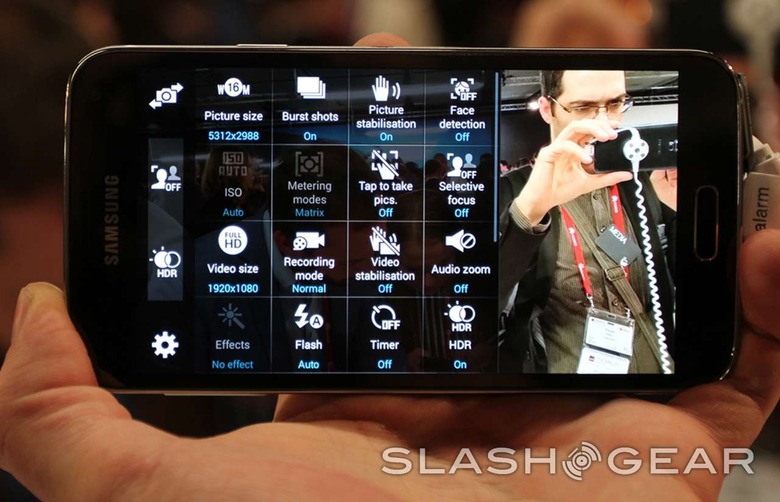 This device's camera is able to capture Ultra HD video at 30-fps, 4K video for your massive television playback. You'll also be able to work with features like HDR for both photography and video.
Above you'll see a demonstration of several of the new features delivered with the Galaxy S5's camera, including the new user interface. This UI borrows from previous Galaxy S5 camera software to create a cohesive customizable setup for selecting features for photos and video.
With Virtual Tour Shot you're able to capture a sphere of photos that will then be output as a video file that can be played back and explored. With Selective Focus, you're able to attain an effect only otherwise available to DSLR cameras.
UHD@30fps, HDR, video stabilization

Video Codec : H.263, H.264(AVC), MPEG4, VC-1, Sorenson Spark, MP43, WMV7, WMV8, VP8

Video Format: MP4, M4V, 3GP, 3G2, WMV, ASF, AVI, FLV, MKV, WEBM
While this device is IP67 Dust and water Resistant similar to the Galaxy S4 Active, there is no physical camera shutter button. Because of this, we're not expecting to be able to tap a record button underwater – if you tap the button before you dive into the pool, however, recording will work fine. This will work in the bathtub as well, just so long as you limit your time to 30 minutes per dip.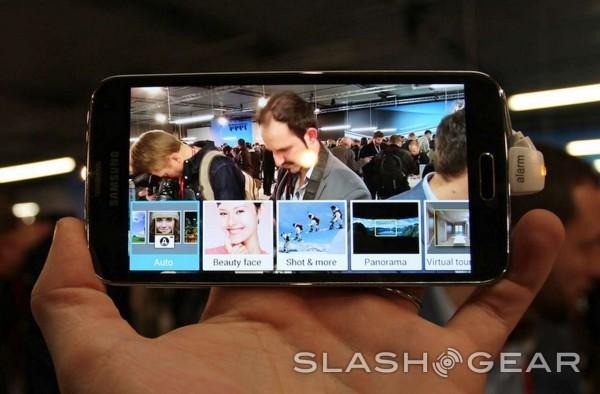 Meanwhile Samsung has mentioned that there's a sort of secret ability to take photos by gripping all four corners of the device at once. We've not been able to make it work yet, unfortunately, and they've not mentioned it more than in passing, so we're inclined to believe that it's either still in beta mode at the moment or will be delivered as a surprise for the final release. This grippy photo ability is said to be taken with the same 0.3-second autofocus as other shots with this device's 16-megapixel camera.
There's also word that Samsung employs a second standalone image processor for photography and video capture. While the Qualcomm Snapdragon 801 in some models of the Galaxy S5 will offer image processing abilities in post, this device's photo and video-capture may be handled by Samsung's yet-unexplored image chip – stay tuned!
NOTE: Also take a moment to have a peek at our extended Samsung Galaxy S5 hands-on for more detail than you'll be able to handle!