Samsung "Galaxy S3" name apparently confirmed by Unpacked app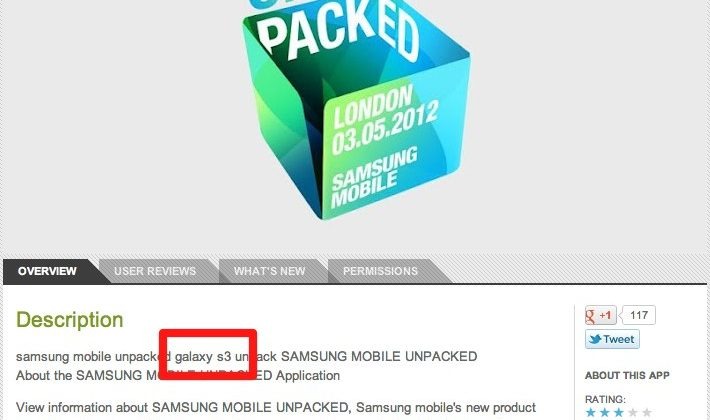 Samsung has again dropped hints that its "next Galaxy" will be the Samsung Galaxy S3, with the company's new Unpacked app making specific mention of the phone's rumored name. The app – a companion to the launch event on May 3, and including press information, a live stream from the event itself, and other details on the new smartphone – boldly includes "galaxy s3" in the description.
It's not the first time we've seen the smartphone referred to as the "S3"; the leaked prototype caught on video last week was also labeled as the "Galaxy S3", though with the hardware dating back to December 2011 it was unclear if branding had been finalized at that point. More recent rumors suggested a change of direction in nomenclature was on the cards, prompting speculation that Samsung could follow Apple's lead and simply name the smartphone "the new Galaxy."
The use of a number, meanwhile, is a slight deviation from Samsung's earlier approach: the second-gen flagship was the "Galaxy S II" using numerals rather than "S2", though both proved interchangeable as carriers and marketing got their hands on the device.
So, is the "next Galaxy" set to be the Galaxy S3? That could well be the case, though this could also be Samsung simply hoping to cash in on searches of the Play Market for the term. Rather frustratingly, the app appears to have trouble running on Ice Cream Sandwich, with the reviews – and our own testing on the Galaxy Nexus – finding it merely shows a black screen and then crashes.
We'll know all the details for sure on May 3, when SlashGear heads to London to join Samsung for the "next Galaxy" unveil event. We're expecting a roughly 4.7-inch Super AMOLED HD display, 1.4GHz quadcore Exynos processor and overclocked graphics, along with a 12-megapixel camera and a distinctive new casing design.
[Thanks to everyone who sent this in!]