Galaxy S III benchmark leak tips new graphics king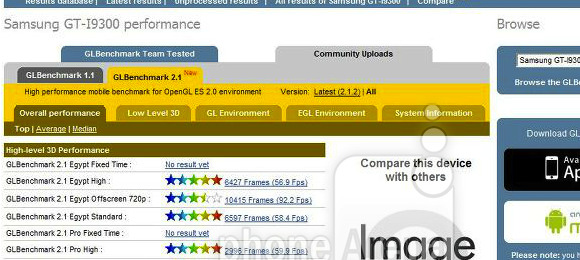 Graphics benchmarks purportedly showing the Samsung Galaxy S III's pixel-crunching abilities have leaked, suggesting the new smartphone could easily take the top spot among Android phones and even oust Apple's iPhone 4S. Stats showing the Galaxy S III's supposed ARM Mali-400 GPU – running at an overclocked 400MHz – showed up just long enough at GLBenchmark for phoneArena to grab a screenshot and marvel at the GT-I9300's prowess.
Not all of the test categories are populated, but there's enough to get a good idea of the Galaxy S III's abilities. It comfortably outperforms the HTC One S, one of the faster graphical performers on the market today, and Samsung's favorite target, the iPhone, also struggles to match the new Galaxy in several of the categories.
What does it all mean? Smoother gaming, better multimedia and a device that holds out through more of your average two-year agreement without leaving you looking enviously at newer devices in your friends' pockets. The Galaxy S II found particular favor with Android modders for its overclocking potential, there being plenty of room to squeeze performance out of the Exynos dualcore chipset with unofficial ROMs.
It's worth remembering that this is a prototype device being benchmarked, which means likely non-final hardware and almost definitely non-final software. That could well indicate even greater performance increases by the time the final model is ready for store shelves.
As for when that will happen, Samsung is expected to unveil the Galaxy S III – including a new S-Cloud service to take on Apple's iCloud, and perhaps even a new tablet – on May 3 in London. SlashGear will be there to bring back all the news as it's announced!
[via PCWar]