Samsung Galaxy Note II (T-Mobile) Review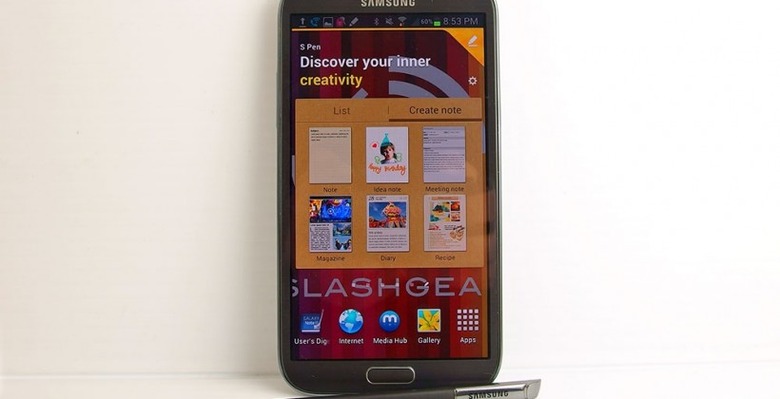 In the Samsung Galaxy Note II we've got an experience like no other – similar to the first Galaxy Note with its massive display and S-Pen action, but here with processing power and software just great enough to carve for itself a unique place in the smart device universe. The T-Mobile version of this device is so very similar to the rest of the carrier editions here in the USA that it's almost foolish to review it more than once – the differences have been sliced down to the apps included inside, Samsung once again flexing their brand power to keep the device near-identical across all carrier borders. This device is to the Galaxy Note line what the Galaxy S III was to the Galaxy S line, continuing very much with Samsung's coming-of-age – very wise indeed.
Hardware
We've already had a peek at this device in one other iteration in our Samsung Galaxy Note 2 (international edition) review – keep that in mind as you jump down the list here with this USA-bound device. In the end they're extremely similar, this certainly a testament to Samsung's newfound power to demand essentially the same device on any carrier it works with.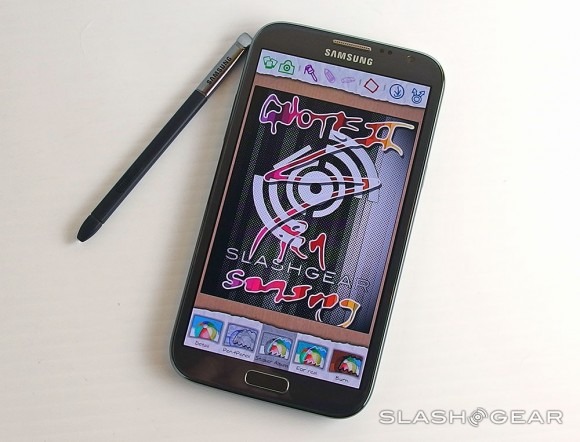 This device is what appears at first to be a super-sized version of the Samsung Galaxy S III, the smartphone you'll also be able to pick up at each of the carriers this Note II is on. What you're seeing is Samsung's family brand integration taking hold, with the company hoping to ring in a true product with the best elements of both the original Note and the S III at once. The display is 5.5-inches rather than 5.3 as the original was with a smaller bezel and thinner body to boot – it's really a nicer device to work with on the whole.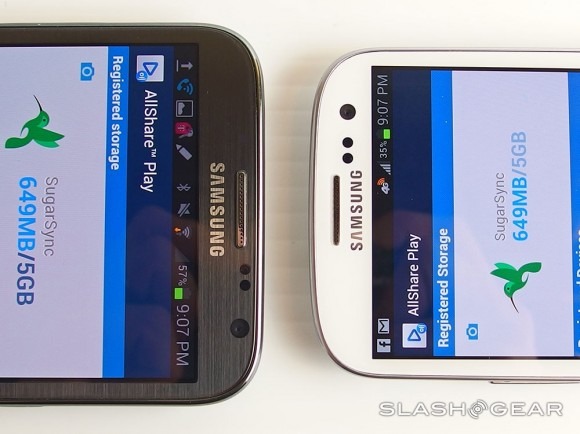 Samsung Galaxy Note II / Galaxy S III sharing abilities
Samsung took some time molding this 80.5 x 151.1 x 9.4 mm beast, making it feel smooth and round as the Galaxy S III, cashing in on the design language that they've successfully made the public understand with that one giant cross-carrier release. The Galaxy Note weighs in at aproximately 182.5g and sticks to this weight no matter which carrier its on, with a body that remains the same for case integration and a much more likely 3rd party accessory manufacturer success story.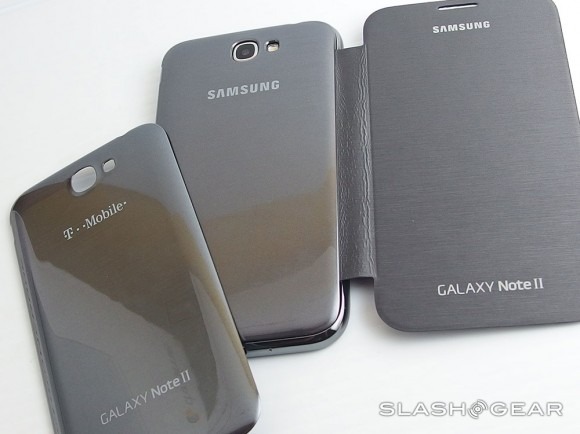 Hands-on with T-Mobile Samsung Galaxy Note II features
This device comes with a T-Mobile back panel that's the same glossy plastic as the Galaxy S III series, here with a lovely Black tone right off the bat instead of just Blue or White – though they're coming out right away as well, if you like. The display has a subtle curve around the edges, there's still the faux-chrome edges as the Galaxy S III has, and they've also both got the same sort of Samsung-made case/back cover replacement accessory that flips over the front and keeps your display safe in your pocket or purse or backpack.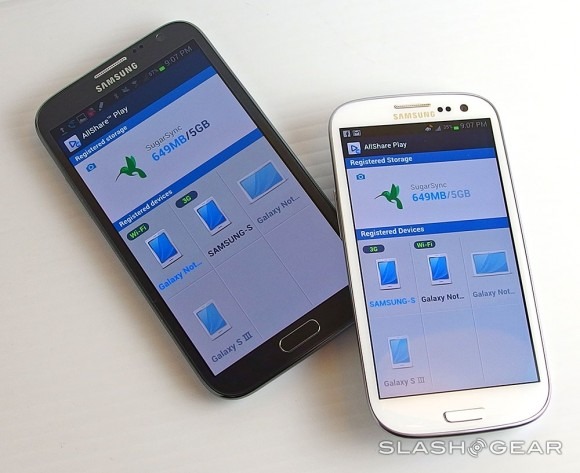 The display has less pixels across it than the original Note, but also replaces the PenTile technology used there for a lovely HD Super AMOLED unit instead. What you've got here is indeed less pixels than before, even though you've got a larger display – but the trade-off (if you can call it that) is well worth the result: this display is 1280 x 720 pixels (rather than 1280 x 800) and is now compatible instantly with masses of 720p apps right out of the box. It's both sharp as you could ever want it to be and brighter than your eyeballs should reasonably need.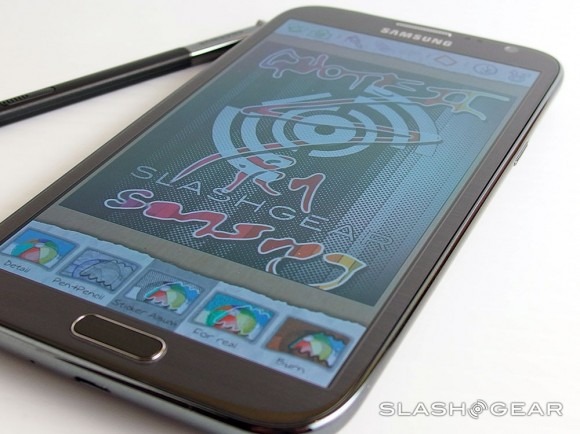 The cameras on this device include a 1.9 megapixel front-facing unit ready for video chat and OK-looking photos and the back has a rather nice 8 megapixel camera with single LED flash. Both cameras have a fabulous backside-illuminated sensor and are capable of 1080p video. The headphone jack sits in the top left, the main speaker sits on the back under to tiny slits near the S-Pen slot, and the S-Pen slot is on the bottom with a whole new hole (and S-Pen, mind you) for much more intuitive action and use.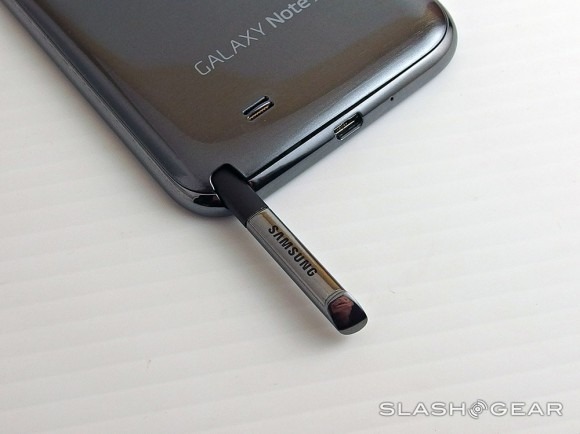 The back of this device is replaceable and sits on top of a massive 3,100 mAh replaceable battery. Also under the hood you'll find a space for your microSIM card and a microSDHC card – this device can take up to a 64GB card, just like the Galaxy S III can. You've got the option of picking up a Galaxy Note II in one of three different internal storage sizes (depending on the carrier you're aiming for), those being 16GB, 32GB, or 64GB.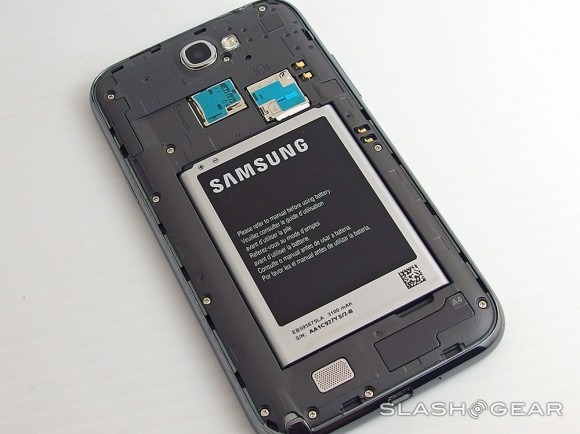 Inside is also a collection of a who's-who of top-tier connectivity options including Bluetooth 4.0 with aptX, NFC, WiFi a/b/g/n (2.4GHz/5GHz) with WiFi Direct, and USB 2.0 Host. The USB 2.0 Host works through your standard microUSB port, and you'll need a converter of some sort to connect to your external storage devices. Accelerometer, digital compass, proximity sensor, gyroscope, A-GPS, Glonass positioning, and S-Pen technology that we must assume was developed by wizards.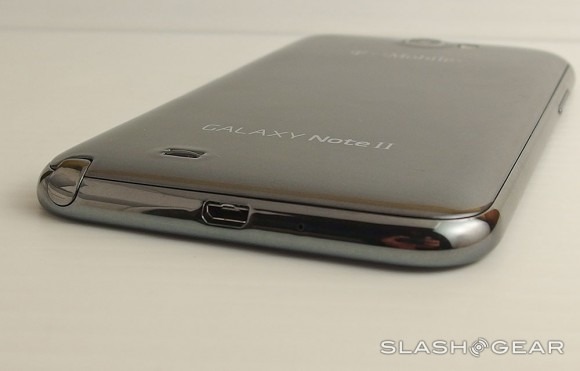 Of course the S-Pen connection, outlined in its own fabulous section later in this review, is aided largely by the Samsung-made Exynos processor that powers this device. The Exynos 4 quad-core processor runs here at 1.6GHz per core, and that's ARM Cortex-A9, mind you. Everyday use with this machine makes the case for the processor without a doubt, here utilizing essentially the same power that the significantly larger Galaxy Note 10.1 uses to roll with this 5.5-inch machine – it's a monster, for certain (see our standard benchmarks below as well.)
S-Pen
With a new Note comes a new generation of S-Pen, and once again Samsung does not disappoint with improvements over the past release. Here the pen feels more like a standard No.2 pencil (a classic size, of course) and has a fine new collection of software enhancements to go with it. The pen also still sits inside the Note II snugly, able to be removed and replaced with ease yet staying firm when in transit.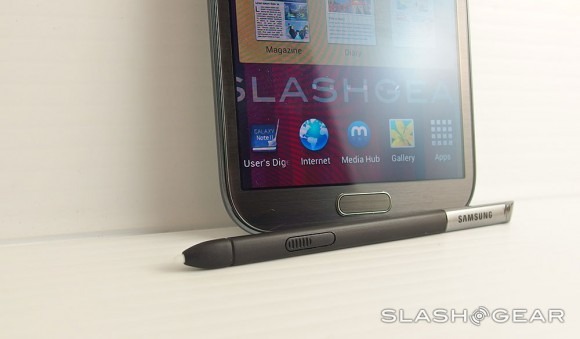 The S-Pen is now another level ahead of the competition in its software implementation – where the S-Pen's original iteration took Wacom technology to punch the capacitive "finger-dummy" styluses of the past right in the face, the new S-Pen gives it a double-wallop. The first and most apparent place you'll see this second level is in its ability to appear as a floating nib – you can be about a half-centimeter above the display and you'll have a sensor showing on the screen: this marker on the display has a collection of uses.
The S-Pen has a variety of new features throughout its software and hardware builds, but some of the most interesting bits come from the S-Pen hover feature we were told about some weeks ago. The S-Pen is now able to give you previews of many different items including emails (in your email app, not Gmail quite yet), S Planner calendar, and videos in your Samsung Videos app. Your standard gallery app too will allow you to preview the images inside a gallery folder, flipping through sets piece by piece.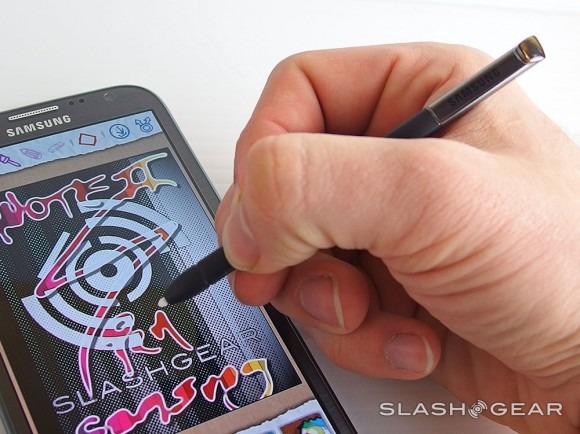 With the Note II you're able to set the device to detect when you've left your S-Pen behind. You can bring up a new home page that only exists when the S-Pen is out. You can take a screenshot with a tap and hold on your display, these shots then able to be written on and shared at will. This functionality makes us wish Google integrated such an ability into the basic version of Android, it's so helpful on a daily basis.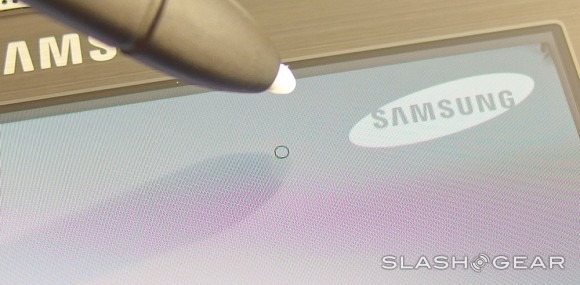 The S-Pen also works now with Quick Command drawn-commands, with a question mark followed by "Weather" bringing you web search and an exclamation mark followed by a location bringing you to that location in Maps. Similarly you're able to write out commands with S-Voice, though this is a bit less intuitive as wherever you're going to be in a position to hear S-Voice speak, you're probably going to be able to speak out loud yourself.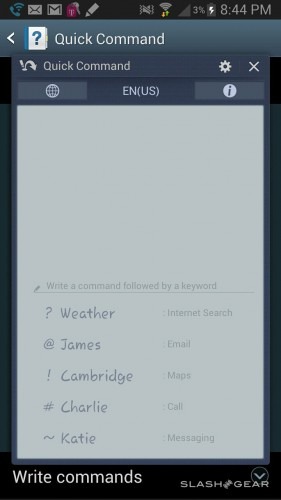 After the software integration with the S-Pen, there's always the usability factor. The comfort with which we're able to use the S-Pen has far increased over the previous generation Galaxy Note, reaching now for the same highly-tuned size of the pen included with the Galaxy Note 10.1. Here we're using something much closer to a pencil where before it was just a teensy bit too thin.
Software
In addition to the S-Pen being the star of the show and having most of its features advertised surrounding this stylus, Samsung's TouchWiz and Android 4.1 Jelly Bean have added some awesome enhancements that will bring your mobile experience to a new level. One of the oddities is the ability called "Page Buddy" to have a sort of "peekaboo" home screen that appears only when you plug in the right accessory. There's one for your S-Pen (as mentioned earlier), one for docking mode, and one for your headphones as well. Rather helpful stuff for plug-and-play sorts of folks.
Android 4.1 Jelly Bean is your standard system here with Samsung's TouchWiz integrated within, and a set of T-Mobile and Samsung apps added to the standard Google fare. Of course Samsung's TouchWiz integration no longer sits around as the same execution for every single device as such additions did at the start of Android – now it's unique for each device, allowing enhancements to take hold exactly as they should depending on the device's abilities.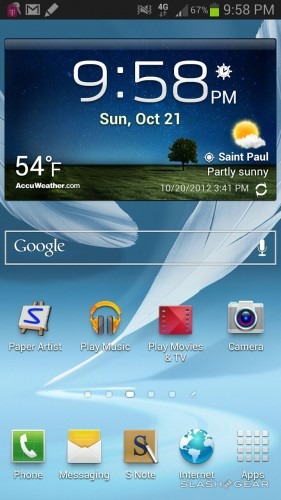 Galaxy Note II hands-on with custom vibration notifications
You've got such fabulous abilities as recording your own vibration combination for notifications, circling items with your S-Pen to take miniature screen-shots, and the calling forward of S-Note with a double-tap on your display with the S-Pen once again. This S-Note calling feature links in with other pop-up windows you can use, these first appearing way back on the TouchWiz UX software update to the original Galaxy Tab 10.1 – it's come a long way since then, to say the least.
Benchmark Performance
The Samsung Galaxy Note II brings on a level of fluidity and instant-reaction taps that we've only otherwise seen on Android with the LG Optimus G. Both devices use quad-core processors, with the G using Qualcomm's Snapdragon S4 Pro and the Galaxy Note II using Samsung's own Exynos quad-core architecture – essentially the same as is used in the Galaxy Note 10.1 tablet. Have a peek here first at some Asphalt 7 gaming action to see how well the unit holds up in a racing situation.
Next have a peek at the benchmarks that show this machine to be acting right up in with the other warrior we just looked at, Qualcomm and Samsung here duking it out for supremacy. Have another look at our LG Optimus G review to see how closely these two new beasts get, keeping in mind that the LG device has a slightly smaller display with a similar amount of pixels in the end.
Camera
The 8 megapixel camera on the back of the Samsung Galaxy Note II has never looked nicer in the Samsung family of devices. That's a feat in an of itself, mind you, as the Galaxy S III brought on some fury of its own just a few months ago at its introduction to the world. Now we're seeing no drop in quality and a lovely interface crafted for the Galaxy Note II so you can make photography, however odd it looks with a device of this size, your own high-quality experience.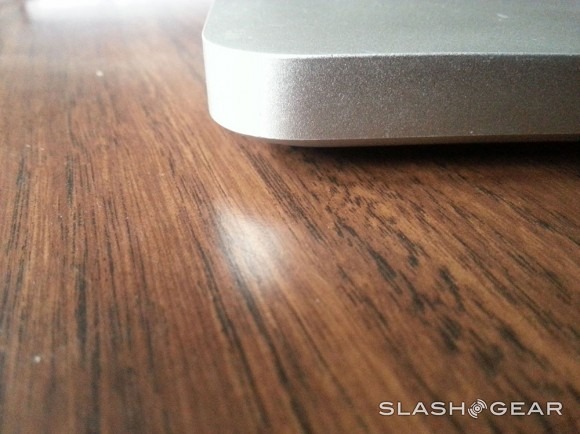 Both up close and far away we're doing well here, with Samsung certainly leaving this device out in the rain for quality on either the front or the back camera. You'll find that 1080p video works well and 8 megapixel photos, be they HDR or standard – or an array of other odd filters – look rather nice. Have a peek below at a selection of examples from the Galaxy Note II and see how they compare with the Samsung Galaxy S III review – look similar to you?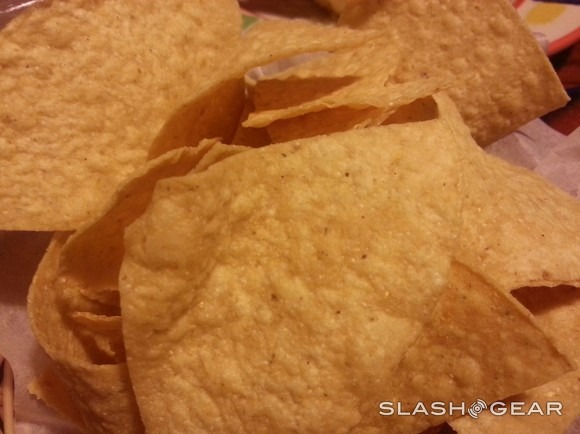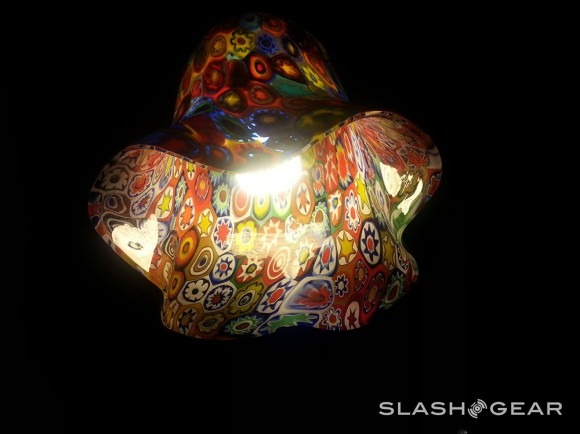 Battery Performance
The battery on the Samsung Galaxy Note II has had a rather easy time getting through the day with its 3,100 mAh of juice, even with a hard day's work behind it. That said, Samsung has provided us with a set of easy to manage power-saving abilities that everyone should be well aware of by now. The display is the most power-hungry of anything on this device, as is always true of a device with a display as potentially bright as this one – placing this on "auto" will do wonders for your battery life.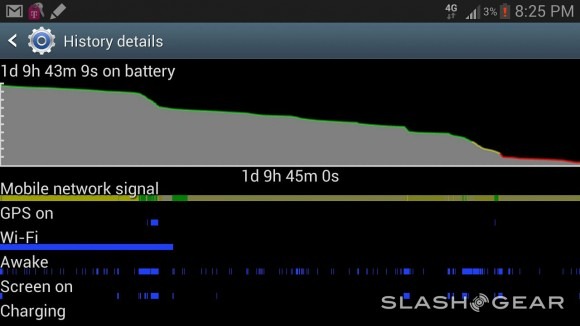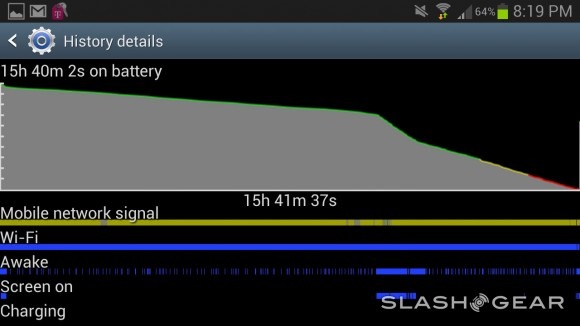 There's also the rather fabulous Blocking mode which you'll have to switch on from your Setting menu. This option brings on the ability to disable incoming calls, notifications, alarm and timer, and LED indicator at the tap of a button – it appears in your notifications menu near the rest of the switch off/on buttons. You can also set it up to switch on and off at certain times of the day every day if you wish – and you can block certain contacts with the feature, but that's not about batteries unless you've got a stalker, of course.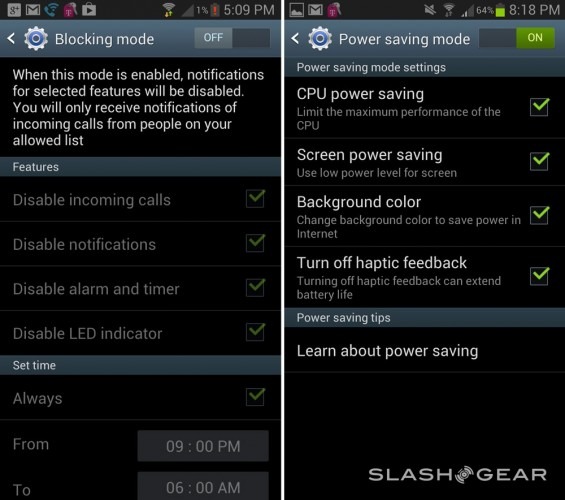 Samsung also includes their general Power Saving mode which works wonders once again – use this, blocking mode, and auto brightness on your display will bring you more than enough power for more than a day at a time. You've got the ability to replace your battery on the go, also, so keep that in mind if you're an insane constant-use sort of person.
Wrap-Up
The Samsung Galaxy Note II is a device that any Android and Samsung-loving fan will love, but outside the faction of normal citizens that have a need for such a massive beast of an in-betweener, this machine might just fall flat. It's not that it's not great – this device is made for awesome high-level mobile computing and it definitely does that well, but if you can't fit the Galaxy Note II in your pocket, you'll probably not want to use it on the regular.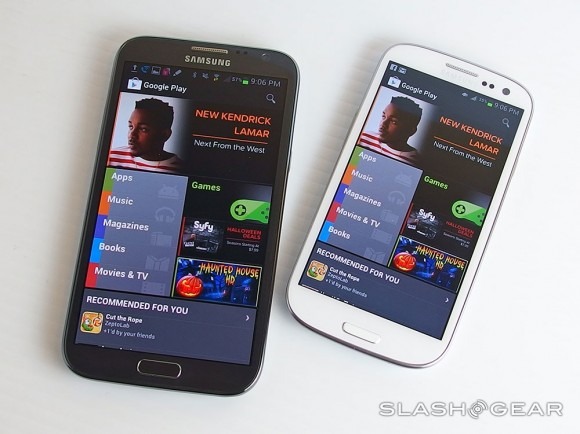 If you're a smartphone user and have enjoyed the Samsung Galaxy S III, you're probably going to want to at least have a look at the Galaxy Note II. It's an enticing prospect, seeing your best buddy Galaxy blown up to a 5.5-inch display-toting size with a magic want embedded in its side. I've found the Galaxy Note II to be entirely enjoyable to use each and every day I've used it – but complaints about the first iteration of this device hold true here as well.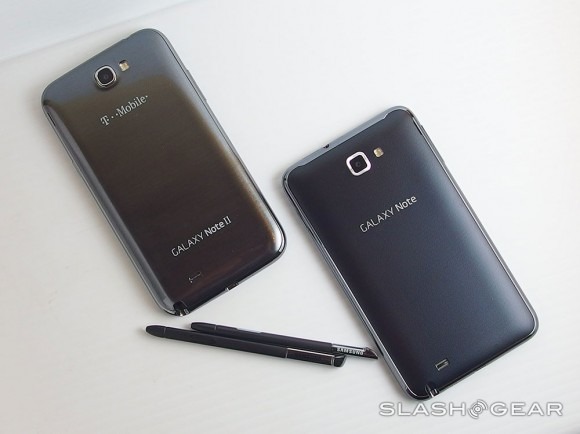 If the size is a boon to you, you might as well not even try it. If you want to have the highest level of mobile computing on the market right now with the finest-tuned amalgamation of both software and hardware in one device, the Samsung Galaxy Note II is the one for you. Those that want an all-in-one Android that does essentially everything any Android-toting device on the market has been able to do thus far, thus is the one.